https://hkmb.hktdc.com/en/1X09YVRO
Italian DNA
Finding the right blend of East and West aesthetics provides a winning formula for interior design architect Stefano Tordiglione.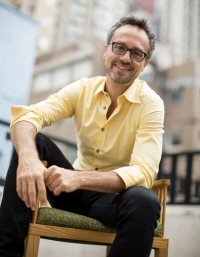 Stefano Tordiglione moved from Italy to Hong Kong in 2007, working for an Italian interior design firm before setting up his eponymous studio three years later. Specialising in interior design and architectural services, and with clients based in Asia and Europe, the team comprises about 10 employees in Hong Kong, with freelance staff based in Italy. Mr Tordiglione explains what brought him to Asia.

Why did you base your company in Hong Kong?
I decided to build my business here as Hong Kong is the hub of Asia. It has good connections with China, neighbouring countries and internationally.

After working for an Italian company in Hong Kong, I decided to open my own firm, as I understood that the trust is stronger on a personal level than in the company itself. Business is not only about the company; clients are people and people trust people. So this is why I decided to set up my own studio under my own name.

What types of projects do you work on?
We work mainly with retail projects where we need to give a new identity to the brand. It is a challenging aspect of our job and is the part that I like the most. This same process can be adapted to residential, offices, restaurants and hotels, as we are always talking about a unique design that makes you live better, work better and think better.
What is your studio's design aesthetic?
The aesthetics are always related to the harmony of things, colours, lights and shapes. There is no fixed rule and we tend to adapt to the needs of the client, merging them with the knowledge that I've built in almost 50 years of looking, feeling and experimenting.

So East-meets-West is a real and practical clash that turns into a new thing. Walking down a street in Soho and smelling croissants from a nearby cafe, together with the incense from the temple on the other side of the road is an experience. Design is all about this. Instead of smell, there is a mix of shapes, colour and functionality, which get a new result. This is what creativity is all about.
How do you think Hong Kong's design and creative community has developed in recent years?
The creative community has spread widely in Hong Kong and I feel that competition has grown immensely. This makes creativity more stimulating. With the opening of PMQ (Hong Kong's new creative design hub) and more art events taking place in the city, I feel that the industry is making more noise; more people are paying attention to our industry.

What are some of the overall design trends emerging from Hong Kong and Asia?
Perhaps we can talk about adjustments. The trend before in the Asia market has always been about getting a design – no matter what or how. Now I see and feel that the need has shifted to more quality, and looking to find a real reason. People have grown more mature in perceiving beauty and quality. Design is more about functionality and aesthetics, especially in China. Things have changed.

Your website refers to your "Mind in Italy" design concept. What does that mean?
It means that my identity is Italian. My DNA is from there and whatever I do or think in whichever part of the world, I always bring a substantial piece of Italy. And that's my "secret." However, I also believe firmly in respecting local culture and the personal needs of clients. It is important to listen to them, feel what they want. Therefore, I would say my aesthetic direction is more about East meeting West, extracting and mixing the best from the two cultures.
Related Link
STEFANO TORDIGLIONE DESIGN LTD
Italy
Western Europe
Hong Kong