https://hkmb.hktdc.com/en/1X09YTI3
China's Toy Shoppers: Digital in Diapers' Generation Discovers Computer Gaming
Boys' and girls' preference for toys varies at different ages. According to HKTDC's report "China's Toy Shoppers: A Purchasing Behaviour Survey"[1], girls in different age groups all like plush toys (e.g. animals) and dolls (e.g. cartoon characters), while boys like remote-control/electric toys. It is worth noting that children aged 3-6 already like to play mobile or computer games (including tablet computer, desk-top computer, online or downloaded games). As they grow older, their interest in mobile/computer games also becomes stronger.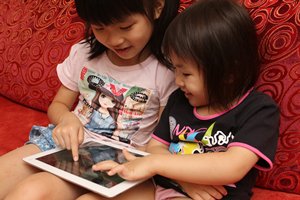 Overall, the younger the children, the more their parents agree that "mobile/computer games are becoming more and more popular, but I don't think children should come into contact with such games too early" (84%). Of parents who have children in the 0-1.5 age group, 88% agree or totally agree to this statement. As the children grow older, their parents' resistance to them playing mobile/computer games also drops.
This survey finds that 788 of the surveyed parents (49.3%) indicate that in the past year their children have played mobile/computer games[2]. The older the children, the higher is their proportion of playing games on desktop/notebook computers. Regardless of age group, the games children come into contact most with are mobile games. The survey further finds that in families with higher monthly household incomes, the proportion of their children playing games on tablet computers is also higher.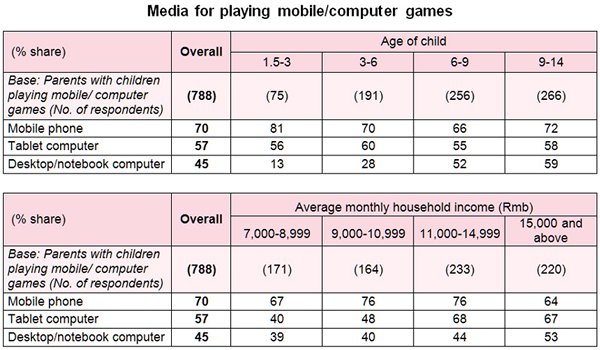 Mobile apps/computer software games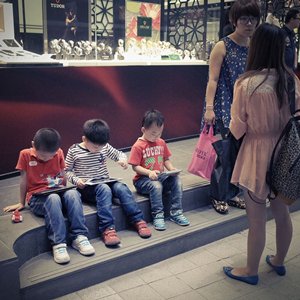 During home visits and focus group discussions, the majority of parents remark that children should seek their parents' help or consent (partly because downloading requires a password) before they can download game apps or computer game software to their mobile phone or tablet. Most of the games available for download are free. There are also parents who point out that children would pay to buy virtual goods (e.g. weapons, equipment, treasures, privileges) for use in games so that they can "level up" and continue to play.

While over 80% of the parents say they do not think children should come into contact with mobile/computer games too early, they would still download such games for their children to play. Parents taking part in the home visits and focus group discussions indicate that the games they download are educational, such as music and songs, English vocabulary learning and cartoon games. Some parents remark that when their children become impatient on the street, they would let them play mobile games in order to pacify them. The proportion of children downloading mobile/computer games by themselves is markedly higher after they reach age 6.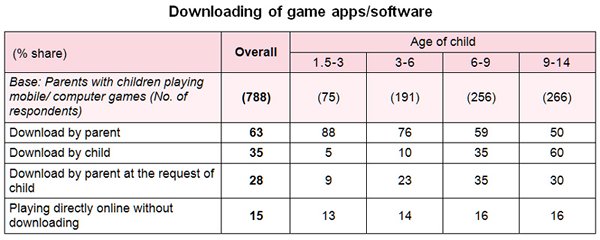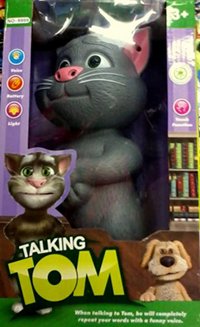 The number of mobile/computer games played by the majority of children is under five. The older the child, the greater is the number of mobile/computer games played. There is no marked difference in the number of games played by boys and girls in the same age group. Some product developers would derive physical toy products (e.g. Angry Bird plush toys, Talking Tom Cat) from game apps/software. Among surveyed parents whose children play mobile/computer games, 46% indicate that they have bought such spin-offs for their children.
---
[1] The Hong Kong Trade Development Council (HKTDC) conducted a consumer survey from January to March 2014. The survey covered eight mainland cities where a questionnaire survey of 1,600 parents with children aged 14 and below was carried out. The eight cities are Beijing, Shanghai, Guangzhou, Chengdu, Wuhan, Shenyang, Nanjing and Xian. Apart from the questionnaire survey, six consumer focus group discussions and 30 home visits were conducted in the three cities of Guangzhou, Shanghai and Chengdu.
[2] Among surveyed parents with children in the 0-1.5 age group, only four indicate that their children have played mobile/computer games. Since the absolute value is low, they are not included in the analysis of this report.
Mainland China
Mainland China