https://hkmb.hktdc.com/en/1X09YM15
Sharjah: The UAE's Manufacturing Stronghold
As the UAE's manufacturing centre, Sharjah's sophisticated industrial sector offers substantial opportunities for Hong Kong professional and manufacturing services.
Compared with Dubai and Abu Dhabi, its world-renowned neighbours, Sharjah has something of a low profile. Despite this, it is increasingly being acknowledged as the industrial backbone of the United Arab Emirates (UAE). As the UAE's central emirate, Sharjah is well connected with the rest of the country, sharing borders with all of the other emirates.
As the UAE's third largest economy (after Dubai and Abu Dhabi), Sharjah is a manufacturing stronghold and contributes more than 48% of the country's gross industrial output. Sharjah's economy expanded annually by 11% during the period 2001-2012. This growth was mainly driven by its manufacturing sector, which accounts for close to one-fifth of its economy. It is also home to one-third of all the manufacturing establishments in the UAE. With its sophisticated industrial clusters, Sharjah's manufacturing sector offers good collaboration opportunities for those Hong Kong traders and service providers seeking opportunities in the Middle East market.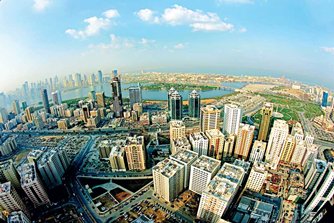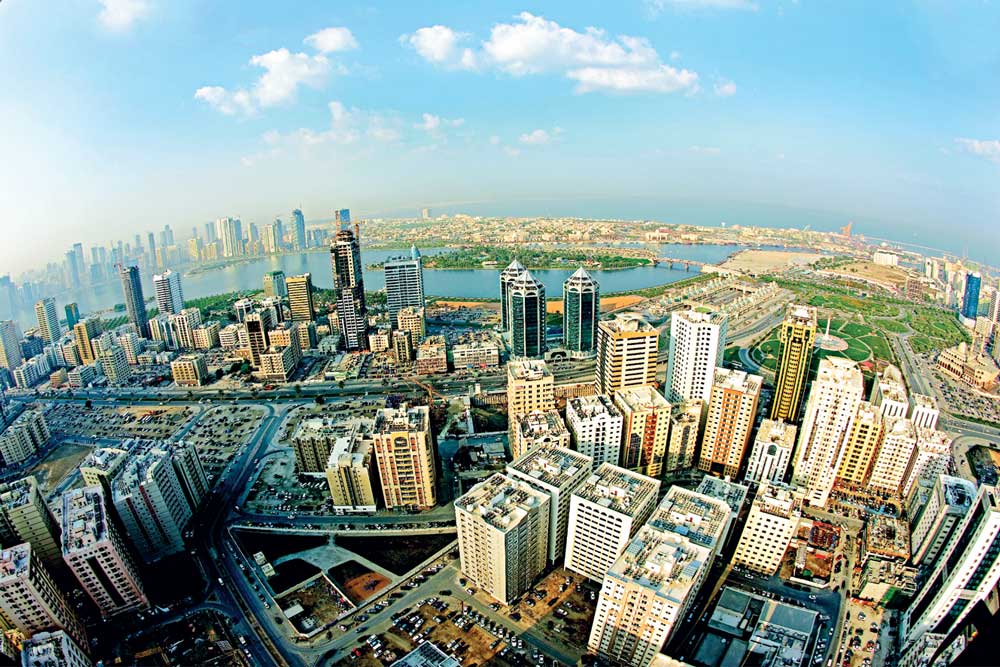 A bird's-eye view of Sharjah
Source: Sharjah Investment and Development Authority
A diversified economy with strong fundamentals
Having established the UAE's first airport and container terminal, Sharjah is now a commercial hub with a higher degree of economic diversification than the rest of the country. Tellingly, it is the only emirate with no single sector accounting for more than one-fifth of its overall economy.
In 2014, two leading credit rating agencies - Moody's and Standard & Poor's -accorded Sharjah sovereign credit ratings of A-3 and A with stable outlook. Both ratings reflect Sharjah's strong fundamentals, all underpinned by its diversified economy and competitive manufacturing sector. Those ratings compare favourably with many other emerging markets, with strong economic fundamentals underlining Sharjah's position as an appealing destination for foreign investment.
With lower rents and wages than those in Dubai or Abu Dhabi, Sharjah's cost advantages have helped nurture a pool of 45,000 small and medium-sized enterprises (SMEs), an important part of the emirate economy. Over the last five years, Sharjah's annual inflation rate has remained below 5%. Thanks to its favourable production factors, Sharjah has attracted both local and foreign companies. This has seen a number of them set up operations in the primarily capital-intensive industries that dominate the emirate's manufacturing sector, notably fabricated metal, equipment, chemical, plastic and wood products.
| | |
| --- | --- |
| Downtown Sharjah (1) | Downtown Sharjah (2) |
A well-connected emirate with logistical advantages
Sharjah is the only UAE emirate with two coastlines. It actually has three deep-water ports situated on either side of the Straits of Hormuz[1] – the Khalid Port and the Hamriyah Port along the Persian Gulf, and the Khorfakkan Port along the Gulf of Oman.
In addition to sea freight services available in the three ports, traders and manufacturers can also benefit from Sharjah's unique location. This facilitates intermodal transport flexibility, combining air links with sea freight handling, thereby cutting freight cost and saving on shipping time. In the UAE, Sharjah has been the pioneer of sea-air intermodal transport, with sea freight from Asia moved into UAE ports before being transferred to the airport for delivery to US and Europe destinations. By utilising this linked sea-air transport, companies can avoid expensive direct airfreight costs while also reducing the typical required shipping time of sea freight.
Sharjah International Airport (SIA) is the third largest airport in the UAE and the second largest airfreight transport hub in the Middle East. SIA's record for offloading marine cargo, transferring it to the airport and then forwarding it to an aircraft for final departure is less than six hours. SIA is also home to the largest Lufthansa cargo hub outside of Germany, as well as being the operating base for Air Arabia, the region's first low-cost carrier. Serviced by 29 airlines, SIA has direct connections to more than 65 destinations around the world.
Sharjah's sea and airfreight facilities are the main drivers of the emirate's logistics industry. According to the Sharjah Investment and Development Authority (Shurooq), the sea and airfreight sectors accounted for 36% and 20% respectively of the emirate's US$960 million transport and logistics sector. This sector is expected to grow by 15% per annum over the next three years.
Free zones – spots for foreign investment
With its well-established connectivity and logistics infrastructure, Sharjah is an attractive place for those Hong Kong traders eyeing the Middle East markets. It is common practice for a foreign investor to enter the emirate via its free zones. Here they can establish wholly-owned enterprises, with lower fees and simpler set-up procedures than in many of the locations outside the zones. A substantial number of other incentives are also on offer.
In order to enhance the emirate's status as the UAE's industrial hub, the Sharjah government is encouraging inward foreign investment through its two free zones – the Hamriyah Free Zone (HFZ) and the Sharjah Airport International Free Zone (AIFZ), with the former focusing on heavy industries, while the latter is concentrating primarily on light manufacturing and the services industries.
Foreign companies in these free zones enjoy exemptions from import and export duties, income and corporate taxes, as well as free repatriation of capital. In addition, the Sharjah government subsidises 70% of the utility costs, including any water and electricity consumed in the free zones. While boasting lower manufacturing costs than Dubai and Abu Dhabi, it should be noted that Sharjah may not be an appropriate relocation alternative for labour-intensive, low value-added manufacturing. This is primarily because the UAE relies heavily on migrant workers for its industrial sector, with wages set at levels less competitive than those on offer in Southeast Asia.
Established in 1995 with just 55 companies in situ, the Sharjah AIFZ is now home to more than 6,000 businesses from 90 countries. These include some of the world's leading logistics and light manufacturing companies. Germany's Lufthansa Airlines and DHL Express, UPS from the US and 3M from the UK, for instance, all have operations in the zone and are all keen to work with Sharjah's growing number of SMEs.
The HFZ is the UAE's second-largest Free Zone and is particularly focussed on nurturing SMEs. HFZ is home to more than 5,000 companies from 150 countries, with its major investors coming from India, Africa, Europe and other Middle East countries. The manufacturers based in HFZ are mainly engaged in capital-intensive industries including metals, construction material, machinery and electronics products. The Switzerland-based valves and equipment manufacturer Pentair, for example, has established a valve and actuator manufacturing plant in HFZ in order to further localise its products for commercial and residential users. With many construction projects commissioned in the UAE since 2007, Leighton Offshore, a subsidiary of an Australian project development group, has also set up a dedicated presence in HFZ in order to provide engineering and construction services.
Companies in HFZ also benefit from a close vicinity to the anchoring port of Hamriyah Port, which is capable of handling both bulk and heavy cargo. Given the growing number of SMEs and multinationals operating in the emirate, demand for trade related and professional services is set to rise and is expected to eventually outstrip supply. With only 6% of the freight forwarding services providers for local SMEs actually based in Sharjah, this clearly indicates a distinct business opportunity for Hong Kong service providers.
Hong Kong Manufacturer in Sharjah
In 2006, Hong Kong-based Gold Peak Industries, through its regional subsidiary, GP Batteries, formed a joint venture with Sharjah's Kingston Holdings to promote and distribute GP batteries in the Middle East and Africa region. Peak Industries has also established its Middle East marketing office in the Sharjah Airport International Free Zone.
Related information: United Arab Emirates infographics
---
[1] As the only sea passage from the Persian Gulf to the open ocean, the Straits of Hormuz is an important strategic location for trade between the Middle East and the rest of the world.
Electronics & Electrical Appliances
Machinery
Raw Materials
Building & Construction
Engineering
Logistics & Supply Chain
United Arab Emirates
Middle East