https://hkmb.hktdc.com/en/1X09XUUO
Beijing-Tianjin: A Growing Outdoor Sports Equipment Market
"Off-road adventures" were considered to be niche outdoor activities in the past, but today all kinds of outdoor sports equipment can be found in major shopping centres in Beijing and Tianjin. Most department stores have products of famous domestic and international outdoor brands as flagship products to attract shoppers. If Hong Kong companies plan to open up their market in both Beijing and Tianjin, they should cater to the purchasing power of consumers in both cities by providing them with goods of a right price range.
Department stores: mainly high-end products
Outdoor activities are growing in popularity in Beijing and Tianjin and the number of outdoor enthusiasts is steadily on the rise. This helps boost the sales of outdoor goods. Quick to identify this opportunity, local shopping centres have brought in many famous outdoor brands and stepped up their market promotions in this respect.
"While sports can help urban dwellers ease their pressure of work and life, more and more Beijingers are going to the countryside on weekends in the hope of getting some fresh air away from the city. They may not necessarily be participating in intense sports like mountaineering or rock-climbing and actually prefer hiking or going to small towns in the hills for a short stay and experience life other than shopping," said a representative of the Yansha Youyi Shopping City.
The sporting goods department of Yansha has gradually shifted its marketing emphasis to outdoor gear in recent years. Yansha told HKTDC that specialised outdoor sports equipment only accounted for a very small proportion of its sales turnover but casual outdoor sports equipment such as outdoor jackets, down jackets and outdoor wear and shoes was very popular. More and more department stores are stepping up their marketing of outdoor gear. However, shops in certain shopping centres are awash with low-grade products which are not just poor in quality but face intense competition. In view of such phenomenon, Yansha's strategy is to concentrate on medium- to high-grade products and bring in trendy outdoor brands from Europe, the US, Japan, South Korea and various parts of the country to meet the needs of the growing mid- to high-income earners.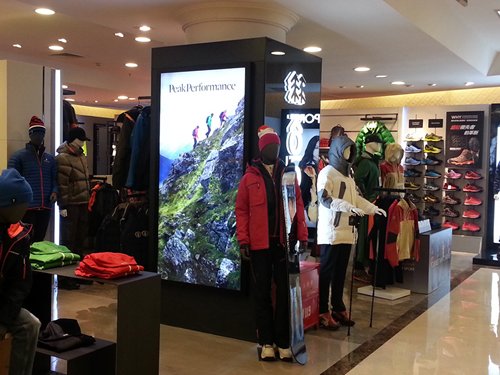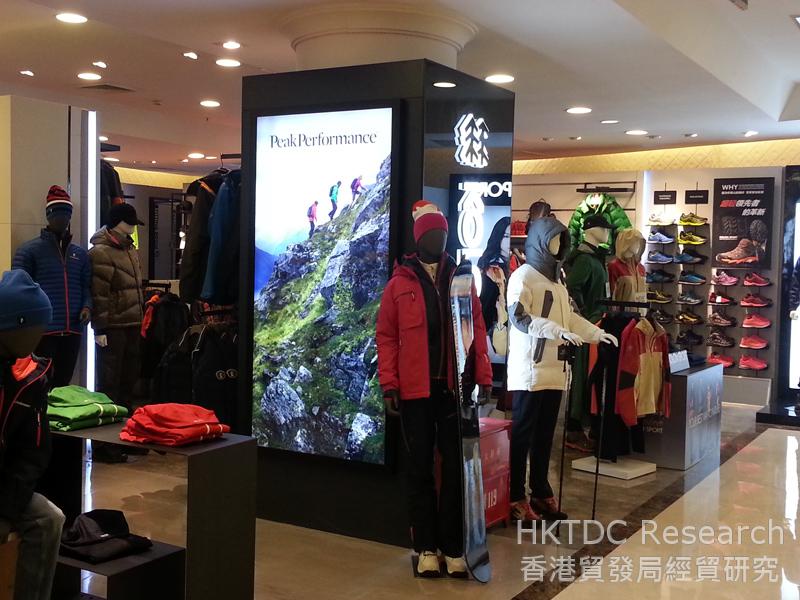 Yansha mainly offers trendy outdoor apparel and supplies.
In fact, department stores have overtaken outdoor pro shops not located in shopping centres as the main marketing channel for outdoor sports equipment in China.1 Beijing leads other cities in this type of retailing channel and the number of department stores selling outdoor sports equipment increased from less than 380 in 2010 to about 970 in 2013 with an average annual increase of 37% thanks to the growing popularity of outdoor activities. In nearby Tianjin, the number of department stores selling outdoor sports equipment also increased from 50 to about 120 during the same period, representing an average annual increase of 36%.2
Local market preferences
Many department store operators noted that shoppers are showing increased interest in outdoor sports equipment when they go shopping these days. However, whether these products are intended as casual wear or bought for special outdoor sports, consumers always attach great weight to the fashion element. For example, unlike its outdoor pro shops specialised in professional outdoor sports equipment, the mainland outdoor brand Toread mainly sells colourful outdoor apparel, shoes, backpacks and the like at its counters and shops in department stores in Beijing, Tianjin and other big cities while stressing their special functions and quality.
"Most of the leading outdoor brands that have a more complete concept of outdoor activities and a longer history are from foreign countries. Hong Kong companies have rich experience in sourcing foreign brands and will have a definite edge if they partner with foreign outdoor brands to open up the mainland market", said a representative of Beijing's Cuiwei Department Store. "Foreign brands are stylish and have more varieties. But their designs and functions tend to be more suitable for professional athletes and may have overlooked the practical needs of general consumers. Also their sizes may not be all that suitable for Asian people. More importantly, the products of some foreign brands have a longer life cycle. These brands may only launch two to three product series a year, which will not fit in with the quick changes in the mainland market. Hong Kong companies should make appropriate adjustments to suit market needs when introducing foreign brands to the mainland," said the representative.
| | |
| --- | --- |
| Counters and shops in shopping centres mostly offer trendy outdoor apparel and supplies (1). | Counters and shops in shopping centres mostly offer trendy outdoor apparel and supplies (2). |
"Besides highlighting the profile and product information of those brands they distribute, Hong Kong companies need to allocate more resources to marketing, such as advertising outdoors and in other media and joining hands with department stores to offer co-branded membership and hosting outdoor activities. Only in this way will they be able to build up good word-of-mouth. Beijing's countryside has rich resources for outdoor activities. There is a vast market for medium- to high-end outdoor sports equipment because middle- to high-income outdoor enthusiasts are quite willing to buy trendy outdoor gear."
Beijing and Tianjin: different preferences
In nearby Tianjin, the outdoor goods sold at local department stores are markedly different from those sold in Beijing. "Consumers of outdoor gear in Tianjin and Beijing both have middle- to high-income earners over 30 years of age as mainstay. In view of intense market competition for conventional sports gear, more and more sporting goods sections of department stores in Tianjin are shifting their focus to outdoor gear to tap growing demand," said a representative of the sporting goods department at Friendship Xintiandi Plaza.
However, he also pointed out: "Tianjin's countryside has relatively less resources for outdoor sports. Tianjin people are also more conservative than Beijingers in spending. Thus, cheaper varieties form the bulk of outdoor sports equipment sold at Tianjin's department stores. For example, the more popular outdoor jacket brands sold in Tianjin are priced between Rmb1,000 and Rmb2,000, but in Beijing, most middle- and high-income shoppers would choose brands with price tags of Rmb2,000 or above."
| | |
| --- | --- |
| Outdoor gear sold at Decathlon. | Decathlon store in Wanda Plaza, Tianjin. |
The observation was shared by HKTDC economist after visiting other department stores and distributors of outdoor goods in Beijing and Tianjin, including the French sporting goods supermarket Decathlon which has chain stores in Beijing, Tianjin and other cities. However, Decathlon's representative from the Wanda Plaza store emphasised that Decathlon products sold in both Beijing and Tianjin are the same in price and quality although the products and collections sold at the Tianjin store may not be the same as those sold in Beijing because the purchasing power and demand of consumers in both places are different. In his opinion, if a Hong Kong company wishes to open up the market in both cities, it needs to offer products of different grades and prices. However, product quality remains the basic demand of consumers in both places, and marketing and good word-of-mouth are important factors of success.
---
1 For more information, please read: Chinese demand for outdoor sports equipment amid changing middle class lifestyle
2 Source: Outdoor Branch of the China Textile Commerce Association
Mainland China
Mainland China