https://hkmb.hktdc.com/en/1X09XTD8
Malaysia: marketing to Muslim consumers
The Malaysian government is keen to establish the country as a global halal hub. With this in mind, it has established a set of food standards that are generally accepted by most Muslim countries. The government's Department of Islamic Development Malaysia (JAKIM) is responsible for implementing the halal certification system, as well as monitoring and enforcing halal guidelines in the country.
Halal is not just about what is permissible according to Islamic law, its requirements have also created a substantial global business. With an estimated global Muslim population of about 1.8 billion, the total value of the halal market is around US$2.3 trillion, including both food and non food segments. According to the State of the Global Islamic Economy 2013 report[i], Muslim expenditure on food and lifestyle products amounted to US$1.62 trillion in 2012, a figure that is expected to expand at a compound annual growth rate (CAGR) of 7.8% to US$2.47 trillion by 2018.
Food and beverage (F&B) is the core component of the halal industry, with the food product market valued at more than US$1 trillion, accounting for 67% of the total halal market and 17% of global food expenditure. This is expected to grow at a CAGR of 7% to US$1.63 billion by 2018.
While the robust growth of the halal food market is driven largely by the fast-expanding Muslim population, the demand from non-Muslim consumers is also significant. In recent years, non-Muslims have increasingly expected more stringent safety and quality guarantees in terms of food products, largely as a consequence of a number of food-related scandals. As a result, many of these people may opt for halal foods, which are produced free from chemical additives.
A regional centre for Muslims
Malaysia has a population of more than 30 million, with about 60% of this being Muslims. As a member state of the Organisation of Islamic Cooperation (OIC), Malaysia has a mature Muslim consumer market and a robust demand for halal products. Malaysia introduced its national halal standards four decades ago, a move that has since been followed by many other countries. It should be noted that Malaysia's dual legal system specifically handles Islamic cases and regulates halal production. As such, Malaysia boasts strong supply-side fundamentals, making it a globally-recognised halal hub despite its relatively small market size (neighbouring Indonesia, for instance, has a Muslim population of more than 200 million).
According to Malaysia's Ministry of International Trade and Industry (MITI), the country was the world's largest exporter of halal goods in 2013. The total export value of the sector was put at US$10 billion for that period. Malaysia is also home to the International Halal Integrity Alliance and the World Halal Forum Secretariat, two of the world's most prominent halal institutions. As the global halal food industry is fragmented, Malaysia may be viewed as an ideal entry point for Hong Kong businesses, especially food producers and traders.
Halal standards vary by country and region and there is no single regulatory body that oversees all halal production. A number of halal principles (such as prohibitions on the consumption of pork or alcohol) are generally agreed, but many grey areas exist. For example, the requirement of stunning animals prior to slaughter is a subject of some debate. Food products from a country lacking any certification system, however, may not be accepted as authentic halal products. Malaysia's status as a hub for halal products and its certification process are generally accepted around the world, making it the ideal place for companies to conduct their halal businesses.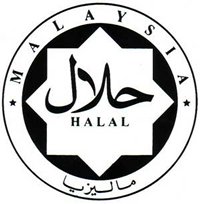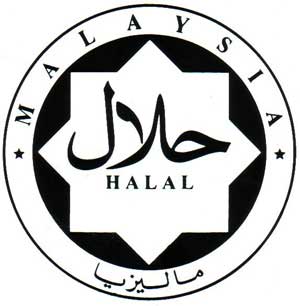 Malaysia Halal logo
Source: JAKIM
Globally-recognised Malaysian standards
Use of the word "halal" to describe a product is strictly regulated in Malaysia under the Trade Descriptions (Definition of Halal) Order 2011, as published by the Ministry of Domestic Trade, Co-operatives and Consumerism (MDTCC). Only JAKIM and the Islamic Religious Council (MAIN) have the authority to certify goods or services as halal and permit the use of the Malaysia Halal logo.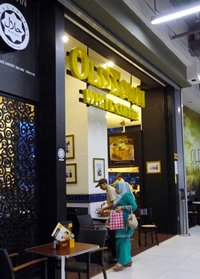 An "Old Town" cafe with halal certification
Halal certification can be accorded at different levels, including companies, products, food premises, menus and slaughterhouses. Businesses engaged in food production and manufacturing (including subcontracted manufacturers), food distribution and trading, food packing, slaughtering, and food retailing and eateries, are eligible to apply for certification. Almost any food product can be certified as halal. Various cakes and syrups served at Starbucks, for instance, are certified.
Halal certification incurs service charges, in terms of document processing and site inspections. These are borne by the applicant and vary according to the size and type of business.


Application procedure for halal certification



Principal requirements for halal certification in Malaysia


The company must produce or supply halal-only products and services.
A company listed under the multinational and small and medium industry (SME) category is required to establish an Internal Halal Audit Committee and appoint an Islamic Affairs Executive (Islamic Studies) to oversee and ensure compliance of Halal certification procedures.
An applicant is required to have a minimum of two permanent Malaysian workers who are Muslim in the kitchen / handling / food processing section.
Transportation must be specifically for Halal product delivery only.
For detailed guidelines please refer to Halal Malaysia (www.halal.gov.my).
An entry point for the halal food market
With a per capita income of more than US$10,000, the third highest in ASEAN and almost three times that of Indonesia, Malaysia is one of the world's wealthiest emerging countries. As more than 60% of the population is Muslim, Hong Kong businesses can access a lucrative halal food market. The simplest way to do this is through direct export to Malaysian distributors, particularly those with extensive networks (such as Tesco, Giant and Aeon). In this way, businesses can reach out to consumers spread over both the Peninsular Malaysia and East Malaysia.
It is more difficult for products manufactured outside the country to obtain halal certification as the process usually involves on-site inspection of the production facilities. Malaysia does, however, recognise more than 70 Islamic institutions in 49 countries that are able to certify imported products, including three on the Chinese mainland (Beijing, Henan and Shandong) and three in Taiwan. The Recognised List for Foreign Halal Certification Bodies is occasionally revised by the Malaysian authorities and Hong Kong food exporters should check the website of Halal Malaysia for updates.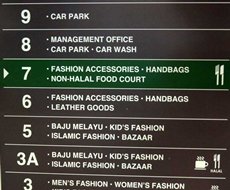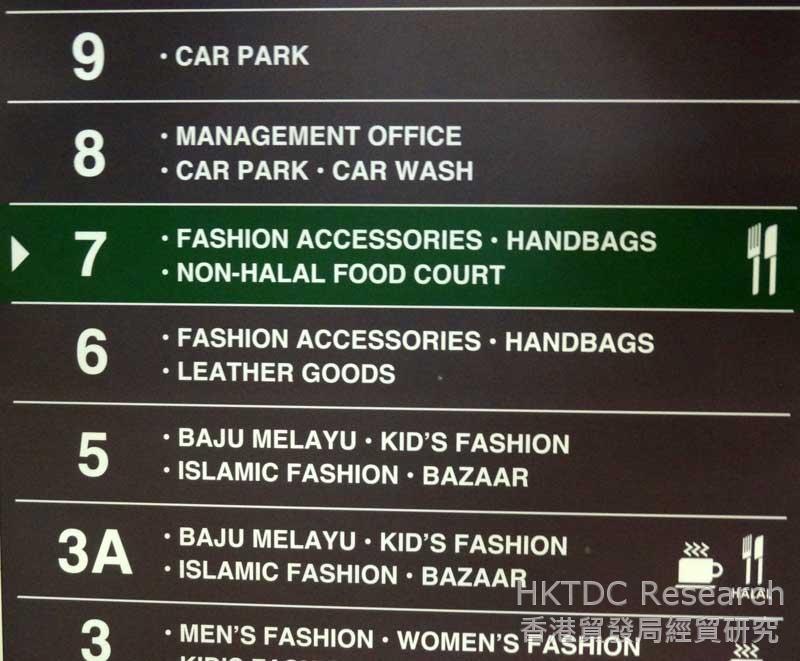 Food courts are classified separately as halal or non-halal in some malls
Another option for Hong Kong businesses is direct investment. In Malaysia, wholly foreign-owned food processing companies and eateries are permitted. This enables businesses to make and market their products effectively and to apply for halal certification relatively easily. Hui Lau Shan, for instance, a Hong Kong-based dessert restaurant, has operated in Malaysia for a number of years and has recently obtained halal certification.
In term of halal food manufacturing, Hong Kong companies can consider setting up shop in "Halal Parks", centres where halal businesses share the same property, infrastructure and service support. The Halal Industry Development Corporation (HDC), a government agency operating under the auspices of MITI, operates the Halal Parks.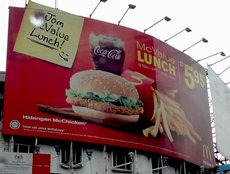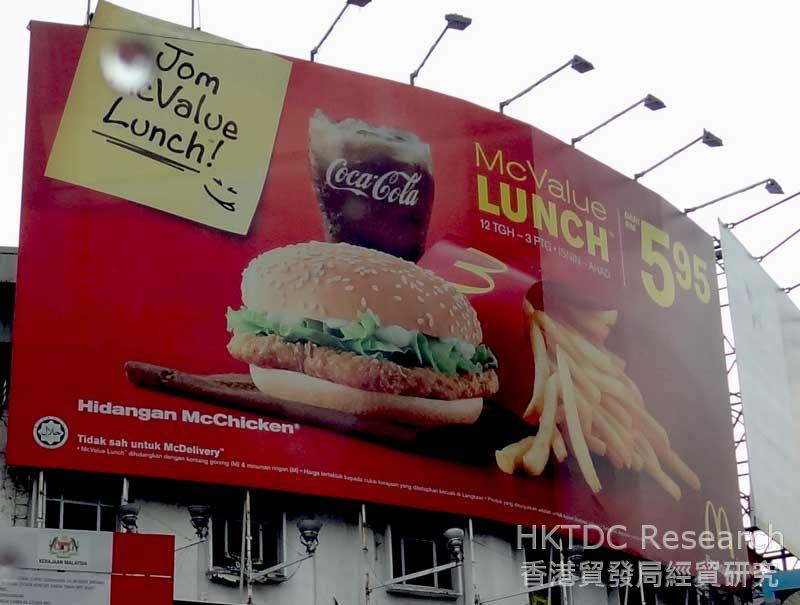 The halal logo appears in a McDonald's promotion in Malaysia
Franchising is another popular option for Hong Kong companies in Malaysia, especially in the F&B sector. It requires less commitment in terms of resources, compared to direct investment, while providing greater flexibility. The international fast-food chain Subway, for instance, has successfully penetrated the Malaysian market through franchising, with more than 50 Subway outlets having now been granted halal certificates.
For more information on conducting halal-related business in the country, Hong Kong companies are advised to consult the relevant agencies, such as HDC, MITI, Malaysian Investment Development Authority (MIDA), Malaysia External Trade Development Corporation (MATRADE) and JAKIM.
Currently, more than 35 international companies have been granted halal status by JAKIM, including Kerry Ingredients, Nestle, L'Oreal, Hawley & Hazel (owner of the Darlie toothpaste brand) and Lotte. Nestle, one of the largest halal food suppliers in the world, has gone as far as positioning its Malaysian branch as the company's global Halal Centre of Excellence, offering policy guidelines and expertise on halal to other markets. In a more recent development, Lulu, a United Arab Emirates-based hypermarket, revealed in March 2014 that it would open 10 outlets in Malaysia, with all of them selling only Halal products.
A launch pad to the wider halal market
The Pew Research Centre's Global Religious Landscape report suggests nearly two-thirds of Muslims live in the Asia-Pacific region. To make inroads into this huge halal market, Hong Kong food-processing and distribution companies can leverage Malaysia's reputable halal certification system and strong government support.
While Malaysia is a regional halal hub in the Asia Pacific, the UAE - particularly Dubai - is considered to be the gateway to the vast Muslim consumer market of the Middle East and North Africa (MENA). Malaysia increasingly sees UAE as a re-exporter for Malaysian halal products. Hong Kong companies would do well to make the most of this connection in order to pursue opportunities in this wider market, particularly if they are not familiar with the MENA business environment.
Finally, MATRADE organises The Malaysia International Halal Showcase (MIHAS) every year to market halal products across the world. In 2013, more than 460 exhibitors from 30 countries, and 18,000 visitors from 65 countries took part, providing an ideal platform from which Hong Kong businesses can reach out to potential halal product buyers across the world.
Useful links:
Halal Malaysia

Halal Industry Development Corporation (HDC)

Malaysia External Trade Development Corporation (MATRADE)

Malaysian Franchise Association
Related information: Malaysia infographics
---
[i] The report was produced by Thomson Reuters in collaboration with DinarStandard. (www.zawya.com/files/islamic-reports/tr-state-of-islamic-economy-2013.pdf)
Malaysia
ASEAN
Southeast Asia