https://hkmb.hktdc.com/en/1X09XC1Z
A reviving EU: opportunities and challenges
In line with other advanced economies, the EU is coming out of recession, with the economic upturn apparently not restricted to the more robust member states - Germany, France and the UK. Most encouragingly, many of the more debt-ridden eurozone countries, such as Italy and Spain, are also showing signs of a revival. With all the signs indicating that consumer confidence has rebounded quite significantly in almost all EU member states, Hong Kong exporters should intensify their sales efforts to capitalise on the renewed opportunities in the region.
While an increasing number of consumers are showing a greater willingness to increase their spending, a majority may well remain conservative as a legacy of their sustained economic hardships. As such, Hong Kong exporters should offer well-priced products that are safe, fit for purpose and environmentally friendly, while also incorporating unique styles and features. They should further enhance their own supply chains in order to handle smaller contracts; build up their design capability to take advantage of the popularity of private labels; and build connections with value retailers and low-cost outlets, especially e-tailers.
Reviving EU economy
The EU, characterised by the recent stabilisation of the sovereign debt crisis, is showing increasing signs of a more sustainable recovery amid a relaxation of monetary policies, widespread fiscal consolidation and the structural reforms of a number of countries. Against this backdrop, the European Commission has recently raised its forecasts for the EU economy. The EU's GDP, which edged up 0.1% last year, is now projected to grow by 1.5% and 2% in 2014 and 2015 respectively. At the same time, the eurozone economy, which fell 0.4% last year, is forecast to expand by 1.2% and 1.8% in 2014 and 2015 respectively.
While these growth figures are not particularly remarkable, the recovery process, which began in the second quarter of 2013, is nonetheless impressive, given the substantial impact of the financial crisis on the EU over the last few years. Growth across the region, which is increasingly propelled by domestic demand on the back of more favourable economic and income expectations, is becoming more balanced. Over the medium term, consumption and investment are poised to expand at an accelerated pace, benefitting suppliers from both inside and outside the EU, including Hong Kong.
Evidently, the EU recovery is also broadening in a geographic sense. The growth discrepancies among EU members are expected to narrow, with gains spreading from Germany to France as well as to the weaker eurozone members, such as Italy and Spain. In the meantime, the outlook for a few non-eurozone members (notably the UK), the Nordic countries (especially Sweden) and Baltic states (such as Latvia) is also somewhat optimistic.
EU economic performances and forecasts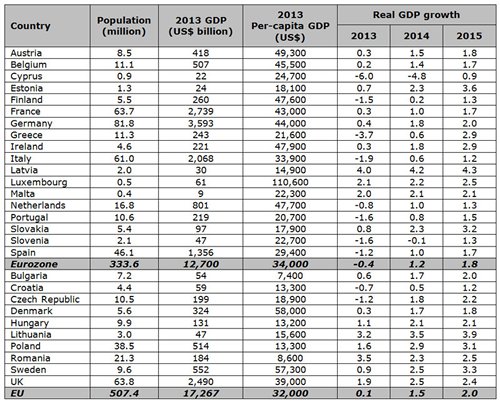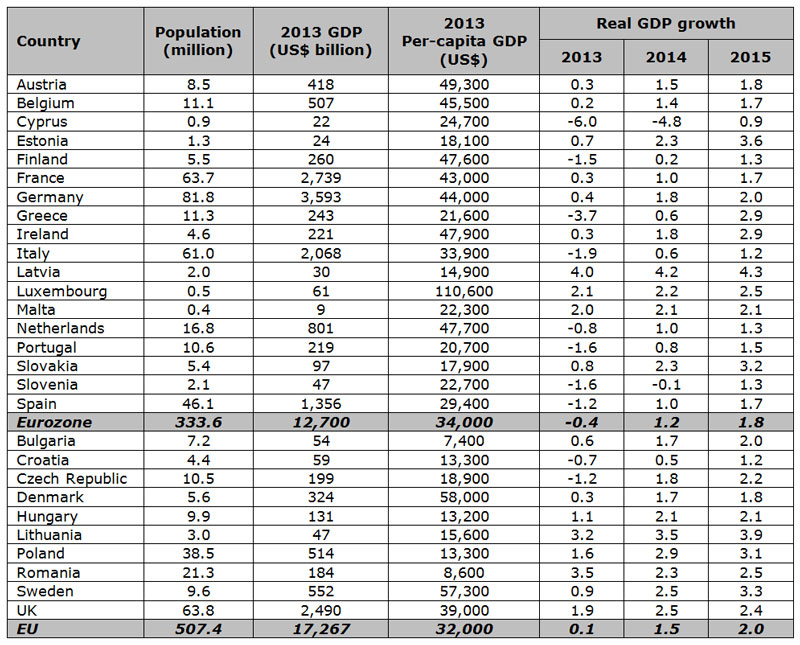 Source: IMF, European Commission
A multi-track recovery
Among the core member states, Germany, the largest economy in Europe and a major bright spot over recent years, will see growth quicken slightly. Capitalising on rising external demand aside, lower unemployment and rising wages should bolster consumption. For its part, the French economy, despite its relatively slow pace of reform, should also see a modest recovery, facilitated by a mild pick-up in consumer spending. By contrast, robust growth is forecast for the UK, spurred by firming domestic demand in light of a strong property market and falling unemployment.
A gradual revival is also underway in a number of debt-stricken eurozone members. Most notably, Italy and Spain, the fourth and fifth largest economies respectively in Europe (after Germany, France and the UK), are expected to witness modest growth on the back of rising exports. Revival of these economies – the five largest and accounting for nearly 60% of the EU total - should provide an added stimulus for the rest of the region.
The Nordic countries, which have high per-capita GDP in tandem with a fairly low level of unemployment, are also noteworthy. By comparison, these countries have not been seriously affected by the sovereign debt crisis, with their economies now taking advantage of the revival of their EU counterparts. Economic growth is expected to accelerate, especially for Sweden, the largest of the Nordic countries, with domestic demand remaining the key growth engine. The neighbouring small Baltic states are expected to exhibit even more rapid economic expansion. In Latvia, in particular, sound growth will likely be supported by both domestic and foreign demand, plus an improved business atmosphere stemming from its recent adoption of the euro.
The economic environment is likewise becoming more favourable in Central and Eastern European countries, with business interest focussing on Poland, Hungary, the Czech Republic and Slovakia, where growth should gain further ground over the medium term. For Poland, which was relatively unscathed by the debt crisis, as well as Hungary, which was adversely impacted by the financial turmoil, growth should hasten, due to increasingly robust domestic demand. As for the Czech Republic and Slovakia, which depend more on exports as their economic driver, growth should gather momentum amid stronger external demand.
Subdued consumer sentiment
The upward economic trend in the EU has been reflected in the positive development of the Consumer Confidence Indicator. While the indicators for both the EU and the eurozone have rebounded strongly since early 2013 to a level somewhat above the long-term average, readings in the negative territory suggest that consumers are still showing signs of pessimism. This suggests that consumer confidence remains fragile despite marked improvements. If anything, sustained economic headwinds will continue to weigh on consumption for the foreseeable future.
Consumer Confidence Indicator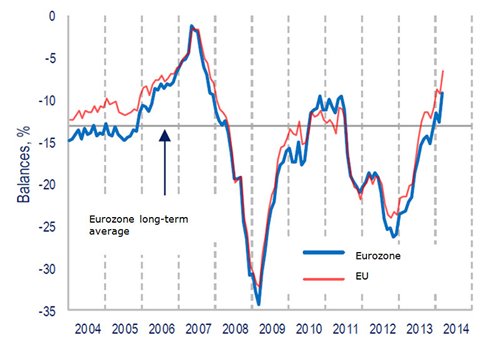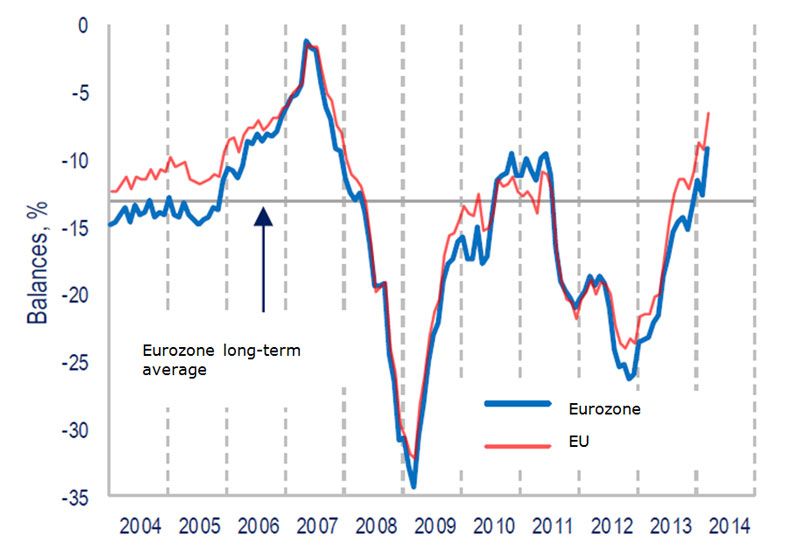 Remark: The Consumer Confidence Indicator measures consumer confidence on a scale of -100 to 100, where -100 indicates extreme lack of confidence, 0 neutrality and 100 extreme confidence.
Source: European Commission
For one thing, joblessness has declined only slightly. Though fiscal consolidation and structural reform have laid the foundations for economic recovery, the pace of growth is not strong enough for companies to hire substantial numbers of additional employees. As it now stands, the unemployment rate for the EU remains above 10%, with that for the eurozone hovering around 12%. As these rates are not expected to drop significantly for some time to come, income expectations will likely be low, inevitably impairing EU consumer sentiment over the short to medium term.
2013 unemployment rates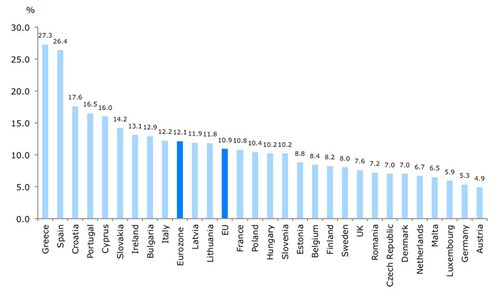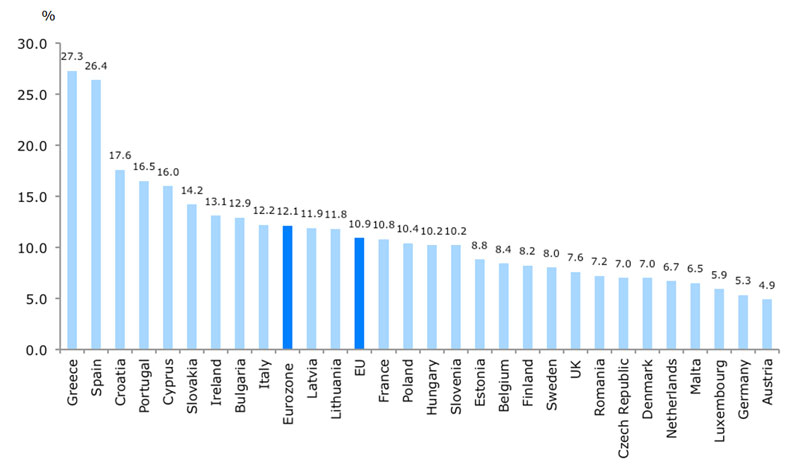 Source: Eurostat
In the meantime, budget consolidation and structural reforms have also paved the way for debt reduction. Notwithstanding the fact that considerable improvements in public finances have been attained so far, however, national debts are still a high levels, with public debt as a proportion of GDP amounting to some 90% and 95% in the EU and eurozone respectively - much higher than the 60% benchmark. As a consequence, fiscal prudence is expected to remain in place as the debt crisis is seen as being far from over, with the accompanying austerity measures likely to constrain any revival in consumer confidence.
2013 public debts (as % of GDP)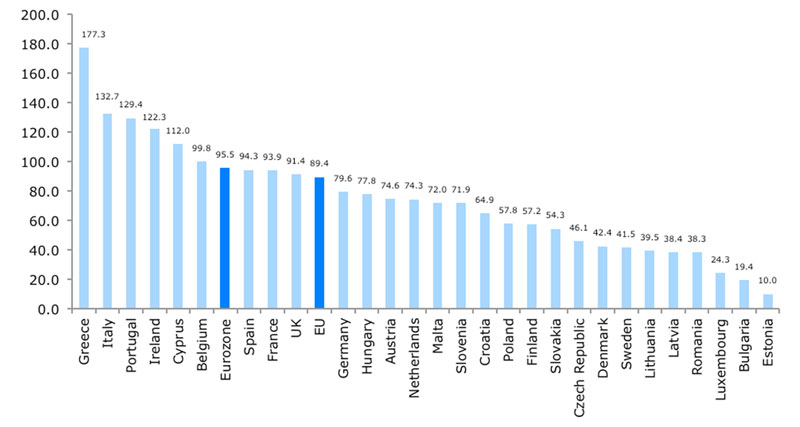 Source: Eurostat
Importers to remain cautious in sourcing
Given the recent nature of the economic recovery and the fragility of consumer confidence, many recession-induced shopping habits will likely persist. Despite this, consumption in a growing number of EU member states should increase, along with a gradually improving appetite for more expensive items. In all likelihood, consumers across the region will generally favour those lower-priced items that offer good value in terms of design, quality, product safety and environmental-friendliness. They will also be on the lookout for discounts, and maintain a strong affinity for private labels, which are usually much cheaper, at the expense of branded products. As shoppers continue to be cautious, value retailers and other low-cost outlets will remain a common sight. Discounters and hypermarkets aside, e-tailers in particular are flourishing, thanks to the availability of cheaper products, ease of price comparison and the rising popularity of mobile devices.
Evidently, continued consumer cautiousness serves to sustain the prudent behaviour of retailers and importers with regard to their sourcing practices. While still dealing with aftermath of the economic downturn, they are inevitably going to remain concerned over competitive pricing and flexible delivery. This will be seen as necessary in order to maintain margins and reduce inventories, while responding effectively to changing market demands. Furthermore, some buyers are reducing their number of suppliers as a way to tighten control over their sourcing activities, whereas some others are revaluating their offshoring and outsourcing operations.
Shopping habits and sourcing practices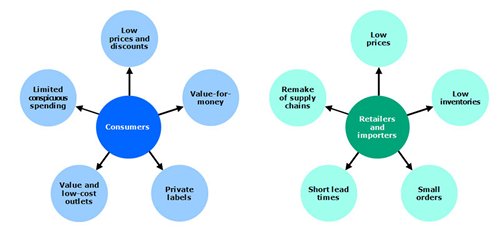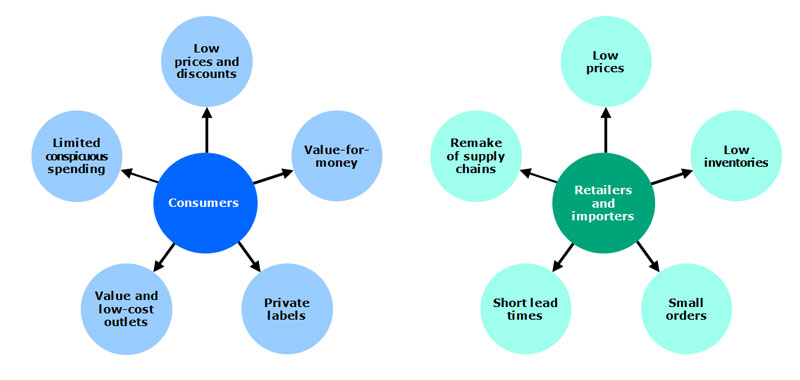 Source: HKTDC
For many years, The Chinese mainland has held a leading position as the producer of a wide array of consumer goods for European retailers and importers. Surging production costs in the coastal regions, not least the Pearl River Delta (PRD), though, have galvanised EU buyers into moving their sourcing activities to lower-cost regions. In addition to the inland regions of the mainland, Southeast Asia is becoming an alternative manufacturing base and, amid the narrowing cost differentials between producing in Europe and overseas, a few EU buyers are also exploring the feasibility of reshoring in order to enhance their supply chains. While a strong wave of reshoring back to Europe is not a likely prospect in the short term, products with high value and short delivery lead times will prove more susceptible to this emerging trend.
Tips for Hong Kong exporters
The gradual recovery of the European economy is certainly good news for Hong Kong exporters, who should increase their efforts to capture any reviving business opportunities in this the new economic environment. They should, for example, keep an eye on the more debt-ridden economies, especially Italy and Spain, which are coming out of the recession in tandem with a bottoming out of domestic demand. The Nordic countries (among the richest in the EU) and the Baltic states (expected to show rapid economic expansion) are particularly noteworthy.
Hong Kong's exports to EU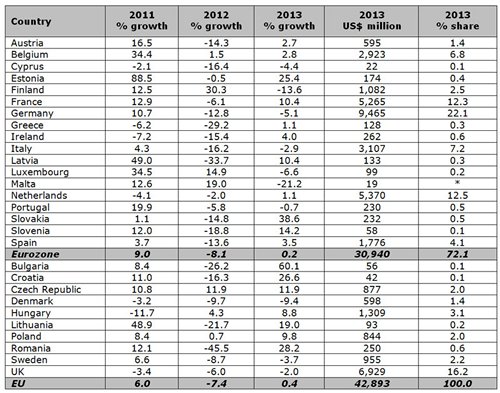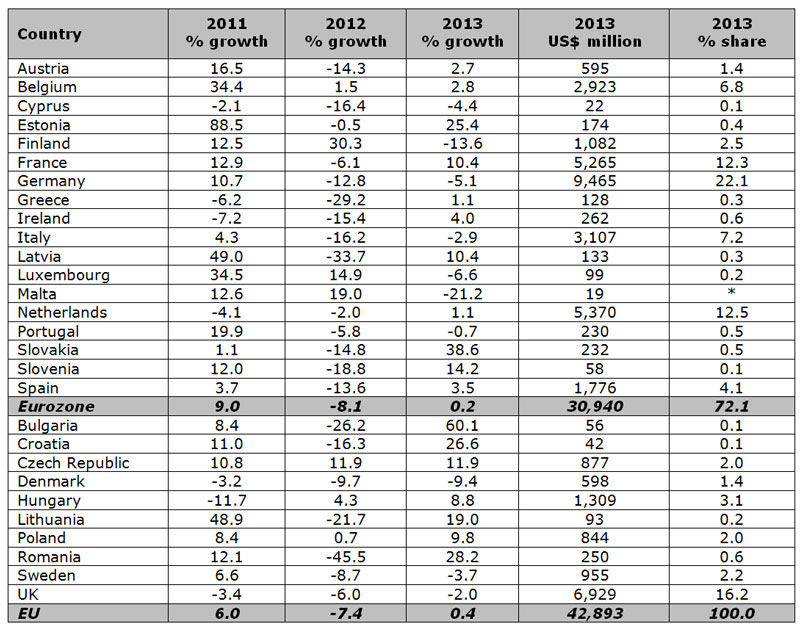 Remark: * denotes insignificance
Source: Census & Statistics Department, HKSAR Government
When targetting the EU, Hong Kong companies will have to maintain a firm grasp of the prevalent consumer trends and be able to formulate the appropriate product and marketing strategies. As a key part of this process, exporters will need to increase the value of their products. Consumers demand not only low prices, but also good quality, and exporters should offer well-priced products that are safe, fit for use, as well as environmentally friendly. To enhance competitiveness, they are further advised to attract consumers with unique styles and features. In the meantime, Hong Kong exporters should also pay attention to the luxury market, given the gradual return of discretionary consumption among the more well-off shoppers.
In the face of discerning EU retailers and importers, Hong Kong firms will have to establish themselves as value-for-money suppliers with a clear differentiation from other regions. They should first strengthen their own supply chain management so as to be able to handle small orders with wide assortments and quick deliveries at reasonable costs. To capitalise on the mushrooming of private labels, they should further build up their design capability, enabling retailers to offer a better and smarter product mix. Last, but not least, exporters should reach out to value retailers and low-cost outlets, especially e-tailers, all of which are expected to outperform bricks-and-mortar retailers in the years to come.