https://hkmb.hktdc.com/en/1X09X3O3
Urbanisation and retail development in Henan (4): the renovation of traditional commercial districts
In the face of competition from urban complexes springing up in new commercial districts, Zhengzhou's traditional commercial districts such as Erqi are stepping up efforts to improve or upgrade their shopping environment by opening new shopping malls, supermarkets, entertainment, catering and other consumer facilities to attract visitors.
Modern shopping malls is the trend
Amid urban development of Henan in recent years, new commercial districts also emerged as a result of urban complex development. These new urban complexes typically encompass new shopping centres. An example is the eastern district of Xinxiang where a new commercial district is taking shape. Baolong City Square, the first urban complex in the city, has been built to provide offices, apartments and shopping malls. It will be the first family-oriented lifestyle mall positioned to serve the growing community as people are moving in. In the future, it will evolve into a lifestyle centre and an icon of modern lifestyle for the entire city of Xinxiang. Its current plan is to introduce some fast fashion brands, such as H&M and ZARA.
| | |
| --- | --- |
| Baolong City Square in Xinxiang | ITC 360 Plaza on Huayuan Road, Zhengzhou |
Modern shopping centres recently opened in the second- and third-tier cities have also brought along changes in local shopping and leisure patterns. A variety of functions such as shopping, entertainment, leisure and dining are housed under one roof in a comprehensive shopping complex, which is its biggest attraction. A customer survey conducted by a shopping mall in Luoyang shows that a lot of its visitors coming to have meals, and many others seeking entertainment, such as watching movies in the mall. Therefore, these integrated shopping malls reckon restaurants play the strategic role of stimulating people flow. According to a department store in Zhengzhou, consumer demand is changing. In the past people came shopping in the department stores, but now they are in the pursuit of an experience and a leisure attitude, not necessarily for shopping.
| | |
| --- | --- |
| Wanda Plaza in Zhongyuan District in western Zhengzhou | Wanda Plaza in Zhongyuan District in western Zhengzhou |
In Jiaozuo, retailing still revolves around the traditional department stores. Modern shopping centres are at the start. It is learned that Dennis Department Store is preparing to build a new integrated store in the city's Jiaonan New District.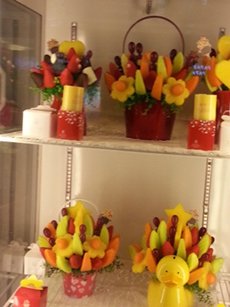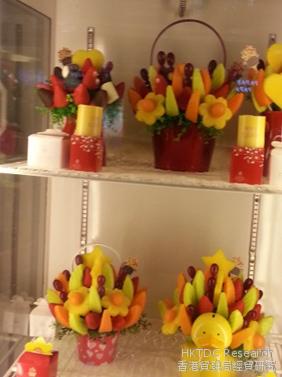 Specialty fruit store at Wanda Plaza in Zhengzhou
In Kaifeng and Xinxiang it is apparent that some supermarkets are turning into department stores, and even shopping malls. In Kaifeng, for example, RT-Mart is more like a shopping mall. Supermarket aside, it also sells other products and brands.
Traditional commercial districts: renovation, upgrade and better shopping environment
In recent years, the emergence in Zhengzhou of new commercial districts centred around urban complexes has given the traditional districts some impact. Traditional areas such as Erqi commercial district are gradually undergoing improvement or upgrading in their shopping environment. For example, in the second half of 2014, Dennis Department Store is expected to build a new urban complex where, in addition to department stores, a host of facilities including entertainment (such as an ice rink), catering and a hypermarket will be available.
In the vicinity of Erqi commercial district, two large shopping centres, David Plaza and the MixC, will soon be opened. The MixC will cover the three themes of cosmopolitan avant garde, top fashion and family experience. With a variety of features including shopping, leisure, entertainment, social gathering and business, it will become a one-stop shopping centre. Dashang Group's New Mart Kingbird City store will also be renovated and upgraded in 2014. Under the new expansion plan, the store will move towards a higher grade in terms of hardware renovation and launch of upper-market brands.
New Mart Kingbird City store's future expansion will provide a one-stop shop with more dining and entertainment facilities, including children's games area. Also in the pipeline is collaboration with nearby consumer service establishments, facilitating consumers to search and locate department stores and other dining and entertainment facilities via mobile apps which also provide updates on discount deals.
Situated in another commercial district in Zhengzhou on Huayuan Road, Dennis Department Store was the first to introduce a foreign supermarket in Zhengzhou. The store is also preparing for renovation, with plans to add a youth element, in line with the nearby ITC 360 Plaza, to attract young customers.
Special features of local retailers' operations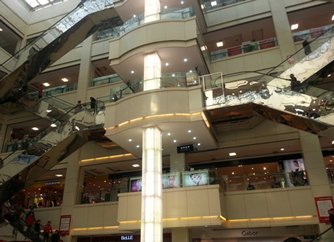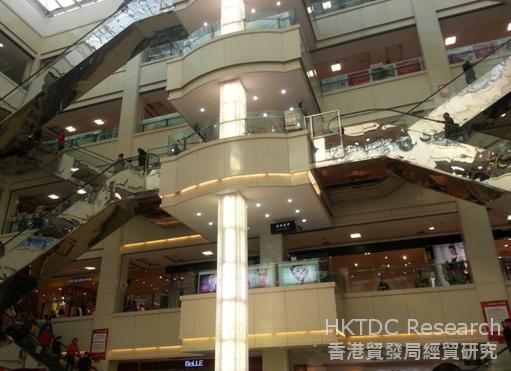 Pangdonglai Store in Xinxiang
Some of the department stores or shopping malls from other provinces or foreign countries have successfully entered the retail sector in Henan and become major players, such as Dashang Group, Wangfujing Department Store, Dennis Department Store and Wanda Plaza. However, in certain cities the local retailers are maintaining a strong foothold, with a loyal customer base. These retailers may be potential partners when the time comes to explore the local market.
Dazhang Supermarket, mainly covering Jiaozuo and Luoyang, for example, has a solid local customer base. In Luoyang there are more than 50 of its stores with established logistics and distribution facilities. As consumers are increasingly demanding on quality and service, Dazhang has become more and more stringent in product selection, especially fresh products. As urban lifestyle changes, supermarket sales of frozen and refrigerated foods are growing substantially and so is the floor space for selling such food which has doubled over the past few years. Products sold in different branches carry some differences. In new residential districts, for example, due to the higher income levels of the people, product quality will be higher to include imported products. Though not much sought after right now, imported food is expected to become a rising trend.
Another example is Sunwin Commerce Plaza, a local department store operated by a private enterprise in Jiaozuo. Though not positioned as selling top brands, it belongs to the more upscale of the local department stores. In 2014 it will undergo renovation, shifting to be a boutique store with higher grades and greater emphasis on fashion and taste. The store plans to introduce top cosmetics brands. Meanwhile, Tommy Hilfiger just opened a shop in the store, selling at prices acceptable to local consumers.
| | |
| --- | --- |
| Dehua shopping street in Zhengzhou's Erqi commercial district: facelift underway | Sunwin Commerce Plaza in Jiaozuo |
Pangdonglai Store in Xinxiang city is also a major retailer. Well managed, sizeable and modern seem to be the impression many people have about the department store. Product grades are slowly improving over time. Inside the store there are food catering and film shows, resembling a mall.
Sam's Group in Kaifeng has a strong network in the field of supermarkets in Kaifeng. Now starting to introduce some imported packaged foods, including snacks and drinks, it is ready for a change and going more upmarket. Due to the rising demand for packaged frozen food, Sam's supermarket in Kaifeng last year increased the size of its frozen food department. Local consumer taste is becoming more diversified, for example, sales of condiments from different countries are on the rise.
Mainland China
Mainland China