https://hkmb.hktdc.com/en/1X09X0QA
Social media in China: online-offline strategy pays off for fashion brand
Founded in 1995, the Goelia brand is handled by Guangzhou Gefeng Fashion Co Ltd, a large comprehensive enterprise encompassing the R&D, production and sale of ladies' fashion under one roof. Goelia is the first ladies' fashion brand in China combining world travel and fashion, and designing metropolitan, chic, elegant and exquisite ladies' wear by integrating such concepts as travel culture and flower culture. In addition to selling the GOELIA brand (a.k.a. Big G) mainly in its physical stores, Goelia has also launched a sub-brand goelia (a.k.a. Small g) online to target the younger consumers in 2012, extensively expanding the coverage and market potential of the brand. In recent years, as more and more mainland consumers participate actively in social media, Goelia is making good use of these new media as one of its promotional channels.
Travel is life: World Tour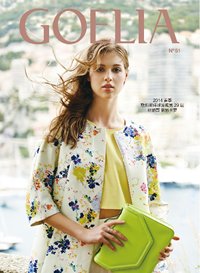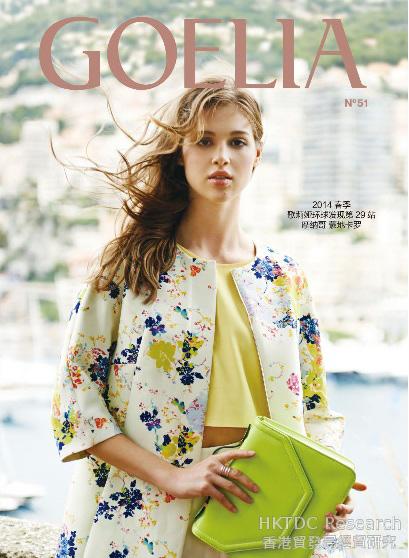 Monte Carlo, 29th stop of World Tour, for spring/summer 2014
Goelia believes that "travel is life". This does not merely refer to real travel, but also represents modern females' attitude towards life – cheerful, positive, receptive to new ideas, and going after new experiences. Starting from 2002, Goelia's World Tour team would visit a different country every season to do location shooting. Inspirations from the tour will be used in brand promotion, and upcoming collections will evolve from the international fashion trends discovered during the tour. For instance, location shooting of World Tour for spring/summer 2014 took place in Monte Carlo, Monaco. Through travelling, discovering and sharing, World Tour presents the history, culture and local customs of the different countries and regions over the past 10 years, and Goelia has established a distinctively international profile.
GOELIA physical stores: emphasis on shopping experience
The main target consumers of "Big G" are females aged 26-31 in the upper-middle market segment, with those aged 28 being core customers. Sales are mostly made at physical stores. The majority of Goelia's physical stores are found in department stores and shopping centres. Fresh flowers and live plants are the hallmark of these stores, where store ambience adds to the elegance and taste of the products. Today, the lifestyle and consumption style of the mainland middle class are moving towards the pursuit of taste and quality. As such, they have higher expectations of the inherent values of a brand.
Goelia provides consumers with the latest information on products, fashion trends and mix-and-match through its two major fashion shows for spring/summer and fall/winter each year as well as its quarterly magazine featuring the images taken by World Tour at each stop. Its physical stores, apart from serving as sales channels, also help reinforce and enhance its brand image. For instance, Goelia adopts a unique marketing strategy of giving away flowers with every purchase. After making purchases at Goelia's stores in certain cities, customers can go to Goelia's flower shops and get fresh flowers by presenting the invoice. This strategy, in addition to enriching the customer's shopping experience and satisfying middle-class consumers' desire for individuality and trendiness without extravagance, can also enhance the image of the brand by sharing the good things in life.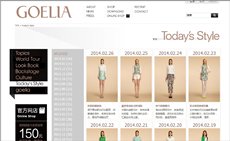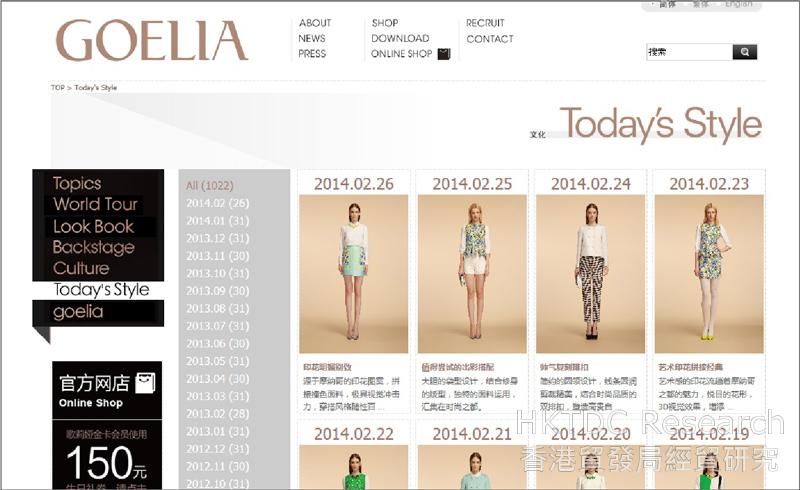 "Today's Style" at Goelia's official website
The Goelia 225 concept store on Beijing Road in Guangzhou comprises a sunlit flower room, a fleuriste flower shop, an activity showroom, a World Tour themed exhibition hall, a coffee corner, a creative premium goods zone, and a second-hand books reading area, allowing consumers a taste of trendy lifestyle. For instance, in the spring/summer of 2013 when Goelia's World Tour visited Paris, its 27th stop, the concept store ran a photo exhibition "Paris au jour le jour", unfolding Paris under the lens of Queenie Cheen, a young female Chinese artist, and allowing customers to experience the fusion of art and life.
goelia online shop: rapid growth
As e-tailing develops in leaps and bounds in China, Goelia has also launched a sub-brand goelia online. The target consumers of this brand are younger females aged 22-27, with those aged 25 being the core customers. Goelia has not only opened an official online shop (http://mall.goelia.com.cn), but also flagship stores on third-party platforms including Tmall.com, JD.com and yintai.com to give consumers the convenience of shopping at different channels. As third-party platforms are transaction-driven, little flexibility is afforded to a company's webpage design, content management or marketing tactics. In contrast, Goelia's own official online store has greater freedom and flexibility in terms of webpage design, operation and capital flow. Hence, companies can raise brand profile and reinforce unique brand values at their own official online shops. For example, at Goelia's official online shop, apart from featuring videos of its fashion shows and backstage clips, there is also a "Today's Style" section, displaying a different style of Goelia fashion and mix-and-match skills under different themes each day. Goelia also makes use of this online shop to highlight the style and characteristics of its collections, emphasising the brand's aesthetic philosophy and trendy positioning.
Online shop's marketing strategy
According to Selene Lam, vice president of Goelia, although running an online shop can save such costs as rental, shop renovation and sales staff wages, resources still have to be put in to make consumers aware of the existence of the online shop and attract them to visit. In general, third-party platforms provide a number of marketing tools, such as Tmall.com's Zhitongche (a paid search ranking service), taobao.com's Juhuasuan (a daily deals service), banner ad space on homepages, and search engine optimisation (SEO). As the post-90s consumers began to rise and search for their individual style and establish their personal image, they often refer to the blogs and Weibo posts of trendsetters in the cyber world. In order to meet the demand of this new generation of consumers, companies have started to make use of social media as their marketing tool. Since anyone can access Weibo posts, companies should consider the following factors: (1) the time slot when Weibo posts are most read is also the most effective; (2) the right volume of Weibo posts so as to avoid user resentment; (3) post titles and topics that can attract the most attention. Currently, most companies use Weibo as a platform for brand building instead of selling products directly. However, many companies do include a link on their Weibo page to direct interested consumers to shop on their official website.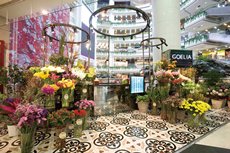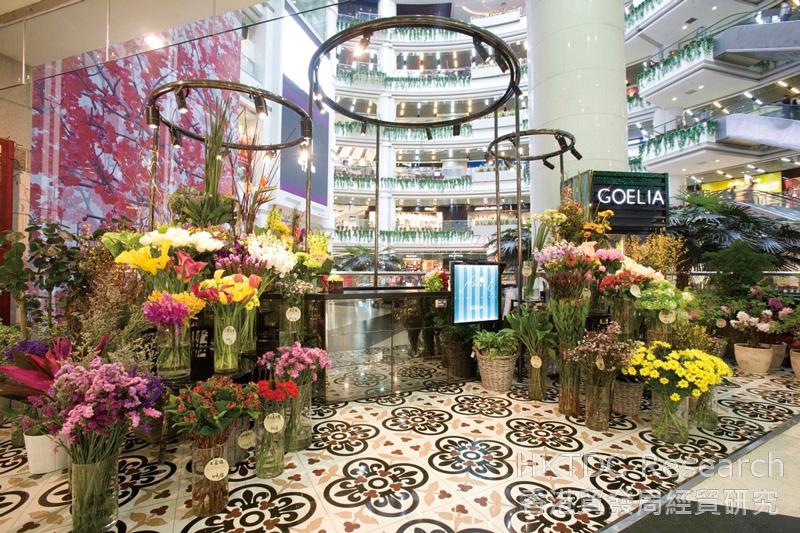 GOELIA fleuriste, Grandview Mall, Guangzhou
Engaging consumers online
Apart from disseminating production information and trend information on Weibo, companies can also organise activities to engage consumers and raise their awareness of their brand. For instance, Goelia hosts the Quanmin Mingxing (meaning "everyone's a star") Show on Weibo and invites participants to post photos of themselves wearing Goelia brand clothing onto its Weibo account for public voting. This event helps attract Goelia's fans on Weibo to forward the posts to their friends, thus increasing the exposure of the Goelia brand to other Weibo users.
Online-offline differentiation
Consumers generally think that the price of products sold at online shops "should be" lower than that in physical stores. If the products offered on an online shop are the same as those sold at a physical store and yet the price of the products offered at the online shop is lower, it would deal a direct blow to the sales of the physical store. And if the price at the online shop is the same as that in the physical store, it would undermine the attraction of the online shop to consumers. If the online shop only sells off-season items, then it would become the "outlet" of the physical store and will lose its advantage in building brand image.
Goelia's strategy is to distinguish the customers of its online shop from those of its physical stores by way of differentiation of product style and price. Its online shop mainly sells collections of the sub-brand "Small g", while its physical stores offer the "Big G" collections targeted at the upper-middle segment of the ladies' wear market. The company caters to consumers in different age groups by offering different product styles. As online shoppers are mainly young consumers who are more price sensitive, the price of "Small g" products is relatively more competitive. Meanwhile, buyers of "Big G" products have stronger purchasing power and attach more importance to shopping experience, thus only physical stores can create and provide an elegant and leisurely shopping environment for them. In the long run, Goelia can make use of the "Small g" collections at its online shop to engage its customers. As these online consumers grow older, they are expected to become patrons of "Big G" products. Hence, as long as the product positioning and marketing strategy of a company complement each other, its online shop and physical stores can serve different consumer groups, which will in turn drive its long-term development strategy.
Mainland China
Mainland China