https://hkmb.hktdc.com/en/1X09WXVE
Malaysia: opportunities in its dynamic and diversified consumer market
Malaysia is one of the wealthiest emerging economies in Asia, despite its relatively small population of about 30 million people. Overall, it is the sixth most populous country in ASEAN. Its GDP ranks third among ASEAN's economies, as does its per capita income of US$10,000 – this is sufficient for the World Bank to classify Malaysia as an upper middle income country. Geographically, Malaysia is situated right in the middle of ASEAN, surrounded by the nine other member nations.


Malaysia is firmly in the middle of the ASEAN pack, in terms of population and GDP
Source: IMF
Despite a difficult external environment, Malaysia managed to register GDP growth of 4.7% in 2013, down somewhat from its compound annual growth rate (CAGR) of 6% from 2009 to 2012. Nevertheless, the GDP contribution from private consumption climbed to 52% in 2013, up from 49% in 2011, suggesting Malaysia's growth is becoming more driven by domestic-demand. With the developed markets showing signs of improvement, both the International Monetary Fund (IMF) and the Asian Development Bank (ADB) expect export-reliant Malaysia to see GDP growth of about 5% in the coming years.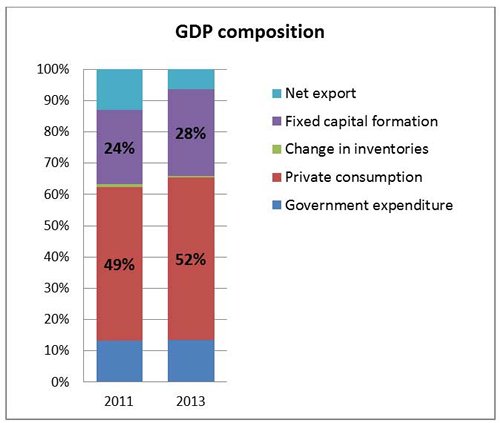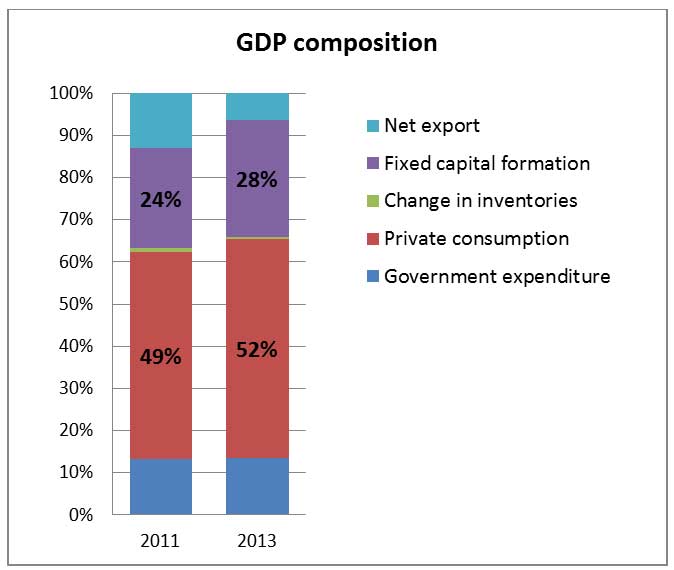 Private consumption contributed over half of GDP in 2013
Source: Department of Statistics Malaysia
Expanding retail market spurred by rising purchasing power
The retail sector is a major catalyst for economic development in Malaysia and has shown firm GDP growth over the past few years. This is thanks in part to strong purchasing power, supported by an expanding middle class and rising household income. As shown in the chart below, retail sales have grown at a high single-digit rate for each of the past two years.
Malaysia's middle-income households (those with annual disposable incomes of more than US$10,000) account for about three-quarters of the country's population, up about 15 percentage points from 2009. This is more than that of Thailand, Vietnam, the Philippines or Indonesia, but falls behind Singapore.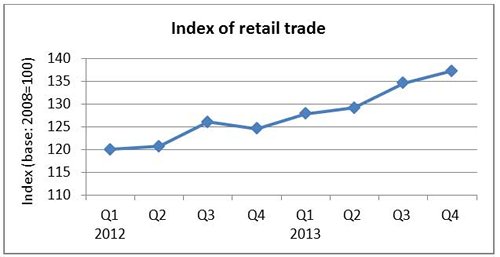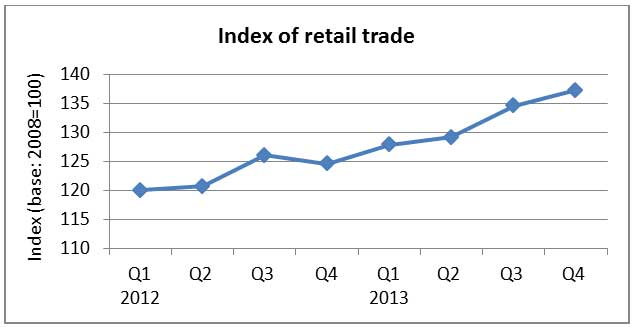 Improving retail trade in Malaysia
Source: Department of Statistics Malaysia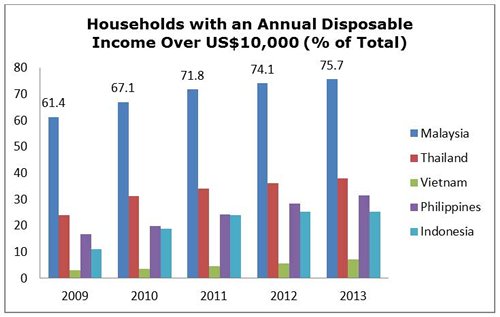 The expanding middle class accounts for three-quarters of the population
Source: Euromonitor
The mean household income in Malaysia, between 2009 and 2012, enjoyed a higher than average annual growth rate of 7.2%, putting it ahead of GDP growth. This compares favourably with a CAGR of 4.4% from 2007 to 2009, according to Malaysia's Department of Statistics. With about 70% of Malaysians in the working age bracket of 15-64, alongside rising consumer spending and a declining private saving ratio, Malaysia is a robust and dynamic consumer market and one with strong and increasing spending.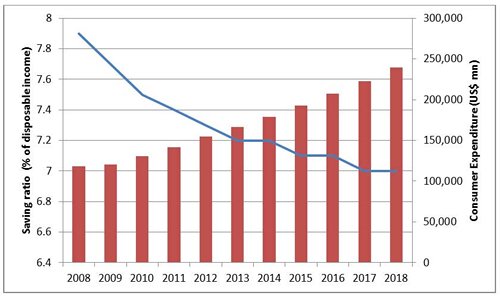 Falling savings ratio and rising consumer expenditure in Malaysia
Source: Euromonitor
Malaysia's growing consumer demand is reflected, to some extent, by the country's import patterns. From 2009 to 2012, Malaysia's imports of consumer goods grew at a CAGR of 13.4%, faster than the 11.8% growth in total imports over the same period. The demand for mid-to-upper class lifestyle products, such as fashion and accessories, watches, gifts and premium, electronic gadgets, jewellery and personal care goods, has been strong. Consumer expenditure on clothes and footwear, for example, expanded by a CAGR of almost 10% from 2009 to 2013.
Many international fashion chains, including Uniqlo, Forever 21, H&M, Cotton On and Zara, have been attracted to Malaysia in light of this. In 2013, two British brands - Cath Kidston and Superdry- also set up shop in the country. The rising incomes of the Malaysian middle class has led to greater discretionary spending on lifestyle products, especially imported brands – and this is expected to expand further in the foreseeable future.
| | |
| --- | --- |
| An H&M store at a mall | A Debenhams store |
Where and how to tap into the market?
Kuala Lumpur (KL), the capital and economic hub of Malaysia, is on the central west coast of the Peninsula Malaysia. Home to about 1.6 million people and accounting for about 6% of Malaysia's population, KL is directly governed by the federal government, despite being located within the state of Selangor. Klang Valley, also known as Greater Kuala Lumpur (GKL), has an estimated population of about 7 million and is the most developed retail market in Malaysia. As such, it is the obvious entry point for foreign retail operators and investors.
GKL is home to most of the high-end malls in Malaysia, including Suria KLCC, Pavilion Kuala Lumpur, Starhill Gallery, Mid Valley Megahall, Sunway Pyramid and The Gardens Mall. According to real estate consultancy Knight Frank, the amount of retail space in GKL was approximately 45 million square feet in 2013. It is expected to expand rapidly in 2014, with several large projects due for completion.
| | |
| --- | --- |
| Christmas decorations at a mall | Pavilion Kuala Lumpur |
Additionally, many malls in the GKL region have recently been refurbished or redeveloped in order to enhance their competitiveness. Most of the prime malls are trying to keep up with global retail development trends and are positioning themselves as one stop shopping, catering and entertainment hubs – rather than simply as shopping centres.
It should be noted that Malaysians generally prefer air-conditioned, covered malls and department stores to outdoor wet markets and street stores. This is due to the increase in incomes and car ownership, plus the generally hot and wet tropical climate, which means thunder storms are common in the afternoon. When it comes to buying non-necessities, such as lifestyle products, Malaysian consumers tend to visit malls.
It is interesting to note that there are few pedestrian sidewalks leading up to some prime malls, meaning the route of entry is by car (a trend assisted by the number of readily available parking spaces) or the mall's own shuttle buses. In order to target middle-income earners in Malaysia, Hong Kong businesses should ensure their products are distributed through the "right" channels – those preferred by their target consumers.
| | |
| --- | --- |
| Thunderstorms are common | An IT mall without a sidewalk |
Consumer market categorised by income and ethnicity
Malaysia's consumer market can be categorised according to income levels and ethnicity. The Bumiputera (a Malaysian term used to describe the Malay race and other indigenous peoples) and the Malaysian-Chinese have somewhat different consumption patterns. In order to effectively target Malaysia's consumer market, then, one should be sufficiently well informed about the differences between these two main consumer groups and be ready to implement appropriate market segment strategies.


Malaysia and Kuala Lumpur population, according to ethnicity, 2010
Source: Department of Statistics, Malaysia
KL is the most populous city in Malaysia and the Malaysian-Chinese account for about half of its population – a figure much higher than the national average of about 25%. A similar ratio is found in Penang, which has an estimated population of 1.2 million.
According to Malaysia's Department of Statistics, the average monthly household income in 2012 of Malaysian-Chinese was 43% and 22% higher, respectively, than that of Bumiputera and Indians, indicating the relative differences in spending power. The more wealthy consumers are concentrated in Malaysia's major cities, notably KL, Penang and Johor Bahru.
Mid-to-high end lifestyle products, such as watches, jewellery and brand fashions, are best suited to the higher-spending Malaysian-Chinese consumer market. Hong Kong businesspeople should, therefore, devote more attention to KL and Penang, the principal entry points to the Malaysian market.
| | |
| --- | --- |
| Chinese is one of the major languages in Malaysia | A night market scene |
It would be wrong, though, to overlook the substantial purchasing power, of the majority Malay consumers, whose population and household income is rising. While targeting this market segment, retailers need to adopt a flexible approach in terms of devising products and marketing them. As local Malays are predominantly Muslims, businesses need to respect their religious beliefs and become acquainted with their traditions and customs.
Giordano, for example, has successfully penetrated the Malay market in recent years by adjusting its product mix in stores near Malay communities. It sells clothing that is more suitable for - or even specifically designed for - Muslim consumers, such as long-sleeved women's wear.
On the marketing front, models of different ethnicity, including Malays, feature in many promotions, such as posters and TV advertisements, a reflection of the emphasis on racial harmony. Foreign businesses wishing to reach out to Malay consumers should make good use of the extensive retail networks of hypermarkets (such as Giant, AEON, Tesco) and department stores (Parkson, Isetan, Metrojaya).
Malaysia as a regional shopping centre
Malaysia's consumer market is dynamic not just because of the influx of new retail players tapping into local consumers' increasing purchasing power, but also because of its central position in the region and beyond.
One of the key developments in the geographically dispersed and ethnically diverse ASEAN is the likely establishment of the ASEAN Economic community (AEC) by the end of 2015. AEC is an attempt to create a unified ASEAN market of more than 600 million people, with the aim of propelling growth by allowing the free movement of goods, services and people. This means that Malaysia will increasingly focus on the benefits of retail sales thanks to its flourishing tourism sector, which has shown continuous development.
As the sixth most-populous ASEAN country, with the highest per-capita income among these six, Malaysia's central location within ASEAN makes it the ideal regional showcase for retail brands looking to target the well-travelled, middle-income consumers of the trade bloc. For foreign companies eyeing the business potential of the broader market in Southeast Asia, Malaysia offers significant opportunities to invest in physical stores, consign to department stores, as well as being a suitable place to simply export consumer products.
Malaysia is the top tourist destination among the ASEAN member states, followed by Thailand and Singapore. Tourist arrivals to Malaysia have been growing steadily at a CAGR of 6.5% between 2002 and 2012, recording more than 25 million arrivals in 2012. Tourist spending in the country has risen at an even higher CAGR rate of 8.9% to about US$19 billion in the same period. This sees a considerable foreign consumer market emerging in Malaysia, one that overseas businesses should not overlook.
Neighbouring Singapore is the main source of Malaysia's tourists. It accounts for more than half of all tourist arrivals, followed by Indonesia, China, Thailand and Brunei. About three-quarters of the tourist visitors to Malaysia are from other ASEAN member states. This lends credence to the idea that Malaysia should be viewed as a platform for foreign brands looking to reach out to the broader ASEAN consumer market. This is particularly the case if the foreign company in question plans to enter only a single market initially.
| | |
| --- | --- |
| Country | Tourist Arrival |
| Singapore | 13,014,268 |
| Indonesia | 2,382,606 |
| China | 1,558,785 |
| Thailand | 1,263,024 |
| Brunei | 1,258,070 |
| India | 691,271 |
| Philippines | 508,744 |
| Australia | 507,948 |
| Japan | 470,008 |
| United Kingdom | 402,207 |
| Others | 2,975,777 |
| Total | 25,032,708 |
Source: Tourism Malaysia
Strong presence of Hong Kong brands
It is not difficult to find Hong Kong's most popular brands, lifestyle products and food and beverage businesses in Malaysia. The most prominent include Optical 88, City Chain, Giordano, Bossini, G2000, Chow Tai Fook, TSL and Hui Lau Shan. Many of them have a strong street presence and are a feature of many shopping malls, including the country's premium shopping centres. They are generally well received by local consumers.
| | |
| --- | --- |
| A Giordano boutique at a shopping mall | Chow Tai Fook in Pavilion KL |
Malaysia is Hong Kong's fourth largest export destination in ASEAN (trailing Vietnam, Singapore and Thailand). Hong Kong's exports to Malaysia increased by a CAGR of 8.6% from 2009 to 2013. Aside from electronic parts and components that form part of a regional production chain, Hong Kong's exports of consumer goods to Malaysia have witnessed robust growth, with a CAGR of 11.4% over the same period, to reach US$741 million.
This is a positive sign of growing Malaysian consumer interest in Hong Kong products. The major consumer good exports were lifestyle products, such as jewellery, clothing and accessories, watches and digital cameras. Notably, the export of jewellery saw a rapid CAGR growth of 67.3% from 2009 to 2013, followed by clothing and footwear (12.7%) and watches (12.1%).
Related information: Malaysia infographics
Malaysia
Southeast Asia