https://hkmb.hktdc.com/en/1X09WX72
2014 Chinese New Year sales: Shenzhen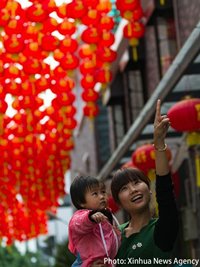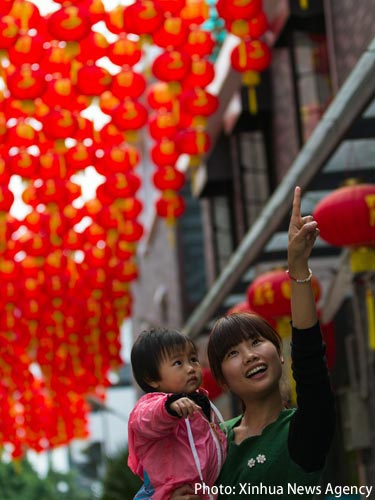 Jubilant celebrations for the Spring Festival in Shenzhen.
HKTDC's mainland offices, namely in Beijing, Dalian, Qingdao, Xi'an, Shanghai, Hangzhou, Nanjing, Wuhan, Chongqing, Chengdu, Guangzhou, Fuzhou and Shenzhen, made market visits to high-end, mid-high end and mid-range shopping centres in their cities a week after the Chinese New Year to find out how holiday sales have fared this year.
As local residents in Shenzhen prefer pre-holiday shopping, tourists visiting Shenzhen over the Chinese New Year became a new spending force during the Spring Festival Golden Week. According to user polls on travel website ctrip.com, Shenzhen was voted the 4th most popular city after Beijing, Shanghai, Guangzhou as a travel destination on the mainland during the 2014 Spring Festival Golden Week. Thanks to the boost in tourist numbers, turnover in clothing and specialty foods in that period surged drastically. Tourists from the north sought after not only spring fashion just launched on the market, but also winter clothing offered with huge discounts. Where foods are concerned, the sale of foods packaged as "Shenzhen specialty food" also hit a record high, with the most popular items being dried squids and biscuits.
In addition, shopping malls were keen to attract families staying in Shenzhen for the holiday. Extravagant festive decorations were put up in atriums and premium locations, and captivating games offering fabulous prizes were staged to draw shoppers. On the other hand, however, owing to government policies introduced in the past year, bulk orders of goods and sale of pre-paid shopping cards have plunged to an all-time low. In response, therefore, many supermarkets and hypermarkets are now turning their focus to the mass market and deploying various mass sales tactics to lure customers. More than ever before, shopping malls were meticulously decorated in all manners to heighten the festive atmosphere. Indeed, Shenzhen, as a migrant city, has attracted more and more settlers in recent years, with its commercial sector much invigorated. During the past Spring Festival in particular, in light of the cold weather and serious smog problem in the north, many families in Shenzhen invited their parents over to the city for celebrations, hence the heavy consumer traffic over the Chinese New Year.
The following is the sales situation of three leading stores:
Store
The MixC
Yitian Holiday Plaza
Lilian Sun Department Store
Grade
High end
Mid-high end
Mid-low end
Top-selling items
Top-class fashion brands, jewellery, watches and clocks and accessories, cosmetics, shoes, bags
Clothing, jewellery, cosmetics, electrical appliances, cinemas, skating rinks, catering outlets, supermarkets
Clothing, electrical appliances, jewellery, cosmetics, watches, shoes, bags and other accessories, food
Price range

Clothing: Above Rmb1,000

Clothing: Above Rmb500
Cosmetics: Rmb300-Rmb1,000 or more
Catering services: Rmb100-1,000 or more

Clothing: Rmb200-800
Cosmetics: Rmb100-700
Shoes and boots: Rmb200-900

Average spending per customer
Above Rmb1,000
Rmb1,000
Rmb500
Sales highlights
Houses flagship stores of top-class brands

Houses Shenzhen's first Apple Store which is the company's seventh retail outlet in China; the first six outlets are in Shanghai and Beijing.

Integrates shopping, entertainment and catering facilities

Electrical appliances (Sundan opened for business in 2013)

Promotion tactics
Customers spending specified amounts were entitled to a lucky draw chance or giveaways. A host of cultural activities like lion dances, and singing and dancing performances were staged.
A new year lucky bag was given away via a promotion activity on WeChat.
Spring fashion was launched, while a 70% discount was offered for winter clothing. During the Spring Festival, there were lion dances and distribution of red packets upon spending of specified amounts. The cosmetics department hosted the first cosmetics show, with giveaways for those joining a voting activity on Weibo and WeChat.
Kelly Cao, Shenzhen Office
Mainland China
Mainland China