https://hkmb.hktdc.com/en/1X09WVYH
2014 Chinese New Year sales: Nanjing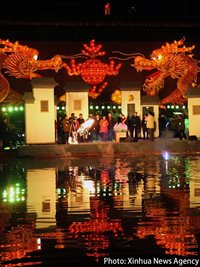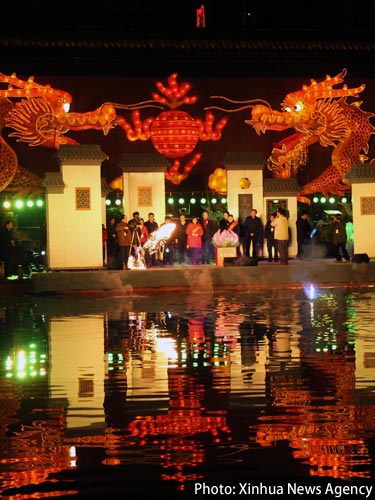 Lantern display on Qinhuai River, Nanjing.
HKTDC's mainland offices, namely in Beijing, Dalian, Qingdao, Xi'an, Shanghai, Hangzhou, Nanjing, Wuhan, Chongqing, Chengdu, Guangzhou, Fuzhou and Shenzhen, made market visits to high-end, mid-high end and mid-range shopping centres in their cities a week after the Chinese New Year to find out how holiday sales have fared this year.
During the Spring Festival Golden Week, the retail market in Nanjing was so busy and lively that sales of major department stores, home appliances, food and beverages outlets all reported good results. Lead performers were the modern department stores and home appliances shopping malls adopting the "online + offline" business model.
Deji Plaza, Grand Ocean Department Store and other modern shopping malls have become gathering places for people seeking fashionable styles. Several of the more popular shops put up queue signs at the doorway, indicating the heat in sales. Inside Deji Plaza is the traditional food restaurant - Nanjing Daipaidang, where queues were formed all along from 5 to 9 pm. Some visitors even needed to wait in line for half an hour to get their cars in the carpark for departure. Those who drove included many shoppers from Zhejiang and Anhui.
The newly launched jewellery theme mall, Baoqing International integrated jewellery mall, also cashed in on the Spring Festival Golden Week sales season. Located in the most bustling shopping district of Xinjiekou in Nanjing, Baoqing International began business in September 2013, offering the most comprehensive range of jewellery brands and categories, the most diverse combinations and the most personalised consumer experience in jewellery shopping. In its three-storey retail space are Chow Tai Fook from Hong Kong and other domestic and international famous brands of traditional and avant-garde fashion jewellery. A veteran in Hong Kong's jewellery sector, Baoqing International general manager Lin Guosheng explained the concept behind the integrated jewellery mall to HKTDC's Nanjing office. The integrated jewellery mall is intended to be a jewellery specialty shopping centre featuring a large collection of jewellery brands. Its business model is first of its kind in China and Asia. Operating differently from individual stores and specialty counters in shopping malls on the mainland, Baoqing International follows the international practice of buying merchandise outright from jewellery makers.
Apart from several major jewellers like Chow Tai Fook and Luk Fook, many other manufacturers from Hong Kong are still focusing on the US and European markets, and have not raised their brand profile on the mainland. In recent years when a lot of them began to enter the mainland market, they found that the road ahead was bumpy. Mainland dealers or retailers are reluctant to accept new brands. Also, these distributors or retailers basically only accept consignment, which means that the manufacturers themselves have to bear all the risks and responsibilities. Baoqing's practice of buying outright, therefore, is warmly welcomed by jewellery brands in Hong Kong. On top of this, Baoqing International through collaboration with the Hong Kong Jewelry Manufacturers' Association, launched 24 new brands from Hong Kong for sale at a dedicated zone located on the second floor of the mall where each Hong Kong manufacturer has its own counter. These stores are stocked with selected value-for-money trendy jewellery items picked by Baoqing's merchandising teams. The items on offer are of modern design, keeping in line with international fashion trends in Europe and the US. These jewellery items which are of different designs from those available in other malls, are sought after by customers seeking individuality. Such product differentiation strategy thus offers a big competitive advantage to Baoqing International. Lin said competitiveness of those Hong Kong brands sold in the stores was quickly enhanced, giving Nanjing customers more choice and fostering the fashion sense and international perspective of Nanjing's jewellery industry. According to Lin, jewellery sales during the Spring Festival hit Rmb5 million, which was a win-win situation. He also said in the Golden Week, walk-in customers spent between Rmb6,000 and Rmb8,000 per person.
A representative of Suning Appliance in Nanjing said people sought trendy consumer products during the Chinese New Year holiday this year. Smartphone sales increased significantly, while colour TV sales even posted explosive growth. TVs costing Rmb4,000 or above accounted for more than 30% of the sales.
Twenty-five key department stores monitored by the Nanjing Municipal Bureau of Commerce realised retail sales of Rmb495 million, an increase of 7.2% year-on-year, while 12 home appliances outlets achieved retail sales of Rmb199 million, an increase of 4.88%.
The following is the sales situation of three stores in the city:
Store
Deji Plaza
Golden Eagle International Shopping Centre, Hanzhong Road
Xinjiekou Department Store (Cenbest)
Grade
High-end
Medium- to high-end
Medium- to low-end
Top-selling items
Luggage, clothing, jewellery
Clothing, cosmetics, gifts
Clothing, jewellery, gifts
Sales growth
20%
19%

Not available

Price range
Trendy wear for men and women clothing:
Rmb500-800
Cosmetics: Rmb300-1,000;
Gold jewellery: Rmb 1,000-100, 000
Ladies' fashion: Rmb 800-1,500
Rmb1,000-2,000

Not available

Average spending per customer
Rmb3,000
Rmb500
Rmb150
Promotion tactics

(1) Timely expansion of the mall phase two increased the number of brands, giving consumers more choice;
(2) Selected luxury brands sold at half price, or about 30% discount; second-tier brands were given discounts, or gifts were offered upon spending of specified amounts;
(3) Restaurants and movie theatres in the shopping mall offered coupons, movie tickets and provided other promotional combos.

(1) Apart from tobacco and alcohol, most store operators ran joint promotions with the shopping mall, offering discounts upon spending of specified amounts;
(2) Stepping up of customer rewards for cosmetics brands; Chinese New Year gift packs;
(3) Promotion efforts of supermarket to boost sales of imported food, including buy 2 get 1 free, giving away Lucky Bag, and price discounts etc.

(1) Discount to buy gold over the counter;
(2) Deep off-season discounts for clothing;
(3) Sports brands discount up to 70% off.

Sales highlights
(1) Brought in H&M, Muji and other fashion brands, attracting post-80s generation consumers, increasing the people flow. Long queues were formed in front of the newly-launched, enormously popular Uncle Tetsu bakery;
(2) A top mall in Nanjing, the store boasts a comfortable and stylish shopping environment, attracting much attention with its modern look; (3) Timely launch of a wide array of top luxury brands in phase two just before the Spring Festival greatly facilitated the sales of these brands (Chanel, Armani, etc);
(4) Wide variety of food, cuisine and beverage brands catering for families.
(1) Has the most comprehensive range of cosmetics brands among the malls in Nanjing, securing a loyal customer base; (2) Despite small size of the mall, service quality of its staff is well recognised by customers; (3) Extensive range of products on offer, especially that of the supermarket on the top floor which was richly stocked with imported food supplies, attracted a lot of customers among people visiting friends and relatives during the Spring Festival.
1) Down-to-earth brand positioning, selling mid-range products at more affordable prices;
(2) Counters opened on two sides or four sides, making customers feel welcomed;
(3) Presentations and booths promoting electronic products were set up outside the mall to attract passers-by to stop and look around.
Jim Zeng & Charlotte Zhang, Nanjing Office
Mainland China
Mainland China