https://hkmb.hktdc.com/en/1X09WTH4
2014 Chinese New Year sales: Wuhan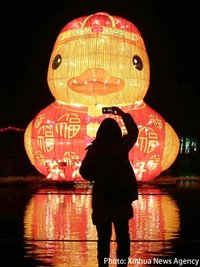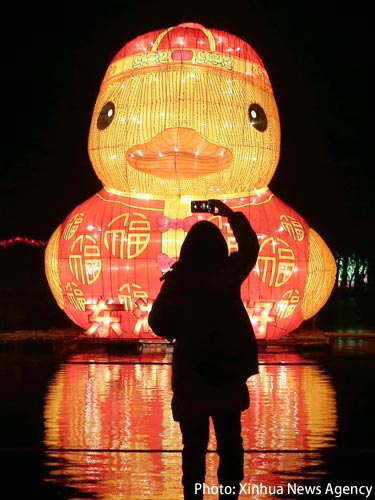 Lantern show at Donghu, Wuhan.
HKTDC's mainland offices, namely in Beijing, Dalian, Qingdao, Xi'an, Shanghai, Hangzhou, Nanjing, Wuhan, Chongqing, Chengdu, Guangzhou, Fuzhou and Shenzhen, made market visits to high-end, mid-high end and mid-range shopping centres in their cities a week after the Chinese New Year to find out how holiday sales have fared this year.
Hubei in the Spring Festival period was marked by a brisk consumer market with stable prices. Reports from the Department of Commerce of Hubei Province show that from 31 January to 6 February (the first seven days of the first month in the lunar calendar), combined revenue of the province's large and medium-sized commercial enterprises achieved Rmb9.66 billion in product sales and catering services, an increase of 14 % over last year. According to preliminary statistics, during the seven festive days, the province's catering enterprises posted a combined turnover of approximately Rmb1.8 billion, among which the more buoyant was the fast casual dining sector. Whereas, the province's major distribution firms achieved Rmb50.53 million in gold and silver jewellery merchandise sales, up 18% year-on-year.
During the Spring Festival Golden Week this year, Wuhan has a good stock of goods. The abundant market supply met the strong consumer demand, rendering stable prices in basic necessities. Initial good weather encouraged travels and shopping, resulting in a significant increase in customer flow in supermarkets, shopping malls and shopping streets. Rainy weather thereafter, however, dampened sales. During the Spring Festival (31 January to 6 February), combined retail sales of enterprises above designated size was Rmb4.49 billion in consumer goods, up 10%, and Rmb242 million in the lodging and catering sector, an increase of 9.5%. Wushang Group, Zhongnan Commercial Group, Zhongbai Holdings Group, Hanshang Group, Gong Mao Home Appliances and other key enterprises realised combined sales of Rmb2.057 billion.
The following is the sales situation of three leading stores in Wuhan during the post-Spring Festival week:
Store
Zhongxin Department Store
World Trade Plaza
Wuhan Shopping Mall
Grade
Mid-range
Mid-range
Low-end
Top-selling items
Trendy wear for men/women, cosmetics, gold, ladies' fashion.
Ladies' wear, Ladies' shoes.
Catering, baby products, holiday supplies.
Price range
Trendy wear for men and women clothing:
Rmb500-800
Cosmetics: Rmb300-1,000;
Gold jewellery: Rmb 1,000-100, 000
Ladies' fashion: Rmb 800-1,500
Rmb1,000-2,000

Dining: Rmb1,000-3,000
Baby products: Rmb200-500;
Holiday supplies: Rmb20-100

Average spending per customer
About Rmb700
Not available
About Rmb300

Year-on-year sales change

Sales for the eight festive days: Rmb4.8 million
Trendy brands: Rmb480,000
Ladies' fashion: Rmb720,000
Gold jewellery: Rmb1.52 million
Cosmetics: Rmb190,000
Overall: +15%.

Sales peaked before the Festival. Sales during the Festival were very poor, down 23%. Sales of men's wear were lower than last year's figures.

Each store has independent operation. No statistics available.

Promotion tactics
Lucky draws of red packets (upon spending specified amount).
Gifts (upon spending specified amount); discounts for some items.
Group purchase; shopping coupons; discounts.
Sales highlights
Trendy wear for men/women has the highest sales growth this year. Young people in Wuhan are increasingly seeking celebrity-endorsed brands, such as Jack & Jones and Levvv.
Chow Tai Fook: Spring Festival coincided with falling gold prices; timely launch of new wedding series; and waiver of workmanship charge for diamond rings.
BabyBear: sales totalled about Rmb300,000; up to 20% discount for daily goods upon purchase of baby food; sales of festive combos.
Linda Li, Wuhan Office
Mainland China
Mainland China