https://hkmb.hktdc.com/en/1X09WRYT
E-tailing in China: a key sales channel
China's online consumption market is booming, with e-tailing transaction value increasing exponentially from Rmb120.8 billion in 2008 to Rmb1,850 billion in 2013. The Ministry of Commerce forecasts that e-tailing transaction value will exceed Rmb3,000 billion in 2015, constituting more than 10% of total retail sales. It is obvious that the mainland online consumption market is set to grow continuously, providing Hong Kong companies with yet another channel for opening up the mainland retail market.
Share of B2C transactions increases further
The online consumption market can be divided into a C2C (consumer to consumer) segment and a B2C (business to consumer) segment. In China, leading C2C websites include Taobao1 (www.taobao.com), Paipai (www.paipai.com) and EachNet (www.eachnet.com). Since on C2C shopping sites, transactions are carried out among consumers on an individual basis, sellers may not be able to guarantee the quality of their products or services, or offer after-sales services and credit security, so buyers' interests are less well protected. In B2C shopping sites, however, the corporate sellers (they can be manufacturers, suppliers, retailers, etc) are financially more robust and able to offer more comprehensive products, after-sales services and guarantees, so B2C transactions are gaining shares in the online consumption market.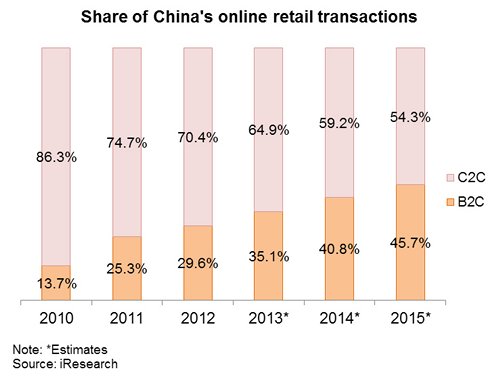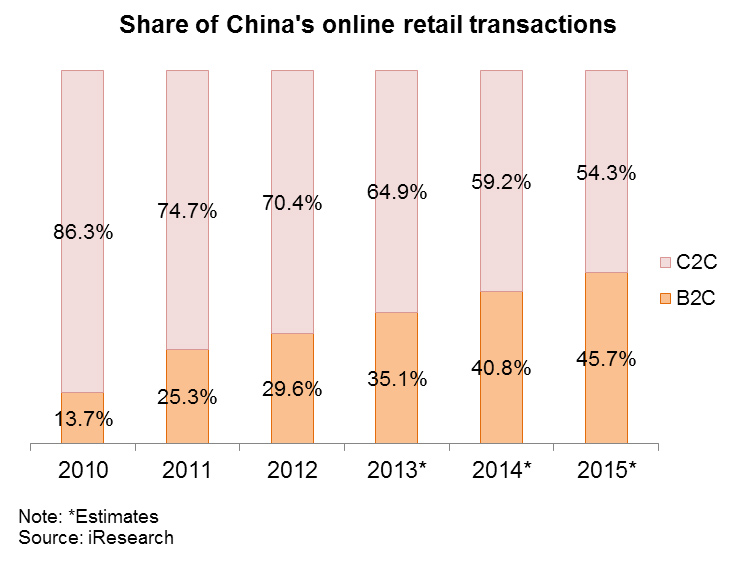 As the online shopping trend remains hot, many retailers that are running their business with physical stores and are having a stable customer base and brand image have set up online shops in a B2C format. By making use of "official flagship stores" or "independent websites", they can consolidate and unify their online (web store) and offline (physical store) images. Meanwhile, this has led to an increase in the share of B2C transactions in China's online consumption market.
Third-party platforms grow into comprehensive online marketplaces
Other than being differentiated into C2C and B2C segments, the e-tailing market can also be categorised into "third-party transaction platforms" and "independent websites". According to a McKinsey Global Institute report, third-party transaction platforms2 are the main e-tailing format in China, accounting for 90% of the e-tailing market while independent online shops account for 10%. In contrast, such platforms have only a 24% market share in the United States while independent websites account for a 76% share. It can be seen therefore that third-party transaction platforms play a dominant role in China's online consumption market.

Most third-party transaction platforms are run as comprehensive online marketplaces. Like brick-and-mortar shopping malls, all sorts of products and services under different brands are available on one website. They usually classify their merchandise by product category (such as clothing, electronic products and home appliances). Some of them even further divide the categories by brand. Because of the diverse product varieties, the greatest advantages of comprehensive online marketplaces are their huge user communities and high browse rates. Some large websites may even have discount sales corners to attract internet users to browse and shop. Among the numerous third-party transaction platforms, Tmall's transaction volume accounts for more than half of China's B2C market.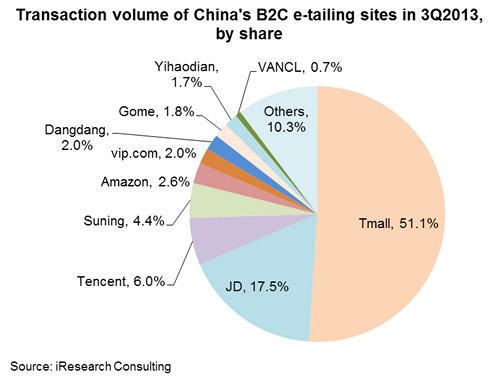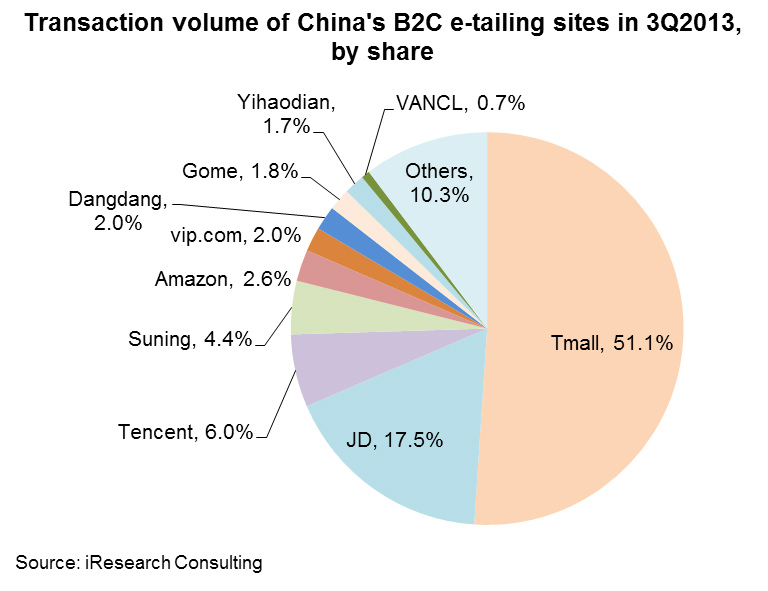 Some third-party transaction platforms have been run like vertical stores but have developed successively into comprehensive marketplaces in recent years. A vertical store is defined as one which offers all kinds of products and services to a specific group of people or to meet some specific needs. For example, VANCL (www.vancl.com) is an online brand3 established in 2007 that specialises in selling men's, women's and children's clothing. In order to acquire more customers, it started a third-party platform "V+Mall" (www.vjia.com) in 2010 as a way to build a comprehensive online marketplace where a number of fashion brands converge. In addition to selling products of other clothing brands such as HSTYLE and LIÈBO, V+Mall also sells other types of products such as cosmetics, household items and luggage.
In addition to organic business growth, some vertical stores may also acquire vertical online stores selling other types of products so as to speed up their expansion in product types and in scale. For example, Suning.com (www.suning.com) under Suning Appliance is a B2C shopping platform mainly engaged in selling traditional home appliances and electrical appliances. In 2012, it acquired Redbaby (www.redbaby.com.cn), an online shop specialising in maternity and baby products and also the latter's beauty and cosmetics e-tailing offshoot Binggo (www.binggo.com). Whereas electrical appliances are durable goods with a rather long product cycle, maternity and baby products have much higher purchasing frequencies and would help towards increasing Suning.com's browse rates and building of a customer community.
Independent and third-party websites: complementary advantages
With established customer communities and browse rates, third-party platforms allow companies which just started online sales the opportunity to reach potential consumers in a short period of time. At the same time, there are lots of merchandise and suppliers on a third-party platform, so it is not easy for individual suppliers or brands to stand out. Due to the standardised webpage layout and design of third-party platforms, it is difficult to make changes according to a company's development direction and marketing strategies. Therefore some companies will operate their own independent website so that, in addition to building their own brand image, they can tie in their publicity and marketing activities at appropriate times. In fact, independent websites and third-party platforms have synergy effect, not to mention that setting up one more online store is like setting up one more branch store. Thus, companies can leverage the complementary advantages of both independent and third-party websites to reach more consumers from different segments and operate their business with greater flexibility.
Teelocker, a T-shirt brand founded on the internet by three young people in Hong Kong in 2007 is a case in point. In 2008, Teelocker opened a store at Sogo Department Store in Causeway Bay, Hong Kong. In 2009, it entered the mainland retail market by establishing a presence in NOVO Department Store. Today Teelocker has two concept stores in Hong Kong and nine concept stores and concession counters in the mainland. In addition to its official website (www.teelocker.com), it also has official flagship stores on Tmall and JD.com. Teelocker's development strategy is to have online stores and physical stores complement each other in expanding its client base and meeting the needs of its customers.
In addition to being a sales channel, physical stores help reinforce the Teelocker brand name. As product display platforms complementing online sales, physical outlets are also intended for converting offline customers online, not least because it is impossible to establish a physical presence in every mainland city given the vast market size. Hence, Teelocker's strategy is to win more customers by running concept stores and concession counters in major mainland cities. E-tailing is its long-term business model.
Group buying sites enter consolidation stage
E-tailing is evolving by the day. In addition to independent websites and vertical portals, the group-buying sales model has been popular with Chinese consumers in recent years. Group buying was first started in the US in 2008 and, after taking off in China in 2010, soon became a new bright spot in online shopping. There were some 2,000 group-buying websites in China at the end of 2010. The number had once increased to more than 5,000, but went down to around 3,900 by the end of 2011. As of January 2014, however, there remained only 213 such sites in the mainland. During the period, China's group-buying users have increased from 18.75 million in 2010 to 141 million in 2013, while the proportion of netizens using group buying has increased from 4.1% to 22.8%.
The increase in the number of group buying users despite the drop in the number of group-buying sites indicates that China's group-buying sites have entered a consolidation stage and transactions are highly concentrated in a small number of sites. According to Tuan800.com, a daily deal aggregator, the combined transaction volume of the top five group-buying sites reached Rmb33.8 billion in 2013, making up 95.7% of all transactions clinched. In particular, Meituan and Dianping, the two leading deal sites, clock up more than Rmb1 billion in transaction volume every month.
Some Hong Kong companies which have participated in group-buying sales point out that though group buying can bring in a huge influx of orders, the companies involved should have ample inventory and personnel to take care of the orders because group buying can attract thousands of transactions in one day. Hong Kong companies should be able to complete the transactions within a given time, or else it will be difficult to attract repeat customers. The advantage of group buying is that a company can ascertain how well a product is received and raise brand awareness within a short time. Since in group buying customers are mainly attracted through discounts, Hong Kong companies should consider whether group buying customers are their target customers and whether they can convert them into customers of their online or physical store. They should also take care when choosing which group-buying sites to work with because the quality and spending power of the users of different sites are different.
To attract group-buying customers to shop in their independent websites, some Hong Kong companies send discount coupons of their independent websites to group-buying customers along with the merchandise they have bought. In addition to rewarding customers, this has the effect of bringing customers to their independent websites, reinforce brand image and publicity.
Complementing corporate development strategy
Third-party transaction platforms are growing rapidly in China. Some major comprehensive online marketplaces can even offer supporting services in warehousing, logistics and e-payments. Contrast this to a company's setting up its own website and making arrangements for warehousing, logistics and transaction security, third-party shopping platforms are more suitable for new-to-market Hong Kong e-tailers. Moreover, mainland consumers are accustomed to searching for favourite products and services in third-party shopping platforms. Setting up online stores on third-party platforms can increase exposure for products and services, attract the attention of consumers and build a customer base. Naturally more opportunities also mean more competition. In face of tough competition, Hong Kong companies that want their products stand out should have a good understanding of the actual condition of the mainland e-tailing market before they can identify an appropriate market niche for themselves. They should also choose the right operating model according to their own market positioning and development strategy before they can become successful e-tailers on the mainland.
---
| | |
| --- | --- |
| 1 | In June 2011, Alibaba split Taobao into three units: eTao (www.etao.com), a one-stop shopping search engine; Taobao (www.taobao.com), a C2C platform; and Tmall (www.tmall.com), a B2C platform. |
| 2 | Third-party transaction platforms include those offering C2C (such as Taobao) and B2C (such as Tmall) transactions. |
| 3 | Online brand: a brand established on the internet with no physical store. |
Mainland China
Mainland China