https://hkmb.hktdc.com/en/1X09WR6L
2014 Chinese New Year sales: Shanghai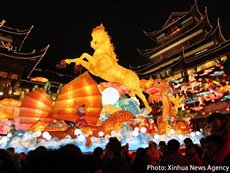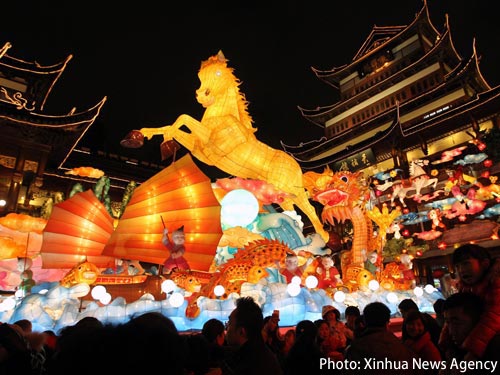 Yuyuan Lantern Fair held during the Spring Festival in Shanghai.
HKTDC's mainland offices, namely in Beijing, Dalian, Qingdao, Xi'an, Shanghai, Hangzhou, Nanjing, Wuhan, Chongqing, Chengdu, Guangzhou, Fuzhou and Shenzhen, made market visits to high-end, mid-high end and mid-range shopping centres in their cities a week after the Chinese New Year to find out how holiday sales have fared this year.
The commissions of commerce of Shanghai's 17 districts and counties, and the four business groups of Bailian, Bright Food, Liangyou and Jin Jiang International Hotels have jointly conducted a survey on 438 medium-sized commercial enterprises in the city. The survey found that the enterprises polled have achieved a total turnover of Rmb 11.68 billion during the week of the Chinese New Year and the week before (24 January to 6 February), up 8.8% from the comparable 14-day period a year earlier.
I. Spring Festival sales situation
1. Pre-holiday sales fared better than holiday sales. Following the Spring Festival custom, people flocked to the congested streets in the major business districts and malls to do their holiday shopping. Festive shopping peaked before the holiday. During the week before the festival, the enterprises polled achieved a turnover of Rmb 7.002 billion, up 11.1% from a year earlier.
2. Holiday sales increased slightly. Toll exemption of national highways during the Spring Festival encouraged travels. Travel agents offered packages of New Year Eve's dinner at luxury hotels and sightseeing in the farther away places. Some people travelled by themselves by way of "air-ticket + hotel" packages. This resulted in more people leaving Shanghai during the festivals. On top of this, the seven festive days of the Spring Festival was spoiled by the rain after the initial sunshine. People preferred to stay at home and thus cut spending. Coupled with a slowdown in household income growth and the timing factor of Spring Festival this year (Valentine's Day fell on the first week of the Chinese New Year in 2013), sales during the holiday season achieved Rmb 4.678 billion, up 5.5% (see table below).
Spring Festival sales statistics, 2014
| | | | | |
| --- | --- | --- | --- | --- |
| | Unit | 7 Days before Festival | During 7-day Festival | 14 Days in total |
| Turnover | Rmb billion | 7.002 | 4.678 | 11.680 |
| Year-on-year growth | % | 11.1 | 5.5 | 8.8 |
II. Spring Festival sales characteristics
1. Internet sales led growth. During the Spring Festival, the six non-shop retailers polled recorded total retail sales of Rmb346 million during the seven festive days, up 43% from a year ago. TV shopping grew 9.3%. e-Tailer sales ranked first among the six retail formats polled, with sales up by 75.6% year-on-year. Holiday sales of YHD.com and JD.com grew 1.3 times and 48.7%, respectively.
2. Rapid growth in consumer services. Nine travel and entertainment companies' total turnover during the seven festive days was Rmb 23.19 million, up 55.5%. Travel agency revenue grew by 66.8%. Thanks to new releases of blockbuster movies during the Spring Festival, cinema revenue grew by 26.3%. Karaoke bars reported a whopping 413.6% increase in revenue.
3. Shopping malls become a good place for family shopping. The total turnover of 110 shopping malls and department stores in the city during the seven festive days topped Rmb2.151 billion, up 5.7%. Among these, the 45 shopping malls and 65 department stores registered sales increase of 11% and 1.4%, respectively.
4. Home parties, weddings, fast food, snacks and tourism stimulated hotel and catering industry revenue growth. A year-on-year increase of 11.8% in total revenue to Rmb173 million was reported by the 138 enterprises polled in the hotel and catering industry during the seven festive days. Among this, catering grew by 15.4% and hotel and lodging was by 3.2%.
5. Clothing and automobile contributed to sales growth of specialty stores. Eighty-eight companies recorded total retail sales of Rmb518 million during the seven festive days, up 7.5%. Clothing and car sales grew remarkably by 27.6% and 7.1%, respectively.
6. Extended services of convenience stores and abundant New Year supplies have led to falling supermarket sales growth rate. The total retail sales of 87 supermarket stores during the seven festive days stood at Rmb1.466 billion, down 6.5%. Whereas, convenience stores, due to the popularity of the new "click and collect" services, holiday sales grew by 10.4%. Hypermarket and supermarket turnover fell by 4.3% and 7.7%, respectively.
Eric Wang, Shanghai Office
Mainland China
Mainland China