https://hkmb.hktdc.com/en/1X09WPT4
2014 Chinese New Year sales: Chengdu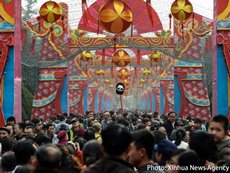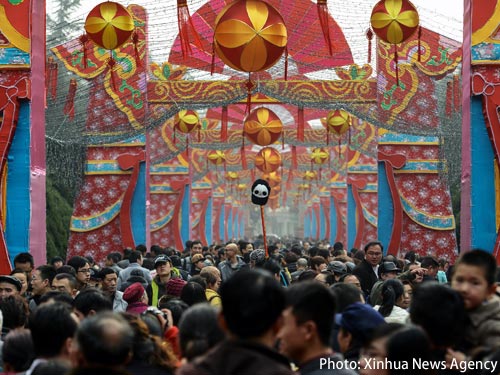 A boisterous Spring Festival temple fair in Chengdu.
HKTDC's mainland offices, namely in Beijing, Dalian, Qingdao, Xi'an, Shanghai, Hangzhou, Nanjing, Wuhan, Chongqing, Chengdu, Guangzhou, Fuzhou and Shenzhen, made market visits to high-end, mid-high end and mid-range shopping centres in their cities a week after the Chinese New Year to find out how holiday sales have fared this year.
According to data from Sichuan Provincial Department of Commerce, during the seven-day Spring Festival, turnover of retail and catering enterprises throughout the province totalled Rmb27 billion, which was a growth of 20% and 13% over the pre-festival period and the Spring Festival last year respectively. Other than tourist destinations, everywhere in central commercial districts, specialty commercial streets, comprehensive shopping malls and commercial complexes reported sales peaks. Shopping malls became new convergent points in the festival holidays where consumers gathered to shop, dine, watch movies or participate in leisure and entertainment activities.
Catering:
As a culinary capital, Chengdu's catering sector has always been well developed. During Spring Festival this year, food and beverage consumption in Chengdu turned more rational and unpretentious. Star-rated restaurants and high-end dining premises responded to changes in consumption demand and introduced more affordable set menus for New Year Eve's dinner to lure consumers. In contrast to last year, this year even catering outlets in shopping malls became new consumption hotspots. The monitoring of 43 catering enterprises in the province by the Provincial Department of Commerce reveals that, during Spring Festival, whereas total turnover grew 4.6% year-on-year to Rmb59.14 million, the turnover of a group of 15 mass-appeal restaurants including Hongxin, Daronghe, and Longchaoshou grew 10% to Rmb21.45 million.
Movie-going:
Straight shopping is no longer the only choice of Spring Festival leisure activities for Chengdu residents. Cultural and leisure type activities such as rural vacationing, temple fair going, book shopping, exhibition and movie going are now festival recreation choices for more and more consumers. According to Orange Sky Golden Harvest (OSGH) Cinemas, every day during the Spring Festival, movie-goers kept streaming in and many of them came in whole families. Cinemas have now become new consumption hotspots for Chengdu residents.
Shopping:
During the Spring Festival, Chengdu's consumer market grew steadily as a whole. In particular, low-priced merchandise was the biggest bright spot this year.
According to Chengdu Municipal Bureau of Commerce statistics, during the period from 31 January to 6 February (the Spring Festival holidays), the total turnover of the city's nine leading commercial enterprises was Rmb440 million, or a growth of 5.7% from the same period last year. The nine include Wangfujing Department Store, Far East Department Store, Mall Business, Maoye Department Store, Gome Electrical Appliances, Renrenle Department Store, Auchan Supermarket and Carrefour. Specifically, for hypermarkets including Renrenle, Auchan and Carrefour that are mainly engaged in selling food items and daily necessities, total turnover grew 4.6% year-on-year. For department stores including Wangfujing, Far East, Mall Business and Maoye, turnover increased by 5.4% year-on-year. Turnover of appliance specialty store Gome increased by 11.1% year-on-year.
Four main types of merchandise were top-sellers during the festival: specialty food products, seasonal merchandise (like clothing thanks to increased demand due to change of season), digital products and smart appliances, and gold jewellery and cosmetics.
In addition, various types of snacks, beverages, small food items in gift boxes, nicely packed new-year goods as well as specialty health food-type ingredients were favourite picks of consumers when paying calls to friends and relatives during the New Year.
Household items:
Buying household items during Spring Festival has become fashionable in recent years. During the Chinese New Year holidays, Ikea Chengdu attracted a lot of shoppers from Chengdu and surrounding cities and counties. In addition to buying products they liked, these consumers also considered Ikea a good leisure destination to understand the latest home trends and fashions.
Fun seeking:
In Chengdu's large shopping centres, leisure and entertainment venues such as real ice skating rinks, karaoke bars (KTV) and games arcades saw their business soar to peak levels during the Spring Festival. In the seven-day holiday, New Century Global Centre recorded a customer flow of half a million and its Paradise Island water park and ice skating rink became popular "tourist attractions". During the period, quite a number of shopping centres organised many promotion activities to attract customers. Chengdu International Finance Square (IFS) also arranged a whole range of spectacular opening activities, providing local consumers with a trendy and joyful new place to go during the Chinese New Year.
Travelling during festival holidays has always been popular with Chengdu residents. Ctrip.com, a leading travel service company in China, has analysed the Spring Festival travelling data of its 90 million-plus registered users and concluded that there has been further growth in demand for travelling services in the 2014 Spring Festival.
This growth in demand is evident irrespective of whether the trips involved travelling abroad, within China or just to nearby destinations. In Spring Festival this year, more than 60% of the travellers chose not to join group tours, while the number of people making overseas trips, accounting for over 50% of all travellers, was higher than the number taking out-of-province trips within China.
As the Renminbi appreciates and visa granting by many countries has relaxed, people are not only visiting usual places such as Hong Kong, Macau, Taiwan, Japan, South Korea and Southeast Asia. During Spring Festival this year the number of people visiting places like the United States, Middle East, Africa and Europe has increased markedly.
During the Spring Festival, the top 10 cities with the highest per capita travelling expenses were Beijing, Shanghai, Chengdu, Hangzhou, Tianjin, Xiamen, Xi'an, Wuhan, Nanjing and Chongqing. Residents of Beijing, Shanghai and Chengdu were the most willing to spend on travelling.
Online consumption:
The use of Tencent's WeChat app to distribute red packets online has become a new way of celebrating the Chinese New Year this year. According to Tencent, on New Year's Eve, 4.82 million users took part in the social game in which lucky users may get a large amount of red packet money allocated randomly from monies gifted by friends within their respective groups.
Many netizens in Chengdu made use of WeChat in sending red packets during the Spring Festival, which has become an important social gesture among friends, relatives and colleagues.
Eve Hou, Chengdu Office
Mainland China
Mainland China