https://hkmb.hktdc.com/en/1X09WOHJ
E-tailing in China: a strategic overview
E-tailing has been developing rapidly to become one of the most popular channels for day-to-day shopping among consumers in China. According to the findings of the Survey on China's Middle-Class Consumers conducted by HKTDC, 83% of the respondents have shopped online, and 27% of these consumers would shop online once a month on average, indicating that China's consumers have formed the habit of online shopping. The improved security of electronic payment systems and the enhanced efficiency of delivery services have boosted consumers' desire for shopping online in China. From the perspective of e-tailers, unlike physical stores, online stores are not subject to location and space constraints. A full range of goods can be made available to consumers across the country through online stores. In view of this, Hong Kong companies seeking to expand in the mainland market may, on top of setting up physical stores, consider e-tailing which is also an effective sales channel.
Ever-growing numbers of online shoppers
With the rapid development of e-tailing platforms, and the expansion of online sales channels by physical stores, the number of online stores in China has been increasing in recent years. Coupled with improved logistics and delivery systems, as well as more secure electronic payment gateways, more and more Chinese consumers are attracted to online shopping. In 2013, the Chinese mainland has an internet population of about 620 million, representing a penetration rate of 45.8%1 that surpasses the global average of 34.3%2. As compared with some mature consumer markets such as the United States (78.1%) and Japan (79.5%), the internet penetration rate of China still has further room to grow.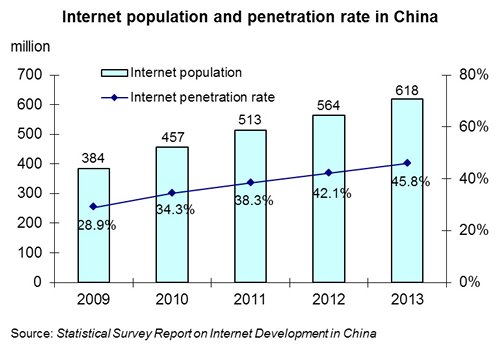 Following the growth in internet population and penetration rate, China also sees a rising trend in its number of online shoppers and their percentage in the overall internet population. In 2013, there were about 300 million online shoppers in China, making up about 48.9% of the overall internet population. It is believed that with the rise in internet population and penetration rate, the size of China's online shopping market will expand further.
Rapid growth in mobile phone internet access
At the same time, improved wireless networks and ever-expanding Wi-Fi coverage in China, coupled with falling smartphone prices, have attracted consumers to access the internet by mobile phone. This in turn led to the proliferation of mobile phone applications and social media sites. In 2013, 81.0% of China's internet users go online through their mobile phones, whereas access through desktop computers and laptop computers takes up 69.7% and 44.1% respectively.
Growing share of online consumption
The share of online transactions in total retail sales is growing rapidly in China, from 1.4% in 2008 to 7.8% in 2013, indicating that e-tailing makes up an increasing share in China's retail market. The average annual online spending of China's online consumers has also increased from Rmb1,632 in 2008 to Rmb5,203 in 20123, representing an average annual growth rate of 33.6%. According to the projection of iResearch Consulting, the average annual spending of online consumers is about Rmb6,865 in 2013. It is believed that the increasing number of brands and retailers operating online sales, their expanding business scale, as well as the growing diversity in the products and services available online have stimulated the purchase desire and consumption frequency of consumers. This is evidenced by the increase in the average number of online purchase made within a six-month period from 14.5 times in 2011 to 18 times in 2012.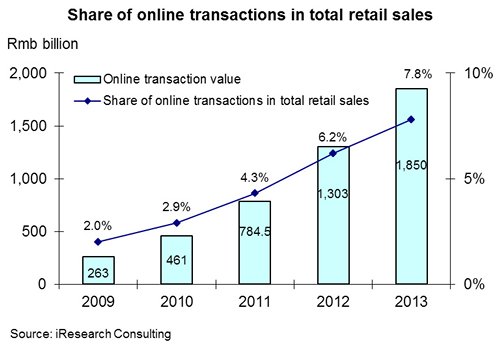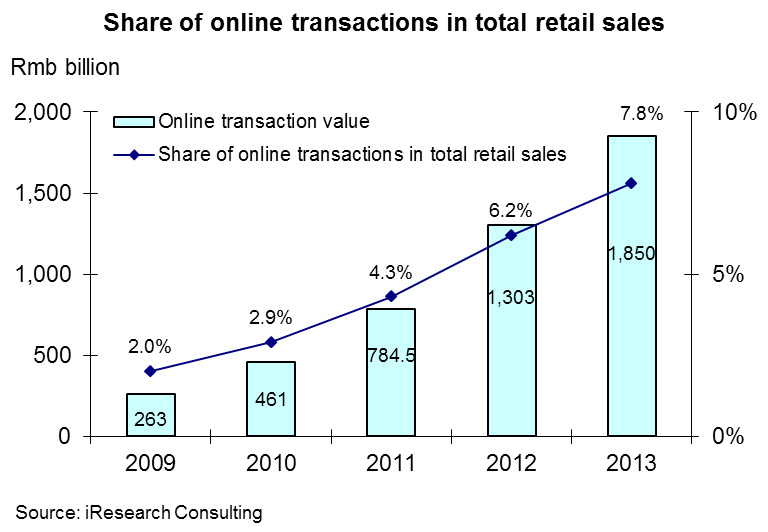 Besides, the Chinese government has also implemented related policies to support and encourage the development of e-tailing. According to the Several Opinions of the State Council on Promoting Information Consumption to Expand Domestic Demand released in August 2013, the overall social and economic role of the internet is affirmed and the integration of internet with the traditional economy is encouraged for nurturing new business formats so as to explore and unleash consumption potential. In October 2013, the Standing Committee of the National People's Congress approved the revised Law on the Protection of Consumer Rights and Interests which will be put in force on 15 March 20144. The revised law provides that for commodities sold through the channels of internet, TV, phone and mail order, consumers have the right to make returns within seven days upon receipt without specifying the reasons. The law also requires the shipping fee of return to be borne by the consumer concerned.
With the gradual perfecting of related laws and regulations, e-tailing is expected to meet the projection of the Ministry of Commerce in that "transaction value of online retail sales will exceed Rmb3,000 billion in 2015, accounting for more than 10% of total retail sales".
Popular products and services
In general, standardised products such as computers (29.6%) and electrical appliances (22.9%) are more suitable for e-tailing because consumers can ascertain if their functions, performance and qualities meet their expectations. However, the most popular items purchased online by consumers in China are clothing, footwear and headwear (81.8%). These products are popular among online shoppers probably because the fashion of clothing and accessories is changing all the time and the price-performance ratio of clothing and accessories purchased online is high while their damage rate during delivery is low. Although clothing available for online sale does not allow any fitting, many online stores do provide free return service where consumers can make the purchase first and return any products that do not fit subsequently.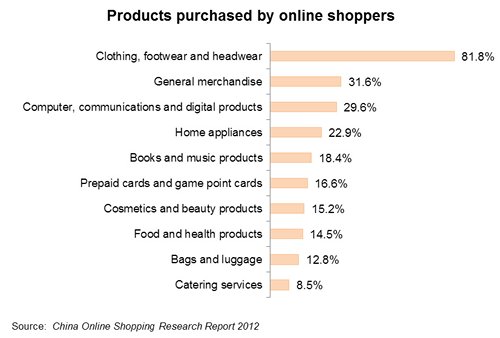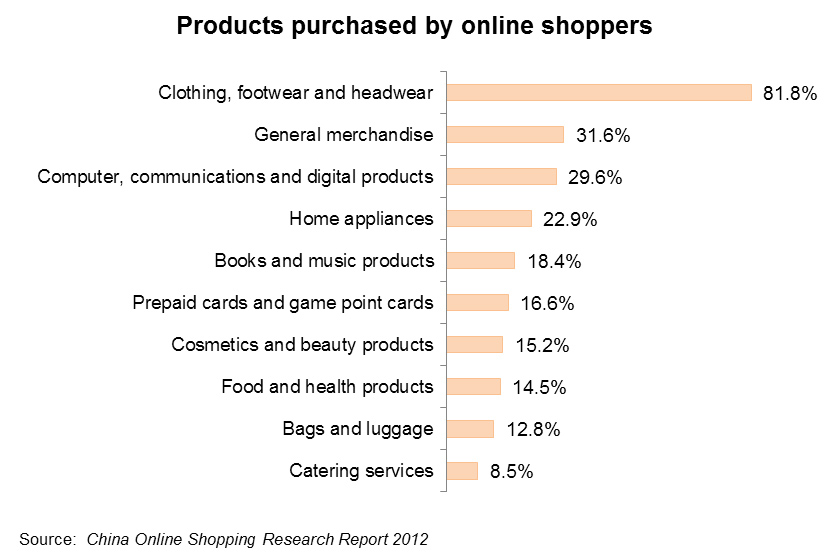 It should be noted that in the past, online sales mainly involved products because consumers can determine their suitability through the description and pictures provided. Yet in recent years, many consumer services, such as catering, beauty, movie and travel tour, begin to sell gift certificates, packages and tickets through the internet, which in turn boosts the share of services in online sales. In 2012, 8.5% of Chinese consumers indicated that they had purchased catering services online. Apart from consumer services, some investment and financial products are also available online. On the Singles Day5 of 2013, an insurance/financial product with an expected return of 7% offered by Guohua Life Insurance online made a total sale of Rmb531 million. It is reported that the total transaction value of financial products sold on that day reached Rmb908 million.
Characteristics of online consumers
The majority of online consumers in China are males and their ratio to female consumers is 63:37. Although China's online consumers are mainly in the age group of 18 to 30, the trend of online shopping has spread to a group of more mature consumers. Among the online consumers of 2011, only 5.6% were above the age of 40. Yet in 2012, the ratio has risen to 10.2%. In contrast to young consumers, mature shoppers have greater financial strength and stronger purchasing power with a higher demand for medium- to high-end products and services.
The average monthly income of online consumers in China is on the rise. In 2012, the average monthly income of 55.2% of online consumers exceeded Rmb5,000, while in 2011, the ratio was only 46.3%. With the rise in income, consumers' demand for quality products will also increase.
All along, consumers on the Chinese mainland have a rather positive impression of Hong Kong. According to the survey6 conducted by HKTDC, 58% of the respondents think that the tags of "made in Hong Kong" and "designed in Hong Kong" reflect the strengths of Hong Kong. 33% of the respondents feel that even for Hong Kong brand products manufactured on the Chinese mainland, the brand concept and product quality involved are still more superior. As this is the case, Hong Kong companies should capitalise on the opportunities arising from the mainland's exploding e-tailing market.
---
Mainland China
Mainland China