https://hkmb.hktdc.com/en/1X09WM51
Hungary: understanding the Consumer
Hungary is neither a large country with an extensive population nor a big spender in Central and Eastern Europe (CEE), but its appetite for Hong Kong products, on a per-capita basis, is impressive. Even so, to ensure success, especially when trading is not solely on an OEM basis, Hong Kong companies need to become better acquainted with Hungarian consumers and their characteristics. Aside from purchasing power and spending patterns, knowledge about the location of the appropriate customers and an insight into how changing demographics will shape future consumer profiles are crucial for those Hong Kong companies interested in accessing the Hungarian market.
Small population, but big appetite
One of the oft-cited drawbacks of making inroads into the 10 million-strong Hungarian market is its relatively small pool of consumers. However, when one looks at it from the perspective of per-capita imports, Hungary is by no means a minor market for Hong Kong products. With per-capita imports from Hong Kong exceeding US$130 in 2013, Hungary's appetite for the city's products ranked fifth in the 28-member state European Union (EU), after the Netherlands, Belgium, Finland and Denmark, but it was far ahead of the major non-EU, CEE countries such as Russia, Ukraine and Belarus.

Per-capita imports of Hong Kong's products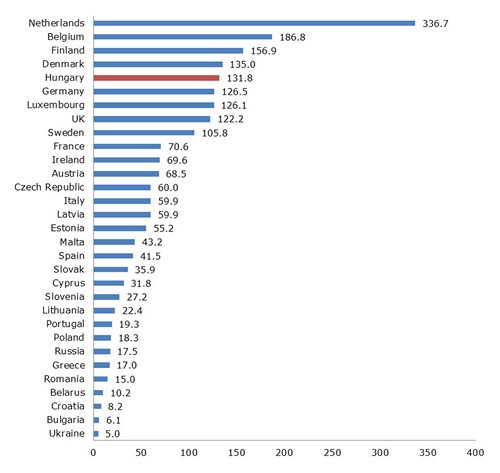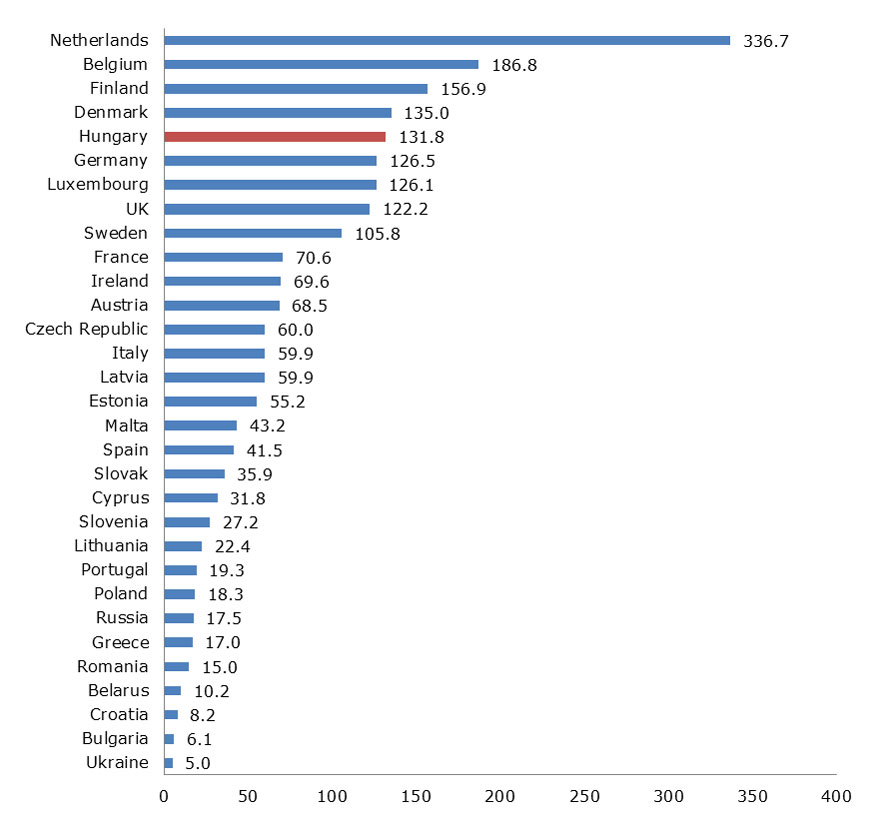 Source: IMF, Census and Statistics Department, HKSAR Government
Moreover, to overcome the limitations of its small population, Hungarian traders generally extend their business operations and networks across borders. Taking a regional perspective, Hungary, is a popular logistics hub for those goods travelling east from major European seaports and those goods going west from manufacturing outsourcing hotspots. It is, therefore, a significant market for Hong Kong companies and a convenient trading platform for tapping into the regional market.
This perhaps explains why Hungary was ranked second for Hong Kong's exports to CEE, trailing only the region's largest country – Russia. Accounting for more than 18% of Hong Kong's CEE-bound exports in 2013, Hungary, from this particular perspective, is a bigger market for Hong Kong companies than a number of the more populous countries in the region, such as the Czech Republic, Romania and Poland.
Hong Kong's top-10 export markets in CEE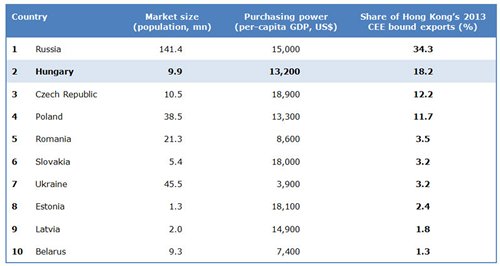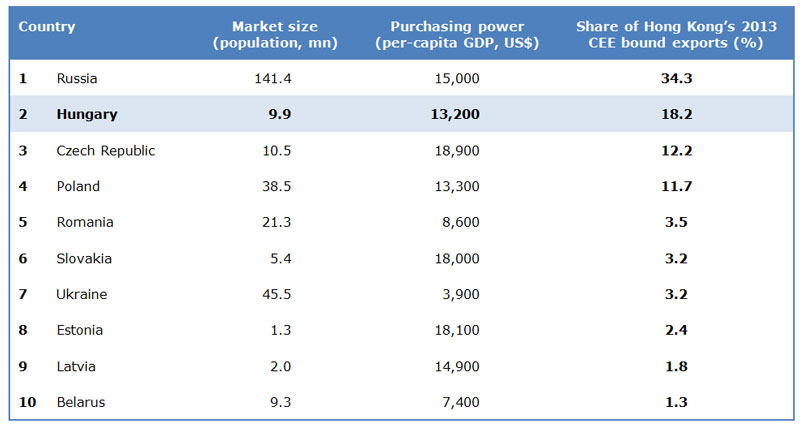 Source: IMF, Census and Statistics Department, HKSAR Government
How Hungarians spend
After paying for necessities such as food and housing, Hungarians spent almost half of their income on various goods and services in 2012. Emerging gradually out of the global economic recession, Hungarians resumed their discretionary spending on items such as recreation and catering services, as well as clothing and footwear. As the income of Hungarian consumers has risen, spending on such items is poised to increase further in the medium term, which bodes well for related consumer goods suppliers to the market.
Breakdown of per-capita expenditure (2012)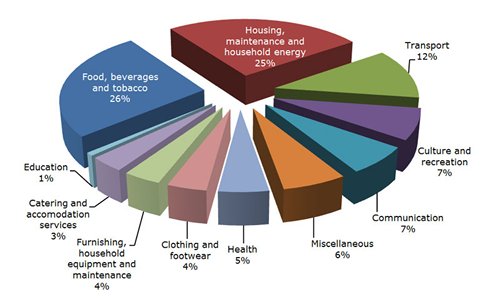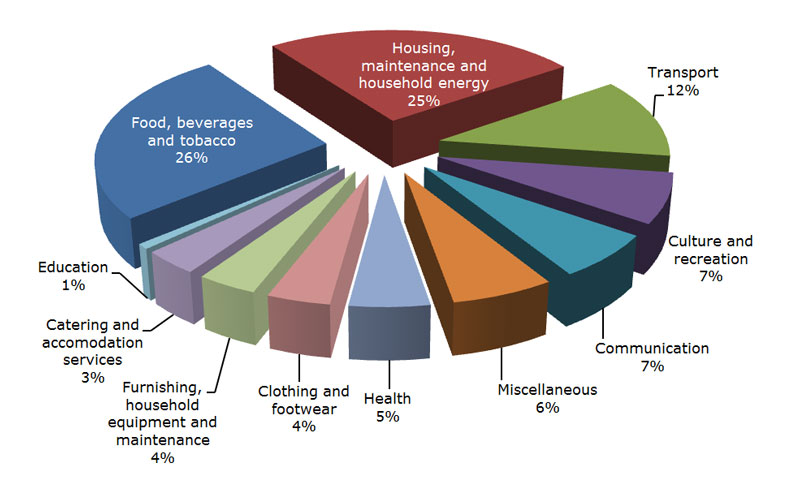 Source: Hungarian Central Statistical Office (KSH)
Thanks to the continued influx of foreign brands and products, Hungarian consumers are becoming more knowledgeable and conscious with regard to brands and quality, in addition to price. Indeed, in line with the rising incomes of many Hungarian families, the ownership of many consumer durables, such as refrigerators, deep freezers and microwave ovens, has been increasing rapidly over recent years. With improving living standards and increased product knowledge, consumers are more willing and able to afford better quality items to replace the inferior products of old.
Ownership of consumer durables (pieces per 100 households)


Source: KSH
As a result of belt-tightening in the recent past, Hungarian consumers often choose lesser-known - but reasonably-priced - brands as substitutes for premium brands. While this may have dampened demand for luxury and high-end products, it gives Hong Kong's mid-range exports plenty of room for growth, especially when Hungarians make functionality and quality the top priority.
Overcoming the challenges of an ageing and shrinking population
Another factor worth mentioning when analysing evolving consumption patterns among Hungarian consumers is the country's shrinking population, especially in terms of those of working-age (15-64 year olds). A decline of more than 2% between 2004 and 2013 in the 15 to 64-year-old segment, together with an 11% decline in the number of children (0-14 years old), means the Hungarian population has dropped by more than 2% over the past decade. Alongside a 9% increase in the aged sector (65 years old and above), Hungarian society faces a number of challenges as a result of its ageing and shrinking population.
Hungary's ageing and shrinking population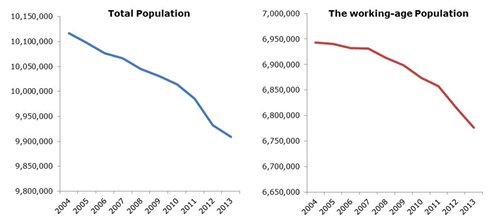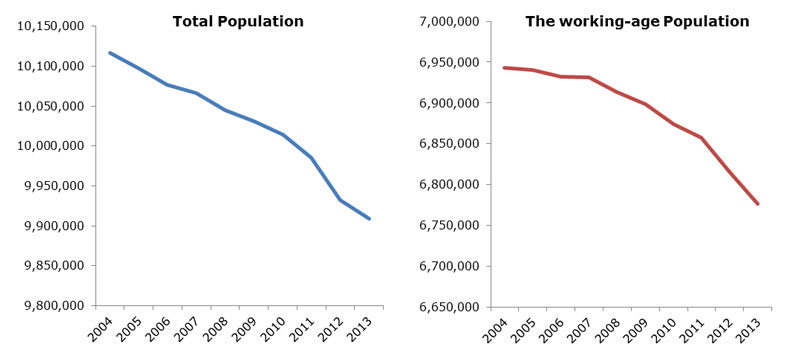 Source: KSH
There is no denying that an ageing demographic has implications for both the Hungarian government and those businesses that are reliant upon the country's future consumer profile. A smaller, ageing population could have a detrimental effect on businesses depending on volume, such as fast-moving consumer goods (FMCG) companies, or products that are targeted primarily at the youth market, such as high-street fashions. That said, there are emerging opportunities in the elderly market for those Hong Kong companies that sell healthcare equipment and other innovative products aimed at the ageing population.
Aside from tapping into the elderly market, Hong Kong suppliers of toys and baby products can also benefit - despite decreasing marriage and birth rates - by marketing products to Hungarian parents keen to spend extravagantly on baby clothes and toys. Traditionally, the babywear sector, for example, has been concentrated in the hands of large specialist retailers. However, value-led fashion companies, discounters and private labels are now providing competition for these large, specialist retailers.
Targeting the right consumers
Though incomes have risen since Hungary joined the EU in 2004, the country's population cannot compete its neighbours in the Czech Republic, Slovakia and Poland. To enhance the chance of success in the Hungarian market, Hong Kong companies should therefore be selective in choosing just where to conduct business. This is particularly important for companies that are planning to debut a brand or introduce an exclusive product in order to fill a perceived market niche.
Budapest, in central Hungary, is not only the country's political and economic capital but also its largest and richest city. With a population of 1.7 million people (17% of the country) it handles most of the country's international and wholesale trade, as well as its service businesses. Home to a cluster of higher income consumers, Budapest's average purchasing power is estimated to be at least 30% higher than the national average.
The dispersion of purchasing power in Hungary (2012)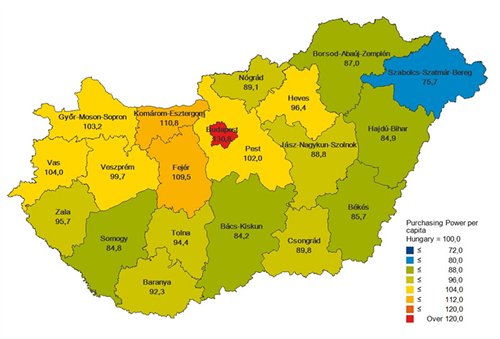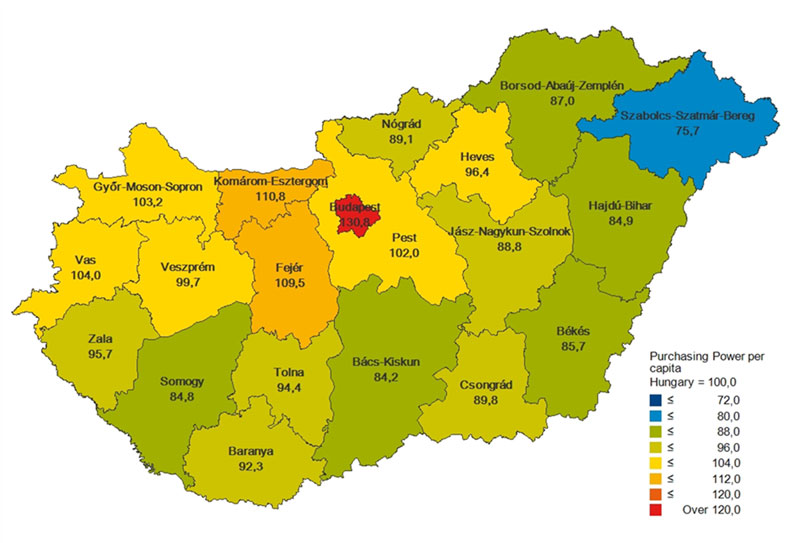 Source: GfK
As Budapest has the largest consumer market, it has all the credentials to serve as the ideal starting point for new-to-the-market Hong Kong companies that intend to establish a foothold in the Hungarian market, especially those looking beyond OEM opportunities. Thanks to its strategic role in Hungary and CEE, Budapest is attractive not only to national institutions and government agencies, but also domestic and international companies.
For example, Budapest was home to 391,944 companies as of September 2013, representing more than one third of the country's total. Coupled with the fact that more than 30% of the Hungarian population still resides in villages, Budapest's high concentration of potential consumers and business partners is highly conducive to production, promotion and business solicitation. As such, it offers an ideal base for any Hong Kong exporters targeting the Hungarian market. Additionally, as the cultural capital and the country's most popular tourist destination, Budapest is considered to be the trendsetter that companies from other regions in the country -- and nearby countries -- reference when sourcing. Budapest is an important bridgehead for Hong Kong brands and designers to establish their identity with existing or potential clients.
Hungarian consumers are generally regarded as pragmatic, do not tend to show off and are conservative when making purchases. They prefer practical rather than fancy designs, and also go for simple, comfortable outfits rather than elaborate outfits, though this attitude does not extend to some high-tech items such as smartphones and phablets. Unlike other emerging markets such as Russia or Ukraine, however, most Hungarians are hesitant to buy lesser-known or even unbranded smartphone and tablet alternatives from Asia as lower-cost substitutes, although they don't mind using unbranded accessories and peripherals, given their quality and functionality.
Related information: Hungary infographics
Hungary
Hong Kong
Eastern Europe