https://hkmb.hktdc.com/en/1X09WLXC
2014 Chinese New Year sales: Hangzhou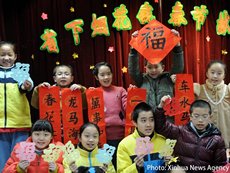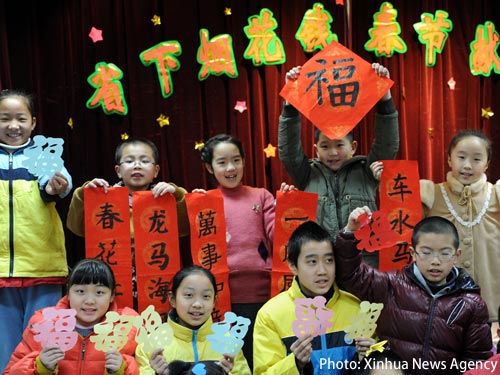 Spring Festival couplets calligraphy activity held in Hangzhou.
HKTDC's mainland offices, namely in Beijing, Dalian, Qingdao, Xi'an, Shanghai, Hangzhou, Nanjing, Wuhan, Chongqing, Chengdu, Guangzhou, Fuzhou and Shenzhen, made market visits to high-end, mid-high end and mid-range shopping centres in their cities a week after the Chinese New Year to find out how holiday sales have fared this year.
With the Chinese New Year holiday drawing to a close, Hangzhou has released the retail sales statistics for the festival period.
To many of the retailers in Hangzhou, the new year's wish of prosperity in the Year of the Horse hardly came true during the seven-day Spring Festival holiday. In terms of sales, some of the retailers even reckon the past festival is the quietest in their history of operation. According to the statistics compiled by Hangzhou Municipal Trade Bureau (Hangzhou Municipal Food Bureau) for monitoring purpose, the aggregate sales of seven major shopping malls in the city including Hangzhou Tower, Hangzhou Department Store, Intime Department Store and Jiebai Department Store during the holiday period (from 30 January to 5 February 2014) amounted to Rmb184.834 million, representing a year-on-year drop of 25.1%.
"Enjoying the fine weather of the first few days of the recent Spring Festival holiday, many people had set up gatherings with families and friends at some scenic spots, instead of shopping around," said a shopping mall executive. While shopping malls were full of festive atmosphere during the Chinese New Year with lots of activities staged, sales have not shown any growth. Instead, a series of sales promotion activities launched before the Chinese New Year have brought good results, but have, at the same time, advanced consumers' spending originally meant for Chinese New Year consumption. Take the two days preceding the Chinese New Year on 28th and 29th of January as an example. The two-day sales of Intime Qingchun Store showed a year-on-year growth of 26.8% and 31.3% respectively while those of Sasseur Life Plaza grew 35.7% and 116.4% respectively.
Many of the Hangzhou supermarkets located at shopping mall basements have set up counters for the sale of high-end tobacco and wine as well as health tonics. These small-sized counters should not be overlooked as they used to be the sales hotspots during the past Chinese New Year holidays. Yet for this year, expensive high-end tobacco and wine as well as health tonics did not sell well. With the promotion of thrift and frugality under the nationwide campaign against extravagance, luxury consumption during the Spring Festival period showed a significant decline. According to a number of shopping malls, sales of some high-end tobacco and wine as well as health tonics have plunged by more than 60%.
Overall speaking, the sales of shopping malls in Hangzhou during the Spring Festival period were rather quiet although many of them had launched a variety of sales promotion activities as in the past. The new atmosphere of advocating thrift and frugality also made the people of Hangzhou spend more discriminately.
In this connection, HKTDC Hangzhou Office surveyed three representative retailers in the city, with findings summarised as follows:
| | | | |
| --- | --- | --- | --- |
| Store | MixC | Intime (Hubin Store) | Hangzhou Department Store |
| Grade | High-end | Mid-high end | Low-mid end |
| Top-selling items | Clothing, accessories, watches and gold products. | Spring collection for men and women, jewellery, gifts, digital products and household articles. | Clothing, footwear, cosmetics, beddings, home appliances, fashion jewellery, toys, food products, tobacco and wine, and general merchandise. |
| Price range | Above Rmb2,000 | Rmb1,000-3,000 | Rmb500-1,500 |
| Average spending per customer | Rmb2,000 | Rmb500-1,500 | Rmb500-1,000 |
| Year-on-year sales change | Up3% | Results were satisfactory given the store was opened less than one year ago in April 2013. | Decline in sales. |
| Promotion tactics | Free gift upon purchase of specified amount: two wooden horses (handcrafted by artist) were given away each day for purchases of Rmb50,000 and above. | Reward points redemption for gift packs, and other sales promotions such as discount offers. | Sales promotion was basically in the form of discount offers for house brands, on top of various activities held outside the store such as free gifts upon purchase of specified amount and lucky draws. |
| High sales successes | Items with high unit price and frequent updates to reflect latest world trends; items of newly released limited edition designed to stimulate consumption. | Positioned primarily as second-tier international brands, fast fashion brands, trendy brands and designer brands; targeting at shoppers aged below 38, while capitalising on the store's excellent location at a hotspot area where young people gather. | Sales were lukewarm although sales promotion activities were carried out. Instead, a series of promotion activities launched before the Chinese New Year had brought good results, but had, at the same time, advanced consumers' spending originally meant for Chinese New Year consumption. |
Shirley Pan, Hangzhou Office
Mainland China
Mainland China