https://hkmb.hktdc.com/en/1X09WJE1
2014 Chinese New Year sales: Beijing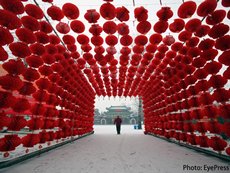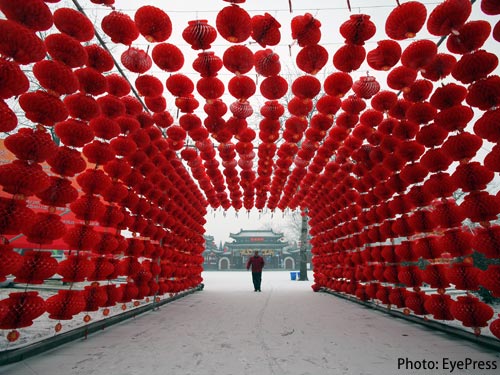 More spending goes to affordables this year.
HKTDC's mainland offices, namely in Beijing, Dalian, Qingdao, Xi'an, Shanghai, Hangzhou, Nanjing, Wuhan, Chongqing, Chengdu, Guangzhou, Fuzhou and Shenzhen, made market visits to high-end, mid-high end and mid-range shopping centres in their cities a week after the Chinese New Year to find out how holiday sales have fared this year.
Beijing shopping centres during the festival period saw a general trend of mass-market consumption while luxury gift sales fell significantly. According to Beijing Municipal Commission of Commerce's reports, 120 key commercial services companies achieved combined sales of Rmb500 million on 5 February, an increase of 7.4% over comparable single-day sales during the year-earlier period.
Notable sales growth was reported for brand clothing, precious jewellery, food and electronic gadgets, especially the more affordable items, while sales of luxury gifts fell significantly. The official campaign against wasteful spending of public funds has resulted in falling high-end wine sales in supermarkets.
Blockbuster movie merchandise, lucky draws on social media such as WeChat and product displays at temple fairs are promotion tactics frequently employed by shopping centres in Beijing this year, and the large user communities of popular websites such as truemovie.com and pengpeng.com were tapped. Dong'an Department Store, for example, riding on the popularity of the movie "Personal Tailor", organised a creative handicrafts design bazaar along the same theme. Collaborating with designers in handicrafts exhibitions, the shopping centre carried out interactive marketing activities with different themes to attract younger customers to the store during the pre-festival period.
Overall, although traditional retail witnessed a rebound in sales during the Spring Festival Golden Week, this seasonal stint cannot hide the fact of an economic slowdown. No easing of the constraints facing retail industry is in sight in the short term. These include labour and rental cost pressure, (competition from) e-commerce and the resultant new business model, as well as consumer sentiment dampened by the sluggish macroeconomic outlook. While the prospect of certain jewellery sub-sectors remains positive, a turnaround for department store, supermarket, chain store and specialty market fundamentals will take time. The retail sector is tipped to undergo a period of vigorous transformation in 2014.
The following is the sales situation of three leading stores:
Store
Galeries Lafayette
Aegean shopping mall
Rainbow department store
Grade
High-end
Mid-range
Mid- to low-end
Top-selling items
Clothing, jewelry, cosmetics, watches, shoes, bags and accessories, food, children's products.
Breakdown by item not available. Best performers: catering and supermarket, followed by clothing.
Footwear, ladies' wear, maternity supplies, baby toys, infant and children's clothing, face and hair care products, bedding and home textiles, imported food.
Price range (Rmb)
Clothing and accessories: Rmb6,000-8,000
Rmb1,000-3,000

Footwear: Rmb400-600
Ladies' wear: Rmb200-600
Infant and children's clothing: Rmb50-200
Baby toys: Rmb100-300
Imported food: Rmb10-100

Average spending per customer
(Rmb)
about Rmb6,000
Rmb500
Around Rmb600
Sales highlights
Clothing, shoes, bags and accessories.
Clothing and jewellery. Apart from "Pony" gold ornaments, DIY gold ornaments became a new hit.
Imported food.
Promotion tactics
Various departments offer giveaways (upon spending specified amounts) and other discounts, as well as store-wide lucky draw and free shuttle bus service.
Giveaways (upon spending specified amounts) and free gifts for downloading store APP and connecting to store WeChat and Weibo accounts.
Three stores in Beijing –Xuanwu, Guozhan and Olympic Green – joined forces in Spring Festival promotions. Spring 2014 collections were launched. Up to 70% discount for winter collections was offered, plus a host of cultural activities.
Vivian Yu, Beijing Office
Mainland China
Mainland China