https://hkmb.hktdc.com/en/1X09WHAB
The modernisation of Indonesia's retail sector: opportunities for Hong Kong businesses
As the largest economy and the most populated country in Southeast Asia, Indonesia has become a lucrative market for multinational retail companies, given the country's robust economic growth, driven by increased domestic consumption amid the expansion of the middle-income class and its young population. During 2007-2012, per capita consumption expenditure and disposable income have both registered double digit compound annual growth rates (CAGR), thereby helping increase the spending on non-food categories such as clothing, healthcare and communications. In particular, consumer spending on various non-necessities, such as household appliances, jewellery, watches and clocks, has been growing faster than the ASEAN average.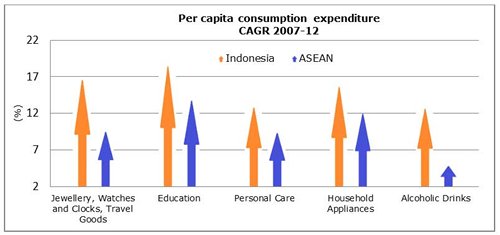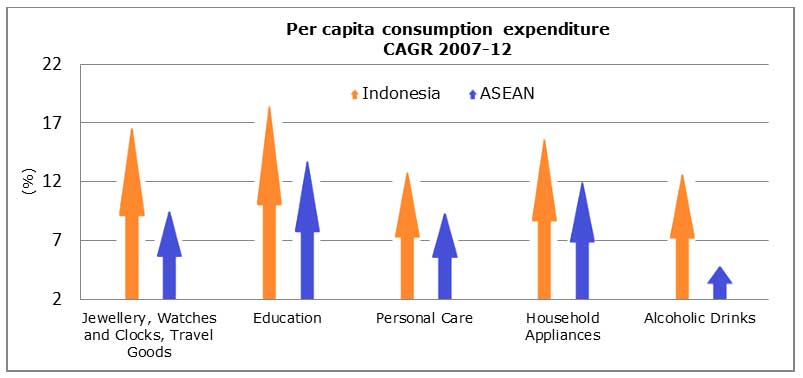 Indonesia's per capita spending on many discretionary items surpasses the ASEAN average
Source: Euromonitor International
Eyeing the strong domestic demand supported by the country's favourable demographics, more foreign retailers, including both FMCG and durable goods retailers, are set to enter or expand their operations in major Indonesian cities, such as Jakarta and Surabaya, as well as other areas that are currently underserved by modern retailers. To seize such opportunities in the flourishing retail sector, Hong Kong's "value-for-money" products, top-notch designs and services are well positioned to sell to the country's middle-to-high-income market segment.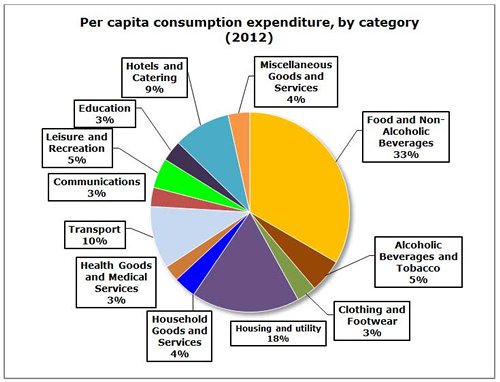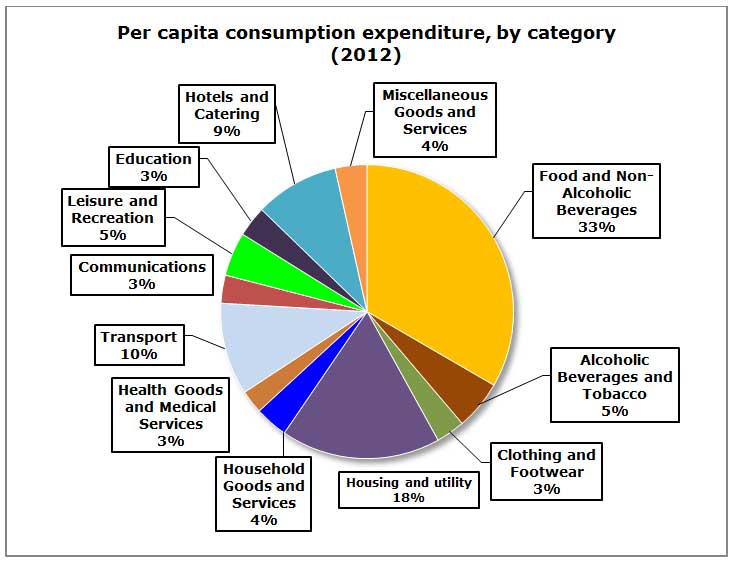 Consumers' spending on food and non-necessity categories
Source: Euromonitor International
New shopping malls mushroom, bolstering modern retail
As the prime business hub and the country's capital, Jakarta has long been the entry point for foreign investors. Modern retail, particularly for overseas brands, is concentrated in Jakarta's shopping malls. As a modernising city, Jakarta suffers from a relative lack of public open spaces and is fraught with traffic congestion. Therefore, consumers would rather spend their weekends and after-work hours inside shopping malls. As the centre for entertainment and socialising, malls are more than just shopping venues, with large, designated areas of the mall complexes set aside for a variety of consumer services, including cinemas, game centres, fitness centres, salons and karaoke. In view of the growing consumer sophistication, shopping malls are now positioning themselves as lifestyle spots. Jakarta has seen a proliferation of shopping malls in recent years, the number of which has already surpassed 70, and the city's supply of modern retail space in Jakarta has increased by more than four times since 2000.
| | |
| --- | --- |
| A large scale shopping mall hosts Jakarta Fashion Week - Senayan City, Jakarta | Jakarta Fashion Week hosted in a large scale shopping mall, Jakarta |
| A shopping mall with green open spaces - CentralPark, Jakarta | A shopping mall with contemporary interior design - CentralPark, Jakarta |
Inside the shopping malls, various types of promotional events, like fashion shows, beauty workshops, travel fairs and music performances, are frequently held to boost visitor traffic and encourage customers to stay longer. These days, almost every shopping mall has at least one department store, and the continued launch of shopping malls has led to the further growth of department stores outlets. To better position themselves in targeting middle-to-upper-income and brand-conscious consumers, shopping malls and department stores actively introduce prestigious overseas brands. Apart from luxury brands like Gucci and Louis Vuitton, mid-to-high end brands such as Mango, Zara and Lacoste are being brought into various shopping malls. To differentiate themselves, however, department stores are eager to bring in foreign brands with more unique and stylish designs. For instance, Metro Department Store carries Hong Kong fashion brands like G2000, Baleno and Crocodile, which are well known for their fast market responses to style changes, while also bringing in other fashion and accessories brands from Europe, Japan and Singapore.
In mid-2013, French premium department store Galeries Lafayette was launched in Jakarta with a three-storey outlet at high-end shopping mall Pacific Place. Eyeing the huge potential of the mid-to-high market segment, foreign department stores such as Sogo, Seibu and Debenhams have established themselves in major up-scale malls through partnering with local companies. Likewise, Hong Kong retailers and brand owners are advised to partner with well-established local distributors or master franchisees with strong business networks, especially those who are experienced in introducing international brands into Indonesia.
| | |
| --- | --- |
| Promotional events co-organised by retailers and shopping malls | Charity events co-organised by retailers and shopping malls |
| | |
| --- | --- |
| LOTTE Shopping Avenue | The Korean Culture Fair held at the LOTTE Shopping Avenue |
| The Korean Culture Fair, featuring K-pop stars | K-pop stars are popular among local teenagers |
Urban lifestyle accelerates growth of modern channels
Instead of going to traditional wet markets, mid-to-high-income households prefer shopping at air-conditioned supermarkets or hypermarkets inside shopping malls, which offer an array of local and imported FMCG goods. To offer more value-added services, some supermarkets provide cooking services for the fresh products purchased. With wider brand choices and product categories, hypermarkets like Carrefour and Hypermart are popular for families making weekly or monthly shopping trips. In hypermarkets and supermarkets that target the higher-income segment, such as Ranch Market, there is a strong presence of foreign brands that sell packaged foods such as Heinz, Kraft and Nestlé. Despite the higher prices of imported products, fortified or functional foods are well received by the mid to high-income households, who are concerned with the health and wellbeing of their families and more prepared to afford the price tags of imported food items.
Many international brands established an early foothold in the Indonesian packaged food sector, followed by the entry of Japanese and South Korean products. It should also be a potential market for Hong Kong companies offering quality packaged food items, including preserved, dried and frozen food, as well as snacks, seasonings and dressings, particularly in view of the preference for Chinese cuisines and healthier choices among mid to high-income urban consumers. Although the Indonesian authorities impose no mandatory requirement for halal certification for imported foodstuffs,[i] traders of packaged food items may take note of the halal standards in order to better target the Muslim population in Indonesia, a secular country with more than 200 million Muslims, which is close to 90% of the Indonesian population.
| | |
| --- | --- |
| International brands at a modern supermarket | Wide range of imported products available at a modern supermarket |
| Foreign brands of dairy products available at a modern supermarket | Imported meat sold at a modern supermarket |
Conveniently offering consumers most of the daily necessities, minimarkets and convenience stores are preferred for top-up shopping for grocery items, especially among young consumers with a hectic urban lifestyle. Apart from selling uncooked staple foods like rice and noodles, larger minimarkets such as 7-Eleven in Indonesia are offering a variety of cooked foods, such as hotdogs and ready-made meals. As more Indonesians prefer shopping at the extended network of modern outlets, sales values in these retail outlets have registered double digit CAGR over the period of 2007-2012. Thanks in part to quick franchisee uptake, the number of newly added convenience stores had almost doubled from 2007-2012 to surpass 16,000, by far the most spectacular contribution to modern retail in terms of numbers.[ii]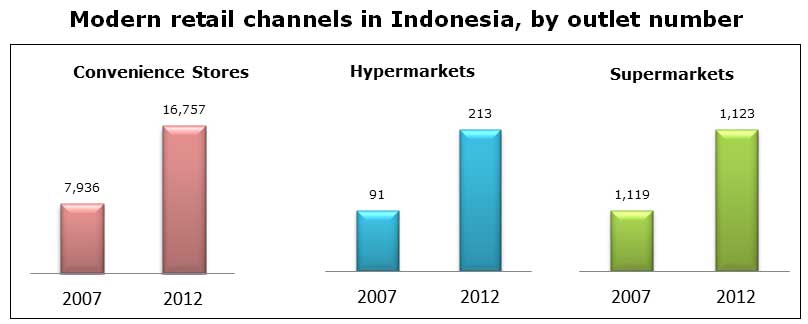 Modern retail outlets have expanded significantly over the past few years
Source: Euromonitor International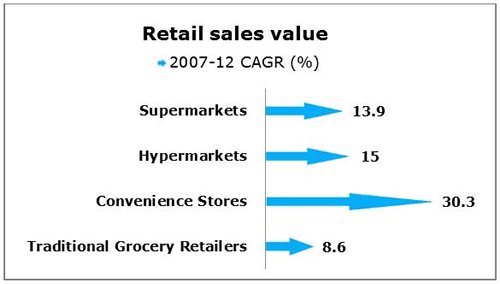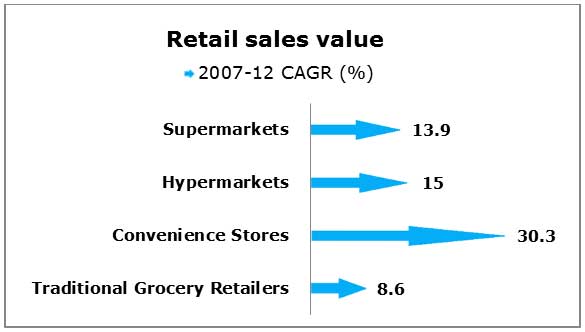 Modern retail channels have witnessed impressive sales growth
Source: Euromonitor International
Major foreign brands in modern retail channels
Department stores

Hypermarkets/ supermarkets

Minimarkets/
convenience stores

Sogo

Carrefour

7-Eleven

Seibu

Debenhams

Giant

Circle K

Galeries Lafayette

Lottemart

METRO

Lawson

Central Department Store

The FoodHall (Sogo)

Marks & Spencer
Source: HKTDC Research
Strengthening purchasing power in second-tier regions
Some retailers in Indonesia have started to open new branches in cities beyond Jakarta in view of the significant growth of cities in Java outside Jakarta. East Java Province is the second largest contributor to the Indonesian economy and accounts for 15% of the country's GDP, after the 16% contribution of Jakarta Municipality. In 2012, the regional GDP of East Java grew at an impressive rate of 7.3%, outpacing the national GDP growth of 6.2%. Home to many entrepreneurs and traders with growing purchasing power, this region has become an attractive market for non-necessities such as cars, white goods and other big-ticket items.
Indonesia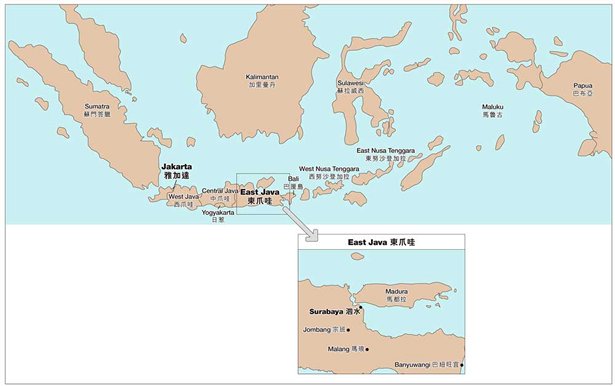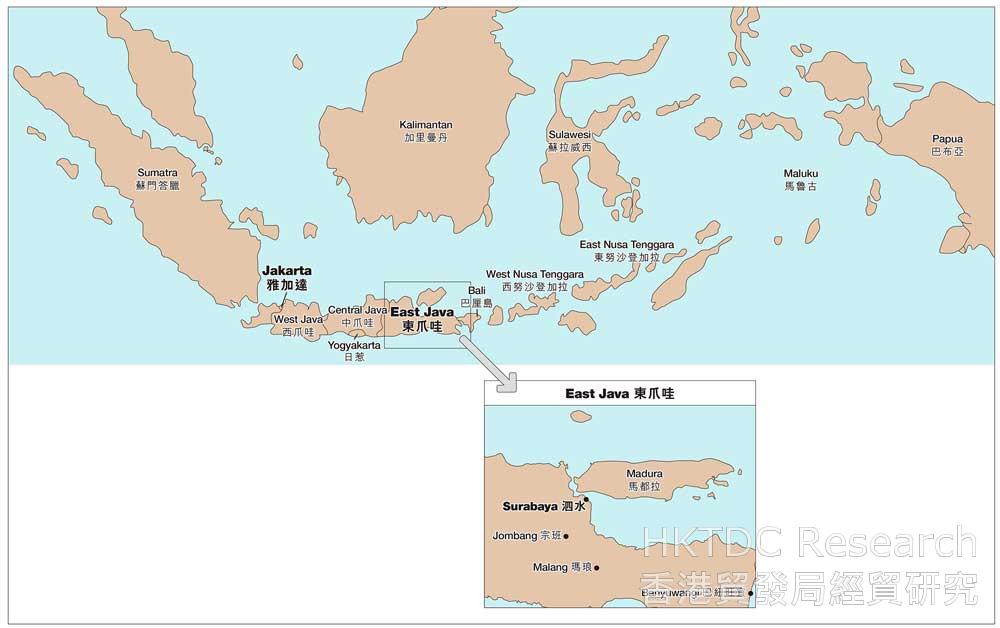 Indonesia map
In recent years, East Java has become attractive to both foreign and domestic investors. With its rich endowment of natural resources, East Java's agriculture and mining industries have flourished. In 2012, foreign investment realisation in East Java increased 75% to US$2.3 billion, bringing extra business opportunities for both manufacturing and services.
As the major business hub of East Java, as well as being the country's second largest city, Surabaya has become another lucrative market for foreign retailers. During 2007-2012, retail space supply in Surabaya expanded by 60% in the city, with more than 30 shopping malls now established, bringing in foreign retailers such as Sogo, Marks and Spencer and Esprit. According to the Bank of Indonesia, the real value of retail sales in the city has registered double-digit growth since July 2012.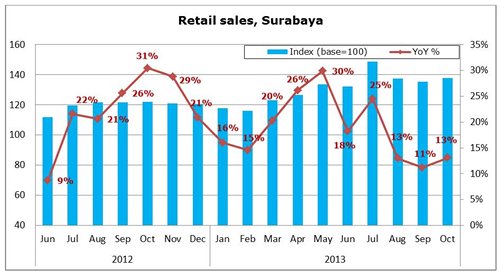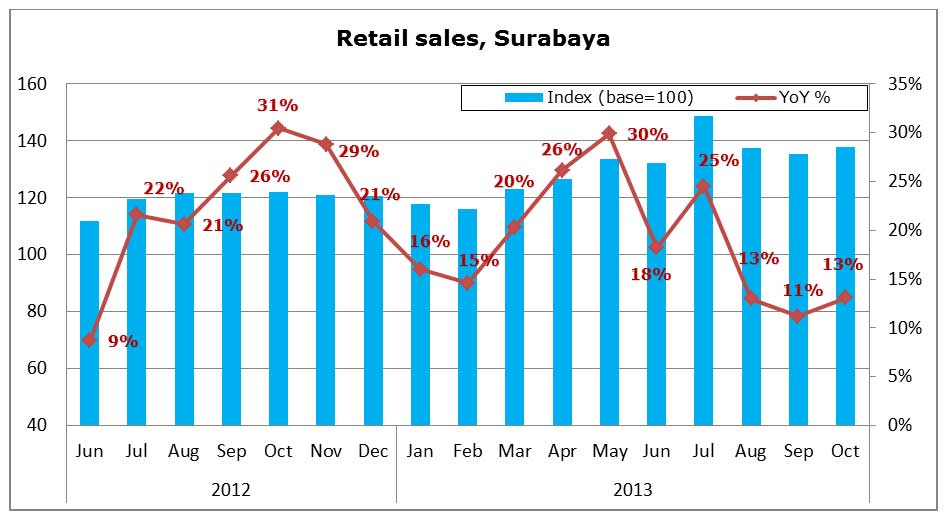 Retail sales in Surabaya have registered robust growth
Source: Bank of Indonesia
| | |
| --- | --- |
| A modern shopping mall in Surabaya (Tunjungan Plaza, Galaxy Mall, Grand City) | International brands in a modern shopping mall in Surabaya(1) |
| International brands in a modern shopping mall in Surabaya (2) | International brands in a modern shopping mall in Surabaya (3) |
Growing importance of online platforms for retailing
With internet access becoming more affordable and coverage broadening, the number of internet users (via computers at home or work, internet cafes or mobile phones) in Indonesia increased 26% to approximately 38 million in 2012. Currently, internet users are concentrated in big cities like Jakarta and Surabaya. Higher internet usage is primarily driven by the mobile segment, due to the surge in mobile phones, and the use of social media, particularly among the younger generation. Thanks to internet packages with competitive rates offered by many telecommunication providers, mobile internet subscriptions[iii] surged at a CAGR of 172% during 2007 2012.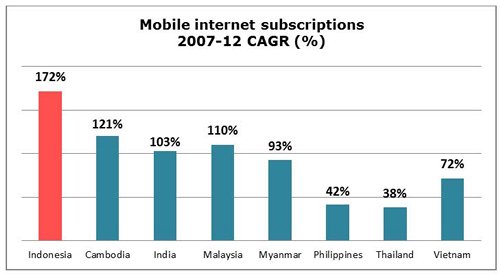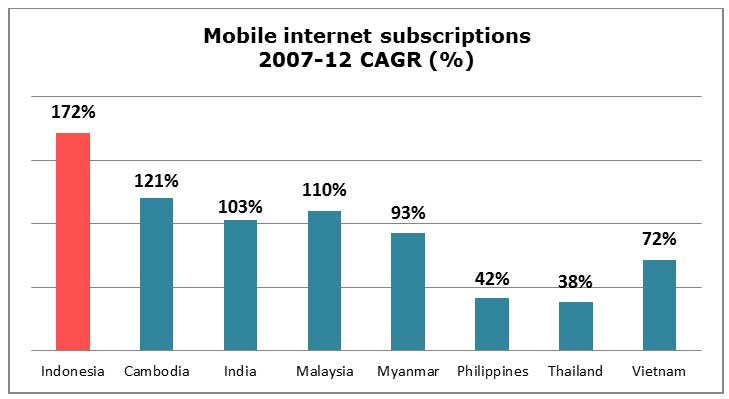 Mobile internet subscriptions in Indonesia have risen faster than other countries in the region
Source: Euromonitor International
The wider ownership of smart telecom devices, with Wi-Fi access commonly available in public space and retail premises, has helped the spread of e-tailing in Indonesia. With the world's second largest number of Facebook users and the sixth largest number of Twitter users, social media platforms are widely used by retailers as tools for promotion and building customer relations.
According to Internet World Stats, there were approximately 50 million Facebook users in Indonesia as of the end of 2012. Social media has become a favoured choice of marketers targeting Indonesian consumers, as they can advertise through photos, videos and events promotions at low cost while instantly reaching their target audience and potentially beyond their target market. According to some local retailers, technologically savvy consumers are also increasingly active in getting involved in communications with companies via social networking platforms.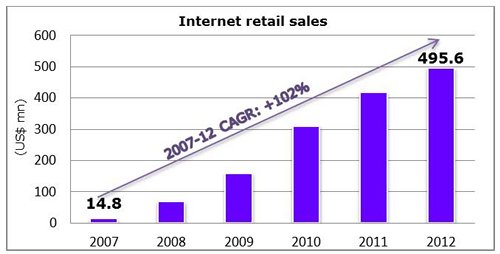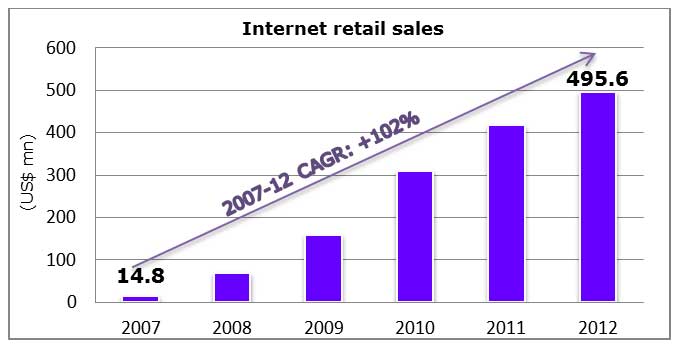 Online retail sales in Indonesia had grown strongly over the past few years.
Source: Euromonitor International
In Indonesia, increasing numbers of e-commerce companies are engaged in B2C businesses, such as Bhinneka, offering a wide range of categories from electronics to home appliances and fashion items. Many retailers have also set up online shops. Meanwhile, consumers use online shopping websites to make price and product comparisons, before they decide whether to purchase online or from retail stores. Online forums and product reviews are also a popular tool for consumers' product research. In the five years to 2012, online retail sales registered a CAGR of more than 100%, testifying to the popularity of using new media in effecting sales. As many consumers do online product research of electronic devices, electronic appliances and devices are the major items bought via the Internet. In 2012, electronics and media products accounted for the largest share of total online retail sales in Indonesia.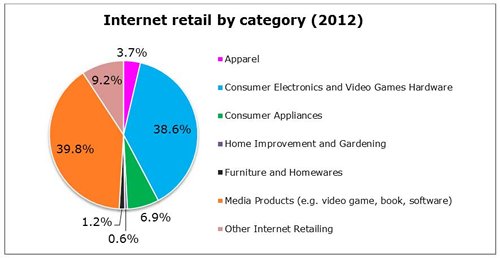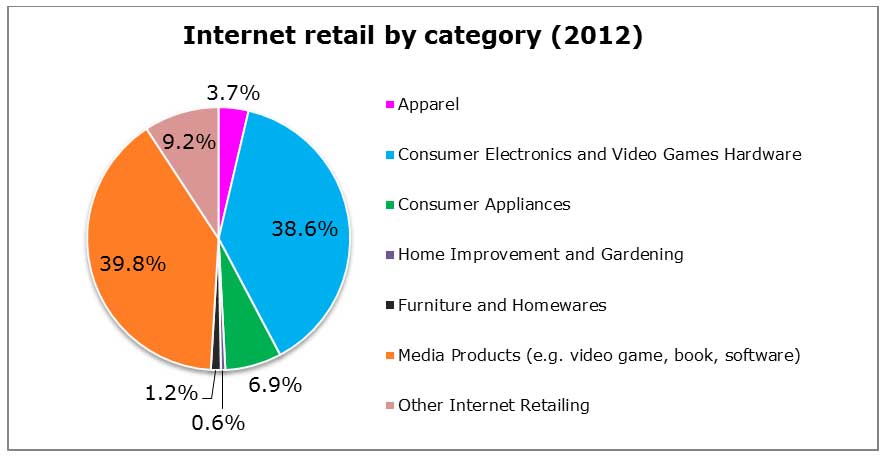 Electronics and media products are major online retail categories in Indonesia
Source: Euromonitor International
Related information: Indonesia infographics
---
[i] Halal is an Arabic word meaning lawful or permitted. All foods are considered halal with the exception of the following, which are haram: (i) pork and its by-products; (ii) animals improperly slaughtered or dead before processing; (iii) animals killed in the name of anyone other than Allah; (iv) alcohol and intoxicants; (v) carnivorous animals, birds of prey and land animals without external ears; (vi) blood and blood by-products; and (vii) foods contaminated with any of the above products.
[ii] In addition to recruiting franchisees, many Indonesian companies expand their networks of convenience stores by adding their own or proprietary stores.
[iii] Mobile internet subscriptions refer to the sum of mobile-broadband subscriptions (mobile-cellular subscription with a data speed of 256 kbit or greater that allow access to the internet via HTTP and uses Internet Protocol for data connection), which include services that use mobile-broadband connection, including mobile phones, portable modems, tablets or other mobile devices.
Electronics & Electrical Appliances
Food & Beverages
Garments, Textiles & Accessories
Gifts & Premiums
Handbags & Travel Goods
Jewellery
Watches & Clocks
Indonesia
Southeast Asia