https://hkmb.hktdc.com/en/1X09WER3
Hungary: opportunities beyond electronics
Sporting goods, toys, clothing, household electrical appliances and interior furnishing products from Hong Kong have experienced rapid sales growth, in line with the evolution of the economic environment and consumer behaviour in Hungary. With frugality still a factor for most shoppers, importers have increasingly sourced from Asia for less expensive goods that are nevertheless well designed and good quality. Due to increased participation in sports and a desire among Hungarians to build smart and comfortable homes, sales of sporting and leisure goods, and home improvement products should continue to rise.
Nurturing non-electronics exports
Accounting for more than 90% of Hong Kong's exports to Hungary, electronics is by far the largest export category, dwarfing all other product sectors. A closer look, however, at the trade figures will help traders determine what other sectors in the Hungarian market are promising. Several non-electronics sectors showed handsome growth in 2013.
For instance, sporting goods, toys, clothing and accessories, interior furnishings and home appliances – representing more than one-third of Hong Kong's non-electronics exports to Hungary – recorded growth varying from 8.0% to 147.5% in 2013, when Hong Kong's overall exports to Hungary rose by 8.8% and electronics exports grew by 9.3%.
Selected Hong Kong non-electronics exports to Hungary in 2013

Source: Census and Statistics Department, HKSAR Government
Fuelling a more sporty Hungary
Hungary has an impressive history of sporting achievement and a number of world-famous sports figures, such as the water polo player Gergely Kiss who helped Hungary win gold at the 2000 Olympics in Sydney; Laszlo Papp, the first boxer in Olympic history to win three consecutive gold medals; and Ferenc Puskás, one of the greatest footballers of all time. Even so, by European standards, Hungarians are generally not big sports fans though they have increasingly become more health-conscious in recent years due to promotion of physical recreation.
The latest Special Eurobarometer Survey on Sport and Physical Activity, published in 2010, suggests 23% of Hungarians played sports regularly, while 53% never exercised. The European average is, respectively, 40% and 39%. Even so, steady growth in the sports shoes market, sportswear and sports equipment is clearly a good indicator of the rising demand for sports in Hungary despite the global economic downturn that affected the country.
Government backing has greatly improved health among school-age children in the past two years after a new regulation was introduced to make physical education (PE) classes compulsory for first, fifth and ninth grade students. This not only provides children with the opportunity for regular exercise (three times a week under the new rules) during school, but also encourages them to establish an exercise routine that will hopefully become a habit after school. It is reported that cycling, football, jogging and dancing are the most popular sports among Hungarian children.
Among the working class, the entertainment value of sports is often regarded as more important than the health implications of physical activity. In light of a National Institute for Food and Nutrition Science finding that revealed nearly two-thirds of the Hungarian adult population is overweight, gyms and yoga studios, spa centres and fitness clubs have become increasingly popular. Not everyone, however, can afford the membership fees, or the time for workout classes because of their busy work schedules. TV shopping and online shopping have therefore becoming the most popular channels for the working class to source their fitness equipment and start working out at home.
In general, March-April (the arrival of good weather in Spring) and August-September (the back-to-school factor) are the two peak seasons when most sports products purchases are made. Product-wise, sports shoes such as trainers, hiking shoes and leisure footwear usually dominate sales. In addition, an increasing number of people buy ski wear, skiing equipment and winter sports products for the winter season; and bicycle, running and hiking products for spring and summer. Christmas is also an important period for sales of sports-related products as it is a time when people are more willing to splurge on expensive sporting goods, both for themselves and as gifts.
Similar to many other CEE markets, international sport brands are popular in the Hungary market, especially among youths. However, due to economic uncertainty and job losses, consumers are willing to try out lesser-known brands and private label products that are widely available at convenient points of sales such as supermarkets and online platforms. To this end, Hong Kong traders have been quick to seize the growing opportunities to sell sporting goods in Hungary. In 2013, Hong Kong's exports of sporting goods to Hungary soared by 148% to US$13 million, a jump of more than 44% compared with 2009.
More than a Rubik's Cube
The world-famous, 3-D combination puzzle Rubik's Cube was invented 40 years ago by a Hungarian sculptor and professor of architecture, Ernő Rubik. The toy became a hit when it was introduced to the US market in 1980 and has remained popular internationally, as most toy shops carry both traditional and modern variations of the Rubik's Cube. Against this background, while the main trend in the EU market is for electronic and licensed toys and games, Hungarian consumers put a premium on educational and learning elements, DIY functions and practical features for their toy purchases.
As a member of the EU, Hungary basically follows EU legislation pertaining to the marketing, marking, labelling and packaging of products such as toys. That said, with the well-being of their children increasingly uppermost in the minds of most Hungarian parents and toy companies, the relevant authorities are often considered to be stricter than their European neighbours in ensuring product safety. For instance, Hungary was the most frequent notifying country in regard the RAPEX1 system in 2012, filing 294 notifications or 15% of the year's total (with some 33 notifications considered to be toy-related). Given such high standards, Hungarian toy companies often go beyond EU safety rules and regulations in order to offer better and safer toys and ensure compliance. It is therefore crucial for Hong Kong companies planning to enter the Hungarian market to take special note of the requirements stipulated by orders from their Hungarian buyers so as to avoid problems.
Number of RAPEX notifications (2012)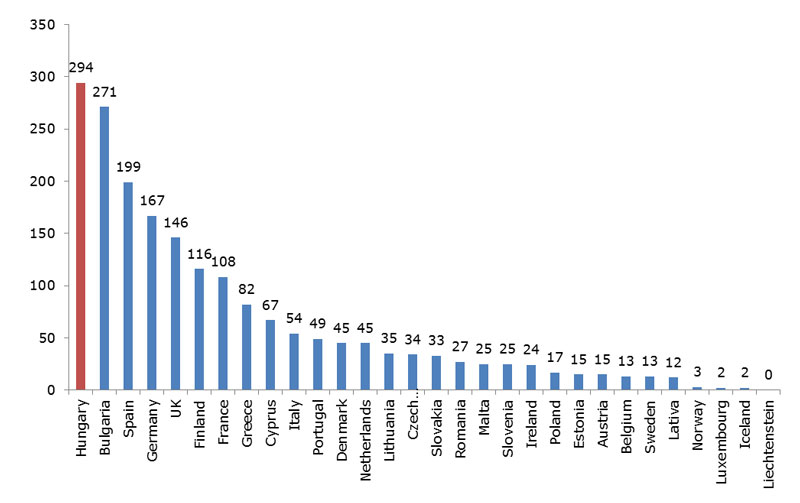 Source: RAPEX – 2012 Annual Report
As for distribution, major toy importers and wholesalers such as Gulliver, Regio Toy and Vega Impex are important contacts in Hungary. While hypermarkets/supermarkets, convenience stores and specialised toy shops are the usual channels for Hungarian parents to buy toys for their children, the habit of browsing for and buying toys online has increased during the recent economic slowdown as parents look for standard, cheaper items. To compete with lower-priced, unbranded toys (which can be up to 50% of the market for certain items), Hong Kong companies are advised to enrich their offerings with exclusive designs, innovative features and attractive packaging.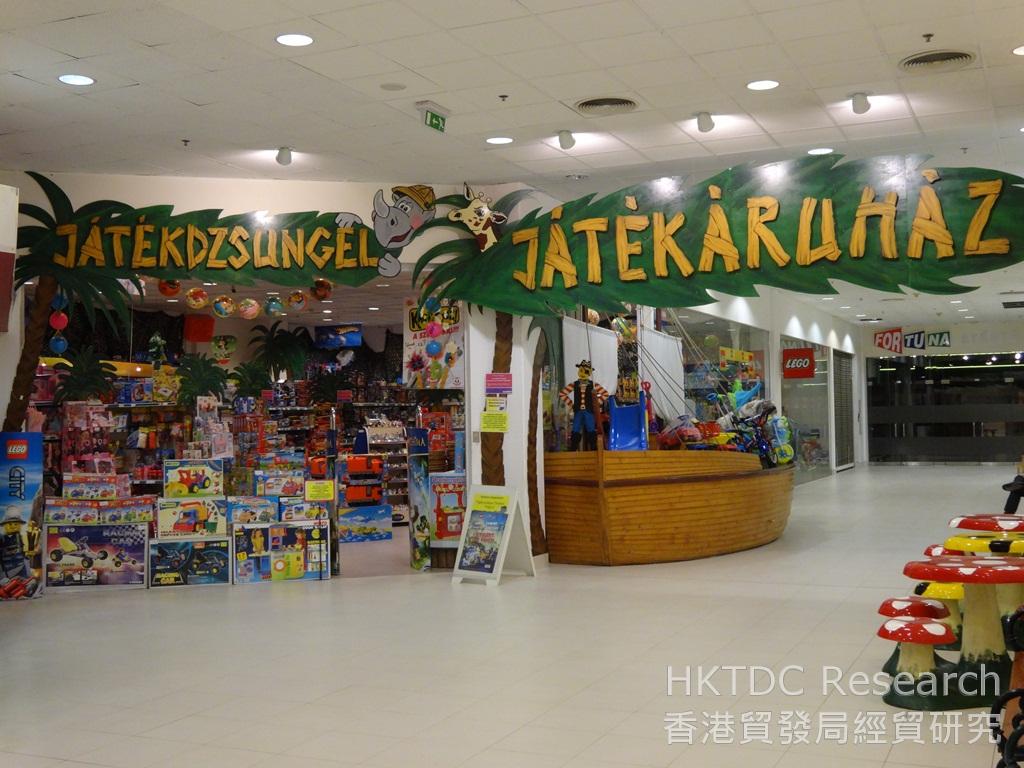 Specialised toy shops in Hungary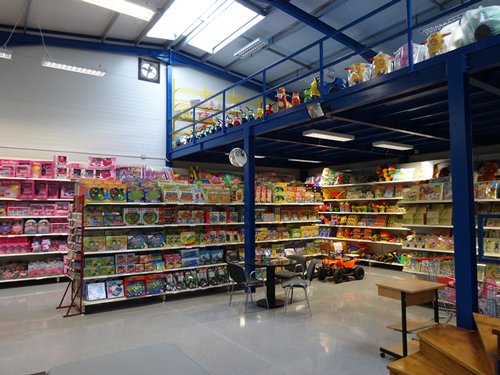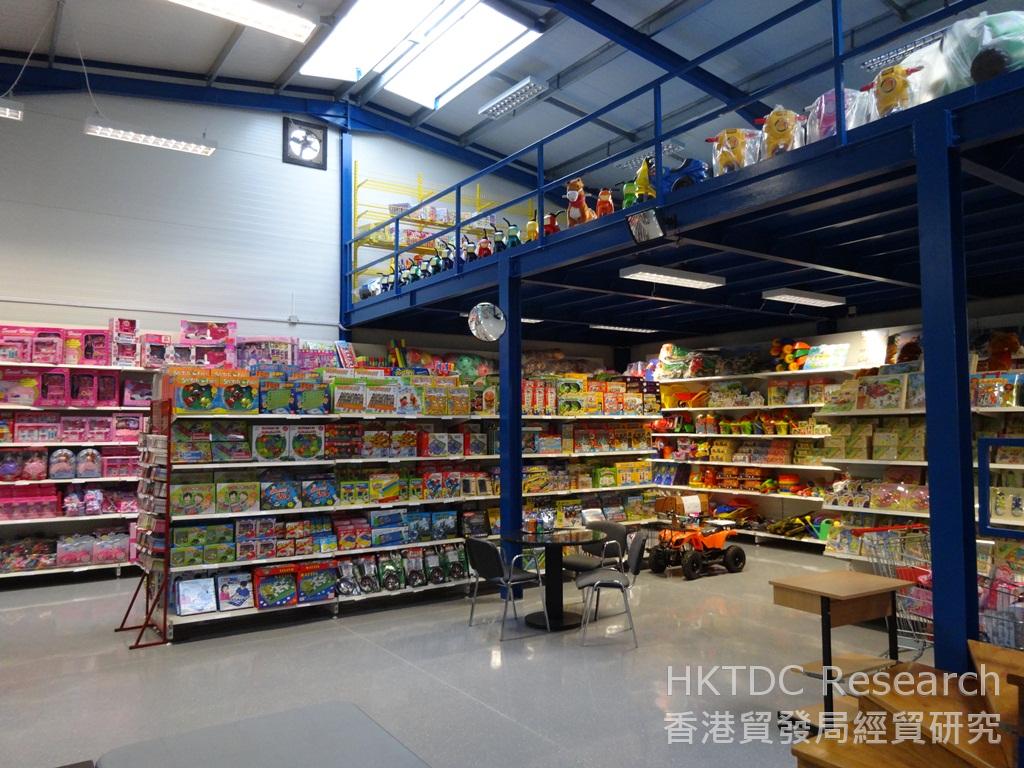 Showrooms are popular channels for toy shop owners in Hungary to browse and source new toys from importers/wholesalers

Moreover, Hong Kong companies should not overlook the expanding links between toys and baby and pet products in Hungary. A number of buyers who have long considered Hong Kong's toy products to be more reliable and innovative than mainland suppliers have flexed their sourcing muscles to attend trade fairs in Hong Kong and screen and select suppliers of baby and pet products. Taking this trend into account, many Hong Kong manufacturers have leveraged their existing strengths and OEM capacity in the toy sector to devise innovative and user-friendly baby and pet options.
Several Hong Kong toy companies have diversified into the pet toys business and differentiated its training toys by subjecting them to the same product safety tests by world-class test laboratories that were originally set for children's toys. Despite cost concerns, subjecting pet products to safety tests as stringent as those for human products can not only help manufacturers stand out from their competitors, but will also assist them when safety rules for many pet care products are still largely unclear and arbitrary. A safety label, apart from giving consumers more information and confidence in the products, can also serve as a good tactic for newcomers to compete with existing or local brands.
Dressing down and jazzing up
The apparel market has, perhaps, been one of the hardest-hit market segments in Hungary during the recent years of economic turbulence. Rising unemployment and declining incomes have prompted consumers to shun the high street and favour value-for-money items, driving out some local mid-range fashion brands such as Jeans Club and overseas players such as Bestseller.
Against this backdrop, private labels exclusively sold in hypermarkets/supermarkets (e.g. F&F by Tesco) and fast-fashion brands such as H&M, Mango, Terranova and Zara (estimated to represent some 20% of the apparel market in Hungary) have been expanding fast across the country. Additionally, in light of the popularity of e-tailing, which enables easier price comparison, and 24/7 shopping has been steadily gaining ground among shoppers who are fashion-conscious and price-sensitive. To take advantage of this trend many international brands such as C&A, Claire's, Mexx, Next, Springfield and Topman have already started or expanded their web businesses in Hungary.
Joseph Antal, the owner of Antalok Merchandising Pte. Ltd, a long-time apparel supplier of the French retailer Auchan (which has some 20 stores in Hungary and buying offices in Bombay, Shanghai and Bangkok), said that Hungary's mass fashion market is rather fragmented. Leading players such as Tesco, Deichmann and C&A share no more than 30% of the whole market. Along with a wide range of small players – including those selling in the various Asian markets such as the Four Tigers Market in Budapest's eighth district – most mass market players focus primarily on price, forming the largest clientele for Hong Kong fashion traders in Hungary, in the aftermath of the recent economic crisis.
As the market further polarises and luxury brands such as Ermenegildo Zegna and Burberry continue to make inroads, more affluent and discerning buyers still prefer travelling to Austria, for example, for a greater variety of brands and designs. More pragmatic Hungarian consumers and traders looking for brands, variety and quality at affordable prices, resort to trade platforms such as Asia Center.
As one of the largest trade centres in CEE, the Asia Center in Budapest has become a good source for fair-priced fashion products. With nearly 600 shops and an annual visitor flow of three million, the Center has been providing consumers (at retail level) and traders (at wholesale level) fair-priced options. To meet the growing demand for both traders and shoppers, the Center opened a China Brand Trade Center (CBTC) in 2011 to develop a concentrated marketplace of Chinese products, such as quality fashion.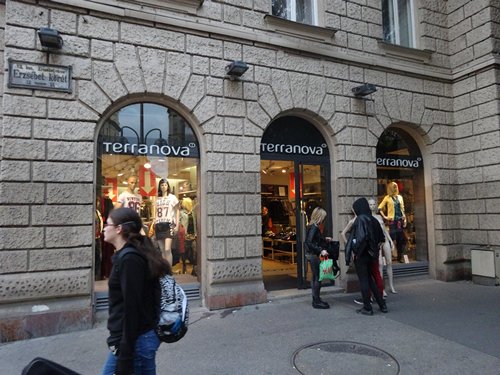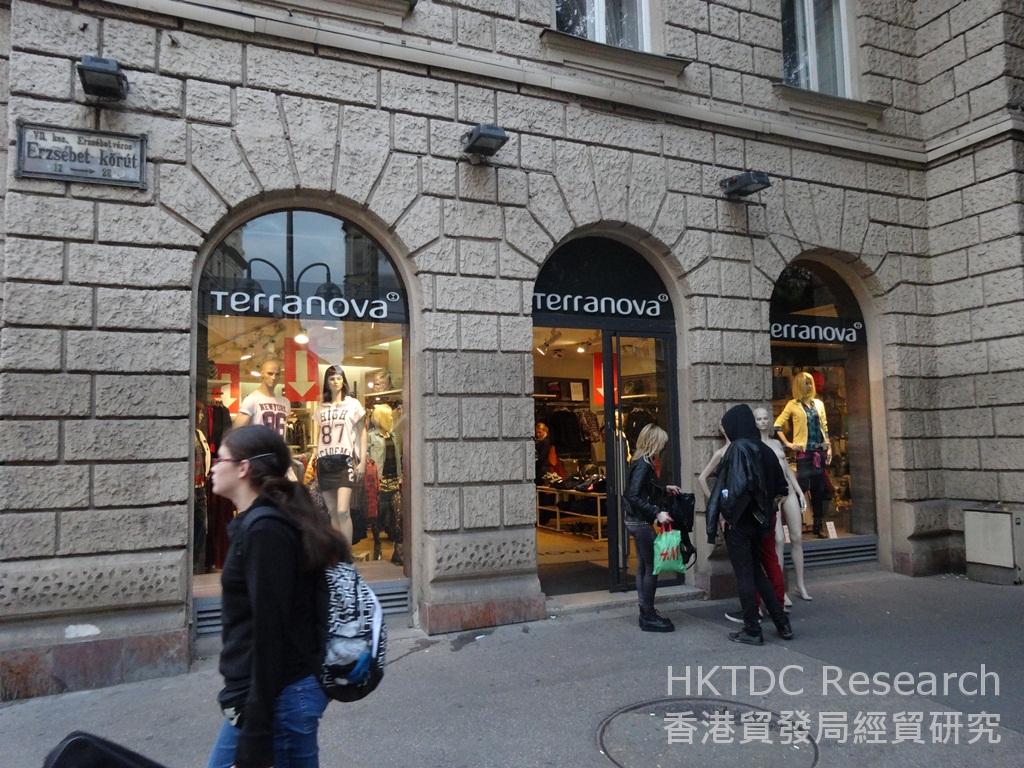 H&M (Swedish) and Terranova (Italian) are popular fast fashion chains in Hungary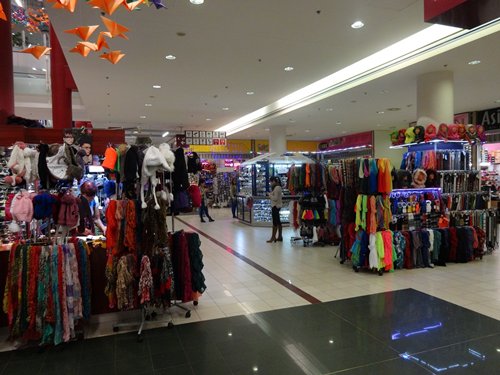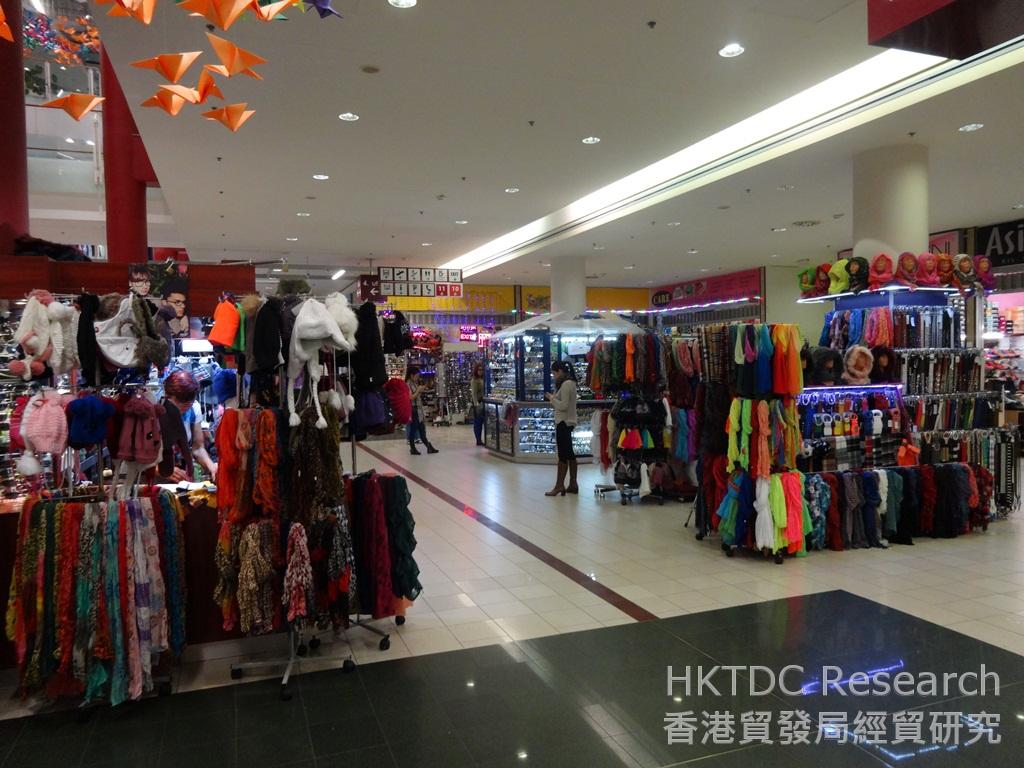 Home to many Asian fashion suppliers, Asia Center is a popular wholesale center in Budapest

Facing a limited budget, many Hungarian consumers turn to stylish, playful and innovative clothing accessories such as belts, caps, hats, scarves and ties, which usually cost less. Currently, apart from leather gloves production in Pecs (in the south of Hungary), most if not all clothing accessories in Hungary are imports, with the Chinese mainland and other Asian suppliers such as India, Thailand, Vietnam being the major suppliers. Given a short yet dynamic fashion cycle, the ability to meet short production lead times and accommodate flexible delivery is of utmost importance when it comes to a winning formula for the Hungarian market.
Meanwhile, as most mass market retailers such as hypermarkets/supermarkets and fast fashion brands have developed their own fashion and accessories collections, new-to-the-market Hong Kong fashion companies can consider approaching these brands or labels to enhance their own chances of success. Many suppliers of these brands or labels, such as Antalok Merchandising, are frequent visitors to Hong Kong trade fairs such as Fashion Week and World Boutique, Hong Kong companies interested in making their debut in the Hungarian and broader CEE market can utilise these fairs to forge business contacts. It is common for these suppliers to sell to small- and medium-sized e-tailers such as web shop owners, who cannot afford to travel to overseas fairs to source themselves but instead rely on experienced buyers to hunt for new designs, colours and styles on their behalf.
Building a smart, comfortable home
Another opportunity for Hong Kong companies arises from the home improvement sector. Battered by a weaker Hungarian forint and uncertain employment prospects, many Hungarian households have shied away from discretionary spending such as eating out and travelling abroad. Instead, they pay more attention and resources to upgrading their homes by making them "smart," sustainable and comfortable. Cutting-edge home entertainment and kitchen appliances are therefore highly sought-after items.
Although the demand for home improvement may well be a reflection of the economic crisis and the wish to save money, the goals of home improvement and environmental protection can go hand in hand. Enhanced energy efficiency, from the adoption of LED lighting to the replacement of old, inefficient appliances with smart gadgets, can also contribute to reducing energy demand and subsequently energy bills.
Accounting for roughly 9-10% of Hong Kong's non-electronics exports to Hungary, interior furnishings and household electrical appliances have been two leading product categories for Hong Kong companies. For instance, Hong Kong's exports of electric lamps and lighting fittings, battery operated portable electric lamps, food grinders and mixers, microwave ovens and cookers registered three-digit growth in 2013, varying from 146% to 401%.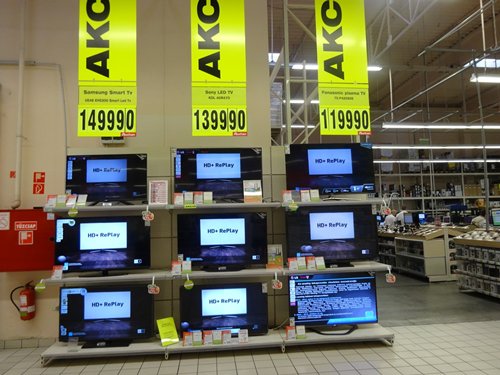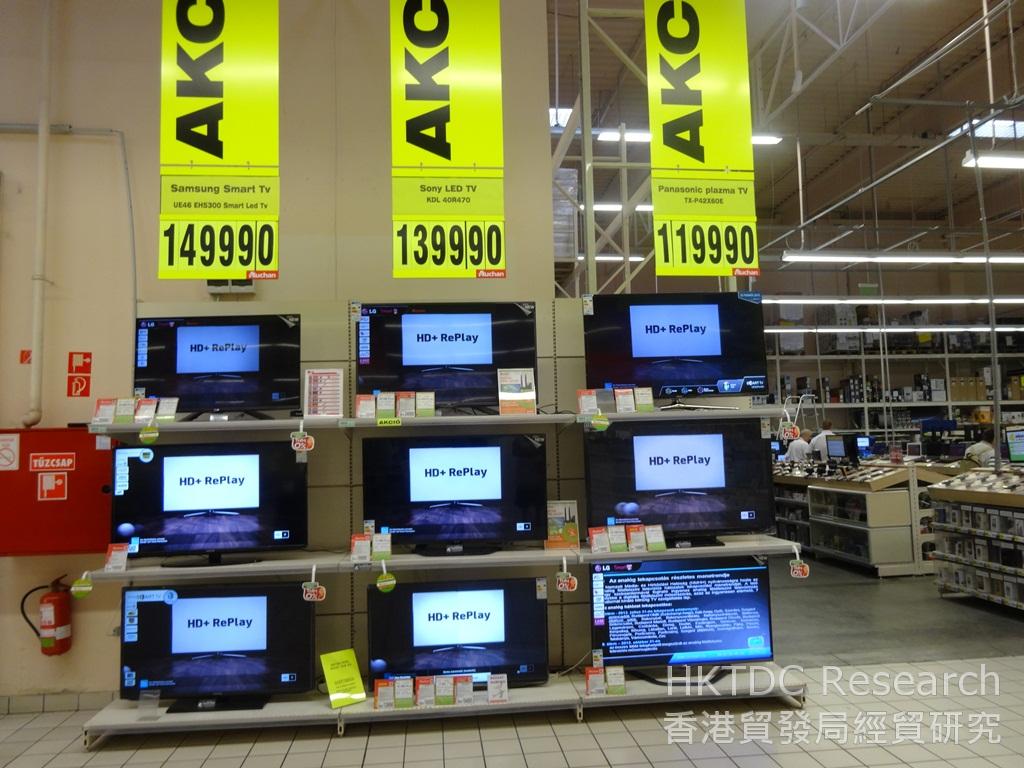 Home entertainment appliances are hot items in Hungarian households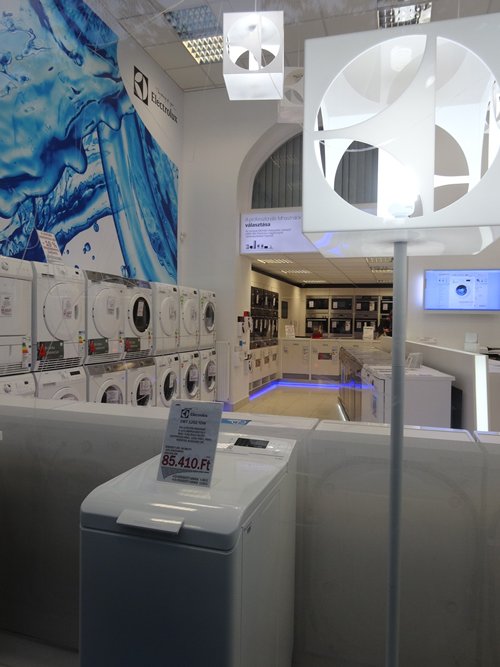 The replacement demand for old, inefficient white goods in Hungary is huge


Hungarians are willing to spend on home improvement and although not everyone can afford to replace their old appliances with the latest branded models, Hungarian consumers are keen to compare prices both on site and online to ensure they get the best value for their money. With the wider availability of web shops and online stores, Hungarians can now look for the best offer and compare not only prices, but brands, functions, designs, colours, sizes and many other product features before placing an order. With many brick-and-mortar retailers expanding their online businesses, internet sales of household appliances were estimated to reach US$30 million in 2012.
As for home improvement items other than electrical appliances, Hong Kong suppliers, given the long distance, are not able to compete with local or European vendors of heavy or bulky home improvement items. To tap into the market, apart from tools and ready-to-assemble (RTA) or DIY items such as handy furniture, Hong Kong companies can look into the sectors of other related home accessories, including bed linen and glassware for toilets, office and indoor decoration.
Although it may take a while for new-to-the-market Hong Kong suppliers and designers to fine-tune their products and designs, Hong Kong suppliers, on the back of their extensive experience trading with Western clients on an OEM/ODM basis, should be able to meet Hungarian and CEE demand without too much compromise.
Related information: Hungary infographics
---
1 RAPEX refers to the Rapid Alert System for non-food consumer products. According to the EU directive on general product safety 2001/95/EC (GPSD), the national authorities of member states are required to notify the European Commission, via the RAPEX system, of measures taken to prevent or restrict the marketing or use of consumer products posing a serious risk to the health and safety of consumers.
Hungary
Hong Kong
Eastern Europe
Hong Kong