https://hkmb.hktdc.com/en/1X09W875
Opportunities for Hong Kong in Korea's booming electronics sector
Ascendency in Korea's ICT industry
Korea has gained prominence in the world's high-value electronics sectors on the back of continual R&D investment and rapid technological development. As the home of some of the world's largest producers of smartphones, display panels and memory chips, Korea has seen the information and communication technology (ICT) industry become a major driver of its export oriented economy. The ICT industry accounted for 28% of Korea's total exports in 2012, showing steady growth since the recovery in the second half of 2009 as a result of the expansion in advanced and price-competitive Korean electronics exports.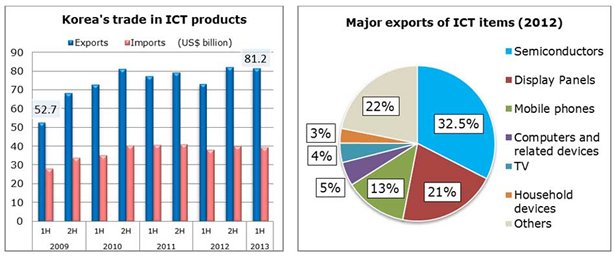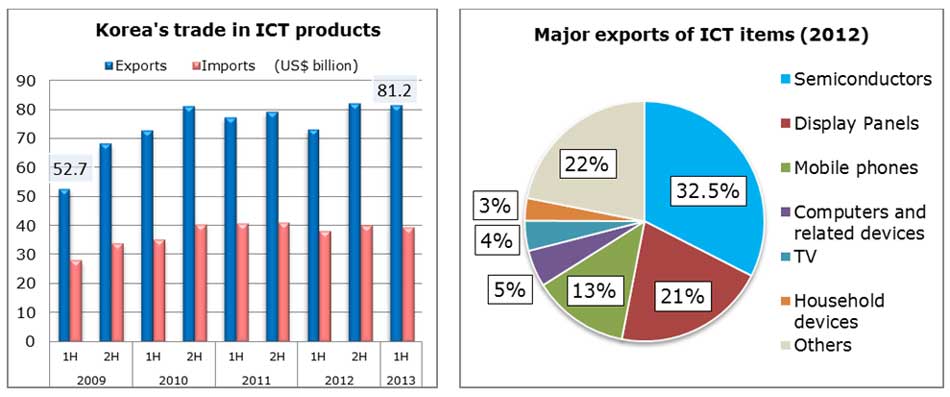 Korea's growing ICT exports driven by semiconductors, display panels and mobile phones
Source: Korea Ministry of Trade, Industry & Energy
The top three outputs of Korea's ICT industry are semiconductors, display panels and mobile phones, comprising both finished products and parts and components. Exports of these three items totalled US$103 billion in 2012, accounting for more than two thirds of all Korean ICT exports for that year. The major export markets for Korea's ICT products are China, the US and Japan, with China accounting for about half of the country's ICT exports. By comparison with mature markets, such as the US and EU, the emerging markets – and China in particular - have gained greater importance in light of their growing purchasing power and IT investment. Most notably, China has shown rapid growth in its import demand for Korean high-tech products.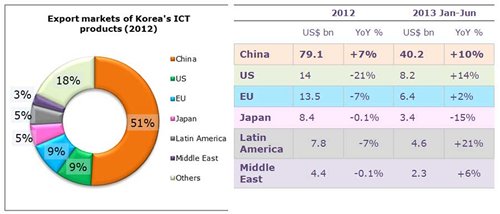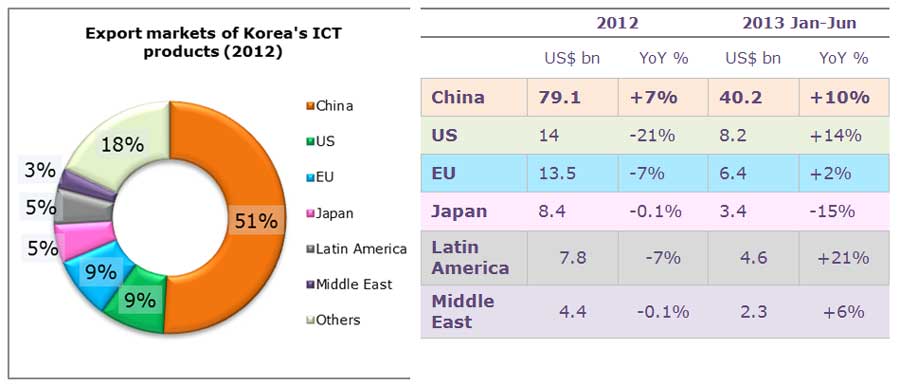 China is the largest and growing market for Korea's ICT exports
Source: Korea Ministry of Trade, Industry & Energy
Striving for continual growth through innovation and diversification
Mobile telephony and the Internet, along with social media, have brought about a seachange in communications over recent years. This has also fuelled the phenomenal growth in demand for a host of smartphone related accessories and peripheral products. Nonetheless, the notion of "earth-shattering" surprises is found less often these days, with consumers fast raising their expectations of new products. While smartphones remain a key contributor to the business performance of Korean electronics companies, there is an understanding that recent growth in the electronics sector is relying more on the continual releases of new models, while the incremental breakthroughs in product innovation are diminishing.
With consumer electronics becoming increasingly competitive, in particular smartphones, product prices and profitability are fast declining, particularly with regard to the "older-version" products with lesser features and functionality. In this context, many Korean manufacturers are seeking new technologies and product diversification. For instance, Samsung Electronics is developing a number of medical devices, such as electronic diagnostics tools. A move in this direction is also being explored by several Japanese electronics companies.
Hong Kong-Korea partnership in EMS and regional business management
Hong Kong is a global sourcing hub for electronics and the bulk of its trade with Korea consists of electronics items. In the first 10 months of 2013, Hong Kong exports of electronics items to Korea increased by 12.4% year-on-year (YoY) to US$4.4 billion, of which re-exports from the Chinese mainland accounted for about 61%. During the same period, Hong Kong imports of electronics items originating from Korea grew by 17.7% YoY to US$10.6 billion. The major trading items were semiconductors, telecommunication equipment components and office machines.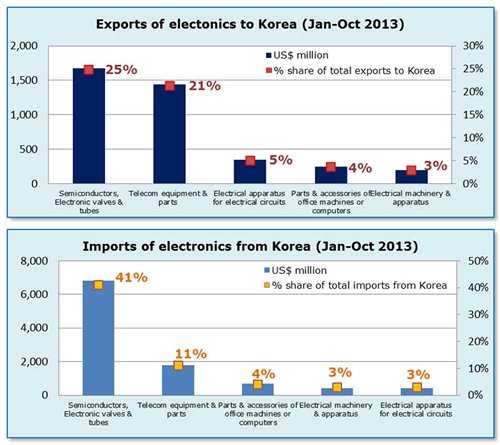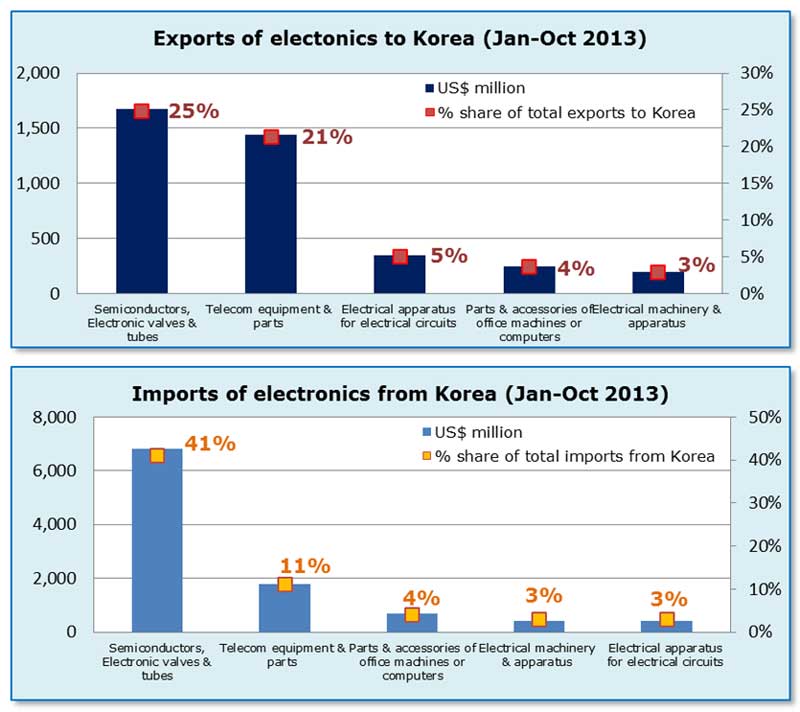 Major items in Hong Kong-Korea trade in electronics
Source: Hong Kong Census and Statistics Department
With a well-established global procurement network and experience in serving multinational clients across a wide range of sectors, Hong Kong electronics manufacturing services (EMS) providers are in a good position to co-operate with Korean electronics companies. EMS services provided by Hong Kong companies span the whole supply chain, from R&D, procurement and manufacturing, to sales and distribution management. Apart from consumer electronics, some Hong Kong EMS providers are capable of supporting high-value and specialised electronic items, including automobile accessories and healthcare devices.
Electronics are Hong Kong's largest merchandise export category, accounting for close to 60% of the city's total exports. More than 70% of the electronics exports are parts and components, the majority of which are re-exported to the Chinese mainland for processing. Most of the production bases for Hong Kong companies are on the Chinese mainland, where processes such as assembly of printed circuit boards (PCBs) are carried out.
Many Hong Kong manufacturers are Original Equipment Manufacturers (OEM) and Original Design Manufacturers (ODM) for international brands, such as Siemens, Fujitsu and Sony. While their plants are located on the mainland, these companies have their regional headquarters in Hong Kong, performing back-office functions and higher value-added services, including R&D, product design and development, industrial engineering, logistics support and marketing. According to interviews with Korean producers of telecommunication devices and accessories, it is clear that many Hong Kong manufacturers are involved in providing OEM and EMS services to Korean companies, which in turn form an integral part of the supply chains of big Korean corporations, such as Hyundai and Samsung.
Hong Kong companies can certainly create a lot of value in co-operation with their Korean counterparts. They are renowned for their flexibility and creativity in the face of rapid technological and market changes. Specifically, Hong Kong EMS providers are capable of offering solutions that are responsive to shorter product life cycles. With advanced skills of manufacturing technology application, Hong Kong companies are competent in offering integrated EMS, including both hardware design and software programming. For instance, in response to the growing awareness of environmental protection and requirements for high quality, Hong Kong EMS providers adopt manufacturing and management systems that deliver a high degree of quality assurance. In fact, many of them are accredited with internationally recognised standards such as ISO certifications and the Six Sigma programme. Business integrity is highly valued by Hong Kong companies, who keenly adhere to intellectual property (IP) protection and respect non-disclosure agreements (NDA). Coupled with Hong Kong's strong supply chain management techniques, there are plenty of partnership opportunities between Hong Kong and Korean companies in the developing Asian markets, in particular, for Korean entrepreneurs to realise the potential of the mainland.
On the other hand, Korea is often a preferred location for overseas electronics companies when it comes to developing the Asian market, with its liberalised ICT sector for foreign investment. In Korea, foreign investors are allowed to conduct wholesale and retail trade of electronics, related parts and software. Computer programming, consultancy and related services are also open to foreign investment. There is no requirement for local ownership in foreign investment or technology transfer. According to one Guangdong-based equipment manufacturer with a branch office in Seoul, its technical and marketing team there spends a considerable of time developing an understanding the needs of Korean companies, in order to serve them with customised products and services. In this context, setting up a sales and marketing unit in Korea may be an option for Hong Kong companies to tap into the flourishing Korean electronics market.
IT convergence: emerging opportunities
Korea's ICT industry has focused primarily on hardware, while the country's global market share of software and IT service sectors is fairly small. To accelerate the development of the ICT industry and commercialisation of advanced technologies, the Korean government is advocating a high-tech convergence strategy, which is incorporated in its creative economy initiatives and aimed at promoting economic growth through placing greater emphasis on innovation and services, rather than the scale of production.
A series of tax incentives, funding schemes and regulatory reforms was introduced in Korea's "Creative Economy Action Plan", which focuses on strengthening the innovative capacity of small-and-medium-sized enterprises (SMEs) and start-ups, with the goal of fostering a cycle of start-ups, funding and reinvestment, replicating that of Silicon Valley in the US.
Examples of measures in Korea's Creative Economy Action Plan
Tax incentives

Tax payments on investment income (capital gains tax) may be deferred if withdrawn capital is reinvested in tech start-ups or SMEs.
Increase tax deductions for capital withdrawn from first generation ventures if it is reinvested as angel capital.
Future Creation Fund
Aimed at creating a Korean-style venture-start-up ecosystem – 'start-up → growth → exit → reinvestment' cycle. As of August 2013, US$570 million was raised with US$380 million from the private sector.
The fund will be managed as a venture fund led by the private sector to give priority to the areas in accordance to the private sector's interests. Major investment areas include IT, healthcare and industrial convergence through M&A.
The leading venture companies will lead the investment in early-stage start-ups, while corporations will focus on investment in growth- to later-stage start-ups, while providing support for companies in growing into midsize or a global scale.
Growth Ladder Fund
A KRW 2 trillion (US$1.8 billion) fund for innovative SMEs and venture companies, tailored to meet the financing needs in different stages of the business cycle, from financing start-ups, growing companies to funds for business recovery.
Intellectual Property Protection Fund
Aimed at protecting technologies owned by SMEs, will be doubled from KRW 100 billion (US$95 million) to KRW 200 billion. Support for filing patent applications overseas after acquiring a domestic patent will be increased from US$3.4 million to US$7.6 million in 2017.
Source: Korea Ministry of Strategy and Finance
With the Korean government's proactive policies, the focus of the Korean ICT industry is shifting to software, and the convergence of hardware and software is also increasingly valued by the ICT industry. Through incorporating information technology (IT) with existing technologies or traditional industries, such as tablet PCs and smart TVs, technology convergence is expected to boost industrial upgrades with advanced technologies while benefitting the wider business sectors. For instance, smart and automated driving systems represent the convergence of IT with the automobile industry.
Examples of IT convergence
Products/Services
Functions
IT + automobile

Smart cars
Vehicle security, control and management through smartphones
IT + healthcare

Digital hospital

Remote monitoring, diagnosis and treatment through digital devices and systems
Transmission of digitalised images between medical devices

IT + construction

Building and engineering technologies

Sustainable building systems
Heating, ventilation, air- conditioning systems

IT + machinery
Machine-to-machine (M2M) wireless technology
Enable remote monitor and control of machines through mobile applications
Source: HKTDC Research
In recent years, IT convergence has become one of the focal points of Korea's Foreign Direct Investment (FDI) promotion policies and is aimed at connecting the IT industry with other sectors in which the country is globally competitive. IT convergence in the automobile, machinery and construction industries has been actively pursued, while convergence with the robotic industry is in its early stages. In this regard, technology transfer and R&D activities from foreign investment is welcomed in Korea, which will provide opportunities for overseas investors, including those from Hong Kong.
In addition, Korea offers good potential for foreign technology companies in terms of R&D outsourcing and IT-related supporting services, such as cloud computing. For example, IBM Korea established its Cloud Computing Centre in Seoul a few years ago, offering integrated solutions and customised technologies to a wide range of industries such as finance and telecommunications, as well as government bodies.
With the emergence of advanced technologies and innovations across a range of industries, Korean IP owners have tried to expand their overseas markets in recent years. In the 10 years to 2011, the overseas applications of Korea originated patents, industrial designs and trademarks grew by a compound annual growth rate (CAGR) of 13%, 34% and 20% respectively. During the same period, Korea-originated IP applications in China had registered double-digit CAGR for the three types of IP. As the region's IP trading platform and international gateway to the Asian market, particularly the Chinese mainland, Hong Kong's professional IP services providers can be ideal partners for Korean IP owners looking for new market opportunities. On the other hand, the rapid increase in the technology IP supply on the mainland over recent years also points to improved prospects for Hong Kong to act as an IP platform for mainland IP owners seeking overseas opportunities and business collaboration with Korean companies.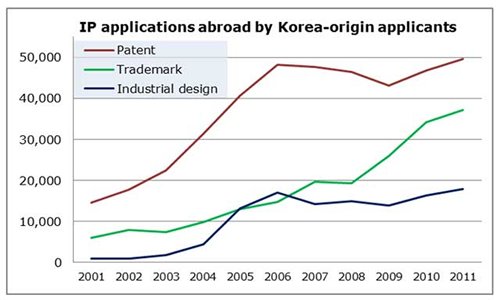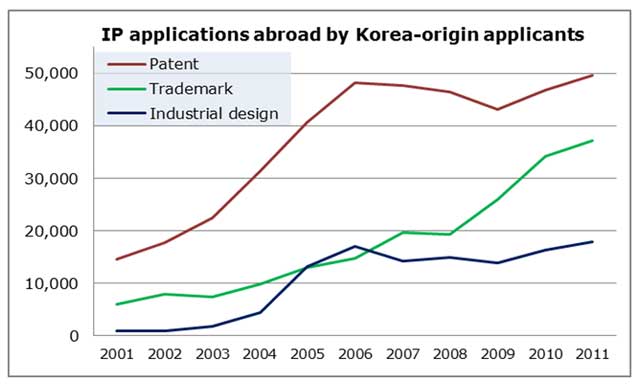 Overseas IP applications from Korea had grown significantly
Source: World Intellectual Property Organisation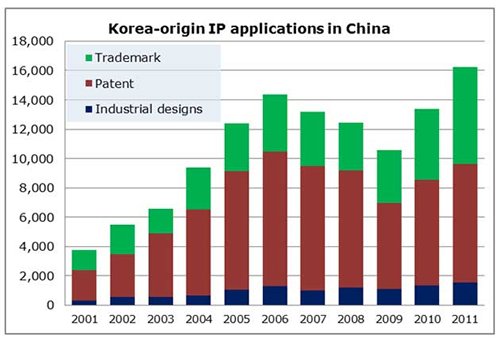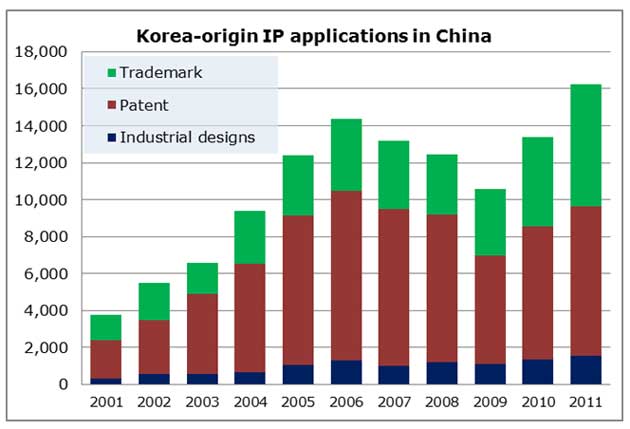 Increasing number of Korea-origin IP applicants in China
Source: World Intellectual Property Organisation
Collaborative opportunities in the ICT market on the mainland
In recent years, the ICT market on the Chinese mainland has grown significantly. According to China's Ministry of Industry and Information Technology, the total revenue generated by the software industry in 2012 increased by 28.5% to Rmb 2,502 billion (US$416 billion), a more than threefold increase on the 2008 figures. Meanwhile, revenues of the electronics manufacturing sector reached Rmb 8,462 billion, an increase of 65% over the year 2008. In this regard, Hong Kong's IT services suppliers can become useful partners for Korean companies looking to participate in the flourishing IT market on the mainland, while taking advantage of the Mainland and Hong Kong Closer Economic Partnership Arrangement (CEPA) preferences in exploring the mainland market (see below).
Under CEPA, Hong Kong service suppliers (HKSS) can set up wholly foreign-owned companies to provide software implementation and data processing services on the mainland. Korean IT companies can acquire CEPA status to become HKSS, which are allowed to apply for computer information system integration qualification certification in accordance with the provisions of relevant Chinese laws and regulations. They can also co-operate with HKSS in undertaking system integration projects. Hong Kong's IT professionals who have obtained the required qualification can participate in large-scale IT projects, which usually require system integration services at the senior level of project management.
CEPA liberalisation measures for Hong Kong service suppliers
Sector
Liberalisation measure
Software implementation services
HKSS are allowed to set up wholly-owned enterprises on the mainland to provide software implementation services.
Contractual service providers employed by HKSS are allowed, in the mode of movement of natural persons, to provide services under this sector or sub-sector in the Mainland.
Data processing and database services
HKSS are allowed to set up wholly-owned enterprises on the mainland to provide data processing services.
HKSS are allowed to provide cross-boundary database services in Qianhai and Hengqin on a pilot basis.
HKSS are allowed to set up joint-venture enterprises on the mainland to provide database services*. The shareholdings of HKSS should not exceed 50%. (*confined to Internet data centre services, store and forward services and content services).
Value-added telecom services
HKSS are allowed to set up joint-venture enterprises on the mainland to provide the following value-added telecommunications services:


Internet data centre services
store and forward services
call centre services
Internet access services
content services
Chinese mainland IP-based virtual private network services

The equity shareholding of HKSS in the joint-venture enterprises is limited to 50%, but there is no geographic restriction for these enterprises.
Source: Hong Kong Trade and Industry Department
Computer & Peripherals
Electronics & Electrical Appliances
Telecommunications
Information Technology
Korea, Republic Of
Korea