https://hkmb.hktdc.com/en/1X09VOLF
France 2014: How the Hong Kong-Paris partnership is conquering Asia
Many Hong Kong traders view French businesses solely as OEM clients, with few thinking to establish more innovative arrangements. This is despite the fact that there are now several high-profile examples of successful Hong Kong-Paris partnerships, including ventures with Galeries Lafayette, L'Occitane, Pont des Arts and a number of other well-known French names. In light of this, the Hong Kong business community would be well-advised to bear in mind the potential for joint ventures, IPOs and brand promotions.
The Hong Kong-Paris match: an ideal partnership
With a trade flow of US$11 billion in 2012 and US$9 billion in the first three quarters of 2013, France is Hong Kong's fourth largest European trading partner. Despite this high level of trade, few Hong Kong businesses have looked beyond their traditional OEM arrangements with their French counterparts. Given the growing importance of the Asian market, many French businesses, including small and medium-sized companies, as well as internationally recognised brands, are now looking for reliable Asian partners.
As the acknowledged engine for global economic growth, Asia has been driving the sales of many French fashion and luxury products, while demand in the mature Western markets has stagnated. In light of this, many French retailers, designers and brand owners have been quick to factor in Asian elements and requirements into their new collections. Many have introduced elements of Asian culture and lifestyles into their product designs in order to woo those affluent Asian consumers looking for new and novel ways of enjoying their disposable income.
While a number of French companies are substantial enough to tackle the Asian markets in their own right, many of them need reliable local partners or distribution agents in order to ease their progress into Asia. It is in this respect that Hong Kong, Asia's leading regional business hub, comes very much into its own. There are signs of the city's involvement in many high-profile Asian-French partnerships – from L'Occitane's initial public offering (IPO) to Galeries Lafayette's return to the Chinese mainland market. In these two cases, Hong Kong was the primary location and the key means of securing the move, respectively, a fact that has underlined the potency of the Paris-Hong Kong business partnership.
Galeries Lafayette parrtners with Hong Kong's I.T for its return to Beijing
Galeries Lafayette, a world-renowned Parisian department store first entered the Chinese market in 1996, when it opened a franchised outlet in Beijing. Its subsequent poor performance saw the store close within two years. Some 15 years later, the company decided to return to the mainland, but chose neither to invest directly nor to launch a new franchise operation. Instead, it opted for a joint venture, choosing I.T, the Hong Kong fashion pioneer, as its 50/50 partner.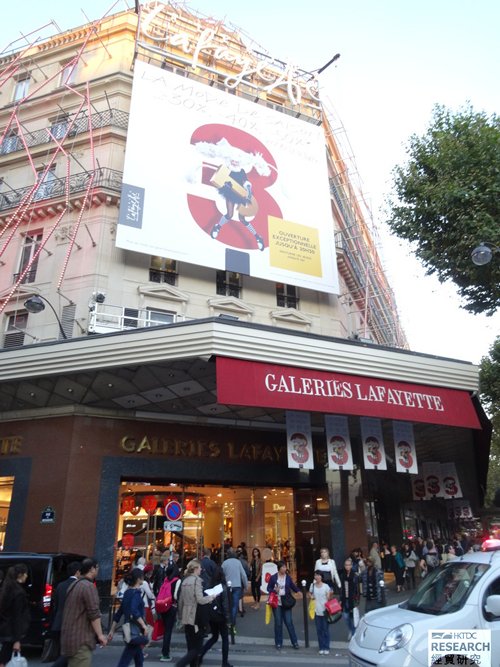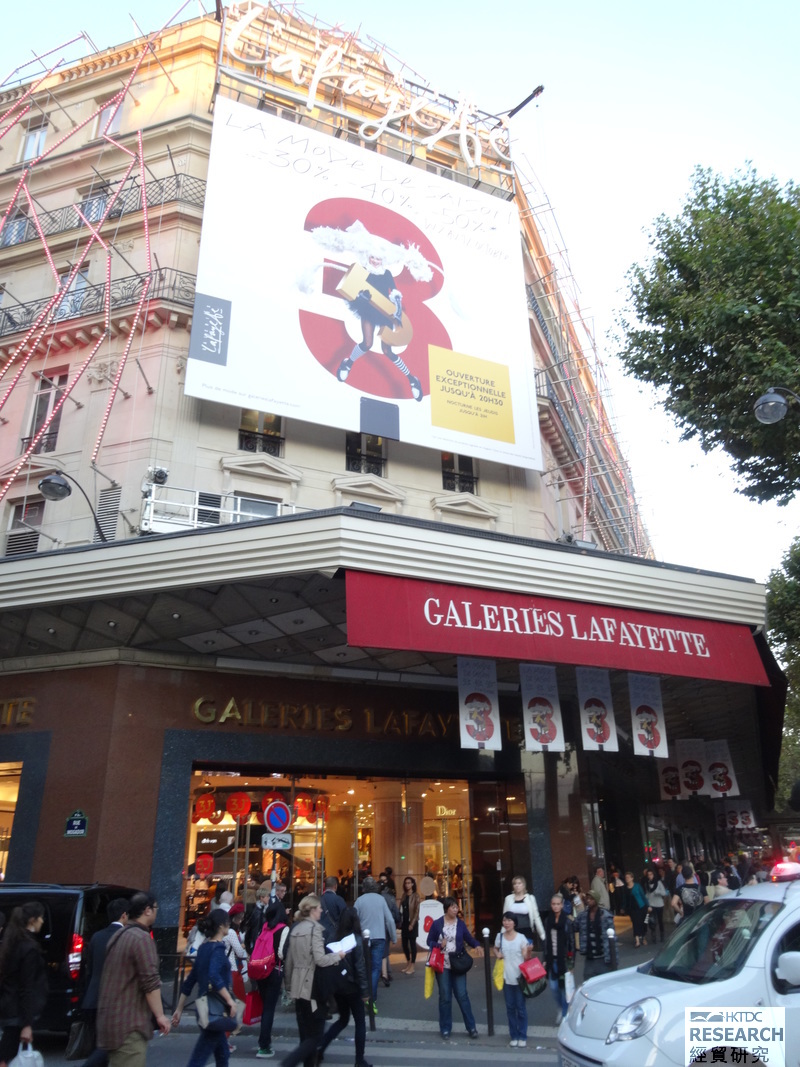 The Galeries Lafayette flagship store in Boulevard Haussmann, Paris is a must-shop destination for many Chinese tourists.

The opening of the company's new Beijing flagship store on 28 September 2013 marked Galeries Lafayette's return to northeastern Asia and the arrival of its fifth store outside of France (preceded by outlets in Berlin (Germany), Casablanca (Morocco), Dubai (the UAE) and Jakarta (Indonesia)). Although it's still early days, the joint venture partners are already planning to open 15 additional outlets across the mainland in the next five years.
According to Philippe Houze, Chairman of the Galeries Lafayette group, the new Beijing flagship will not only stock luxury brands, but will also offer a range of stylish, playful and innovative items. With its sights set firmly on China's rising middle classes, the company aims to provide "a whole range of French lifestyle products at prices going from the accessible to the premium".
In addition to its role as a prime Paris-style fashion shopping destination for Chinese consumers, the store also provides a rare opportunity for new Asian designers to launch and promote their own creations. As part of its commitment to nurturing young Asian talent, the Beijing store features a dedicated "Asian Market" zone that exclusively showcases the work of Chinese and Asian fashion designers.
Its Hong Kong joint venture has allowed Galeries Lafayette to return to the Chinese market while keeping its exposure to a minimum. It has also underlined the benefits of engaging with an Asian partner company that is familiar with the market demands and business culture of the mainland. The arrangement with I.T, a highly fashion-conscious business, has allowed the French department store to quickly become familiar with the tastes and requirements of Chinese consumers.
L'Occitane: the first French IPO in Hong Kong
With 341 shops in Hong Kong, L'Occitane has been a major retail presence in the city since 1995, ultimately going public on its stock exchange in 2010, making it the first French company to do so. With its Asian revenues outstripping its combined income from its US and European markets, its Initial Public Offering (IPO) in Hong Kong saw it once again targetting the continent's cash-rich investors.
Few were surprised by L'Occitane's decision to publicly list in Hong Kong rather in Paris, its base of operations. It was a decision that makes perfect sense in light of the contribution of the Asian markets to the company's revenue. For the six months ending September 2013, the four leading Asian markets - Japan (17.2%), Hong Kong (10.4%), the Chinese mainland (7.1%) and Taiwan (3.3%) – together accounted for 38% of the company's sales (Euros170 million). By contrast, domestic French sales represented only 9%, while the US contributed just 12.2%.
Aside from its dominance in terms of current sales, the growth momentum coming from the Asian markets (except Japan) is of crucial importance to the company's future success. Between March-September 2013, Hong Kong posted the strongest same-store sales growth of any of L'Occitane's major markets. The 11.6% year-on-year growth recorded in the city shows that Hong Kong is a hugely profitable market for the company, while its encouraging market expansion on the Chinese mainland (5.2% compared to an overall sales growth of 0.9%) suggests a huge potential for the L'Occcitane.
Aside from its status as a profitable market in its own right and its role as a testing ground for companies looking for wider Asian expansion, Hong Kong, as one of the region's leading financial centres, offers French (and other overseas) companies the readiness and flexibility for easily raising the capital required for market expansion. The availability of a large pool of Asian investors and the free flow of capital make Hong Kong an unrivalled platform for overseas companies to either launch products or to initiate IPOs in the region.
For French companies, in particular, these advantages have been further enhanced by the comprehensive agreement on the avoidance of double taxation (CDTA) concluded between Hong Kong and France in October 2010. Effective from the fiscal year 2012/2013, double taxation between Hong Kong and France can be avoided as income taxed in Hong Kong is allowed as a tax credit against the French tax attributable to such income. This has proved yet another factor driving French businesses to build closer ties with Hong Kong.
Pont des Arts: connecting wine and art in Hong Kong
Supported by its significant resource of experienced fine wine merchants, all with good wine knowledge and international wine trade experience, Hong Kong excels when it comes wine trading and distribution. On the back of the removal of all duty-related customs and administrative controls in February 2008 and other unique preferential treatment accorded under the Closer Economic Partnership Arrangement (CEPA) and various enhanced customs facilitation measures, Hong Kong has rapidly developed into a wine trading and distribution hub for the region. It is a role of particular significance for those targetting the Chinese mainland, which now accounts for almost half of Hong Kong's wine exports.
Given its lack of favourable agro-climatic conditions, Hong Kong will never be a successful wine producer in it its own right. Despite this, Hong Kong does re-export imported wines from all over the world, with France – unsurprisingly – being its number one supplier, comprising nearly 60% of its total wine re-exports in the first 10 months of 2013. Following the elimination of import duties in early 2008, Hong Kong's imports of French wine have grown dramatically. In 2012, despite a dip from an historic peak of US$788 million in 2011, imports of French wine totalled US$599 million up 416% from 2007.
Hong Kong's imports of wine by origin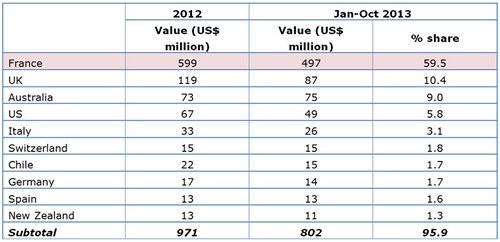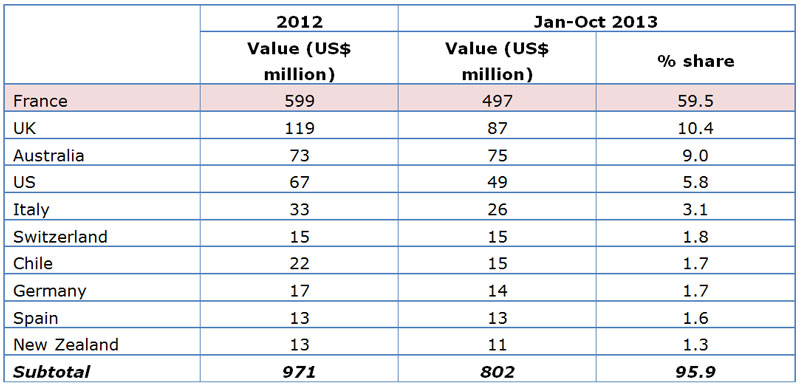 Source: Census and Statistics Department, HKSAR Government
With a number of Asian markets now established as key markets for its wine exports (with the Chinese mainland accounting for 49.0%, Macau 29.4%, Vietnam 4.0%, Japan 3.2%, Singapore 1.9% and Taiwan 1.7%), Hong Kong – the first totally tax-free wine port among the major economies – has become a natural gateway, warehouse and point of contact for French wine traders.
Hong Kong's exports of wine by market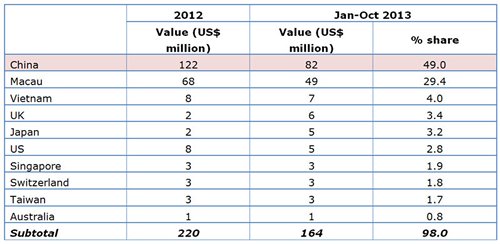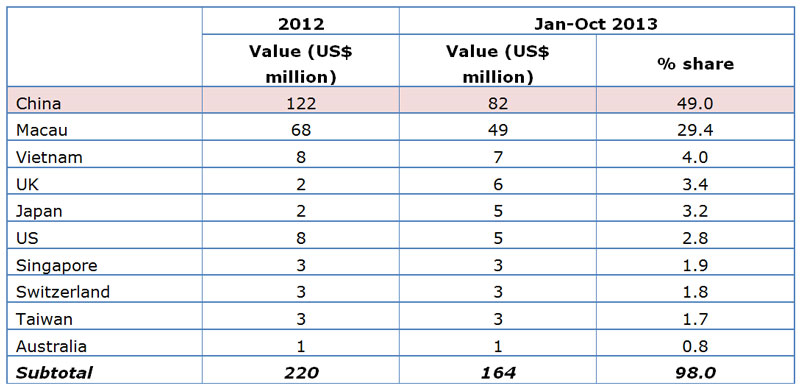 Source: Census and Statistics Department, HKSAR Government
While many leading French wineries have already employed agents or distributors in the city in order to help better promote their wine in the region, Hong Kong's conducive business environment and trend-setting power across Asia have also been drawing the interest of many younger, lesser-known French wine companies/brands, such as Pont des Arts, who appreciate the city's entrepreneurial environment.
In 2010, in a bid to achieve stand out in the crowded premium French wine market, two young, well-connected French entrepreneurs chose Hong Kong as their entry point to Asia and launched a new wine label that combines two of France's best offerings. Comprising a limited collection of Bordeaux and Burgundy wines, featuring paintings by the French-Chinese artist Zhao Wuji on its labels, Pont des Arts – as its name suggests – aims to create a bridge linking the worlds of art and wine.
As the world's freest economy and with a guaranteed free flow of information, Hong Kong's free-market credentials have caught the imaginations of those young French companies/brands looking for a level playing field to exercise their business acumen and realise their visions. The experience of the founders of Pont des Arts, has prompted ever more companies to try and build quality brands in Hong Kong by taking the risk to be bold and innovative and then looking to expand across Asia.
Qeelin and CTK: mixing Asian and Western lifestyles via Hong Kong
With its unassailable role at the heart of Asian business and consumerism, Hong Kong is acknowledged by consumers on the mainland and across Southeast Asia as the region's key lifestyle trendsetter, with the city's exports having a prime influence over consumer shopping behaviour. As a result, many French companies have opted for Hong Kong as a regional springboard for building their brand awareness across Asia.
Qeelin and Chinese Timekeeper (CTK) are two such companies and have a number of key things in common. They are both holders of an SME Award from the French Chamber of Commerce and Industry, the Hong Kong Trade Development Council and Invest HK, and both of these French lifestyle businesses have chosen Hong Kong as their regional base. This has seen them both work within the city to nurture brands that feature a delicate combination of Asian cultural heritage and distinct French craftsmanship.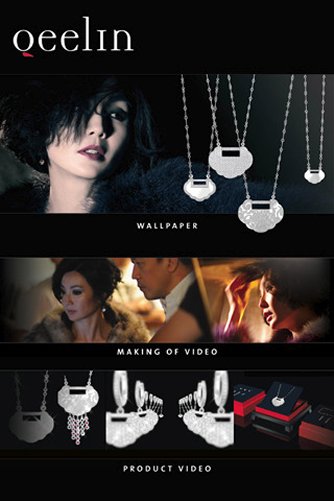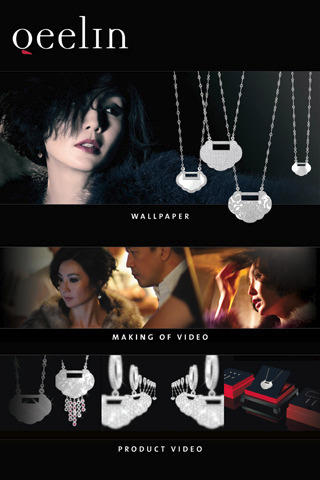 Qeelin's collections featuring world-famous Hong Kong movie star Maggie Cheung.
Source: http://hk.qeelin.com
Qeelin, a fine jewellery company founded in Paris in 2004, and CTK, a timepiece brand established by a French entrepreneur in Hong Kong in 2010, are both very young Hong Kong-based brands. Instead of struggling to find a niche in the packed French market, the two companies opted to take a different route into the global luxury sector and went directly to Asia. As a result 14 out of Qeelin's 17 boutiques worldwide are located in Asia – with seven in Hong Kong and seven on the Chinese mainland, with just one in Paris and two in London. CTK, meanwhile, opened its first boutique in Wanchai in March 2012.
Already becoming well-known and in demand across Asia, Qeelin was last year invited to exhibit at the French art festival, Paris Biennale, making it the first East Asian-based jeweller to participate in the event. Meanwhile, CTK has been working with Chinese designers to assemble timepieces in Hong Kong, combining imported parts and components from the Chinese mainland with a distinctly French attention to detail.
While the luxury world remains dominated by prestigious labels, the continued influx of foreign brands into Asia has not only fuelled the passion for luxury shopping, but also given consumers greater product knowledge, while also making them more willing to give new brands a try. Asian consumers, even among the luxury sector, are increasingly looking for unique designs, instead of just being drawn by eye-catching labels or the prestige of certain brands.
With this in mind, Hong Kong has proved itself to be the ideal location for young French companies to grow their brands, while giving them considerable flexibility in terms of manufacturing inputs and design talents. With more than 60% of French designers said to be keen to work with overseas companies, as revealed in a survey by France's Agency for the Promotion of Industrial Design (APCI), Hong Kong is the ideal setting for up-and-coming French brands looking to access the Asian market.
---
1 Includes L'Occitane stores in Macau and Melvita stores in Hong Kong.
France
Hong Kong
Western Europe