https://hkmb.hktdc.com/en/1X09VNV8
Hong Kong's opportunities in the Korean logistics sector
Located between China and Japan, the world's second and third largest economies, Korea has capitalised on its geographical advantages. This has seen it develop into a key transhipment point in Northeast Asia for the Trans-Pacific and Asia-Europe trade routes. Its logistics hub status is expected to be further enhanced in light of the continued improvement in sea connectivity between northeastern China, Japan's west coast and Russia's far east. It will also benefit from improved air connectivity within and beyond the region. The growing use of Korea's air and sea ports, along with their nearby free economic zones, represents significant business opportunities for Hong Kong logistics and related professional services providers. These opportunities are not only in terms of the Korean market, but also include partnership opportunities with Korean companies keen to access the Hong Kong platform.
Transhipment: primary growth driver for sea transport in Korea
Korea's Busan Port, advantageously set on the Trans-Pacific and Asia-Europe trade routes, is the world's fifth largest container port. With well-developed ports and feeder networks connecting many Chinese coastal cities with ports in Japan, Busan plays a pivotal role in transhipments between its two neighbours. In 2012, Busan handled 17.04 million TEUs, with its transhipment cargo growing by 11% to reach 8.14 million TEUs and accounting for an expanded share of 48% of the port's total throughput.
Growing transhipment volume boosts Busan Port's container throughput.
Source: Busan Port Authority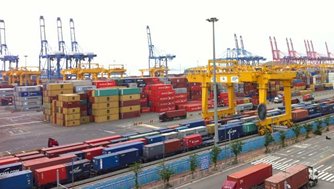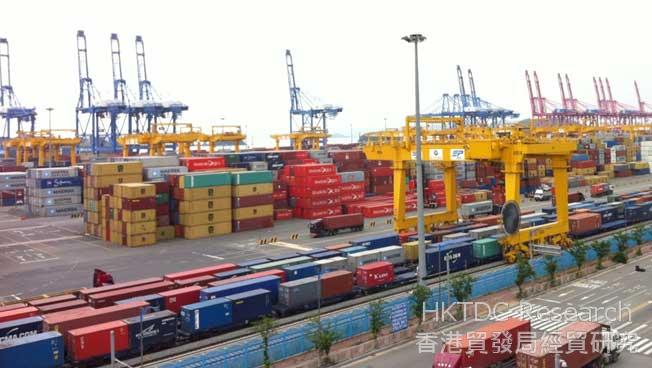 Port of Busan
Busan has developed a sophisticated feeder network that links the western ports in Japan. Owing to the high transportation costs in Japan, US shippers find it more cost effective to use Busan as a transhipment port when sending goods destined for the Japanese market. Busan also enjoys good sea connectivity with many of the major ports in China, as well as the ports in the far east of Russia. In the first eight months of 2013, the container throughput generated from Northeast Asia and North America was a major contributor to Busan Port's overall transhipment throughput.
Looking ahead, transhipment throughput arising from trade between the US, Russia and Japan is set to further boost Busan's cargo volume. In a move to ensure it has the capacity to handle this increasing transhipment volume – and maintain its role as a key gateway to the Northeast Asian region – the Busan Port Authority has been working actively on the Busan New Port Development Project. Backed by the Korean government, the project involves the construction of 45 new berths with a combined annual handling capacity of 23 million TEUs per year. Currently, the Busan New Port has a total of 22 completed berths, with the remaining 23 berths due to be operational by 2020.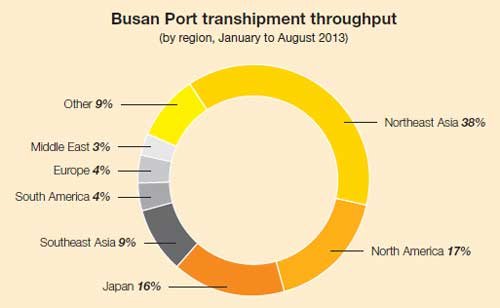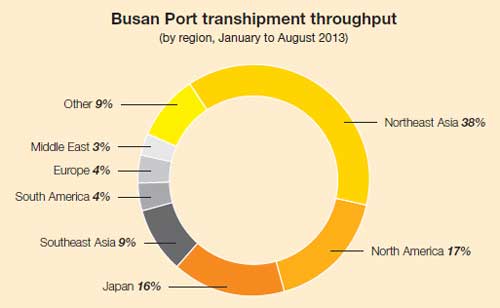 Northeast Asia is Busan Port's major source of transhipment throughput
Source: Busan Regional Maritime Affairs and Port Administration
Diversification of sea routes to meet new challenges
The global container shipping market has been hard hit by the international financial crisis of 2008. While demand has diminished, shipping capacity has increased rapidly as a result of a shipbuilding spree commissioned prior to the economic downturn. In particular, the dramatic rise in the number of Very Large Container Carriers –each of which has a capacity of more than 13,000 TEUs – has compounded the problem of excess supply. The global economic slowdown, along with the yen's sharp depreciation, put considerable pressure on Korean exports, although they edged up by 0.6% year-on-year (YoY) in the first half of 2013. Although export growth started to improve, along with the increased shipments to the US and Europe, as of July 2013, the overall demand for sea freight remains weak, posing a continual challenge to Korea's shipping sector.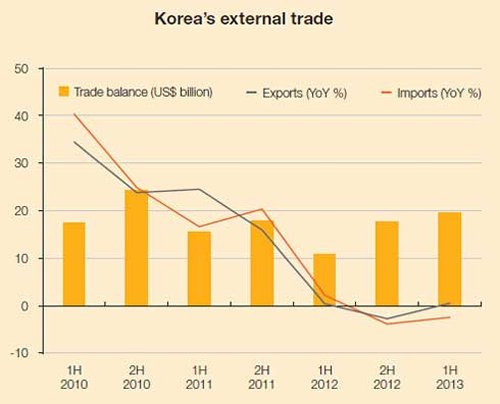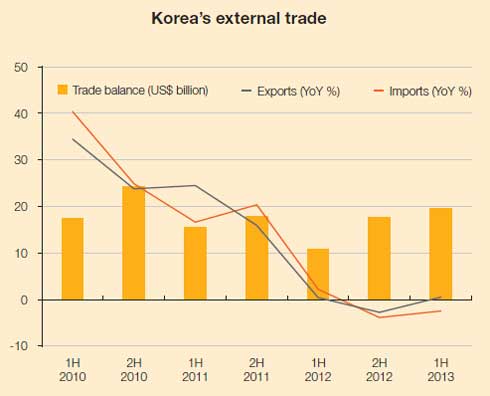 Korea's slowing external trade growth
Source: Korea Ministry of Trade, Industry and Energy

In order to maintain business growth, leading carriers are focussing on a greater variety of shipping routes, including destinations in Southeast Asia, Latin America and Africa. This has been led by the robust growth in these emerging markets, with the freight rates being healthier than the depressed levels on the Trans-Pacific and Asia-Europe routes. Eyeing expanding intra-Asia trade, Hyundai Merchant Marine (HMM), launched two new liner services in 2013. The two are serving Indonesia and Vietnam, locations in which Korean manufacturers have developed far more of an interest due to recent cost escalations in China. These new routes offer more efficient cargo delivery to Southeast Asian countries, with the transit time shortened by calling at ports in Korea and Hong Kong.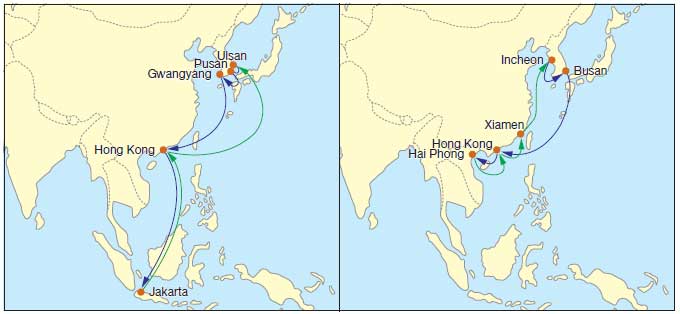 Hyundai Merchant Marine's new container shipping routes (Korea-Southeast Asia)
Source: Hyundai Merchant Marine Co. Ltd.
Air freight boosted by growing demand for electronic products
Despite the sluggish growth of Korea's overall external trade, exports of electronics items grew 10.9% YoY in the first half of 2013. In total, exports in the sector reached US$81 billion, accounting for 29% of Korea's total exports. Major electronic export items included semiconductors, display panels and mobile phones. Korea's air cargo sector has benefitted hugely from the strong air freight service demand from the high-value and time-sensitive electronics and IT products sector, a sector that has thrived despite the weakened Japanese yen.
Korea's largest airport, Incheon International Airport (ICN), handled 2.5 million tonnes in 2012, the world's fourth largest volume of air cargo. Of this, some 40% was transhipment cargo. China is Korea's largest air freight market, accounting for more than a quarter of ICN's cargo volume. As the world's factory where a substantial number of Korean manufacturing facilities are now based, China is Korea's largest export market and the leading destination for its electronics exports.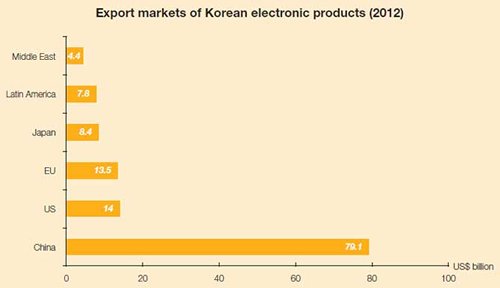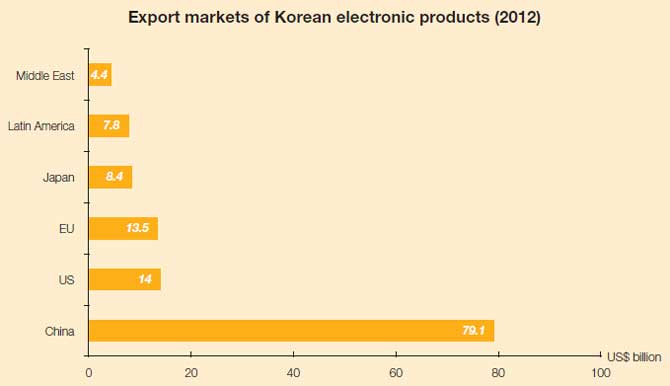 China is the largest export market for Korean electronics
Source: Korea Ministry of Trade, Industry and Energy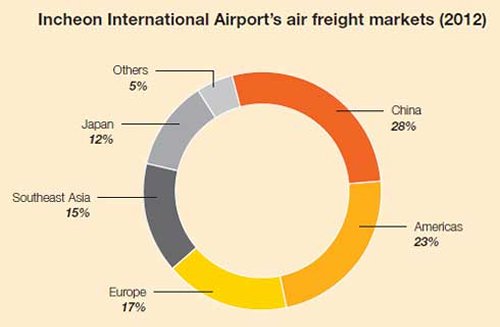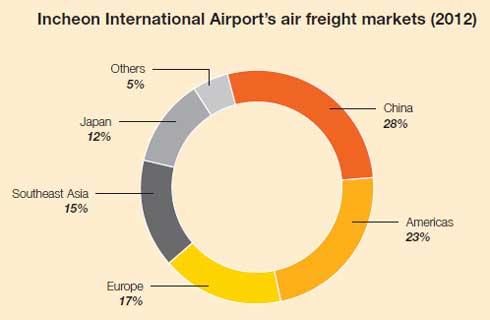 China and the Americas are the major sources of air freight handled by Incheon International Airport
Favourable investment environment for foreign companies
Korea's logistics sector is essentially open to foreign investment. Foreign-invested enterprises are treated in exactly the same way as their Korean counterparts when it comes to licence acquisition, tax abatement or exemption requirements. Many foreign-based freight forwarding companies have established a presence in Korea's logistics sectors, including DHL, TNT, Schenker and SITC. A number of Hong Kong logistics companies – notably Kerry Logistics and U-Freight – also have a presence there. Apart from its logistics operations in Korea and Hong Kong, SITC also has its holding company listed in Hong Kong.
Compared with steady growth of the overall logistics sector, Korean's domestic courier services market has seen a more significant expansion, a development that offers considerable business opportunities for foreign investors. Thanks to the growing number of e-commerce and online shopping platforms, offering both local and cross-border transactions, B2B and B2C parcel delivery businesses have become a significant source of revenue for the country's logistics companies. A number of Korean logistics businesses now offer tailor-made delivery services, a response to many corporate clients' need to transport small quantities or high-value goods, such as fashions and specialty agricultural products.
Identifying the benefits of offering pharmaceutical supply chain services, a German logistics services provider, DB Schenker, established a new logistics centre in Gunpo (near Seoul) in July 2013. The 6,100 sqm facility is geared up for handling healthcare and pharmaceutical products, with a cold storage facility for 2-8°C and 15-25°C products, and specialised vaults for sensitive medical products.
Opportunities in Korea's air and sea ports hinterland for logistics services providers
The Korean government has established six Free Economic Zones (FEZs) in the country, including the Incheon and Busan-Jinhae areas. These two FEZs are located in the hinterland of Korea's international airport and its leading sea port. In order to nurture manufacturing clusters and attract foreign companies – including logistics operators – the Korean government is now providing a wide range of incentives for foreign companies looking to invest in the FEZs, including tax benefits and favourable leasing terms. FEZ-based companies are also entitled to preferential tariffs, as well as beneficial customs and Value Added Tax arrangements.
The Busan New Port is situated within the Busan-Jinhae FEZ and consists of three logistics parks (Distriparks) intended to support cargo handling activities in the Busan Port hinterland. These parks have been established in a bid to meet the increasing demands for packaging, assembly, warehousing and stevedoring services. Currently, there are more than 30 operational tenants, including several foreign-Korean joint ventures (Hanjin-Kerry Logistics, KCTC & NYK Logistics, and Rotterdam's C. Steinweg).
Located on South Korea's west coast, the 170 sq km Incheon Free Economic Zone (IFEZ) is home to Incheon International Airport. The development of logistics services has been designated as a priority for IFEZ, with the aim of attracting multinational companies, including air cargo and cold-chain operators. In order to enhance its role as a Northeast Asian logistics hub and to support Korea's electronic industry, the IFEZ is also targeting those companies offering specialist logistics services in the electronics, automotive, aviation and medical equipment parts and components sector. In line with this, the Incheon Airport Logispark is currently home to a number of such companies, including Hanjin and DHL Global Forwarding.
ASML, one of the world's leading manufacturers of semiconductor equipment and a services provider for related industries, has established a global distribution centre in the Incheon International Airport. ASML's Incheon warehouse has been established to shorten the time taken to transport parts from the Netherlands (ASML's home country), and to streamline delivery to its customers in Asia and the US.
Industry growth bolstered by the expanding network of Free Trade Agreements
With the Free Trade Agreements (FTAs) Roadmap rolled out in 2003, the Korean government has attached considerable strategic importance to FTAs as key drivers for attracting Foreign Direct Investment (FDI) and developing external trade. In 2012, Korea's inward FDI reached a record high of US$16.3 billion, an increase of 19% on the US$13.7 billion figure in 2011. According to government sources, this FDI surge was driven by both the FTAs and the rising investor confidence in Korea. In 2012, FDI growth was sourced primarily from Japan and the US. In total, greenfield investment accounted for 77% of Korea's inward FDI.
Korea's FTAs with the US and Europe have helped Korean companies gain favourable market access. The Korea-EU FTA and the Korea-US FTA (which took effect, respectively, in 2011 and 2012) facilitate tariff cuts and duty exemption benefits and are expected to increase both trade and the throughput of Korea's air and sea ports. In addition, diversification of Korean companies' manufacturing bases in the region, along with the continual expansion of its export markets through FTAs, are set to support the growth of Korea as a key North Asian transhipment and logistics hub.
Hong Kong as a business platform for Korean companies and logistics operators
As a service-oriented economy, Hong Kong does not produce a substantial amount of domestically-sourced cargo. Despite this, the city – as Asia's central business district and a logistics hub serving the manufacturing bases of South China and other regional economies – has proved attractive to a number of Korean companies looking to establish regional headquarters. Hong Kong has also emerged as a prime location for those Korean companies looking to manage regional business and cargo movements. With Hong Kong's heavy concentration of international and Chinese companies, many of which are either shippers or related supply chain players, Korean logistics and transportation companies in the city have found themselves in a good position to secure their own contracts to work with other local partners.
Many Korean logistics companies have opened offices in Hong Kong in order to better serve those Korean manufacturers that have relocated their plants to the Chinese mainland or to other regional production locations. While the recent sharp rise in mainland manufacturing costs has increased the relative appeal of other regional locations, South China will likely remain a prime cargo catchment area for Hong Kong for many years to come.
Growing intra-Asia business and the rising importance of the electronics trade have both acted to increase the use of air freight for the shipment of time-sensitive electronic parts and finished products. As a free port with efficient customs clearance, excellent air connectivity and advanced transport facilities, Hong Kong has a strong appeal for Korean logistics companies requiring air freight transportation and transhipment. Unit load devices (ULD), for example, are allowed beyond Hong Kong airport's restricted area, making it more cost-efficient for logistics companies to process and dispatch their air cargo.
According to industry sources, the Korea-Hong Kong route plays a key part in Hong Kong's logistics industry with more than 100 third-party logistics companies (3PLs) involved in servicing this route. A number of these 3PLs are Korean-owned, including Pantos, Korea's largest logistics company and one of the world's top 10 sea freight forwarders by volume.
Hong Kong's high-quality human resources are often cited as another key factor in the choice of the city as regional operations headquarters. With keen competition and stringent client requirements, logistics companies need to maintain a high quality of service and ensure efficient management at every stage of the supply chain. According to one Korean shipping company interviewed, its Hong Kong team consists of high-quality marketing and sales people, highly dedicated to their work and with an ability to devise innovative solutions. The efficiency, marketing and language skills of this team are considered superior to both the company's US team and its mainland employees.
Logistics & Supply Chain
Logistics & Supply Chain
Korea, Republic Of
Southeast Asia
Korea