https://hkmb.hktdc.com/en/1X09VM15
France 2014: business opportunities in a recovering economy
While Europe's economic recovery is still too fragile to make any certain predictions as to the likely star performer in the post-recession era, France - the region's second-largest economy - is clearly a contender for the title. With a pool of more than 65 million consumers and a broad spectrum of high-end, high-tech industries, the country has high hopes of pairing any recovery with its enhanced competitive environment. In this regard, the growing importance of Asia to the country's recovering economy is likely to play a pivotal role in its future development, while also opening up considerable opportunities for Hong Kong businesses.
Staying in tune with the improving French economy
The French economy improved markedly during the second quarter of 2013, reversing the contractionary momentum of the two consecutive quarters of declining activity since Q4 2012. Of late, consumer sentiment has begun to improve, largely in line with the official statistics, as French shoppers start to believe in the prospect of a brighter economic future.
By comparison with other Southern European countries, notably Spain and Portugal, France is often considered slow when it comes to implementing the bold reforms necessary to correct structural economic weaknesses and enhance industrial competitiveness. At present, wage rigidity and the resultant chronic unemployment remain the most pressing issues on the country's economic agenda.
Quarterly GDP growth (base year 2005)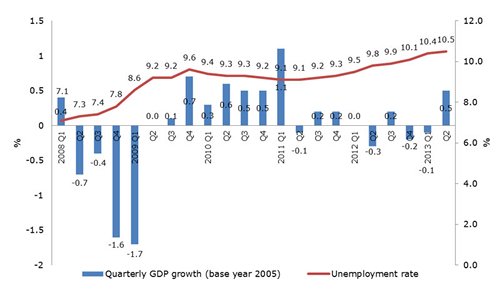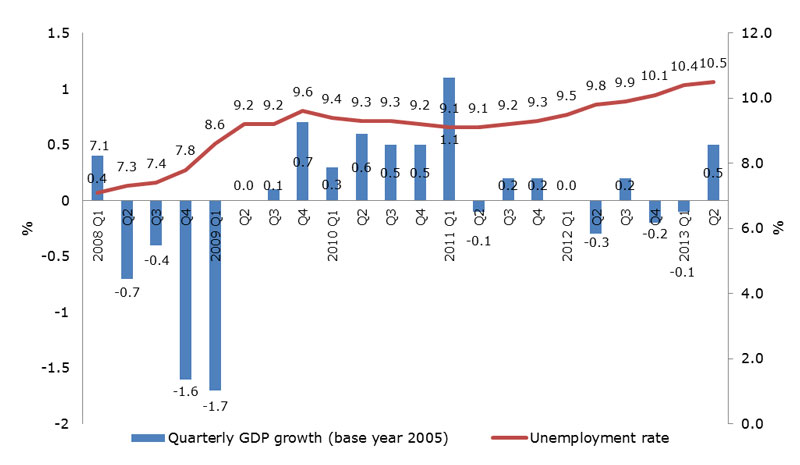 The gradually recovering French economy
Source: National Institute for Statistics and Economic Studies (INSEE)
Domestic demand has inevitably been undermined by uncertainty in the job market, while a high tax burden - on both the corporate and personal front - has considerably reduced investor optimism. To complicate matters further, the country's export sector remains anaemic, with the positive impact of the incipient recovery of many of its European peers yet to be felt.
In a bid to bolster export competitiveness, the French government recently outlined a10-year roadmap for the country's industrial revival. This will see it cultivate a new generation of industrial champions across 34 priority sectors, including electric planes, driverless vehicles, smart textiles and nano-electronics. In a break from past industrial policies, the government has set itself the task of providing the right framework for private enterprise development and innovation. This, in turn, will give foreign investors and other innovators the opportunity and flexibility to take part in a "third industrial revolution", with its focus squarely on France.
France's 34 priority sectors for its industrial policy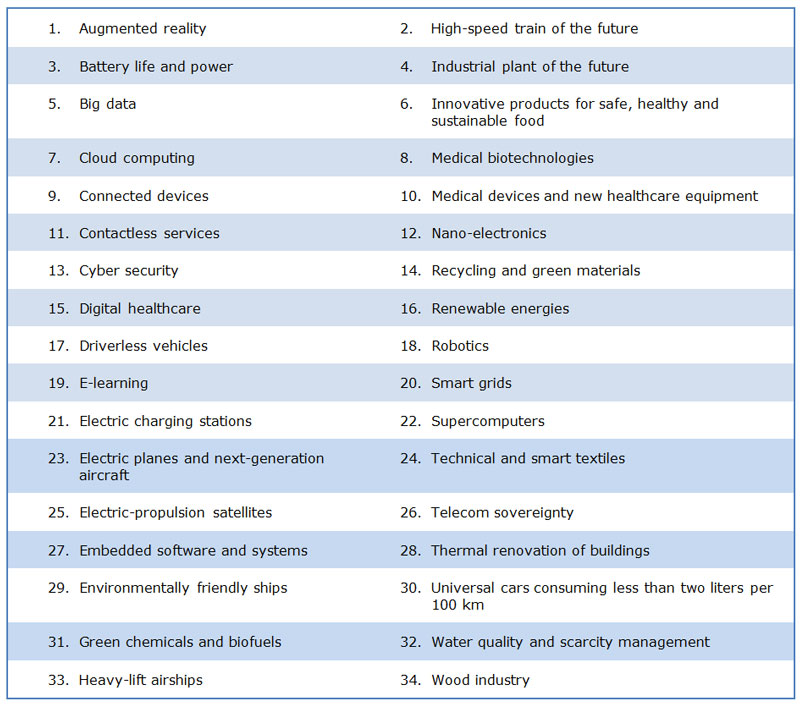 The 34 priority sectors on the 10-year roadmap for France's industrial revival.
Source: Invest in France Agency
While waiting for domestic demand to kick-start a broad-based economic revival, a number of the country's service exports, such as tourism and various social benefits have, however, served as a buffer, smoothing the economy through the worst of the economic cycle. Lacklustre investment has, in the meantime, prompted the French government to look for other cash-rich sources of foreign investment, especially in Asia.
All of these recent developments - the increasing drive for an industrial upgrade, the exploration of new markets and the ongoing bid to secure new investment - have acted to create fresh opportunities for Hong Kong companies in partnership with the recovering French economy. From the procurement of sophisticated industrial inputs to the establishment of regional headquarters/offices, Hong Kong, as Asia's central business district, offers not only an unrivalled trading platform for those French businesses looking to connect with prospective Chinese counterparts, but also provides a dynamic test bed for those French brands and retailers looking for greater exposure within Asia.
Asia as the new driving force for France's engines of growth
Still mired in post-recession doldrums, both the French and the wider European economy are looking for new means of jumpstarting their engines of growth. Given the slowdown in domestic demand, exports will be of crucial importance in determining the pace of recovery in the French economy. Although the growing significance of Asia for France's foreign trade and tourism industry (eg in terms of international arrivals) is not unique among the mature European economies, its Asian earnings are certainly proving a major contribution to its economic recovery.
France embraces Asian trade
Running parallel with its unprecedented economic growth and increasing weight in terms of international trade, Asia's share of France's foreign trade has increased steadily over the past decade. France has not only bought more from Asia, but has also sold more to the region. In 2003, Asia accounted for just 7% of France's total exports. By 2012, the figure had grown to 13%,, while Asia's share of France's total imports also progressed, albeit at a slower pace, from 12% to 16%.
The growing importance of Asia to France's foreign trade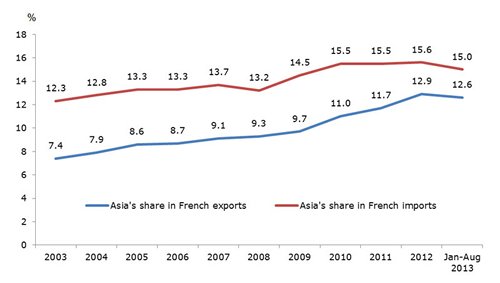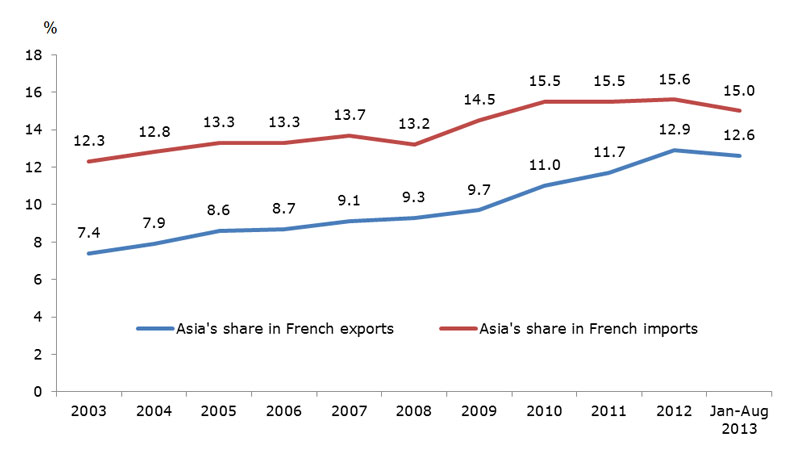 Asia: an increasingly important trading partner for France.
Source: National Institute for Statistics and Economic Studies (INSEE)

Aside from the growing share, the product mix of the goods/services traded between France and Asia has also undergone significant changes over the past decade. Taking Sino-French trade as an example, the fast expansion of the consumer goods trade between the two countries over recent years has been quite remarkable. In 2003, capital goods represented the largest category of Chinese exports to France, accounting for 48% of the total. By 2012, however, consumer goods had become the largest category, accounting for 50% of the total, representing a total growth of 373% over the past 10 years.
While this can be partly explained by the outsourcing practices adopted by many French companies over the past decade in order to take advantage of the relatively low operational costs in China, this is far from the whole story. The level of imports from China to France also reflects the improved product quality and craftsmanship now offered by mainland OEM suppliers.
Evolution of China's exports to France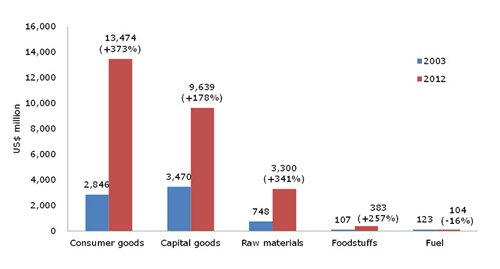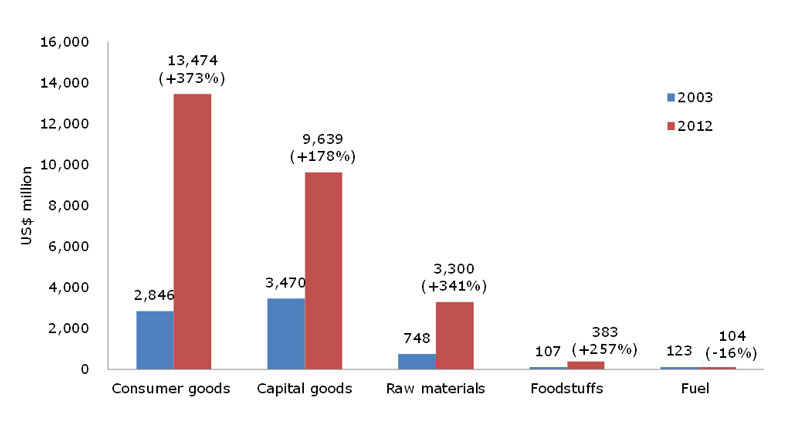 The rapid expansion of consumer goods exports between France and China
Source: China Customs
Apart from its role as a sourcing and production base, China is increasingly becoming an increasingly significant Asian market for French companies. Although capital goods and raw materials accounted for the majority of China's imports from France, as the country continued its industrial upgrading, it is actually consumer goods that have enjoyed the highest growth (944%) over the past decade. The increased purchasing power of Chinese consumers has seen many of France's luxury lifestyle products –notably in the high-end fashion, gourmet food and fine wine sectors gain a dedicated mainland following.
Evolution of China's imports from France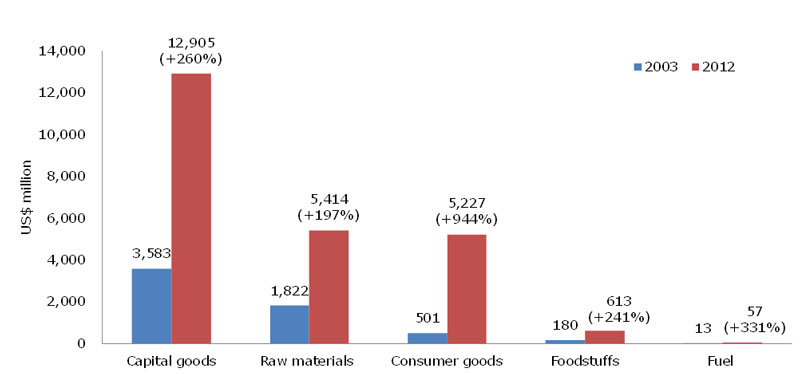 Capital goods and raw materials remained China's most significant imports from France.
Source: China Customs
As a conduit for 11% of overall Sino-French trade1, Hong Kong has proved a convenient gateway for French traders to access the Chinese mainland and is benefitting from the expanding trade flow between France and China. The city's role is set to become more pronounced as an increasing number of French SMEs and start-ups begin to target the Asian markets more aggressively. At the same time, Chinese consumer demand for products with a unique French style is also set to grow. To sustain the popularity of French lifestyle products, it is becoming increasingly crucial for French companies to establish their own footholds in Asia in order to stay close to their clientele. To this end, Hong Kong is considered the prime destination.
Asian tourists' French spending spree
Aside from the trade in merchandise, the increasing importance of Asia to the French economy can also be seen in terms of the tourism industry. Withstanding the financial crisis relatively well, the tourism industry is considered one of France's major assets and one which has regularly seen the country ranked as one of the world's leading vacation destinations. In 2012, France welcomed 83 million foreign visitors (a number almost 25% higher than the country's 65.6 million population.). This resulted in the country's tourist trade being worth more than US$100 billion, the equivalent of 3.7% of the country's GDP.
In absolute terms, Europe remains France's principal source of tourists and tourism receipts, accounting for some 80% of the total number of international arrivals and visitor-related expenditure. However, the proportion of Asian tourists visiting the country showed rapid growth over the period 2003-2011, up from 2.8% to 6.1% in terms of visitors and 5.5% to 7.4% in terms of spend.
The increasing significance of Asia for France's tourism industry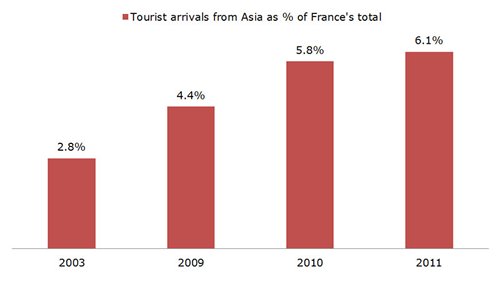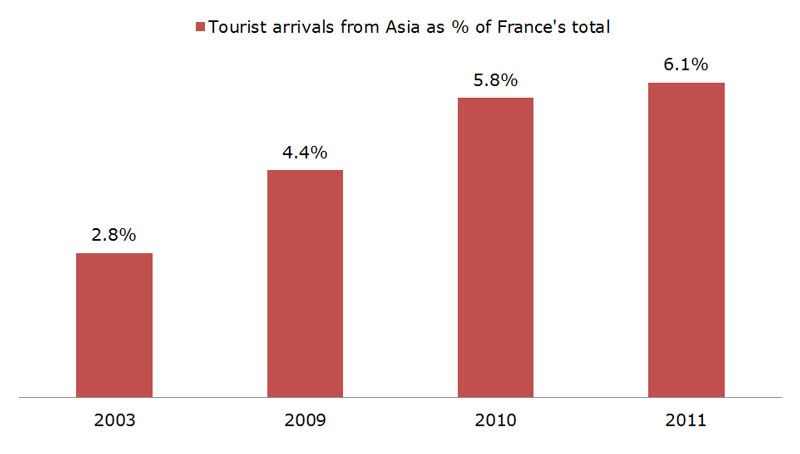 The share of Asian tourists visiting France (2003-2011)
Source: Directorate General for Competitiveness, Industry and Services (DGCIS)
Aside from the official facts and figures, the increasingly common sight of Asian tourist guides and sales assistants fluent in Asian languages at almost, if not all, of France's must-see landmarks and must-go shopping districts, is also strong evidence of the growing significance of Asian tourists. In a number of the most popular shopping locales, notably such well-known French department stores as Galeries Lafayette and Printemps, many of the sales staff are either Asian or can speak Mandarin, Japanese or Korean.
With China now the world's largest source of tourism expenditure (with US$102 billion spent on travel abroad in 2012, a 40% increase on 2011), many French retailers, restaurateurs and hoteliers now employ Chinese-speaking staff, distribute shopping maps annotated in Chinese and offer Chinese-language menus in order to woo this unprecedented wave of tourists.
Popular shopping destinations for Asian tourists in France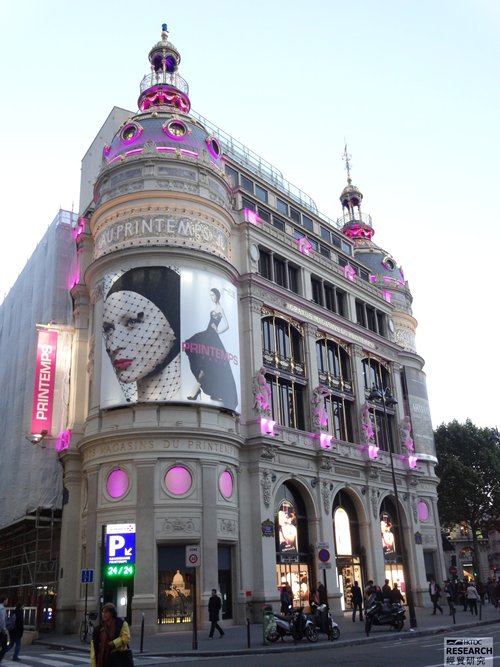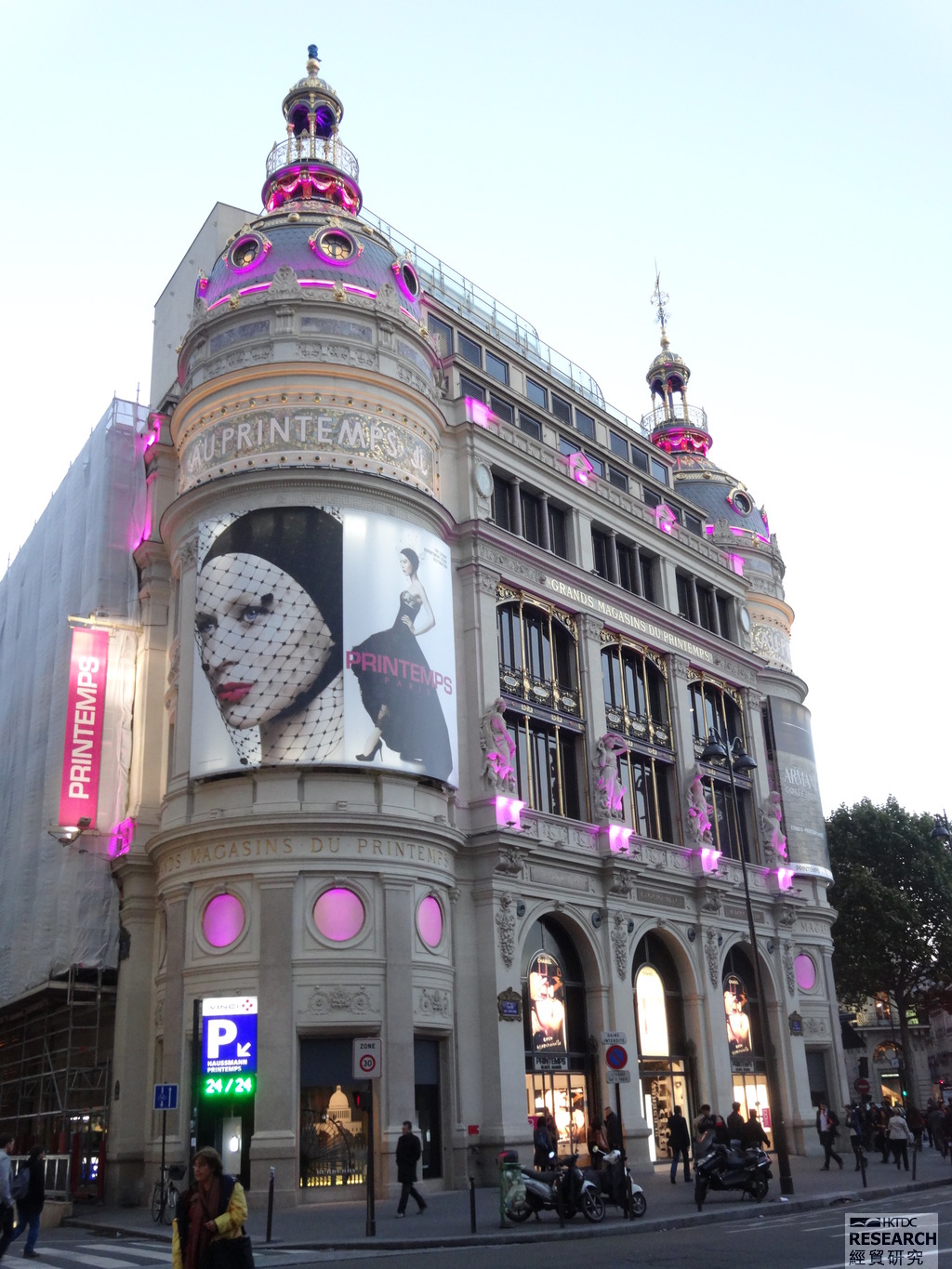 Galeries Lafayette and Printemps are two of the most popular upmarket French department stores frequented by Asian tourists.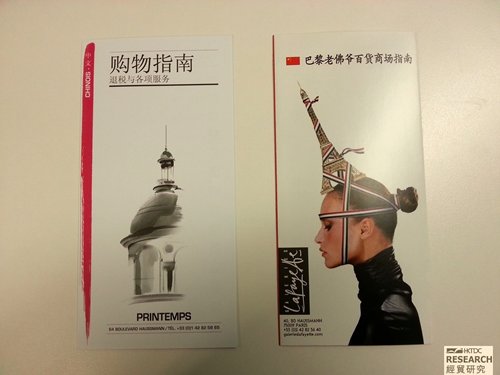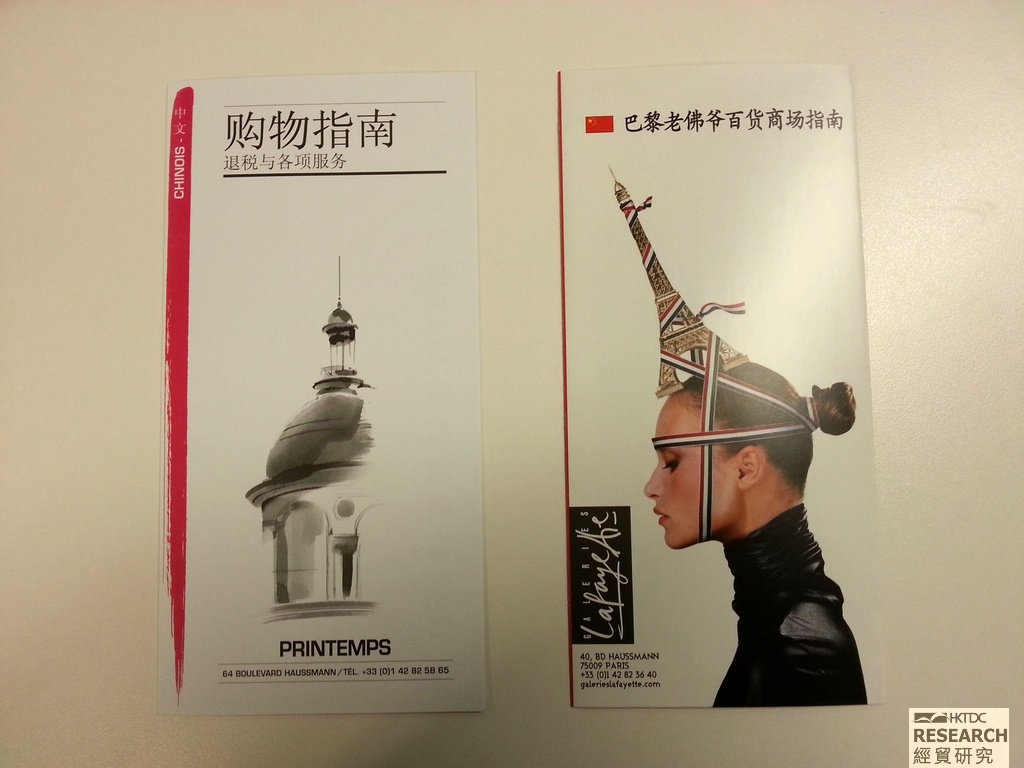 Chinese shopping guides are provided in nearly all major French shopping destinations.

France's pivot-to-Asia investment strategy
On top of attracting Asian tourists and traders, French companies have also been investing more - both in absolute and relative terms - in Asia over the past decade. In 2003, Asia accounted for only 5.3% of France's outward foreign direct investment (FDI), with the share rising to 7.6% in 2012. In absolute terms, France's FDI positions in Asia soared by almost 180% between 2003 and 2012, highlighting the growing interest of French enterprises in the Asian market.
French FDI in Asia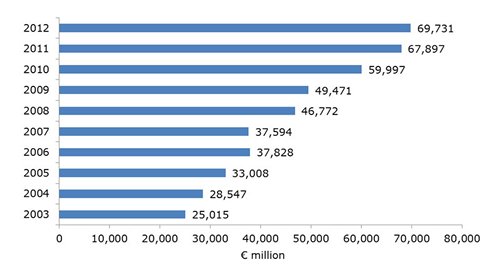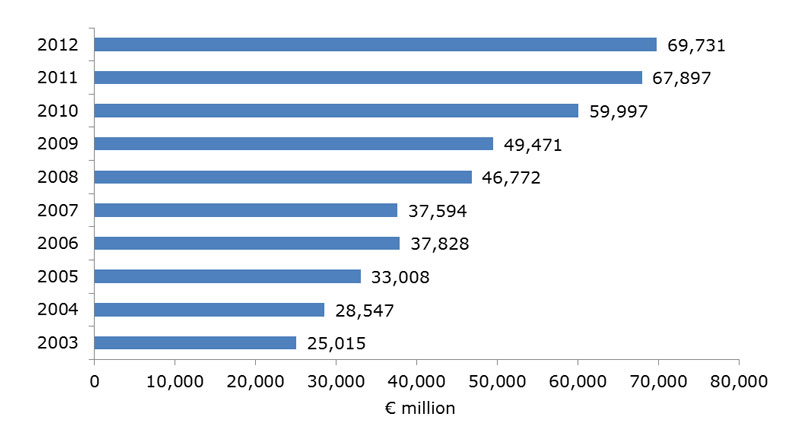 French investors are increasingly interested in targetting the Asian market.
Source: Bank of France
Contrary to the commonly-held assumption, the majority of French investment in Asia is no longer limited to manufacturing, but is now related to the services sector. In fact, the share of French FDI in the Asian manufacturing sector decreased from 49% to 39% between 2003 and 2012, while the proportion invested in the services sector rose from 36% to nearly 48%. The growing desire of French investors to target the Asian services sector has created a need to set up regional representation. To this end, Hong Kong, Asia's central business district (CBD), has proved the most suitable port of call.
In recent years, the number of French companies appointing Hong Kong representatives have seen healthy growth. Taken together, the number of such regional headquarters (RHQs), regional offices (ROs) and local offices (Los) grew by more than 30% between 2003 and 2013. This trend is expected to become still more pronounced as French companies, especially SMEs and local brand owners, have become increasingly aware of the effective trading platform that Hong Kong provides, and the reliability and convenience of conducting trade and promoting brands in Asia via Hong Kong.
Evolution of RHQs, ROs and LOs of French companies in Hong Kong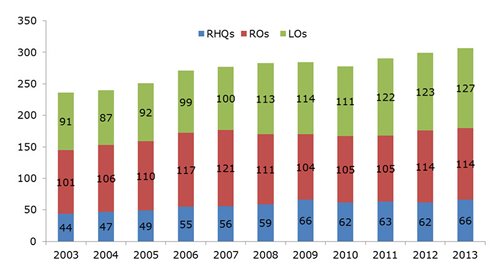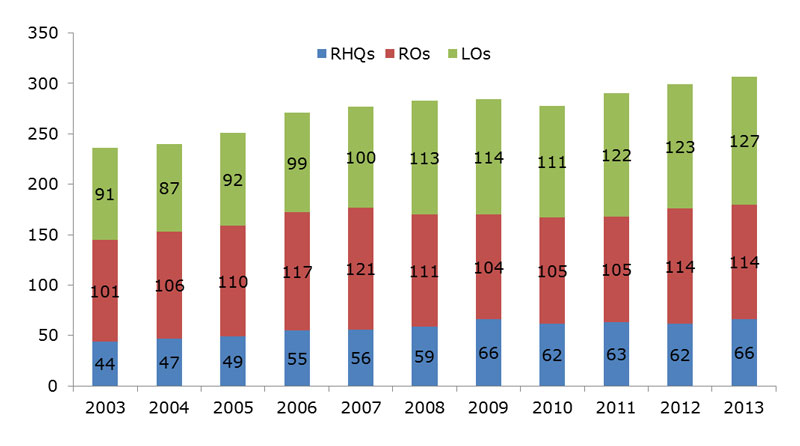 The number of companies in Hong Kong representing French companies has seen a healthy growth.
Source: Census and Statistics Department, HKSAR Government
Driven by France's Minister for Small and Medium Enterprises, Innovation and the Digital Economy, Ms Fleur Pellerin, the French government is now encouraging French enterprises to invest in Hong Kong in order to stay close to the emerging opportunities across Asia. At present, there is a French population of over 16,000 resident in Hong Kong (one of the largest French populations in Asia) and more than 750 French companies operating in in the city (employing more than 33,000 people and generating a turnover of some €11 billion). This has seen Hong Kong clearly established as a natural and key route into Asia for many French companies, including big financial and infrastructure firms, world famous luxury brands and an increasing number of SMEs.
Major business sectors for French companies in Hong Kong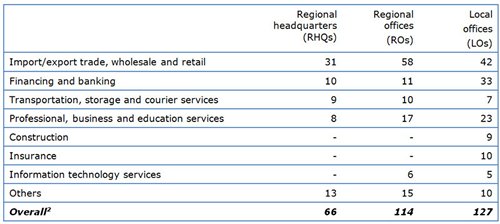 Hong Kong: the key route into to Asia for French companies across a range of business sectors.
Source: Census and Statistics Department, HKSAR Government
Aside from targetting the Asian markets, FDI from cash-rich Asia is also hugely important to the recovering French economy, especially with investment from other European economies still sadly lacking. Currently, France is home to some 70 Hong Kong companies. Typically, they are investing in infrastructure, luxury goods and the food and beverage sectors, while, collectively, employing a workforce of around 6,000. To underpin the recovery of the French economy and enhance the country's industrial competitiveness in line with its 10-year roadmap for industrial revival, France is keen to pique the interest of Asian investors and to secure an expanded commitment to the country.
Asia's FDI in France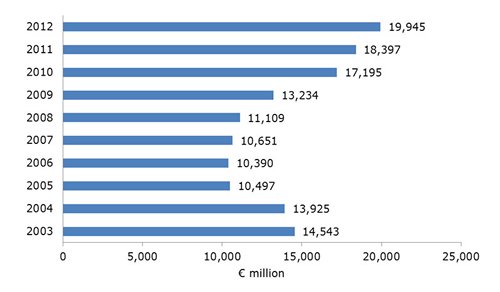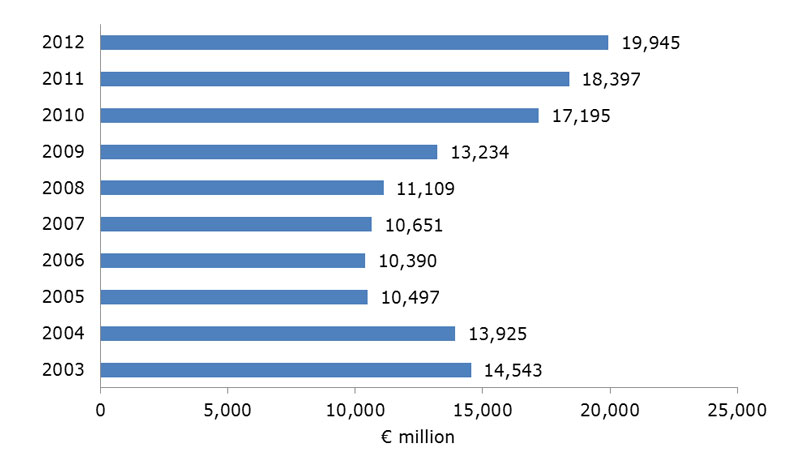 FDI from cash-rich Asia is of utmost significance to the recovering French economy.
Source: Bank of France
---
1 A rough estimate calculated by dividing the sum of Hong Kong's re-exports of France origin to China and Hong Kong's re-exports of China origin to France by the total trade between France and China.
2 The total number of RHQs/ROs/LOs in Hong Kong does not represent all companies with investment from France as it only covers companies that manage the business in Hong Kong or in the region on behalf of their French parent companies.
Hong Kong
France
Hong Kong
Western Europe