https://hkmb.hktdc.com/en/1X09VKSK
The Hong Kong export outlook for 2014: Meeting the challenges of a modest recovery
Even before the unexpected success of the WTO summit in Bali earlier this month, the global trade environment was poised to become more sanguine in 2014, characterised by a synchronised upturn in the developed economies. While the US will lead the pack, Japan should see reasonable growth, and the EU is expected to bottom out. The emerging economies will also fare better, despite an outflow of capital due to worries of tapering US monetary stimulus. Although the forecast for Hong Kong exports points to a 5.5% increase in 2014, there are still concerns over any renewed global downturn, protectionism (although now somewhat mitigated by the Bali agreement), geopolitical tensions and the risk of a tighter US monetary stance.
Tepid sales performance in 2013
Summary of Hong Kong's external trade


Source: Hong Kong Trade Statistics, HKSAR Census and Statistics Department

Notwithstanding the recent stabilisation of the world trade environment, Hong Kong exports stayed relatively tepid in 2013. Following the scant 3% rise in 2012, year-on-year export growth showed just a 3% advance in the first nine months of 2013, with the increases hovering between 2-4% in consecutive quarters. In part, this modest performance was due to a slower increase in the unit value of Hong Kong exports, which crept up by only 0.9% year-on-year during January-September 2013 against a 3.4% rise in 2012. One of the factors exerting downward pressure on export prices was the sustained consumer frugality in many of the overseas markets, notably the traditional markets of Europe and the US, as well as the softening oil and commodity prices, a consequence of concerns over the global growth outlook in the early part of the year.
Growth of Hong Kong exports by quarter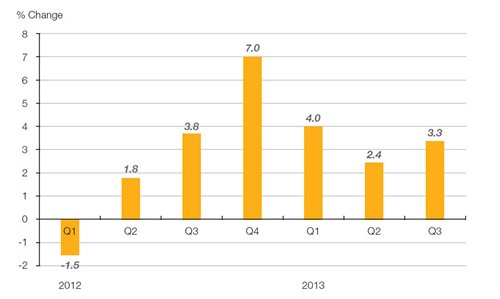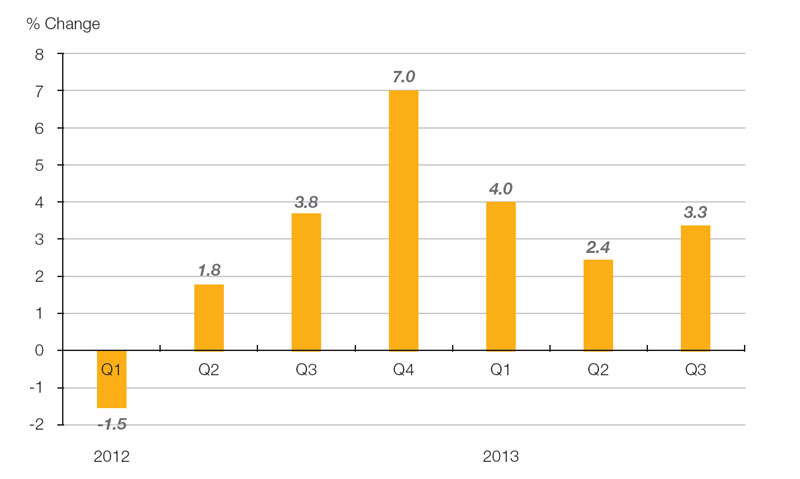 Source: Hong Kong Trade Statistics, HKSAR Census and Statistics Department
More importantly, Hong Kong exports in the first three quarters of 2013 were dragged down by sluggish demand from the traditional markets. Sales to the US, the EU and Japan fell by around 2%, 1% and 7% year-on-year respectively. Such declines, however, were more than offset by a comparatively good showing for the emerging markets. Buoyant intra-Asia trade was especially significant, given the region's intensive production network and, increasingly, its rise as a consumer goods market. In particular, sales to the Chinese mainland, which rose by 5% to constitute 55% of Hong Kong exports, assumed a leading role in buttressing growth. Other emerging markets also performed consistently well, with overall exports to emerging Europe up 11%, Latin America 11%, Africa 10% and the Middle East 8%.
Hong Kong's total exports by main destination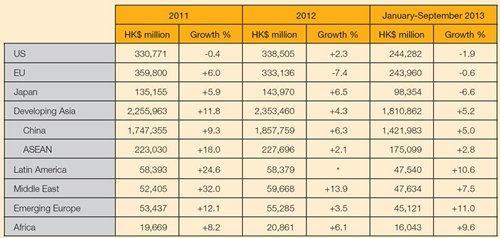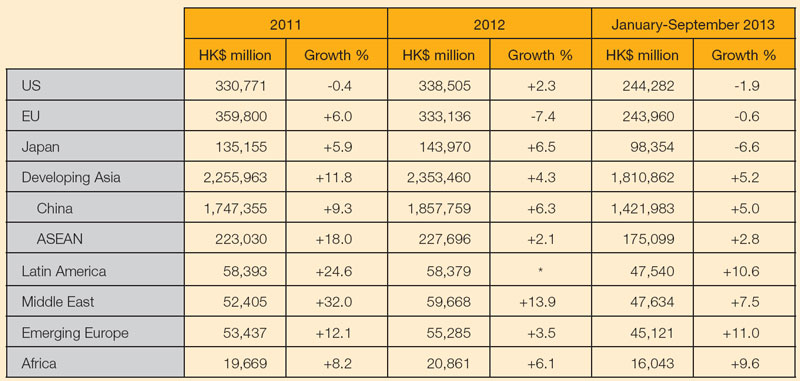 *insignificant
Source: Hong Kong Trade Statistics, HKSAR Census and Statistics Department

Product-wise, buttressed by the prevalence of mobile devices, electronics (up by 6% year-on-year in the first three quarters to account for more than 59% of Hong Kong's total exports) remained the main engine of growth. Household electrical appliances, though, faced considerable competition from indigenous mainland enterprises. In the clothing sector, exporters have not only had to contend with mainland competitors, but also other fledgling suppliers across Asia. The toys sector also suffered, but not necessarily because of increased competition. Here exports were encumbered by a slackening demand for traditional toys, despite a gradual revival in the video gaming sector. By contrast, jewellery and timepieces, with respective rises of some 6% and 2%, were among the more impressive performers.
Hong Kong's total exports by selected industry sector


Source: Hong Kong Trade Statistics, HKSAR Census and Statistics Department
Improved global prospects for 2014
The global economic environment is expected to become increasingly accommodating in 2014, with growth gradually accelerating in both the developed and emerging economies. By contrast with the past few years, the major developed economies should expand simultaneously and at a more sustainable pace. The gradual pick-up in the traditional markets will certainly be good news for Hong Kong exporters. While consumption in the markets should increase slightly, value-for-money will continue to be the most important factor for most shoppers. Importers and retailers will thus remain relatively conservative. Not surprisingly, buyers in these areas are still expected to play safe in terms of order size, lead time and pricing, while further diversifying their sourcing and manufacturing from the mainland to other lower-cost production bases throughout the Asian region.
Output growth of advanced economies vs developing economies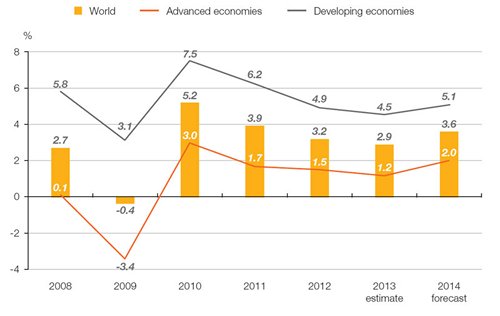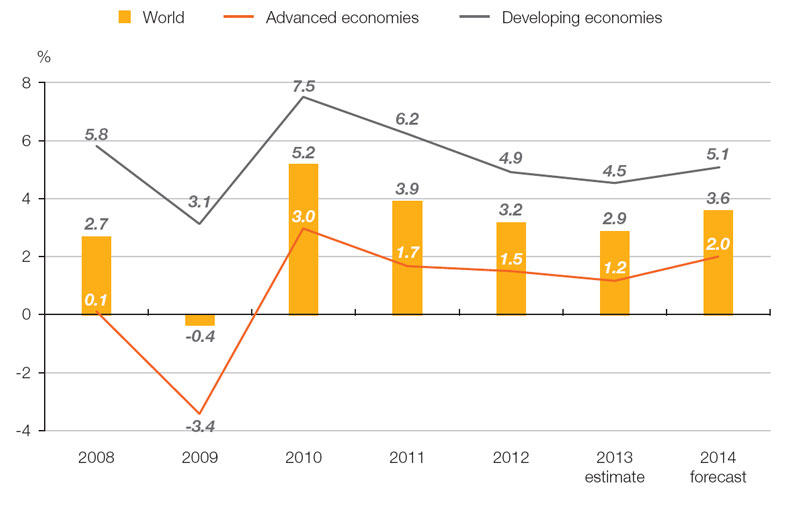 Source: International Monetary Fund, World Economic Outlook Database, October 2013
Among the traditional markets, the US looks the strongest and most resilient. Despite concerns over the possible withdrawal of massive monetary easing, the US economy will remain on track for recovery, against a backdrop of stronger employment, an improving housing market and gains in asset prices. Despite this, unsettled fiscal problems and the ensuing political gridlock will damage the near-term growth outlook and hamper any increase in domestic demand. It follows that sustained consumer caution will remain a deterrent to conspicuous consumption, although there is growing evidence that consumers are showing greater willingness to spend on higher-value products. As a response to this, importers and retailers will continue to seek out those sources offering well-priced quality products, with many of these based outside China and even located in the US itself.
The EU, in light of the recent stabilisation of the debt crisis, is also showing tentative signs of recovery, given its ultra-loose monetary policies, widespread fiscal consolidation, as well as the structural reforms in a number of countries. Germany, where exports will increasingly benefit from rising demand outside the EU, remains the bright spot, although gains are now spreading to France and even to the more debt-ridden nations, notably Italy. Outside the Eurozone, the outlook for the UK has been buoyed by its revitalised housing market. On the whole, however, unemployment will stay at high levels, and austerity and deleveraging will remain in place as the debt crisis is seen as being far from over. This has constrained any revival in consumer confidence, with consumption only expected to expand at a slow pace and the purchase of good value products remaining the norm.
For Japan, Abenomics, its new stimulus policies, should set the country on course for a firmer recovery, despite its continued tensions with China. Aggressive monetary easing should keep the yen weak, boosting Japan's exports amid a rise in external demand. Its improving corporate and investment outlook is expected to help both Japan's labour market and domestic consumer sentiment. Alongside coupled buoyant asset prices, this should act to facilitate consumption. Tokyo's success in securing the 2020 Olympic Games will also provide Japan with additional impetus, allowing it to implement further reforms and pro-growth measures. A weak yen, though – and one likely worsened by a planned increase of the consumption tax in April – will put pressure on the country's imports of consumer goods, even if stronger exports bode well for its intake of industrial inputs.
For their part, the emerging economies will also largely perform better in 2014. For China, with its new government pledging to let the markets play a more decisive role in allocating resources, the administration will focus more on reforming those institutional arrangements that will be conducive to efficiency and productivity gains. Major efforts will be made to deepen industrialisation, urbanisation, modernisation of the rural and agricultural sectors, wider adoption of IT, as well as to ensure balanced development across its regions. In addition, private consumption will be nurtured so as to achieve a more balanced growth between domestic and external demand, as well as between overall consumption and investment-led growth, creating enormous business opportunities for the majority of Hong Kong exporters.
Elsewhere in developing Asia, any growth trajectory is likely to be overshadowed by the prospective tapering of quantitative easing in the US, with the anticipated exodus of capital likely to unsettle the financial landscape across the region. Increasing volatility and slower growth notwithstanding, developing Asia is now on a much stronger footing than at the time of the Asian Financial Crisis of 1997-98, with fears of a crisis of a similar magnitude hitting the region seemingly simply unwarranted. Years of structural reform and macroeconomic policy management have strengthened many countries across developing Asia, particularly the active build-up in foreign exchange reserves as a means of guaranteeing any required import cover.
Firm demand from China will also provide a vital stabilising force across the wider region. With trade between ASEAN and China facilitated by the China-ASEAN Free Trade Area, stronger demand from the traditional markets will provide an additional stimulus to growth. As part of their diversification efforts, Hong Kong exporters should cultivate the fledgling consumer goods markets of other countries in Asia, such as Indonesia, where there is impressive growth potential, despite short-term stress due to a global reassessment of emerging market risks.
The rise of low-cost production bases in a number of Asian countries, notably Myanmar and Cambodia, may also have considerable long-term significance. Outside of ASEAN, India – albeit something of a difficult market – may also prove a welcome outlet for Hong Kong exporters. Although its recent balance-of-payments difficulties may temporarily dampen its growth, the longer-term prospects of the Indian economy should improve along with its accelerated reform programme and the added stimulus of considerable election spending in 2014.
In terms of the other emerging markets, opportunities abound in spite of temporary stresses and cyclical corrections. In Latin America, resource-rich countries should benefit from the convalescent global economy and, notably, from the sustained momentum in China that helps keep most commodity prices at profitable levels. Brazil is also expected to benefit from its hosting of the 2014 World Cup and 2016 Summer Olympics, whereas Mexico, with its close links to the US, should profit from the gradual pick-up across the border.
For the emerging European economies, the bottoming out of the EU will provide an impetus to regional growth. Those economies with healthier fiscal conditions, such as Turkey, are likely to remain in the fast lane. Russia should also receive an added boost from the sturdy oil and commodity prices.
For the Middle East and North Africa, steadfast crude prices should strengthen the economic health of oil exporters, although the ongoing political unrest in the region is expected to have repercussions on its economic activity. Given that the countries affected by the unrest do not represent major markets for Hong Kong, the direct impact on the city's exports to the region should be relatively small. A fast-recovering UAE, on the other hand, will encourage further growth in re-export trade and clearly benefit Hong Kong's exports to the region. For the rest of Africa, growth prospects are likely to be facilitated by rising inflows of capital and investment, as well as firm oil and commodity prices. Kenya and Nigeria, for instance, are particularly interesting markets for Hong Kong exporters to bear in mind.
Incessant risks and challenges
The biggest threat to Hong Kong's export outlook, albeit with something of a receding probability, is a renewed downturn in the world economy triggered by problems in the developed nations, particularly the repercussions of the EU debt crisis. Despite the current calm in the Eurozone, the debt crisis is far from over. Austerity policies will continue to stir negative sentiments across the Eurozone, while the root causes of its structural imbalances also remain in place. Given the weak fundamentals of the EU, any major shock in the Eurozone would reverberate across the region, with detrimental effects on the global economy. Worse still, the fiscal problems of the US are also far from resolved, with further political squabbling seemingly unavoidable. If no durable solutions can be found, then there is a risk that the gradual recovery of the US economy will be derailed, with major negative implications for the world economy.
Ironically, a strong economic resurgence in the US may pose another challenge as it will trigger the curtailing of its unprecedented monetary stimulus initiatives. While a phase-out of the huge US bond-buying programme is likely to be slow and the Federal Reserve's target interest rate increases are unlikely to be met in the near future, uncertainties in the world capital markets are inevitable. This eventuality will, inevitably, place a strain on those emerging markets with large financial requirements. Any drastic change will, undoubtedly, result in financial volatility, creating serious repercussions around the world and ultimately considerably undermining macro-economic stability. As an additional concern, over a much longer term, both the EU and Japan are also expected to announce a planned phase out their own exceptional monetary policies.
Protectionism may yet prove a further hindrance to Hong Kong's export outlook. While protectionist activities so far have been kept at a relatively low level, its threat remains unabated, despite the incipient revival of the developed economies, particularly the EU. In order to protect their domestic industries, even a number of the emerging economies, notably Argentina, are considering protectionist measures that could negatively impact on Hong Kong exporters. To complicate matters still further, the proliferation of regional trade agreements (RTAs) is also a cause for growing concern. While the ever-expanding number of rules and regulations resulting from the various RTAs are difficult for exporters to navigate, the real threat is that these RTAs may directly and deliberately discriminate against non-signatories.
As a final factor to bear in mind, geopolitical developments may also spur trade tensions. One case in point is the ongoing territorial dispute between the Chinese mainland and Japan. Any further deterioration of bilateral relations may translate into actual economic damage to both countries. The spillover to regional supply chains is also likely to be high, with Hong Kong's re-exports possibly affected. In addition, any intensification of the turbulence in the Middle East and North Africa may lead to spikes in crude oil prices, potentially suppressing overseas demand and increasing production costs.
An improved outlook for Hong Kong exports
The more favourable external environment should have a beneficial effect on Hong Kong exports during the course of 2014. The upward price pressure on Hong Kong exports will also help. While consumer frugality will largely persist in many overseas markets, discretionary spending is also poised to expand. Strengthening demand, coupled with unrelenting increases in production costs, will exert stronger upward pressure on the unit values of Hong Kong exports. Barring any renewed global downturn, escalating protectionism or adverse geopolitical developments, our forecast is that Hong Kong exports will grow by 5.5% in value and 3.5% in volume in 2014, compared with estimated rises of 3.5% and 2.5%, respectively, for 2013.
Growth forecast for Hong Kong exports

Source: Hong Kong Trade Development Council
Industry-wise, Hong Kong's electronics exports are expected to see steady growth. Sustained overseas demand will bolster the overall sales of IT and telecoms products. While becoming more and more popular, smartphones and, to some extent, tablets are evolving from novel gadgetry to essentials for many consumers. In the meantime, AV products, such as large-screen TVs and digital cameras, will continue to face keen market competition. Suppliers of household electrical appliances will also have to contend with challenges from mainland manufacturers, but lighting products should fare better. By and large, a modest appetite for both finished electronics and electrical appliances will spur the demand for semi-manufactures, which may involve multiple shipments across the border.
In terms of apparel, exports will improve slightly in line with the recovery in the global market. Increasingly, the more ostentatious and extravagant outfits will be in wider demand. Most consumers, however, will continue to opt for simplicity and value-for-money, with basic and practical products proving the most sought after. On the production front, the accelerating trend towards diversified manufacturing and sourcing models, as a result of the ever-rising production costs on the mainland, will continue to deter overseas clothing orders. Rising competition from a number of emerging production bases, such as Bangladesh, Indonesia, Vietnam, Cambodia and Myanmar, will also bring a range of new challenges to the market.
In the toys sector, the enthusiasm for back-to-basics items is unlikely to die down noticeably, despite the ever-increasing demand for high-tech items. This should see the sales of traditional items continue to expand, albeit at a more moderate pace. Sales of electronic and video games, for their part, should see a continued rebound, partially driven by the release of a number of upgraded consoles. On the supply side, with Hong Kong manufacturers deemed more capable of meeting the stringent overseas regulatory requirements on toy safety, the relocation of production and sourcing from southern China to other production bases is unlikely. As such, competitors from Asia pose less of a threat to Hong Kong toy suppliers than they present to other industries traditionally strong in the city, notably the clothing sector.
Timepieces will be a particular beneficiary of any upturn in the global market, with sales of these higher-end items inevitably growing as disposable incomes rise. Sales of less expensive items, especially fashion watches and the likes, should hold up well with an adherence to cost-conscious spending abiding. In the overall lower-end segment, however, despite demand being expected to remain sturdy, the prospects for Hong Kong exports will be hindered by increased levels of competition from many indigenous mainland suppliers.
As with timepieces, the consumer appetite for jewellery will become stronger as the global economy proves more robust. While undoubtedly securing more orders, Hong Kong exporters will have to contend with the unpredictable costs of precious stones and metals, with upward pressures coming from increased demand, while any changes in US financial policy could have a more negative impact. These problems will be compounded by increased competition.
Looking beyond 2014, it is certain that the WTO agreement reached at the Bali Ministerial Conference – should it be borne out in subsequent trade rounds – could have far-reaching implications for many global markets, particularly those most inhibited by the ever-present spectre of increased protectionism. The next 12 months, however, should make it clear if there is really to be a new dawn for global trade.
Auto Parts
Baby Products
Books & Printed Items
Building Materials
Chemicals
Computer & Peripherals
Electronics & Electrical Appliances
Environmental Protection
Eyewear
Food & Beverages
Footwear
Furniture & Furnishings
Garments, Textiles & Accessories
Gifts & Premiums
Handbags & Travel Goods
Hardware
Health & Beauty
Household Products
Jewellery
Lighting Products
Machinery
Medical Supplies & Medicine
Packaging
Pet & Pet Supplies
Photographic Equipment
Raw Materials
Specialised Products
Sports Goods
Stationery & Office Equipment
Telecommunications
Toys & Games
Watches & Clocks