https://hkmb.hktdc.com/en/1X09VKRL
EU retailing: the growing impact of e-tailing, private labels and sustained consolidation
The EU retail scene has been dominated by continuous change over recent years. Sluggish consumer demand and intensifying competition have resulted in sustained consolidation across all of the major European retail markets. While vigilantly-spending and price-conscious consumers have seen discounters, hypermarkets, supermarkets and e-tailers thrive, there are now signs that luxury stores are poised to take advantage of the market polarisation and the hesitant revival now discernible in the EU economy.
Hong Kong exporters should be aware that such developments will both affect their sales channels and also impinge upon the way they sell to the EU. To complicate matters further, the retail markets differ hugely among the member states, despite a number of general trends across the EU.
Europe's diverse retail scene
Across the EU retail sector, there are a number of huge players, many with a turnover comparable to their US counterparts. While many of them are dominant players in their native markets, many also operate on a pan-European basis. Driven by the need to support their high turnover, many of these retailers have their own purchasing offices responsible for sourcing directly from importers, local manufacturers and overseas suppliers.
Retail sales in major EU markets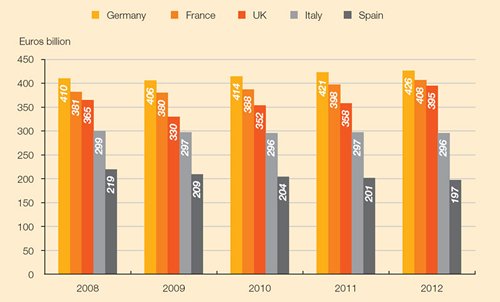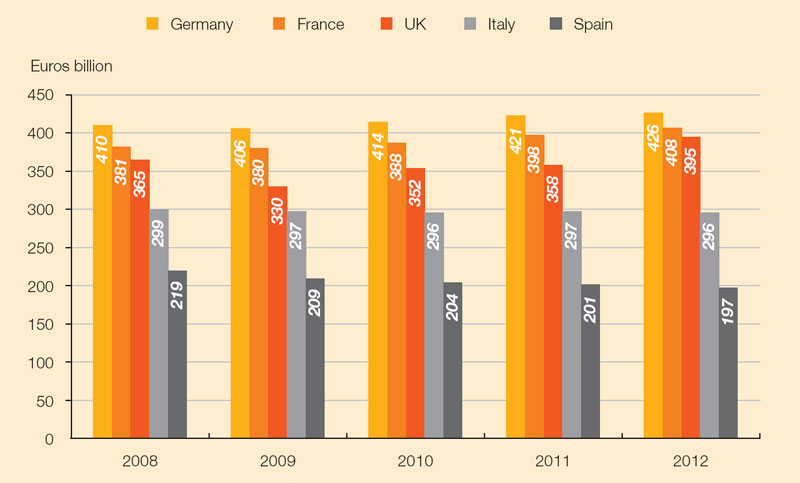 Source: Euromonitor

Among the EU member states, Germany has the largest retail market. In 2012, according to figures from Euromonitor International, sales in its retail sector amounted to Euros426 billion (US$548 billion). The next four largest markets are (in descending order) France, the UK, Italy and Spain. The combined retail sales of these five countries represent more than 70% of the EU total. In terms of actual number of retail outlets, Italy has the most outlets, followed by Spain, but in value terms, Italy ranks fourth and Spain only fifth. From this, it is clear that Italian and Spanish retailers are comparatively small, with a lower average turnover than the majority of their counterparts in Germany, France and the UK.
Retail outlets in major EU markets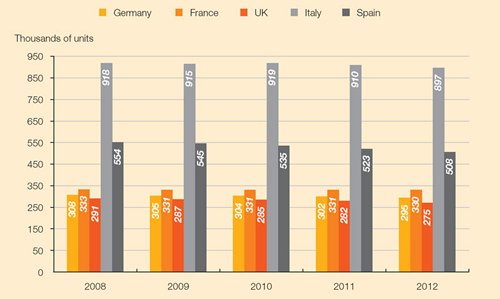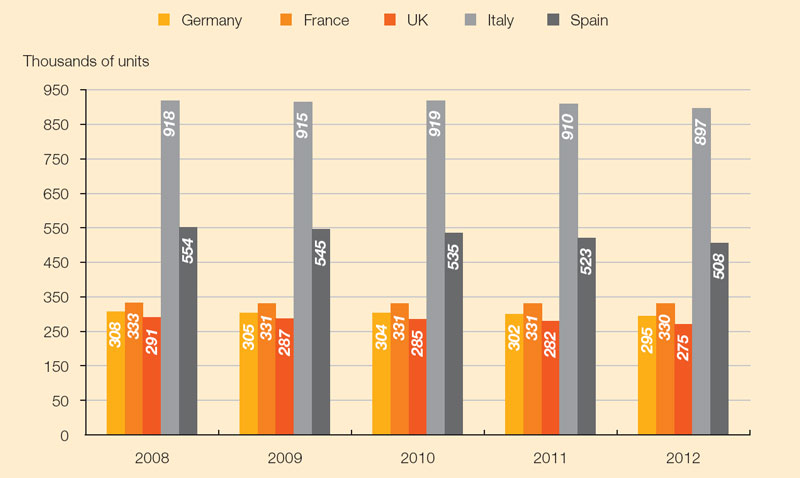 Source: Euromonitor

Germany, home to a number of massive retail operations, has a relatively mature and resilient retail market. Despite the lingering EU debt crisis, the country's retail sector has recovered noticeably from the worst of the 2009 recession. Most German shoppers, however, remain keenly price-sensitive, although they are reasonably affluent and have been relatively unscathed by the debt crisis in comparison to many of the less fortunate consumers in other member states.
Overall, the country's supermarkets, hypermarkets, discounters and other low-cost retailers (notably Metro, Lidl, Aldi, Rewe and Edeka) have maintained their dominance over the smaller operators. Despite this, e-tailers, too, have grown rapidly, fuelled by the availability of cheaper products, the ease of price comparisons and freedom from the restrictive retail regulations that govern the opening hours of physical stores. Typically, though, German shoppers are continuing to opt for value-for-money private labels, though there are now signs of a renewed appetite for higher-end products, a move triggered by the improved economic outlook in the country.
French retailers, for their part, are seen as being modern and dynamic, and were the first European retailers to introduce large-scale distribution, in the form of hypermarkets, to their domestic markets. Despite this, the French retail scene is somewhat fragmented. Many consumers still have strong attachments to their traditional neighbourhood stores and street markets, providing strong underlying support for a large number of independent operators.
Faced with the recent economic hardships, the country's domestic hypermarket and supermarket chains (notably Carrefour, Auchan, E.Leclerc, Casino and Intermarché) have maintained their supremacy over the independents, many of which fared less well. Again, the country's retail sector has witnessed the rise of a number of e-tailers, with many of them offering greater convenience and discounted bargains. By and large, French consumers have a penchant for private labels, although some also patronise high-end shops and department stores in order to indulge themselves in times of convalescence or when in need of a treat.
In the UK, the retail sector is well-developed and highly concentrated. The sector is dominated by several hypermarket and supermarket chains – Tesco, Asda, J Sainsbury and Morrisons. Unfavourable economic conditions notwithstanding, overall UK retail sales have actually still continued to expand – albeit somewhat moderately – over recent years.
A number of high profile events – the Queen's Diamond Jubilee, the 2012 Summer Olympics and the birth of the third in line to the British throne – provided an initial fillip to the market. Now, however, the signs of an improving economic outlook may take over as the stimulus to growth, potentially benefitting the sales of a number of discretionary and higher-end items. Regardless of any such upturn, British consumers are likely to remain prudent, with private labels being much sought after. In terms of outlets, there will still be a preference for low-cost retailers, such as supermarkets, hypermarkets and discounters, as well as for e-tailers, already well-established as a significant and growing retail channel in the UK.
Italy, as indicated above, is the fourth largest retail market in the EU. Despite this, it is home to some 900,000 retail outlets – three times the number found in Germany, France or the UK – accounting for the highest level in the EU. In light of this, it is perhaps unsurprising that Italian retailers tend to be rather small and scattered. With the country's retail market having proved somewhat stagnant over recent years, the number of independent and traditional shops has, however, suffered an inevitable declined.
By contrast, Italy's domestic supermarket chains, including Coop Italia and Conad, have been able to expand their market share despite the sustained prudence of many consumers. Even online sales, a sector where Italy lags behind other EU countries, are becoming more popular, with more consumers using the Internet to find product information and compare prices. Overall, though, most consumers are still sticking to private labels as a means of ensuring value for money. This is despite the stronger demand for high-end products from more affluent customers that is now benefitting the more up-scale shops.
As with Italy, the Spanish retail market is also highly fragmented. It is the fifth-largest retail market in the EU, yet has the second-largest number of retail outlets after Italy. While independent and traditional shops continue to make up the bulk of Spain's retail outlets, their significance is beginning to shrink.
Due to the adverse economic conditions and continued consumer cautiousness, many of these independent outlets are finding it increasingly difficult to compete with the country's supermarket chains, such as Mercadona and Eroski. These larger retail operations are able to exploit both their massive economies of scale and a growing consumer preference for private labels.
E-tailers, despite their small market share, are also enjoying dynamic growth, largely thanks to the price comparison convenience they offer and to online discounts. Significantly, a number of department stores and specialised chains, notably El Corte Inglés and Inditex, have managed to maintain their importance in light of the polarisation of Spanish society as the country's income gap continues to widen somewhat.
Evolving trends in EU retailing
It is clear that there are a number of underlying trends in EU retailing, although their significance varies from country to country. As a widespread phenomenon, the economic malaise of recent years has made many of the region's consumers quite conservative in terms of their spending patterns. This is particularly true in those Eurozone countries, such as Italy and Spain, where the impact of the sovereign debt crisis has been the most apparent. Despite emerging signs of an economic recovery across the EU, financially-ailing shoppers will remain largely price-sensitive for the foreseeable future, maintaining a preference for private labels and low-cost retailers.
Consumer behaviour across Europe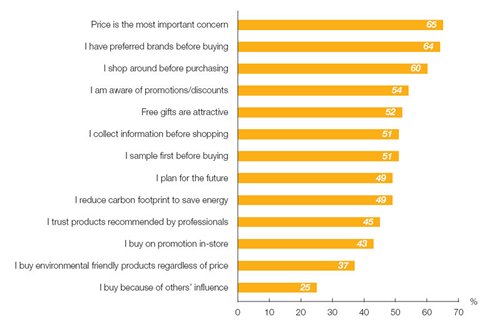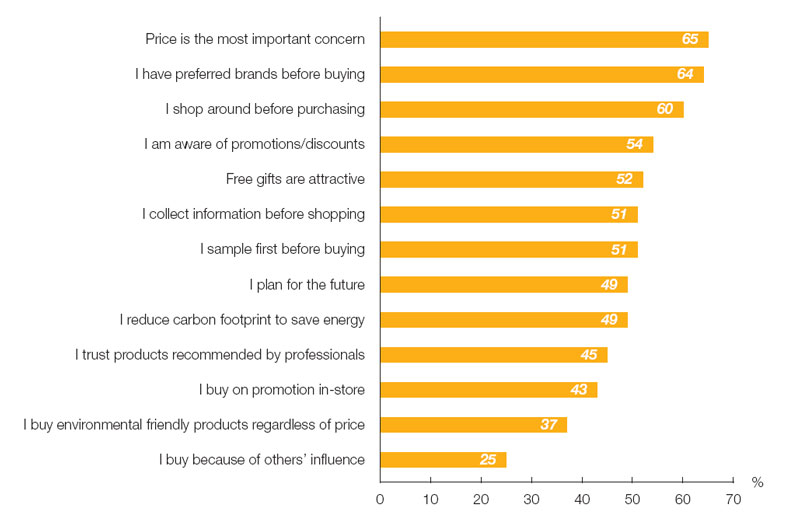 Source: Nielsen

As a sign of the inherent caution of many EU consumers, New Wealth, New World – How and Why We Shop Around the Globe, a July 2013 Nielsen survey, clearly shows that European consumers remain price-sensitive. According to its findings, 65% of respondents somewhat or strongly agreed with the proposition that "price is the most important concern" when making purchases, with 54% of the respondents saying: "I am aware of promotions/discounts". Overall, price is among the top three purchase criteria across all the surveyed categories.
Sustained thriftiness notwithstanding, the trend of market polarisation shows, perhaps unsurprisingly, that affluent shoppers are still inclined to choose premium product lines. If anything, EU consumers in employment are still prone to indulge themselves with expensive purchases, with any recovery of the European economy likely to further reinforce this increasingly apparent propensity for higher-end products.
Top purchase criteria and sources for product information in Europe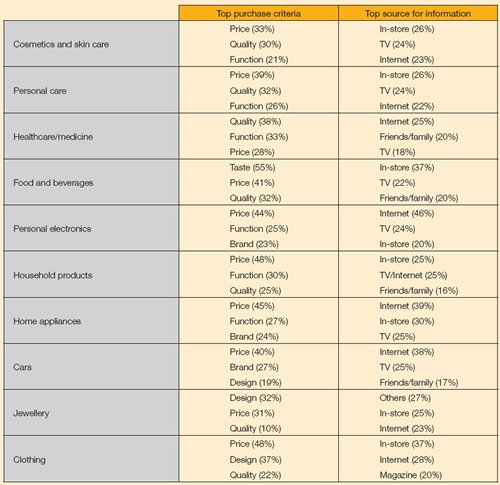 Source: Nielsen
Despite their keen price-sensitivity, EU consumers remain firmly brand-conscious. According to the Nielsen survey, 64% of respondents indicated that they had preferred brands before buying, acknowledging this as the second most important factor in their purchasing decisions. The survey, however, also showed that brand was not a major concern across all product categories. It was only in the personal electronics, home appliances and cars sectors that respondents considered brand as one of the top three purchase criteria. Indeed, brands aside, private labels have gained widespread popularity over the past few years, as consumers look for quality, functionality and the best value-for-money, characteristics deemed typical of private label products. There is also a rise in a move towards premium status among certain private labels, a development in line with the aforementioned increasing market polarisation across the EU.
Given the typically conservative attitude of consumers, the bigger players – discounters, supermarkets and hypermarkets who benefit from economies of scale and have the ability to offer low prices – have managed to maintain their lead in the EU retail market. The continued efforts of companies in this sector to launch private labels have further bolstered their competitive edge.
With further market polarisation and the expected economic rebound, however, some high-end outlets, including a number of department stores and specialty chains, have been performing increasingly well. As a response, the large-scale operators have continued to widen their product mix, developing an expanded range of premium private labels in order to compete with those products at higher price points. It is likely that, even should better economic conditions prevail, most EU shoppers will remain loyal to low-cost retailers, especially if the range and quality of their private labels continue to grow.
While store-based retailers are still struggling to stimulate traffic and sales, e-tailers are outperforming their conventional competitors and playing an increasingly significant role across the EU. According to a survey by Ecommerce Europe, the UK is home to the largest online retail market in Europe, with 2012 sales of Euros96 billion (US$123 billion). In second place is Germany, followed by France. Taken together, these three markets represent more than 60% of total retail online sales in Europe, although Spain and Italy are currently enjoying a belated period of accelerating e-tailing growth.
Across the EU, the generous offers of online discounts, plus the ease with which shoppers can look for product and price information, has boosted the popularity of online retailers. The wider use of mobile devices has also provided an additional stimulus to online sales. At present, more and more store-based retailers are adopting a multi-channel strategy, embracing online sales as a way of maintaining/raising their overall market share.
Against the backdrop of the rapidly developing e-tailing sector, there has been further consolidation of the retail landscape across the EU. This has largely been characterised by a general decline in the number of retail outlets over the last few years. Particularly in the Spanish and Italian markets, the independent players are gradually being phased out by the tough market conditions, while the dominance of large-scale operators has marginalised these small players still further. While the on-going squeezing out (or acquisition) of the less competitive retailers is likely to continue, the pace of consolidation is set to slow. This, though, is largely because the big operators are approaching their expansion limits, while a more stable sales environment will breathe some life into the smaller players.
Concomitant changes in EU distribution channels
The higher retail market concentration has, notably, resulted in a reduction in the number of potential clients for importers. In light of this, EU importers have sought to widen their customer base by finding new customers, both at home and abroad. While EU importers may remain important customers for Hong Kong exporters, this latest development has made it difficult for the city's exporters to divide their clientele along simple geographic lines.
Retailers, for their part, have emerged as volume buyers, increasingly looking to bypass the middlemen. A combination of becalmed consumer demand and intensified competition has seen a wide range of EU retailers, including supermarkets, hypermarkets, discounters, e-tailers, specialty outlets and department stores, compelled to source directly from manufacturers and suppliers in a bid to reduce costs. Unsurprisingly, the new routes to market have now become established as increasingly vital channels for Hong Kong exporters.
The expanding role of importers and retailers has, however, put traditional wholesalers and smaller retailers into a difficult position. In effect, wholesalers have now evolved into importers and/or regional distributors across Europe, while the number of firms acting solely as wholesalers is decreasing. At the same time, buying groups have continued to represent the buying interests of independent retailers and other smaller outlets, collectively sourcing from importers and manufacturers in order to bypass middlemen. In the smaller EU cities, however, there remains a role for market representatives and agents with knowledge of specific products and markets to render technical services and to work with representatives of local buyers.
Tips for Hong Kong exporters
Given the EU's changing distribution and retail scene, Hong Kong exporters need to ensure they adopt the right channel strategy in order to maintain their market share. As a matter of priority, they should establish close ties with low-cost retailers (including supermarkets, hypermarkets, discounters and e-tailers), businesses that are likely to continue to erode the market share of independent and traditional shops. E-tailers, in particular, are expected to maintain their rapid pace of expansion at the expense of store-based retailers, making them priority clients for Hong Kong exporters. Such companies should also keep an eye on the EU's high-end outlets, including department stores and specialty chains, which are expected to prosper in line with any incipient EU economic recovery.
Aside from EU retailers, distribution via importers should remain a preferred sales channel for Hong Kong exporters. For standardised items with low unit value and low turnover, such as certain grocery items and small household goods, orders from EU buyers are typically small in size but large in variety. In such cases, direct selling to retailers may not be practical. Instead, it may be more effective to distribute such items via importers, which serve to consolidate orders from different retailers across the EU and then place orders with Hong Kong exporters. For those Hong Kong exporters targetting niche and smaller markets in the EU, market representatives and agents, endowed with professional expertise in specific areas, may prove to be the right partners.
Above all, Hong Kong exporters should establish themselves as value-for-money suppliers, with EU consumers expected to remain largely conservative over the medium term. While consumer demand is expected to grow, with the better-off shoppers likely to have an increased appetite for more ostentatious merchandise, the primary focus will still be on quality, functionality and, to some extent, environmental-friendliness. Overall, these developments presage a favourable sales outlook for those Hong Kong exporters competent in supplying stylish, safe, environmentally-friendly and competitively-priced products.
Last, but not least, Hong Kong suppliers should be aware of the business opportunities represented by private labels in the EU. Given that private labels are now the norm, coupled with their expansion into the premium segment, Hong Kong suppliers can capitalise on their capability and flexibility to produce customised designs superior to their competitors elsewhere in Asia. In this respect, the ODM and OEM expertise of Hong Kong manufacturers gives them a distinct advantage over their competitors in other territories. In order to fully leverage these opportunities, the city's manufacturers should prioritise product design and development, ensuring EU retailers can offer their customers a more sophisticated and wider product range in the future.