https://hkmb.hktdc.com/en/1X09VH7E
Shandong logistics sector - new opportunities for value-added services
Shandong's rapid transport infrastructure development, its industry upgrades and the changing demands of local consumers have obliged the province's logistics sector to upgrade its facilities and technical resources to meet the growing demand for a high quality of service. In order to distinguish themselves from their competitors, the leading logistics enterprises in Shandong have become more active in their bids to provide integrated logistics services, embracing value-added functions geared to meeting the more stringent requirements of corporate customers. The local supply of professional, value-added service providers, however, is still deemed to be insufficient.
Market segmentation raising the bar for logistics services
The situation is complicated by the fact that Shandong, as one of the mainland's most important production bases, has a diversified industrial structure, giving rise to a logistics sector that is quite segmented. This is not entirely surprising in that, as the individual industrial sectors mature, industry specialisation is becoming a key requirement for the logistics sector, which is obliged to support industrial growth with solutions commensurate with the products in question. At present, just a few local companies are capable of providing industry-specific and comprehensive logistics services in Shandong, while most of the third-party logistics companies (3PLs) are only able to carry out basic activities, such as transportation and loading.
Logistics opportunities for Hong Kong companies
Generally, Hong Kong logistics companies can play an active role in meeting the shortfall in Shandong's logistics sector, given their extensive experience in logistics management, either as wholly-owned operators or as joint-venture partners with their Shandong counterparts. They can be instrumental in improving efficiency, applying better information technology, cutting down wastage, accelerating containerised transport and fostering a stronger 3PL network in Shandong. Conceivably, Shandong companies can bring to the partnership their local commercial networks, as well as their on the-ground understanding of the local logistics market operations and constraints.
The continual transformation of Shandong's logistics sector will, over time, lead to the emergence of a greater number of service suppliers capable of offering specialised and integrated services. Until that becomes a reality, Hong Kong companies are ideally positioned to provide industry-specific, value-added services across Shandong's segmented logistics sectors, leveraging their competitive edge and international best practices. They should particularly target the region's processed food and pharmaceuticals sectors (see below).
Currently, a number of Hong Kong companies have already established a foothold in Shandong's logistics market. As a pioneer in identifying the opportunities in Shandong's logistics sector, Kerry Logistics established its Shandong branch as early as in 1997. It currently provides freight-forwarding, express, warehousing and integrated logistics solutions, as well as other value-added services. At present, the company has offices in several of the province's key cities, including Qingdao (青島), Jinan (濟南), Weifang (濰坊) and Yantai (煙台), serving both local and international enterprises. Li & Fung is another Hong Kong logistics company currently operating in Shandong. At the moment, it maintains a logistics and distribution unit in Qingdao, as well as a number of trading operations.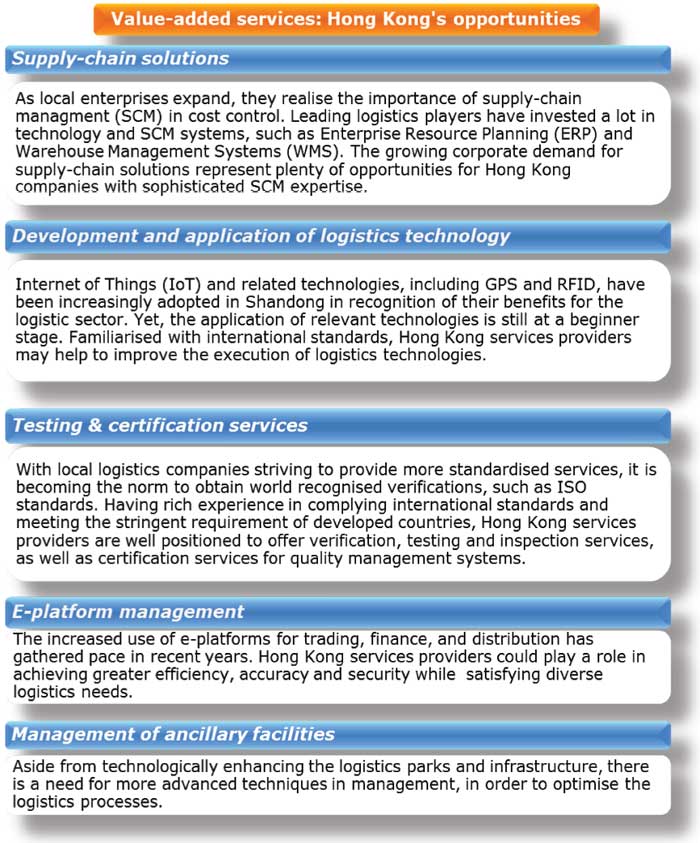 Opportunities in logistic services
New opportunities in specific sectors
Agricultural products and processed food
Shandong plays an important role in supplying the mainland's agricultural requirements, a reflection of the strength of its flourishing food manufacturing and processing industries. The province ranks number one nationally for the production of various agricultural products, such as fruit, which accounts for more than 10% of the country's overall output. Shandong is also the country's leading exporter of agricultural products, accounting for nearly a quarter of the national total. In recent years, Shandong has seen its international trade in agricultural products undergo a number of structural changes, with its imports growing faster than its exports. Shandong's level of agricultural product imports increased by more than 300% from US$6.6 billion to US$21.7 billion during the period 2007-2012 (with an import CAGR of 26.7%, far higher than its export CAGR of 10.2%).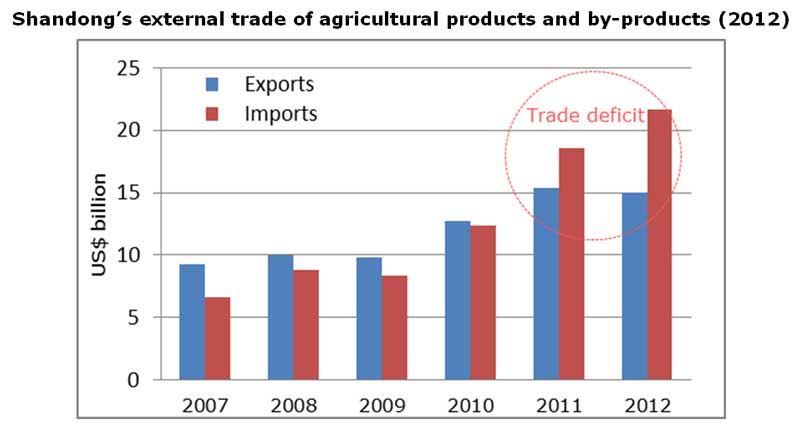 Shandong's imports of agricultural products exceeded its export level
Source: Shandong Statistical Bureau
Despite slower growth in its overall exports of agricultural products, the province's exports of higher-value produce have expanded rapidly, while orders for cheaper primary products have declined. Japan is the major market for Shandong's high end agricultural product exports, increasing in worth by 12.5% in 2012. By comparison, exports to ASEAN countries, which are characterised by low-end food items, dropped by 15.9% in 2012. In terms of the domestic market, sales of agricultural products were boosted by demand for high-value, packaged fruit and vegetables.
In light of this expanding demand, Shandong's food processing enterprises are seeking to establish their own brands in an attempt to gain a foothold in both the domestic and overseas markets. The processed food sector is also upgrading with the addition of more higher value added products, such as air-dried and freeze-dried fruit and vegetables.
Capitalising on Shandong's rich agricultural resources, Hong Kong companies may find vast potential in the emerging high-end segment of the province's food sector, particularly with regard to functional and healthy food, as well as premium produce. Targetting the emerging and high-value processed food sector will ensure a number of collaborative opportunities for Hong Kong and Shandong businesses and lead, ultimately, to establishing a high value-added food supply-chain.
Given the early stage of technology utilisation across Shandong's supply-chains, Hong Kong should demonstrate its expertise in the efficient application of technologies, such as the use of RFID, barcodes, logistics information platforms, software and system customisation. In terms of management experience, brand development and financing, Hong Kong enterprises could also play to their strengths in the local food processing industry. This would be in terms of both upstream (packaging and storage) and downstream (sales and marketing) activities.


Opportunities in food supply chain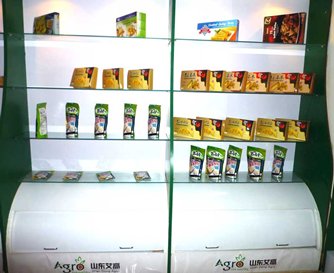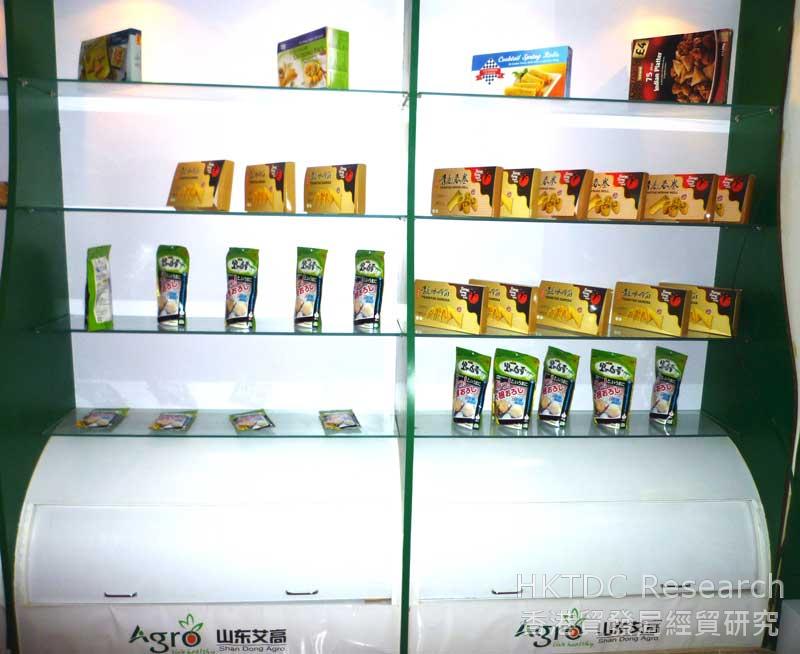 Processed agricultural products for domestic sales and export
Shandong's exports of aquatic products
With a coastline more than 3,200 kilometres long (the longest in China), Shandong is rich in marine resources and takes the lead in the supply of aquatic products. Shandong's export of aquatic products ranks number one in the country. In 2012, its seafood exports totalled 1.15 million tonnes at a value of US$4.9 billion, accounting for 26% of the national total. Its major export markets included Japan, the EU, Korea and the US.
Shandong Peninsula is the province's major base for aquatic exports, accounting for 95% of aquatic products exports from the region. An industry cluster has been formed in Weihai (威海), Yantai (煙台), Qingdao (青島) and Rizhao (日照), where exports production and processing centres have been developed. Shandong's aquatic industry has established a complete supply-chain for exports, including fishing, aquaculture, processing, cold-chain logistics, bonded storage, warehousing and foreign trade.
Medicine and pharmaceuticals
The medicines and drugs produced in Shandong are primarily supplied to the local markets. Most of the pharmaceutical manufacturers, including those which are also engaged in the production of Chinese medicinal products, have their own in house logistics teams. Currently, Shandong's pharmaceutical logistics sector is dominated by logistics companies owned by or affiliated to these pharmaceutical manufacturers. A number of these pharmaceutical logistics players now function as 3PLs for pharmaceutical vendors, wholesalers, retailers, as well as acting as trading companies in their own right.
As leading service providers in Shandong's pharmaceutical logistics sector, particularly in the case of those with provincial or national networks, they are capable of providing a range of integrated logistics services, including sourcing, warehousing and distribution. Increasingly, they are also offering value-added functions, such as supply-chain solutions and the development of e-commerce platforms. Nonetheless, there exists vast scope for foreign logistics operators to exploit the business potential of Shandong's pharmaceutical logistics market, given the growing demand for quality 3PL services. In fact, many Hong Kong logistics players are renowned for their capability in developing healthcare, pharmaceutical products and medical device supply chains.
Many of the pharmaceutical producers are also Contract Manufacturing Organisations (CMOs) for overseas pharmaceutical companies. Their cost-effective, one-stop services cover product development, clinical trials and manufacturing. When exporting products, it is common for these CMOs to outsource to companies with experience and expertise in international freight forwarding, with most of the shipping from Qingdao destined for overseas markets, including the US, Europe and Russia.
Higher public and private expenditure in the medical sector has driven the sales of medicinal products and medical devices. During 2007-2012, the average sales of retailers and wholesalers grew on average by 34% and 17% (respectively) each year, boosting the demand for medical-specific logistics services.
According to these leading pharmaceutical manufacturers, it is expected that Chinese medicinal products will be the drivers of future business growth in the pharmaceutical logistics sector. Processed forms of Chinese medicine, such as power and tablets in packaged bags, are now proving especially popular.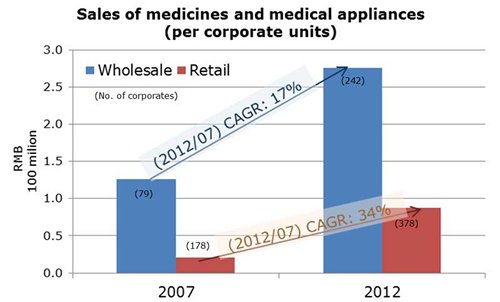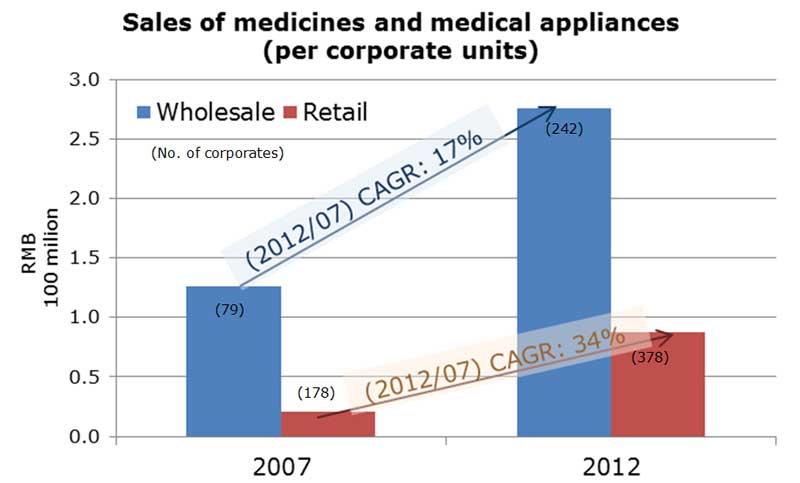 Substantial expansion in Shandong's medical sector
Source: Shandong Statistical Bureau
Standardisation of pharmaceutical logistics initiated in Shandong
To foster the development of the pharmaceutical logistics sector, the Shandong Food and Drug Administration launched a Pilot project of Modern Pharmaceutical Logistics in 2009, which was aimed at standardising and upgrading the logistics processes of pharmaceutical enterprises. As a result, selected pilot companies have been supported by the authorities in a bid to achieve the following:
Establishing automatic warehouse and logistics systems, with dedicated logistics equipment fitted with drug storage, transfer, sorting and delivery facilities;
Fulfilling the logistics requirements for the pharmaceuticals sector, such as automatic temperature and humidity control, recording and transmission of relevant information.
As of the end of August 2013, nine enterprises had succeeded in meeting the criteria of being a "modern pharmaceutical logistics enterprise", and thus were qualified to undertake storage and distribution functions for medicines.
Liberalised market access for foreign logistics services providers
In an attempt to develop the province as an international logistics centre for Northeast Asia, the Shandong government is actively encouraging foreign participation in the local logistics market. Foreign investors are now allowed to form wholly-owned or joint-venture foreign-funded logistics enterprises. Meanwhile, foreign investment, in the form of equity, mergers and acquisitions or venture capital investments, is also being welcomed.
In addition, under the liberalisation measures from the Mainland-Hong Kong Closer Economic Partnership Arrangement (CEPA) and related Supplements, Hong Kong service suppliers (HKSS) can gain far easier market access to logistic sectors on the Chinese mainland than other foreign or non-CEPA service providers.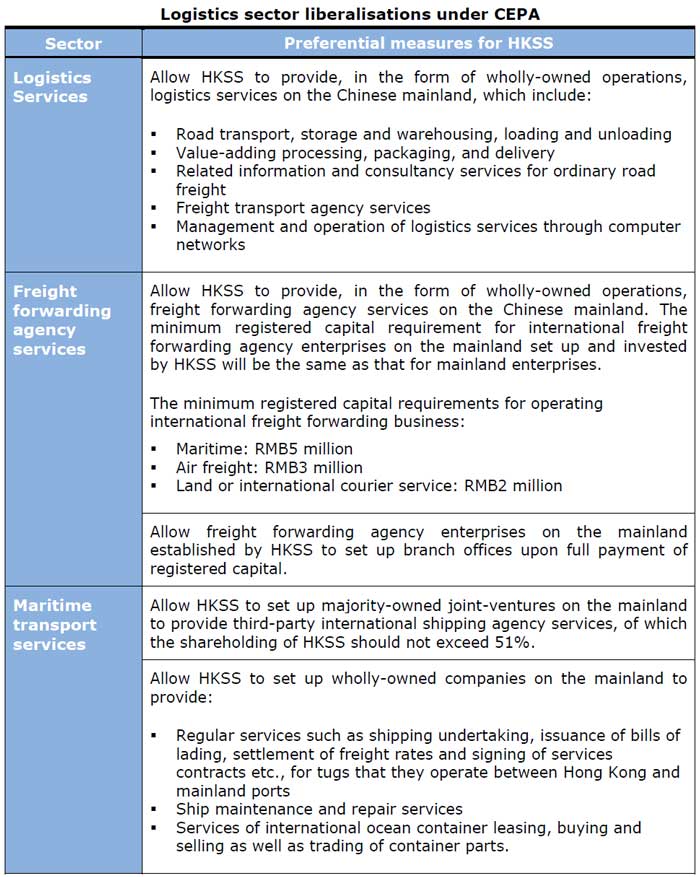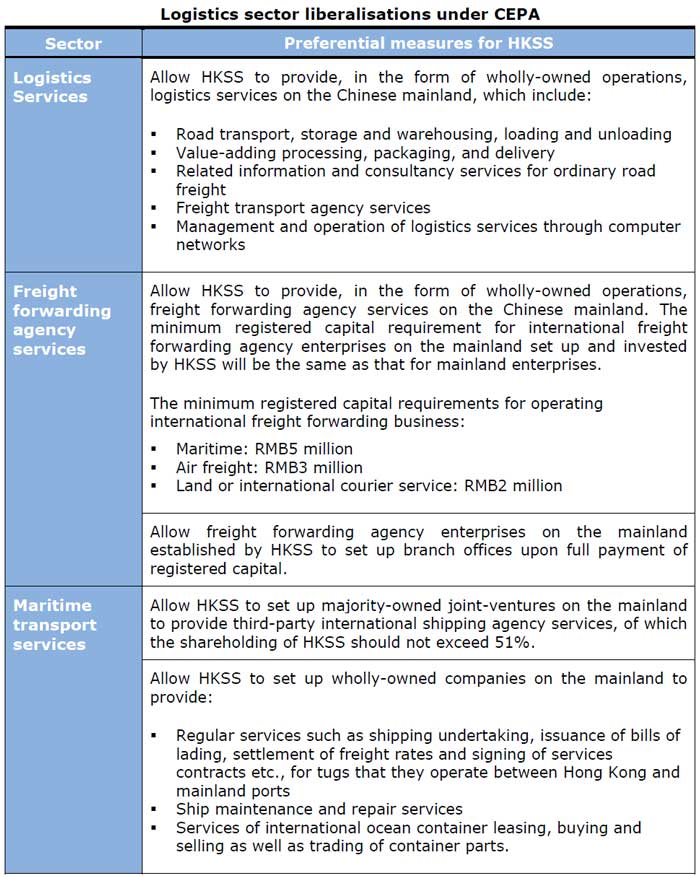 CEPA liberalisations in logistics sector
Logistics & Supply Chain
Logistics & Supply Chain
Mainland China
Mainland China