https://hkmb.hktdc.com/en/1X09VA24
LED and Green Brightest Hopes for 2014 Lighting Market: Survey on Hong Kong International Lighting Fair (Autumn Edition, 2013)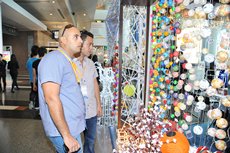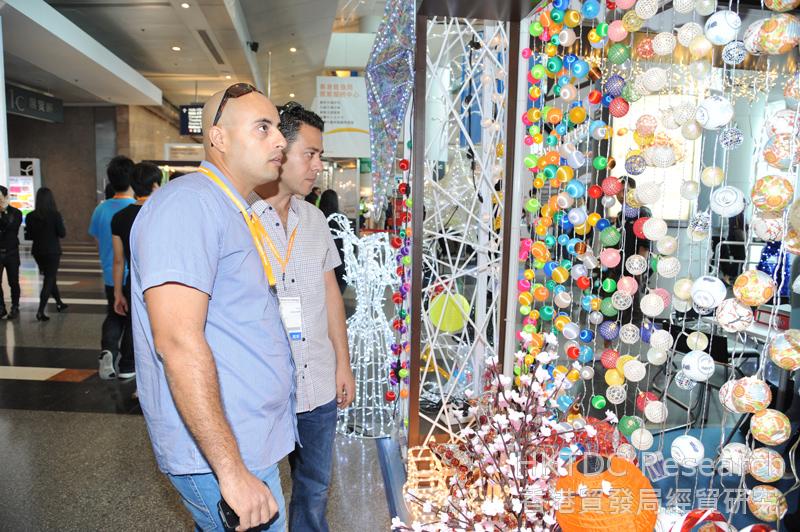 Buyers at Hong Kong International Lighting Fair 2013, Autumn Edition
There is a consensus among industry players that LED and green lighting will continue to be their lead business focus, notwithstanding the keen market competition among. While many are keeping an eye on the emerging markets – particularly China and ASEAN - there is also optimism toward the more mature markets of North America and Western Europe. On the whole, a steady lighting demand is expected in 2014.
HKTDC Research canvassed 386 buyers and 237 exhibitors at the Hong Kong International Lighting Fair (Autumn Edition) with regard to the market prospects and the latest product trends.
Promising lighting market
More than 90% of respondents, including 93% of buyers and 91% of exhibitors at the October event, expected their sales to remain either unchanged or to increase during the course of 2014. Such opinions are, more or less, the same as those expressed in the survey of attendees at the previous Lighting Fair in April, which showed a marked improvement in market sentiment among industry players compared to 2012. Of the Autumn Fair respondents who forecast an upturn in sales, the typical expected 2014 increase was 15% (buyers) and 20% (exhibitors)1.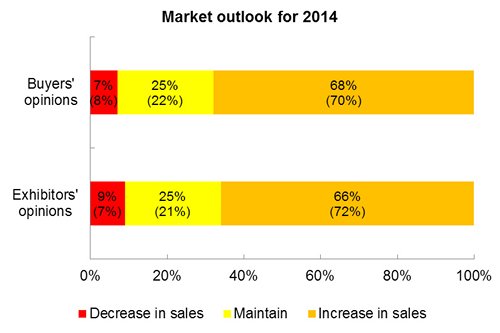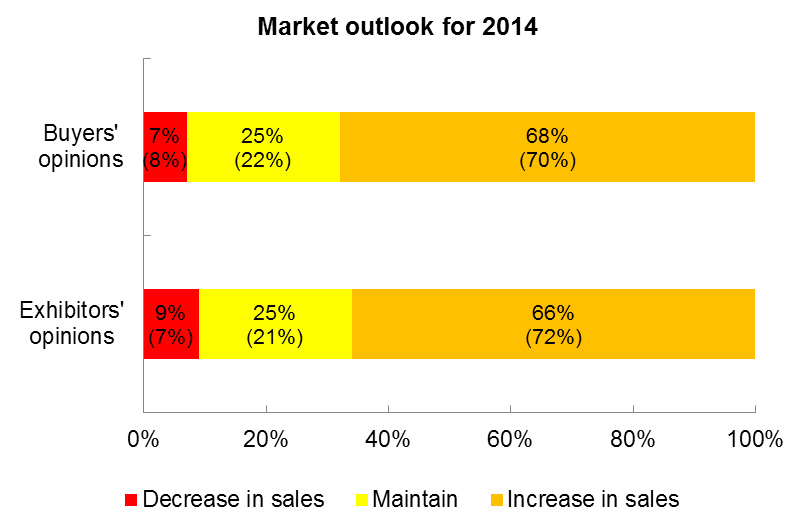 More than 90% of the respondents forecast that their sales would remain unchanged or increase in 2014.

Source: HKTDC Survey
Remark: Figures in brackets were the respondents' forecast for the year of 2013 obtained from the Lighting Fair held in April 2013.

The Chinese mainland and ASEAN are considered to be the most promising emerging markets. The two were rated as "very promising" or "promising" over the next two years by 67% and 65% respectively of all those canvassed. North America, Western Europe and Australia/Pacific were also seen by 61%, 61% and 60% respectively as "very promising" or "promising" by all respondents.
LED and green products making way
LED and green products have been consistently rated as having the best sales potential over the most recent surveys. This time, 55% of those polled said that they promised the highest sales growth in 2014, followed by commercial lighting (17%), household lighting (16%) and advertising lighting (5%).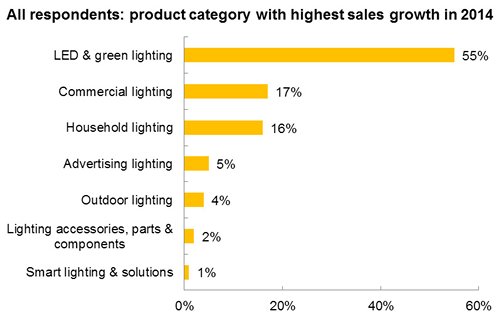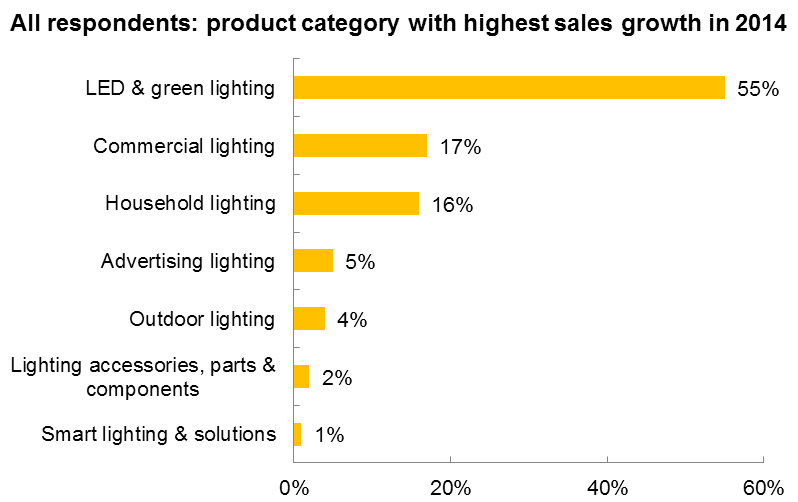 LED and green lighting are rated as having the highest sales growth potential for 2014.

Remark: Each respondent is allowed to choose one product category only.

Source: HKTDC Survey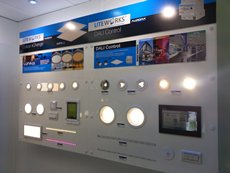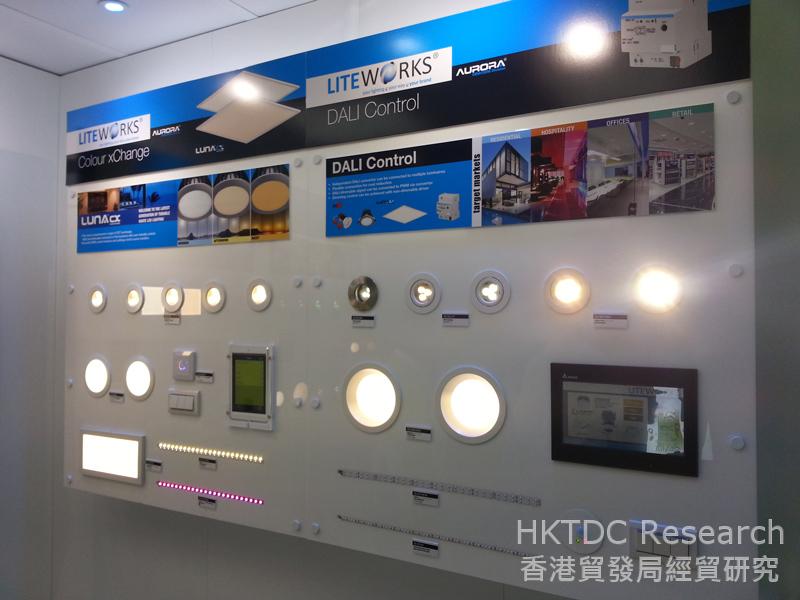 LED lighting system demonstrated at the fair
The majority of respondents (78%) said LED sales would be greatly stimulated if LED prices came down to a level less than 1.5-fold that of CFL lamps. The percentage share of respondents holding such a view is far larger than that seen during the April fair survey. If LED prices can be brought down to such a "reasonable level", 72% of respondents expect that sales in the overall lighting sector would rise by around 20% (median rate).
Evidently, there are an increasing number of exhibitors engaging in LED business. In order to differentiate themselves in the face of keen competition, several companies in the sector have started using more advanced automated machines in order to produce higher-powered LEDs at a lower cost. Huizhan Huapai LED Lighting, a Guangdong-based company, for instance, was showcasing its high-powered outdoor LED flood-lights at the fair, with a 50W model being available for as low as US$15.50 per unit.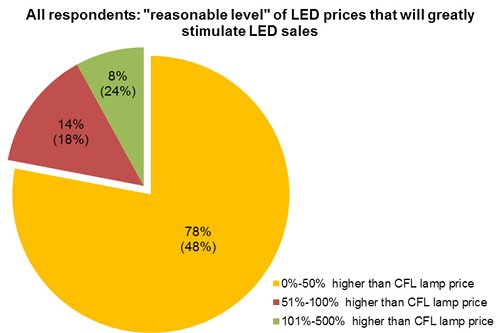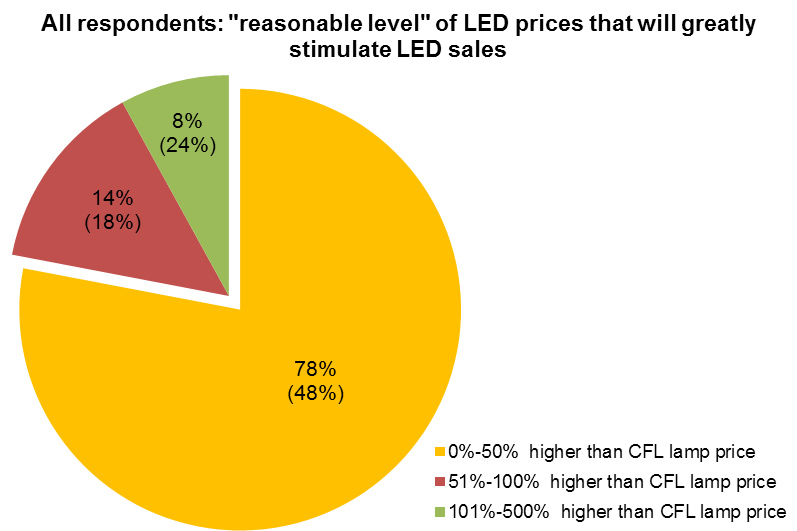 Of the respondents, 78% considered that if LED prices can come down to a level that is less than 1.5-fold of CFL lamps, this will greatly stimulate LED sales.

Source: HKTDC Survey

Remark:
(1) Prices of CFL lamps are taken as the reference for comparison purposes.
(2) Figures in brackets are the corresponding percentage share of respondents at the April fair.
A number of other companies have applied state-of-the-art technology to their LED apparatus in an attempt to add value to their products. Liteworks, an OEM/ODM division of the Taiwanese Aurora Lighting Group, is one such company. At the fair, it demonstrated its Wi-Fi-based smart lighting LED system, which can be dimmed by simply touching a control screen - a feature not yet available in most LED, and even many CFL, lights. A Liteworks representative told HKTDC Research that the prime targets for its systems are the Asian markets - notably Taiwan, Hong Kong, Singapore and Malaysia - where there is a huge demand for green lighting solutions.
Profile of respondents
There were 386 buyers canvassed, with 30% from the Chinese mainland, 29% from Hong Kong, 5% from Taiwan and 4% from North America. The remaining 31% were from other global markets.
Of the 237 surveyed exhibitors, 58% were based on the Chinese mainland and 24% in Hong Kong. The remaining 18% were from other global markets.
---
1 Median rates
Electronics & Electrical Appliances
Lighting Products