https://hkmb.hktdc.com/en/1X09V972
China's packaged food market: the advantages of the Hong Kong platform
Throughout the years, Hong Kong companies have been purchasing large quantities of imported food from abroad for both the local and mainland markets. As the huge demand of the mainland continues to grow, Hong Kong is well-poised to become a distribution and trading centre for imported food and beverage destined for China. Hong Kong can also act as a product sale and market testing platform for foreign food companies planning to develop the mainland market, and can formulate the right marketing and promotional strategies for the products.
Most of the food and beverage or food raw materials available in Hong Kong are imported from abroad and many companies in Hong Kong are engaged in food and beverage related business. In 2013, there are about 856 food manufacturers and 5,400 traders in food related business.1 These industry players, in addition to importing and purchasing food and beverage from all over the world for Hong Kong, have also contributed to turning Hong Kong into a trading centre for processed food and beverage. In 2012, Hong Kong exported HK$41.6 billion2 worth of processed food and beverage to different countries and regions around the world, of which, re-exports accounted for over 90% (HK$38.7 billion). The Chinese mainland is one of the major markets for Hong Kong's re-exports. In 2012, processed food and beverage re-exported via Hong Kong to the mainland market amounted to HK$12.1 billion, accounting for about 31.3% of Hong Kong's total re-exports of processed food and beverage.
1. Hong Kong as a distribution centre for imported food destined for China
Many foreign food and beverage suppliers/distributors have established their own sales network in Hong Kong. As the vast China market continues to expand, many foreign brands are actively tapping this market. Foreign food imported into China is subject to customs duties (10%-35%) and value-added tax (17%). Before the market demand for a new product reaches a stable level, the supplier/distributor would not import large quantities of the product into the mainland in order to lower risks related to tax payment and other costs (such as logistics, transportation and warehousing). However, since Hong Kong does not levy any customs duties on food imports, the SAR can serve as a distribution centre for imported food and beverage destined for the Chinese mainland. Importers can first ship the products to Hong Kong and then transship the right quantities to different cities in the mainland according to the demand of the local markets, enjoying great flexibility in operation.

Distribution centre for imported food
According to Ken Chung, general manager, business development of DCH Logistics Co Ltd, apart from general logistics and transportation, some established Hong Kong logistics companies also carry out the processing of food exported by foreign countries to the mainland, such as re-labelling, sorting and re-packaging. As foreign producers/suppliers would not provide food labels for individual importing countries because the laws in different countries have different requirements where the ingredients list is concerned, specialised logistics companies in Hong Kong can provide relevant services for importers.
Apart from food processing, Hong Kong logistics companies also provide one-stop supporting services for imported packaged food in addition to transportation, ranging from customs declaration, commodity inspection, warehousing and delivery. Even if the products are destined for different cities in the mainland, Hong Kong, as an information and service platform, can handle such daily operations in the Chinese mainland on behalf of the foreign suppliers.
Currently, the packaged food and beverage handled by Hong Kong logistics companies are mostly high-priced products, e.g. imported chocolates, cheese, and premium frozen meat. Since such food products must be stored under 0-4°C or -18°C, sealed seamless cold chain management is required during transportation. As most mainland logistics companies fail to control the temperature in the course of delivery, the food can easily go bad. On the contrary, Hong Kong logistics companies can provide a series of high value-added services. For instance, starting from the time the food products are received, Hong Kong logistics companies would take the temperature and make a record. In the course of loading/unloading the seamless refrigerated containers in the cold storage and picking up/delivering the goods from the cold storage, temperature control is in place throughout the whole process. The refrigerated cargo fleet is equipped with GPS and can provide information on logistics for the clients at any time. Before handing the goods over to the recipient, infrared thermometers are used to measure the temperature to ensure that it is up to standard. Since the management of Hong Kong logistics companies is stringent, many foreign food producers/suppliers wishing to develop the mainland market prefer to cooperate with Hong Kong companies.

Another advantage of Hong Kong as a distribution centre for imported food and beverage is as follows. In the early stage of developing the mainland market, as the quantity of imports is rather small, foreign food suppliers/distributors often have to ship the goods to China jointly with other companies in the form of LCL (less than container load). But the cost of LCL is higher and the time required is also longer. For foreign food suppliers/distributors who have established their own sales network in Hong Kong, they can consolidate the food and beverage products destined for China and those destined for Hong Kong and ship them to their Hong Kong importer's warehouse first in the form of FCL (full container load). Then the importer can transship the goods to the mainland market according to the sales level. The advantages of FCL shipping are that it saves packaging, loading/unloading, and warehousing expenses; reduces losses caused by damage, contamination and theft in the course of goods transportation; and lowers the insurance premium.
Some well-established logistics and transportation companies in Hong Kong also act as food agents and distributors in Hong Kong and the mainland, selling to large wholesalers, supermarkets, food suppliers, hotels, Chinese and western restaurants, fast food shops and airline catering service providers. Their food trading business is made up of different segments ranging from sourcing, processing, distribution to catering service. Since these Hong Kong logistics companies have their own transportation team and distribution network, foreign food suppliers and distributors with no experience in the Asian food market often have to seek relevant professional opinions and supporting services from them.
The experience of a foreign food company which has run its China business for a period of time provides lessons to be learned. Thinking that it knew well enough about China's import procedures, it stopped cooperating with its Hong Kong logistics company and started handling customs declaration and clearance procedures on its own. However, when it came to actual operation, this foreign food company encountered difficulties in customs declaration, commodity inspection, and laws and regulations. Eventually, it had to seek help from the Hong Kong logistics company again. Generally speaking, Hong Kong logistics companies keep in close contact with the relevant departments in the mainland and they constantly update their information, hence their efficiency is higher.
2. Hong Kong as a wine trading hub in Asia
In recent years, the red wine craze has swept Asia. Although Hong Kong does not possess the right conditions for the production of red wine, its favourable geographical position, tax regime, sound legal system, and highly efficient logistics and warehousing facilities have made it possible for the SAR to gradually develop into a base for the import/export, auction and consumption of red wine. In an effort to build Hong Kong into a regional wine trading and distribution hub in Asia, the Hong Kong government has introduced different policies and measures for developing Hong Kong into a wine trading and distribution centre for Asia and the Chinese mainland.
The Hong Kong government lifted import duties on wine imports in 2008, making Hong Kong one of the few regions in the world not levying import duties on wine. The fact that wine can be imported into Hong Kong without any permit or licence and can be stored here tax free has created favourable conditions for the SAR to develop into a distribution centre for wine. According to the amended regulations on dutiable commodities, Hong Kong wine dealers importing, exporting, manufacturing, storing or transporting wine or spirits with an alcohol content of less than 30% are not required to apply for a licence or permit, neither are they required to present any certificate of origin or health certificate for the imported wine. Only beverages with an alcohol content of more than 1.2% and less than 10% are required to mark their best before date, all other beverage products are not subject to any labelling requirements.
Due to the particular nature of wine, wine dealers often have to source wine of different types, brands, years and price points from different vineyards and wineries. However, for the transportation of a small quantity of wine, transportation cost is a key issue. Since Hong Kong has removed import duties on wine, wine dealers can now source all kinds of wine from different parts of Europe and ship the wine products to Hong Kong by freight consolidation first. Then they would carry out freight reconsolidation according to market demand and the quantities and types of wine needed by different regions before transshipping the wine products to other Asian markets, including the Chinese mainland.
In 2010, the Customs and Excise Department of Hong Kong and the General Administration of Customs of the mainland signed the Co-operation Agreement on Customs Facilitation Measures for Wine Entering the Mainland through Hong Kong (the Customs Facilitation Agreement) in a move to expedite customs clearance of wine imported into the mainland through Hong Kong. The Customs Facilitation Agreement applies to wine (i) imported into the mainland via designated mainland ports; (ii) exported by designated Hong Kong exporters registered with the Trade and Industry Department of Hong Kong; and (iii) imported by designated mainland importers registered with the mainland customs. This arrangement helps to strengthen Hong Kong's position as an entrepôt importing wine into the mainland. In recent years, Hong Kong has developed into a wine hub distributing wine to Asia and the Chinese mainland. Its wine storage management and related supporting services have also flourished.
The storage of wine is important. Apart from the fact that wine bottles can be easily broken, wine storage is subject to stringent requirements in terms of temperature, lighting and humidity, failing which the wine will go bad. In order to enhance Hong Kong's position as a wine trading hub, the Hong Kong Quality Assurance Agency (HKQAA) has introduced a Wine Storage Management Systems (WSMS) Certification Scheme, which, based on ISO 9001 requirements and globally recognised common practices, ensures that wine storage, transportation and retail services can reach professional level in the trade. In addition to increasing the competitiveness of the trade, this scheme can also offer protection to consumers and wine dealers.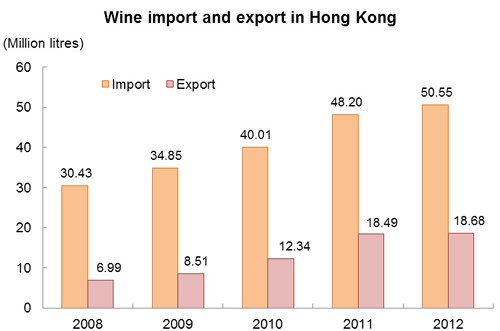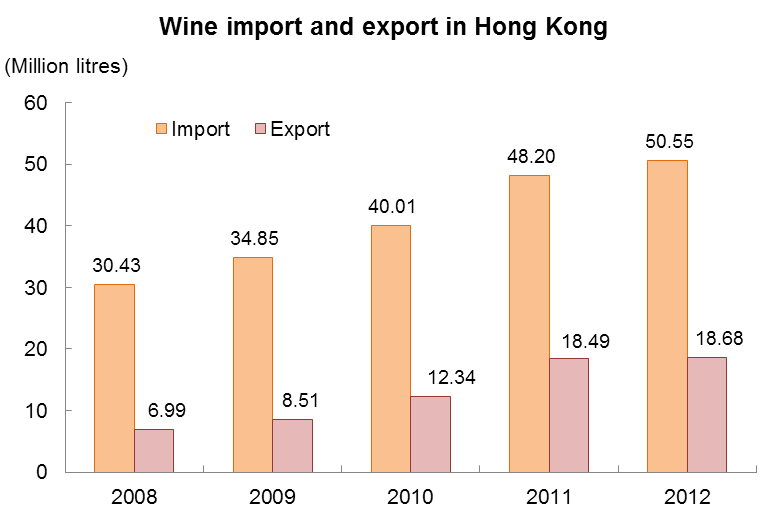 Volume of wine import and export in Hong Kong, 2008-2012
Source: Census and Statistics Department, Hong Kong
Since Hong Kong removed import duties on wine, its wine import-export trade has grown in leaps and bounds. In terms of trading value, it climbed from US$460 million in 2008 to US$1.26 billion in 2012, at an average annual growth of 29.0%. In terms of trading volume, it jumped from 37.42 million litres in 2008 to 69.23 million litres in 2012, at an average annual growth of 16.0%.

Wine trading centre in Asia
Worldwide Fine Wine Centre (Hong Kong) offers such services as handling applications for licences for importing wine into China, customs declaration, customs clearance, and consultancy. In addition, it has also set up a wine club and a wine strategic chain-operation partnership through Margaret River Wine Club Management (SZ) Ltd, its mainland sister company, developing sales channels for foreign vineyards.
According to chief executive officer Anthony Wong, in view of mainland consumers' pursuit for a unique status and exclusive environment, they have launched a wine club scheme which is run jointly with mainland partners. Worldwide Fine Wine will import wine with high price-performance ratio and add value to the sale and promotion of the wine through organising wine tasting courses and gourmet events matching food with wine. Club members can join tours organised by the centre to vineyards all over the world and attend professional training courses in order to increase their knowledge of wine culture. The centre has also designed a series of wine glasses, decanters and travel kits exclusively for members in a bid to enhance the image of the club. The centre even offers consultancy service to VIP members building their private wine cellars.
Apart from the wine club, the centre also cooperates with mainland franchisees giving support on sales and promotion to these franchisees. For instance, the centre would make arrangements for professional sommeliers and winemakers in Hong Kong or even sommeliers or château owners in foreign countries to go to China to help promote wine products and foster wine culture in the mainland.
In recent years, mainland consumers have developed a taste for red wine. In particular, the middle class tends to "go after taste and quality" in pursuit of middle-class aspirations. According to HKTDC report Survey on China's Middle-Class Consumers, 60% of the respondents indicate that "I hope people see me as a person of good taste". Compared with other countries and regions, China's wine industry has a late start and its consumers have limited exposure to and knowledge about wine. The industry does not yet have a set of unified standard and it needs time and specialists to nurture this market. Hong Kong companies are in a good position to take up this role.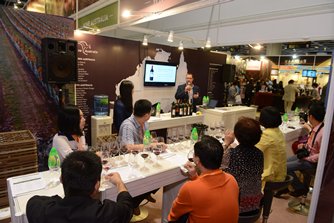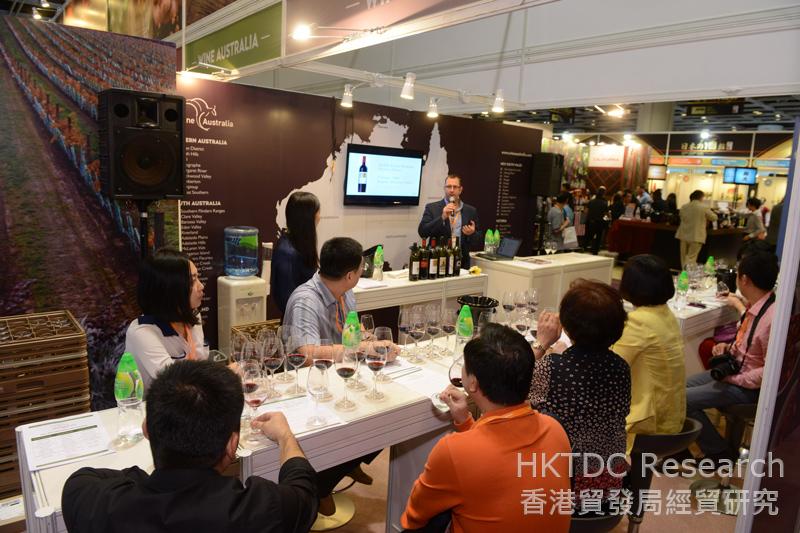 HKTDC Hong Kong International Wine & Spirits Fair
Some foreign wine dealers have tried to develop the mainland market directly on their own. But when they come across problems in communication, even with the help of translators, they can only manage to keep up their daily operation and business but find it difficult to build brand image or sustain their product promotion strategies. Hong Kong companies are familiar with mainland culture and habits. Apart from wine trading and wine storage management, they can also help foreign vineyards/wine dealers explore the mainland market. According to Yang Honggen, general manager of Shanghai Jieqiang Tobacco Sugar & Wine Group Distribution Center, wine has only become popular in the mainland in the last few years. He reckons that wine tasting courses and training courses organised by Hong Kong companies can attract middle to high-end consumers in the mainland.
3. Hong Kong as a food promotion and marketing platform
Disadvantaged by cost and capital constraints, quite a number of small and medium-sized enterprises (SMEs) in Hong Kong fall short of the qualifications for obtaining a food factory licence. As such, Hong Kong companies mainly provide specialised value-added services for foreign food suppliers in such areas as re-packaging food products, brand building, and promotion and marketing. Take dairy products for example. Mainland consumers prefer dairy products with some mathematical formulae printed on the package as they think such products can help promote children's brain development and enhance their learning capability. However, foreign distributors may not know about these consumer characteristics and in this regard Hong Kong companies can act as a middleman bridging the cultural gap between foreign brands and the mainland market. Compared with their counterparts in other countries, Hong Kong companies understand more about the demand of mainland consumers. Foreign companies leveraging on the strengths of Hong Kong companies to devise the right brand building and promotional strategies meeting the specific demands of the mainland will find it easier to succeed.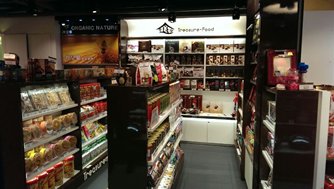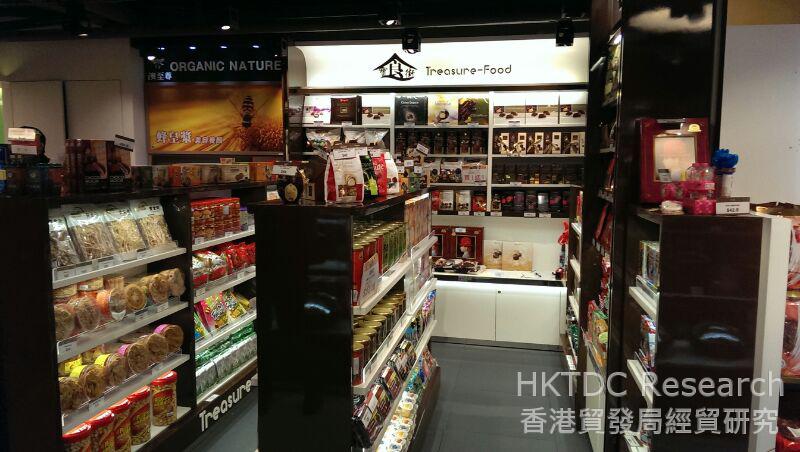 Treasure Food at a Hong Kong department store

Market testing of new products
Treasure Food International Ltd of Hong Kong, an agent and wholesaler of leisure foods from Taiwan and Europe, has food processing factories both in Hong Kong and the mainland. It mainly re-packages and affixes food labels to small, individually packed food products. Treasure Food's retail network in Hong Kong covers department stores, supermarkets and chain-operated snack shops including Citistore, Yue Hwa, Sincere, CR Vanguard, Bonjour and Yata department store. Treasure Food's distributors in the mainland are mainly responsible for wholesaling products to mainland wholesalers.
According to Perry So, general manager of Treasure Food, when they act as agent for a new foreign brand, they would first sell it on the Hong Kong market to test consumers' response. Since many mainland consumers buy snacks in Hong Kong, the SAR is a good platform for promoting new products to mainlanders. For instance, small, individually packed leisure food can be launched to find out the preferences of different age groups of consumers, as well as which packaging design is more appealing. Treasure Food would also bundle different types of products into family packs in order to attract different types of consumers.
Hong Kong food dealers which have access to local retail channels can help foreign food suppliers test the response of consumers to their products on the Hong Kong market and formulate the right marketing strategy for them before they enter the mainland market. According to findings of the HKTDC report Survey on China's Middle-Class Consumers, 84% of the respondents reckon that "Hong Kong is the place of origin of fashion trends and the trendsetter". In view of Hong Kong's role as a trendsetter, when mainland consumers come to Hong Kong on pleasure or business trips, they would buy some food products as gifts or for own consumption. Hence, Hong Kong's sales platform can effectively promote and market food products.
4. IPR protection attracts foreign investment
In addition to assisting foreign companies in developing the mainland market, Hong Kong, as an international city, can also help foreign companies explore markets in other parts of Asia. European and American food producers opting to set up branch companies and factories in Asia would find confidence investing in Hong Kong because of the favourable business environment, sound legal system and intellectual property rights (IPR) protection offered by Hong Kong. Moreover, Hong Kong's simple customs clearance procedures for imported food raw materials can ensure a stable supply of raw materials and smooth operation of production lines for food factories. By setting up branch companies in Hong Kong, foreign companies can stay close to the Asian market, especially the China market. These foreign players can feel the pulse of the culinary culture and habits of the Asians and can make appropriate modifications to their products to meet the demand of the local markets. As a matter of fact, consumers in the Chinese mainland and other Asian countries have a good impression of "made in Hong Kong" products and find "made in Hong Kong" brands carry with them quality insurance. This again helps to increase the confidence of foreign companies in establishing food production lines in Hong Kong.

Investing in production facility in Hong Kong
Founded in the US in 2007, Amazing Delights Ltd is a natural health food company specialised in selling products made from black mission figs grown in the US, such as black mission fig vinegar and jam. In 2010, Amazing Delights expanded into Asia by setting up a branch company and a factory in Hong Kong, with products primarily marketed to the Asian market.
In an effort to suit the culinary taste and food culture of Asian consumers, Amazing Delights introduced fat-free, sodium-free and cholesterol-free mooncakes using American black mission fig paste which is rich in fiber instead of lotus seed paste, and melon seeds and walnuts in place of egg yolk. In addition to the retail market, Amazing Delights also cooperates with catering chains in Hong Kong in developing new recipes using black mission figs in different dishes. Since the palate and cooking methods of Asians are different from those of the Americans, Amazing Delights has to modify the sweetness and richness of their fig products so as to suit the preference of Asian consumers. Amazing Delights' factory in Hong Kong also conducts R&D and, leveraging Chinese festive seasons, the company plans to launch Lunar New Year collection soon. The fact that Hong Kong offers a sound legal system to protect intellectual property rights has increased the company's confidence in investing resources in Hong Kong. Amazing Delights food products have the antioxidants, vitamins, minerals, amino acids etc that provide energy, detoxify the body and strengthen the immune system, thus helping prevent a series of chronic illnesses.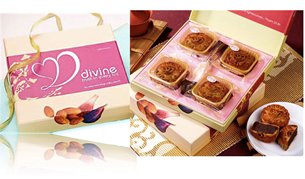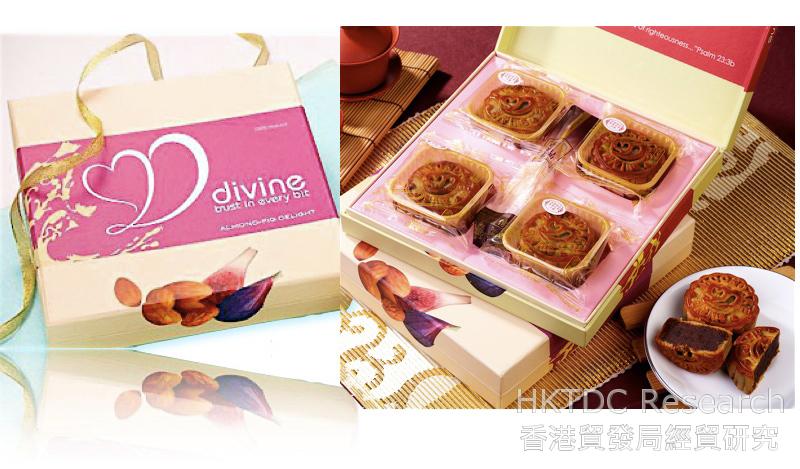 Amazing Delights' moon cake pack

5. Opportunities for Hong Kong companies
As the majority of food and beverage available in Hong Kong is imported from abroad, Hong Kong companies are experienced in cooperating with foreign food suppliers. In this respect, there is room for collaboration between Hong Kong food dealers and mainland importers/distributors. For instance, with the help of these Hong Kong companies, mainland importers/distributors can source niche imported food and beverage, especially imported food targeting medium to high-end consumers and consumers with special needs (e.g. children and seniors). According to some Hong Kong companies, nowadays mainland importers/distributors would visit food fairs and food expos all over the world directly to meet new food suppliers. Since mainland food distributors often require the service of an interpreter to communicate with foreign agents, Hong Kong companies can cooperate with these mainland distributors and act as their agent responsible for communicating with foreign suppliers and other business partners.
Lying adjacent to the mainland market, Hong Kong has a good understanding of the food culture, consumption habits and culinary preference of mainland consumers and can thus help foreign food suppliers devise the right marketing strategy. According to Dr Michael Ngan of Organic Experience Management Group, some small and medium-sized European food suppliers prefer to cooperate with Hong Kong companies of the same size because their business mode and management concept are similar which makes communication and cooperation easier. Actually, to some European and American food suppliers targeting the niche market including hotels, restaurants and exclusive clubs, Hong Kong agents can pick the right markets in the Chinese mainland for them.
Hong Kong's open market can serve as a platform for launching new products. In view of the fact that mainland consumers have a positive impression of Hong Kong products, have confidence in them and find them good in quality, many foreign products use Hong Kong as their window for tapping the mainland market. On the other hand, as foreign suppliers find Hong Kong's sound legal system can protect their interests, they use Hong Kong as a control and management base for their products where the risk of infringement and counterfeit can be mitigated.
---
1 Census and Statistics Department, Hong Kong
2 HKTDC data
Mainland China
Mainland China