https://hkmb.hktdc.com/en/1X09V8SK
Hong Kong: Asia's aspirational lifestyle capital
Hong Kong: an aspirational lifestyle trendsetter
Hong Kong is rightly considered Asia's leading business hub, a place where many international companies have chosen to site their local and regional business operations. According to an HKSAR government survey, released in late October this year, there was a 2.7% increase in the number of business operations established in the city by companies headquartered outside Hong Kong. This took the total number of such businesses in the city to 7,449, with some 51% of them designated as regional headquarters or offices. The survey also showed that companies headquartered elsewhere in Asia were more likely to open a Hong Kong office than those based elsewhere. This was reflected in the fact the number of such operations reached 3,461 in 2013, a growth rate of 7.8%.
Trendsetting survey in Southeast Asia
Hong Kong is not just the setting for Asian companies to exploit regional opportunities, however. It is also a cosmopolitan city, rightly renowned for its fusion of Eastern and Western culture, as well as its cutting edge range of lifestyle products and services. In order to better understand Hong Kong's role as an aspirational lifestyle trendsetter in the eyes of Southeast Asia's middle- class, HKTDC conducted in-depth research into the subject during the third quarter of 2013. As part of the survey, 100 middle-income individuals were interviewed in each of the five Southeast Asian capitals – Bangkok, Ho Chi Minh City, Jakarta, Kuala Lumpur and Manila.
Only respondents with a monthly household pre tax income of US$1,000 or more were chosen for the face-to-face interviews. As an additional requirement, all interviewees had to have either visited Hong Kong within the past three years or had close friends or family living in the city.
Ultimately, the 500 people surveyed actually had anan average household pre-tax income in excess of US$2,000. To put this into a little perspective, a monthly household income of US$2,000 would equate to an annual income of around US$24,000. This would be, by and large, considerably larger than the average per capita income in each of the target countries – Malaysia (double), Thailand (quadruple), Indonesia (six-and-a-half times), the Philippines (10 times) and Vietnam (15 times).
Higher income levels ensure a lower ratio of household expenditure to household income, allowing for increased spending on lifestyle products and services. According to the survey findings, respondents with a monthly household income in excess of US$5,000 spend about half of their income each month, while those earning between US$1,000 and US$2,000 spend more than 80% of their monthly income.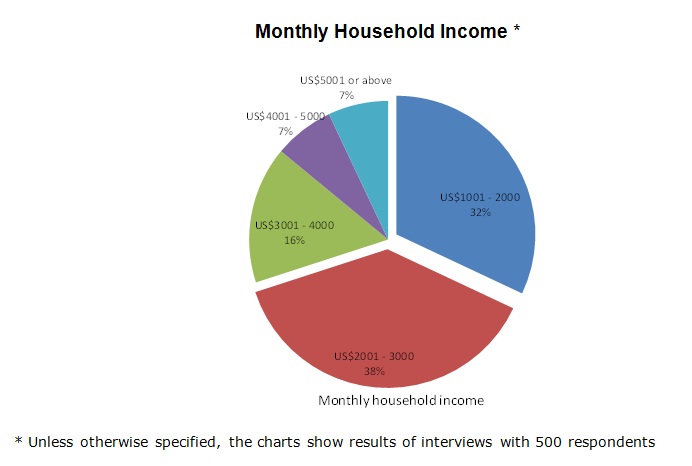 The monthly pre-tax household income of middle-class respondents in Southeast Asia
Source: HKTDC Research
Among the respondents, one-fifth were frequent travellers to Hong Kong, having visited the city more than 10 times over recent years. Only 14% of them had never visited Hong Kong, but had got to know Hong Kong through other means, for example having friends, relatives or colleagues in the city.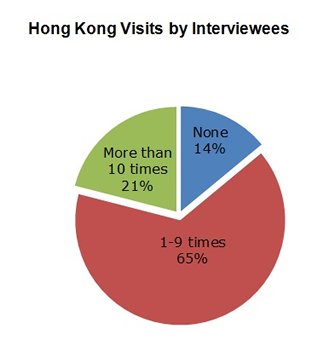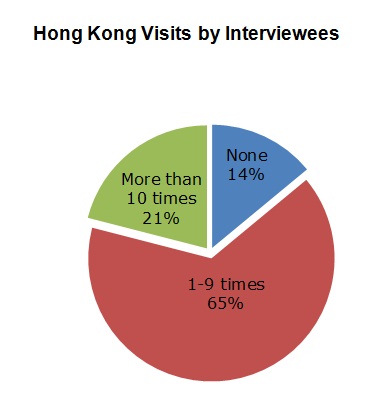 Hong Kong visits by interviewees over the past three years
Source: HKTDC Research
Hong Kong's competitive edge as a lifestyle trendsetter
When respondents were asked about the key factors which create the perception of Hong Kong as a lifestyle trendsetter, the most important factor cited was the city's business-friendly environment (54%), closely followed by its free trade policies and its free flow of information (50%). Most responses were related to the inherent strengths of Hong Kong as a business hub, with this seen as a key element in its trendsetting stature.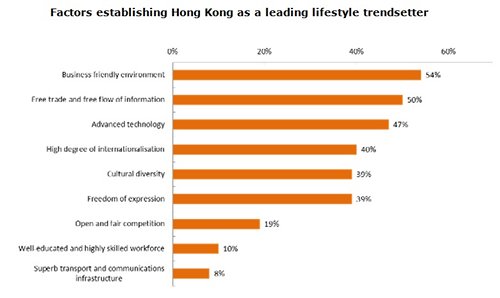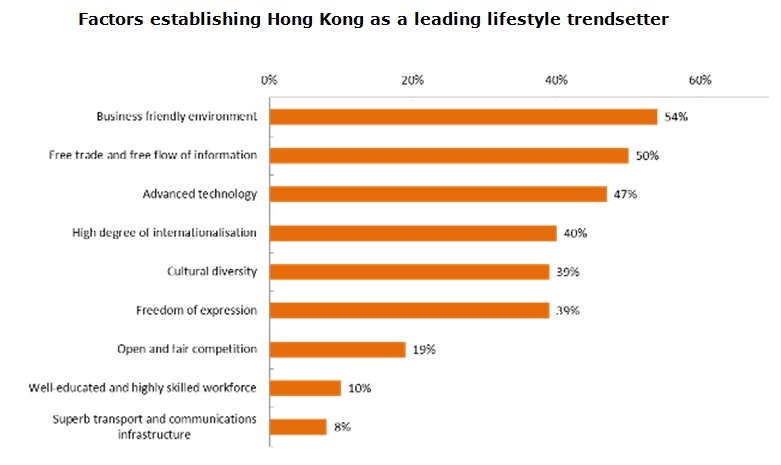 Perceived factors establishing Hong Kong as a leading lifestyle trendsetter
Source: HKTDC Research
Quality, style and creativity as top trendsetting characteristics
The top three attributes that established Hong Kong products and services as trendsetters were guaranteed quality (51%), trendy and fashionable (49%) and creativity (41%). This pattern was consistent across respondents from the five surveyed cities. While many accolades were accorded to Hong Kong as a stylish and convenient shopping paradise, respondents were much more appreciative of the value rather than price of Hong Kong products and services.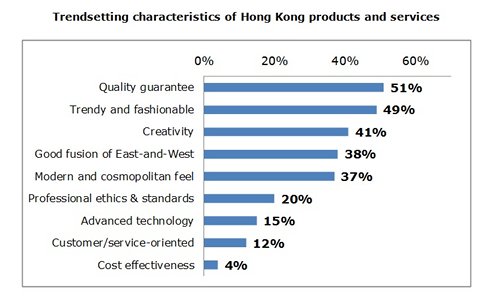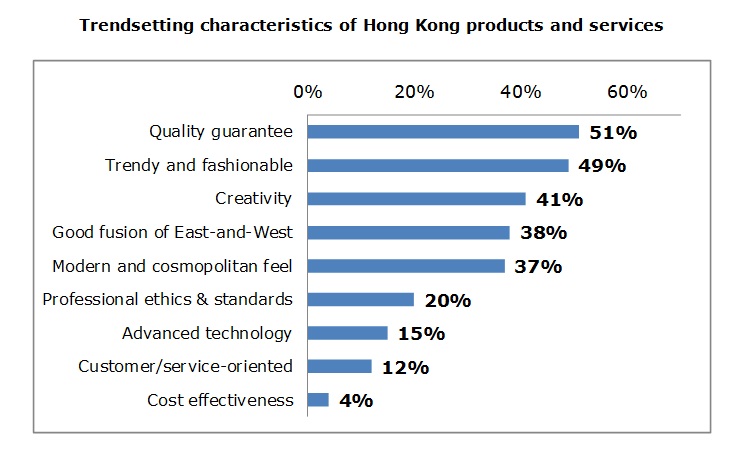 Trendsetting characteristics of Hong Kong products and services
Source: HKTDC Research
Trendsetting leaders - fashions, consumer electronics, financial services
Of the array of Hong Kong products and services deemed to be trendsetting, respondents gave the greatest approbation to fashions (67%), followed by consumer electronics (58%) and financial services (54%).
Despite the city's shrinking manufacturing base, Hong Kong companies have established a number of proprietary brands, particularly in the fashion sector. Apart from its home grown fashion brands, Hong Kong's reputation as a premium shopping destination has attracted a number of international fashion brands. According to many of the respondents, casual wear and accessories, typically jewellery, watches and shoes, would be their most favoured items to purchase in Hong Kong. Not surprisingly, smartphones and digital cameras were the electronic items that many respondents considered most trendsetting in Hong Kong.
As an international financial centre, Hong Kong's financial industry has long been seen as innovative when it comes to creating new products and services tailored to middle-class consumers and investors. This perception has been reinforced by the city's strengths in private banking and asset management. This pre-eminence has ensured that respondents across Southeast Asia see Hong Kong's financial services as another trendsetting aspect. Apart from an awareness that Hong Kong has some 50 Michelin-starred restaurants, respondents even indicated they also saw the city's fast food chains, cafés and coffee shops as trendsetting.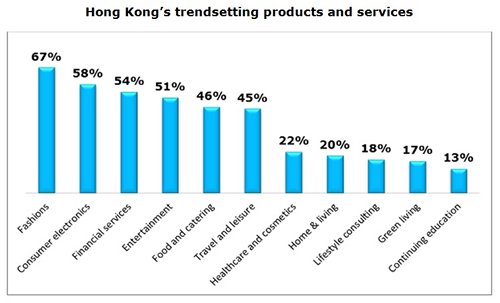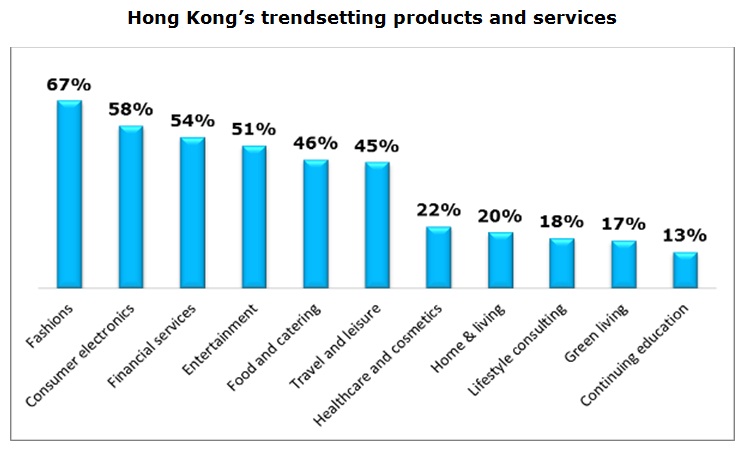 Products and services considered trendsetting in Hong Kong
Source: HKTDC Research
The Internet: the effective channel for establishing Hong Kong's reputation
Overall, 46% of respondents learned about Hong Kong as a lifestyle trendsetter via the Internet while browsing for coverage of the city, 39% also actively made the effort to access Hong Kong-based websites. Despite the ascendance of digital access, traditional channels – movies, television dramas and factual programmes – were still popular means of learning more about Hong Kong's lifestyle products and services. Significantly, almost 20% of respondents regarded trade fairs as a key means of learning more about Hong Kong's lifestyle products and services, while putting a particular premium on attending such events in the city.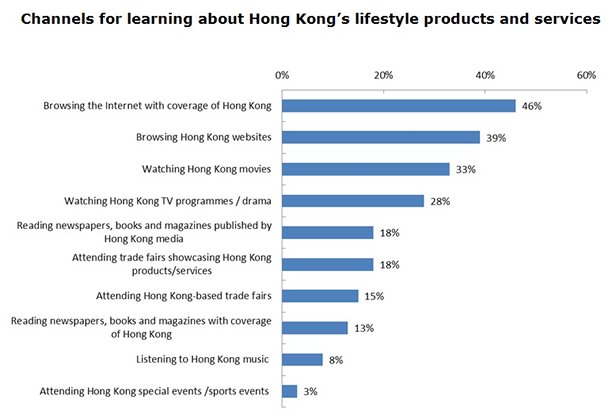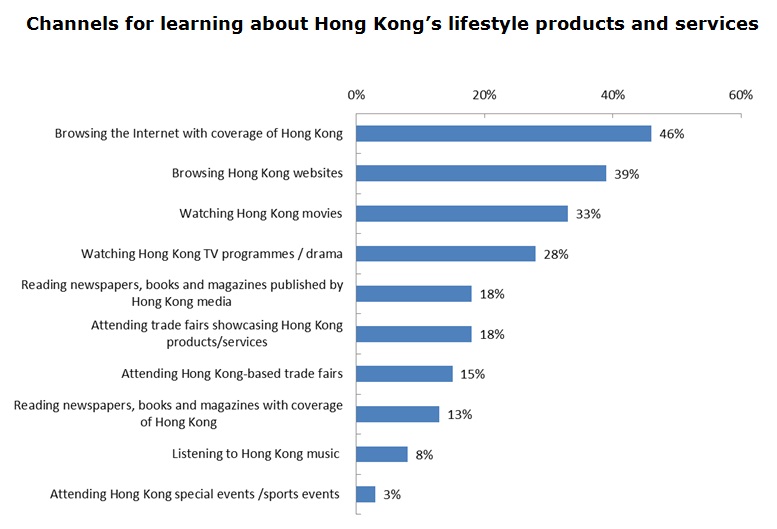 Channels through which respondents get to know about Hong Kong's lifestyle products and services
Source: HKTDC Research


Hong Kong's middle class and professionals: the most popular lifestyle icons
The majority of respondents regarded three particular groups of Hong Kong citizens as iconic and saw them as playing a key role in building their respect for the city's trendsetting status. In descending order, these three groups were the middle class (54%), professionals (43%) and celebrities (including movie stars and singers) (30%). These findings are broadly consistent among respondents across the five surveyed cities.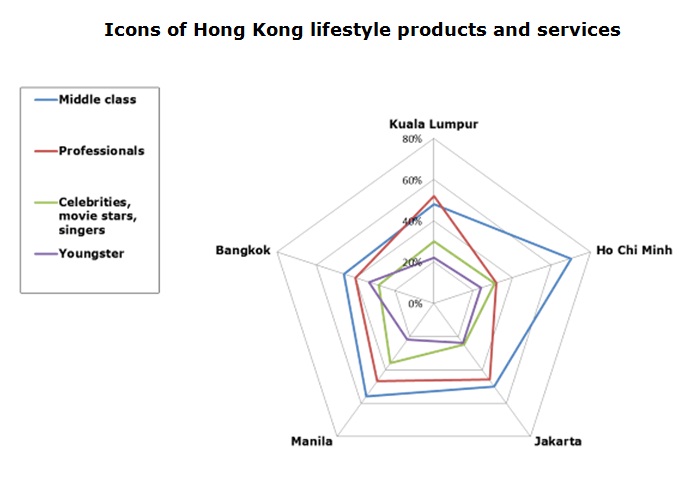 Icons most identified as embodying Hong Kong's lifestyle products and services
Source: HKTDC Research
Perceptions of Hong Kong's trendsetting items vary across surveyed cities
It is worth noting that each of the five surveyed cities had different preferences in terms of the trendsetting products or services it admired in Hong Kong. Respondents from Kuala Lumpur (73%) and Bangkok (75%) regarded Hong Kong fashion as its most admirable asset. In Ho Chi Minh City, the number one choice of Hong Kong lifestyle products/services was entertainment (67%), with fashion coming in second (65%). In Manila, the lead slot went to consumer electronics (63%), while Jakarta (65%) deemed financial services most important. Perhaps significantly, respondents in Jakarta ranked travel and leisure higher than respondents from other cities, making it the last of their top-four trendsetting items.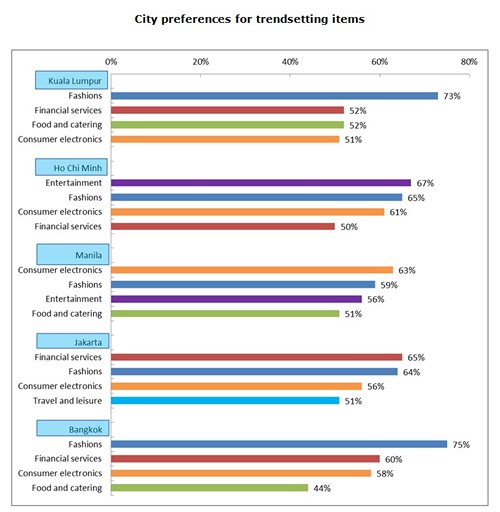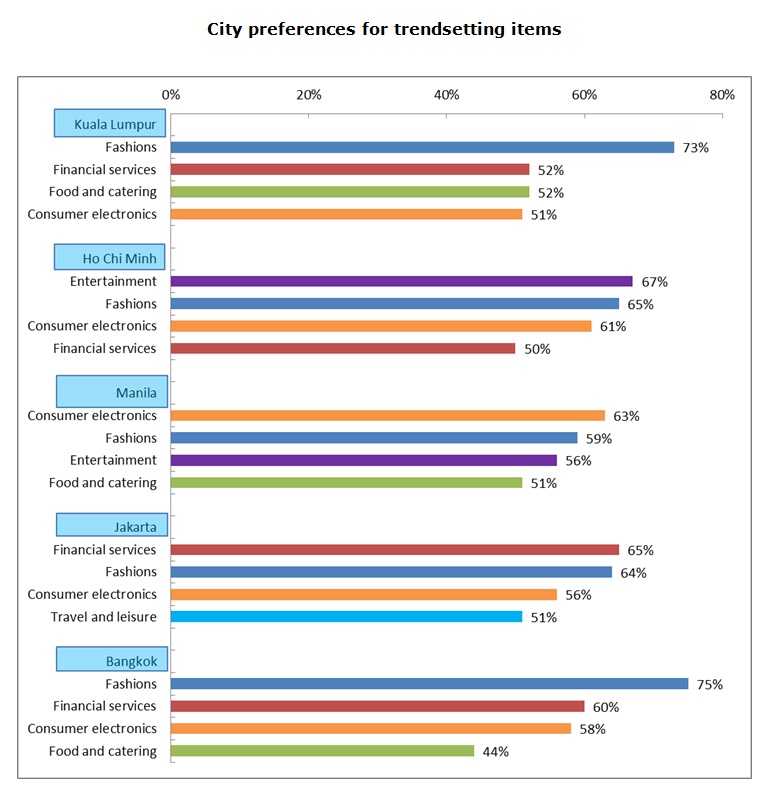 Top categories of lifestyle products and services across different cities
Source: HKTDC Research
Hong Kong leads other cities in financial services, food and catering, and fashion
In a number of product and service categories, respondents were asked which cities in Asia they considered to be the trendsetting leader.i Hong Kong emerged as the strongest contender in financial services, food and catering, and fashions, as well as in entertainment. Tokyo, a widely recognised consumer electronics capital, was chosen as the trendsetting leader for this category, although Hong Kong also performed impressively. In terms of healthcare and cosmetic treatments, Tokyo and Seoul were both highly rated.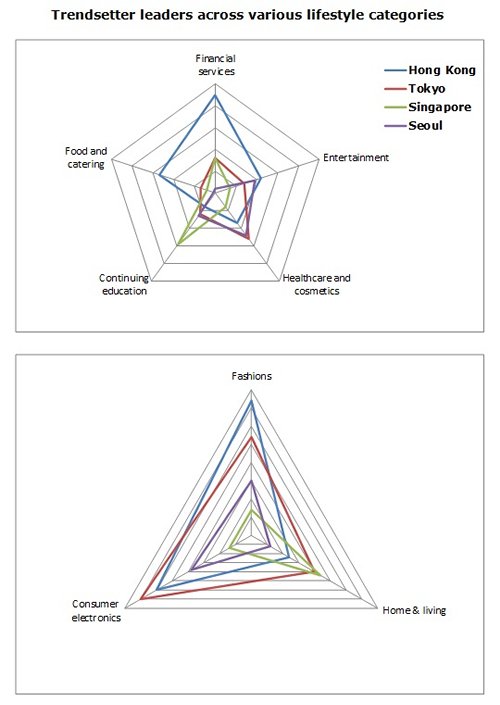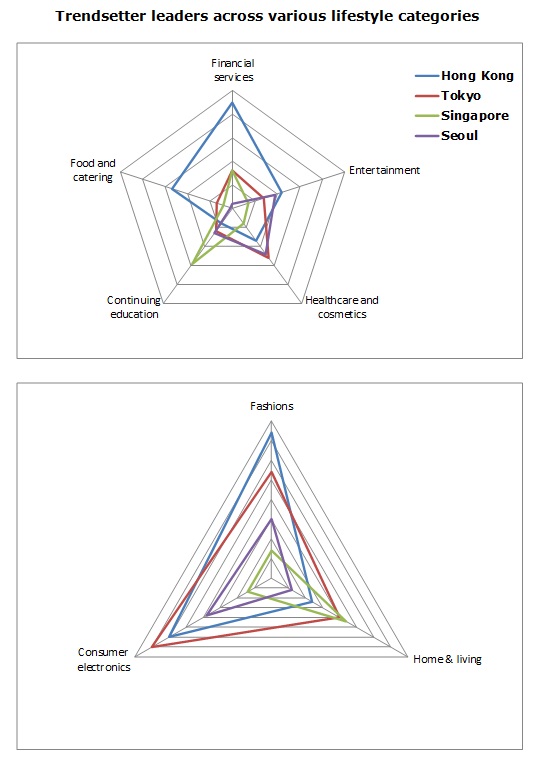 Leaders in different categories of lifestyle products and services
Source: HKTDC Research
Hong Kong brands: well known among Southeast Asian respondents
Watsons, Pacific Coffee and Mannings turned out to be the best known Hong Kong brands among respondents in Southeast Asia, enjoying respective recall of 65%, 41% and 40%. Taking Watsons as an example, it has enormous retail market coverage and footfall, with around 300 stores in either Malaysia or the Philippines. With only a few exceptions, the gaps between knowing a retail brands and having actually patronised it are not particularly wide.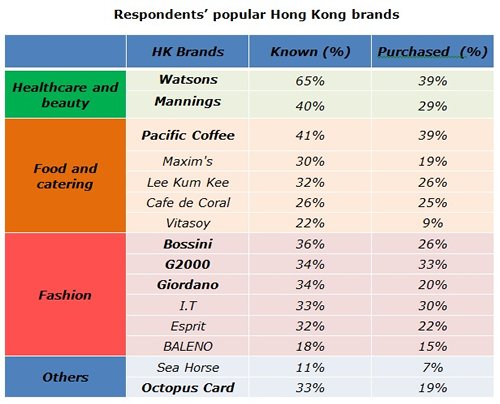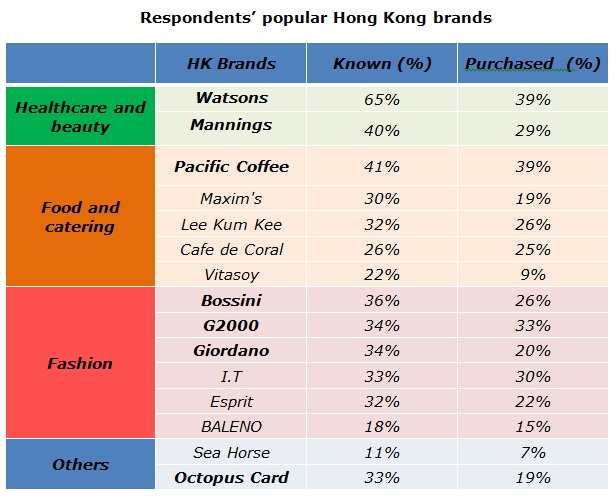 Respondents' known and purchased branded products
Source: HKTDC Research
Hong Kong: more than a showcase of international brands
Hong Kong's unique "East meets West" environment is hugely important when it comes to reinforcing the city's leading position as an aspirational lifestyle trendsetter. Respondents were asked the extent to which they would agree with a number of statements in relation to various trendsetting aspects of Hong Kong.
Some 60% of respondents agreed that Hong Kong is the ideal place to experience different cultures. This gives credence to the notion that Hong Kong is not just a showcase for middle-class consumers in Southeast Asia looking to enjoy trendy local and international brands, but also a place to experience festivals and events. The face-to-face interviews showed that many respondents from across Southeast Asia had been attracted to Hong Kong for the city's colourful festivals and multicultural events, including Chinese New Year, the Dragon Boat Festival, Halloween, the Rugby Sevens and the Hong Kong Marathon.
While it is notable that close to half of the respondents considered their lifestyle to have been influenced by Hong Kong, it is impressive to find that more than one-tenth of the respondents "absolutely" agreed with this proposition. Furthermore, about one in seven of the respondents considered it worthwhile to travel to Hong Kong to secure choice lifestyle products and services. This is consistent with the earlier finding that about one-fifth of the respondents had travelled to the city more than 10 times in the three years prior to the survey.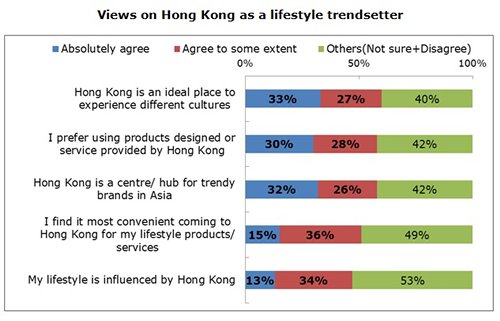 Perceptions towards Hong Kong as a leading lifestyle trendsetter
Source: HKTDC Research
---
i In assessing the respondents' preference for the respective lifestyle product or service category, a total of 13 cities were included, namely, (i) Bangkok, (ii) Beijing, (iii) Guangzhou, (iv) Ho Chi Minh City, (v) Hong Kong, (vi) Jakarta, (vii) Kuala Lumpur, (viii) Manila, (ix) Seoul, (x) Shanghai, (xi) Singapore, (xii) Taipei and (xiii) Tokyo. The first and second mentioned cities of the respondents were assigned three and two marks respectively, then the mean scores were calculated for the top four cities in respective categories.
Electronics & Electrical Appliances
Food & Beverages
Banking Services
Finance & Investment