https://hkmb.hktdc.com/en/1X09V7A5
China's packaged food market: capitalising on the rising demand for premium imported items
The many incidents involving food safety and quality on the Chinese mainland over recent years have undermined consumers' confidence in local food, driving some of them to turn to imported and international branded packaged food and beverages.1 Meanwhile, urban residents, enjoying higher income levels and greater spending power, are also posing a stronger demand for imported packaged food and beverages. From 2008 to 2012, China's packaged food and beverage market grew by an average 15.2% annually, way above the world's average at 4.1%, underscoring mainland consumers' growing appetite for these products.
1. Rising demand for imports
In focus group discussions commissioned by the Hong Kong Trade Development Council (HKTDC)2, participants say they would like to sample a wider variety of food given their rising income and aspiration for quality living. Statistics show that the size of China's packaged food and beverage market soared from US$144.2 billion in 2008 to US$254.4 billion in 2012.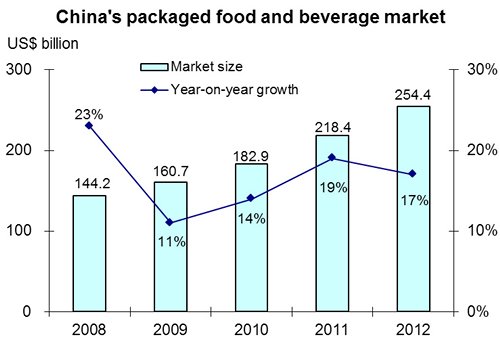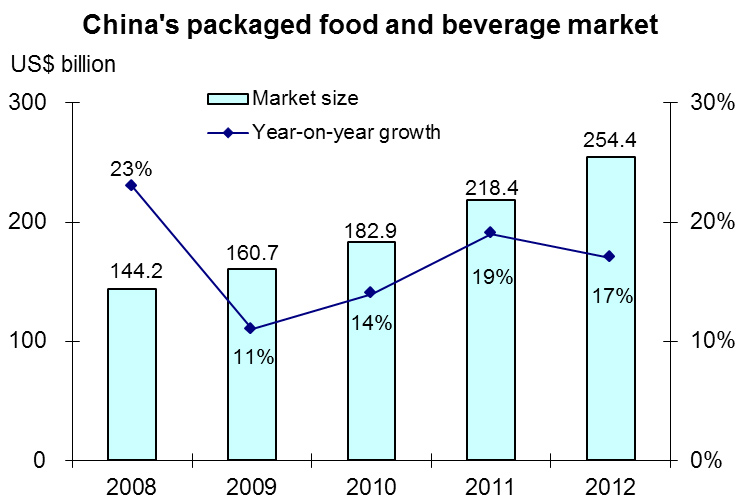 Year-on-year growth of China's packaged food and beverage market, 2008-2012
Source: Euromonitor International
Many mainland consumers would agree to the saying that "the Chinese are a gourmet-loving nation, and food safety is always their uppermost concern". Safe, pollution-free and quality food items are much sought after. Moreover, with increasing spending power, consumers have shown markedly higher interest and demand for packaged food and beverages imported from overseas. According to Chinese customs statistics, the value of imported processed food and beverages climbed from US$13.4 billion in 2008 to US$35.1 billion in 2012, up 27.3% on average each year.
As learned from the focus group discussions, mainland consumers tend to be skeptical of the safety of local food and prefer to buy food and beverages imported from overseas. Where possible, their first choice is imported products in original packing, followed by foreign brands produced on the mainland. Domestic brands are their last choice. In their decisions to buy imported food and beverages, the two main considerations are: first, whether there have been safety problems with similar products made locally, and second, who the consumers are. For instance, deterred by the tainted milk powder incidents on the mainland, focus group participants prefer to buy imported milk products in original packing for their children. As children's health is deemed more important than price, imported milk products in original packing, albeit more expensive, are still preferred by parents.
2. Appetite for greater varieties
Marked growth in demand for leisure food
Thanks to the greater number and wider coverage of buying channels, increase in food varieties, enhanced convenience in shopping and availability of a richer array of products, consumers' appetite has been whetted. Consumers now have more food choices, and enjoy sampling novel food, particularly leisure food items. Imported packaged leisure food articles, for their unique style and taste as well as affordable unit price, have successfully attracted a large clientele of different ages. In particular, some products like chocolate from France and Italy are favoured by consumers. While consumers nowadays are getting more health-conscious with healthy food and beverages (like low-sugar, low-sodium and low-cholesterol items) flooding the market, leisure food items still have a following as consumers take them for their appealing taste and not as staple food, and "health" is not a major consideration.
Penchant for unique tastes
As living standards rise, consumers enjoy trying out foreign food and beverages with unique tastes to please oneself, one's friends and relatives as well as to show off at social occasions. For example, mainland consumers may buy a big can of imported German beer in original packing for sampling at friends' gatherings. In addition, the demand from mainland companies, hotels and private clubs for imported food has also escalated. In some enterprises' business functions, imported food with special characteristics may be offered to guests in a bid to enhance corporate image and maximise publicity impact.
Imported food at the high-end
Presently, as imported food is more costly than domestic food, some imported food dealers opt to focus only on high-end items with special characteristics, targeting mainly upclass supermarkets, hotels and private clubs. For one, Guangzhou Baozhilin Foods Ltd deals in high-end imported food like jamón ibérico (a kind of ham) from Spain, sea cucumber from Hokkaido and beef from Australia. It is also the sole agent of "Kopi Luwak", the Indonesian wild civet coffee brand, in China.
According to Wesley Cheng, business development manager, some enterprises will make use of the precious wild civet coffee brand in their promotion events to foster an upmarket company image. Among the company's partners are the Bank of China, China Merchants Bank, the private banking arm of Industrial and Commercial Bank of China and Guangzhou Luhu Golf and Country Club.
Cheng added that as the coffee culture is just taking shape in China, his company has to promote coffee products to mainland consumers through publicity events. For instance, a coffee and chocolate sampling event has been jointly organised with Guangzhou's Canton Club, promoting the wild civet coffee brand and Goossens, the Belgium man-made chocolate brand for the royals, to the latter's members.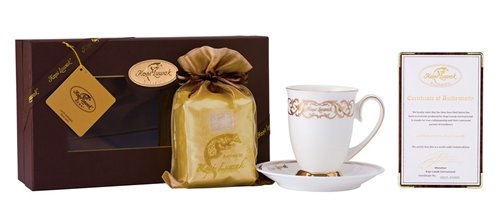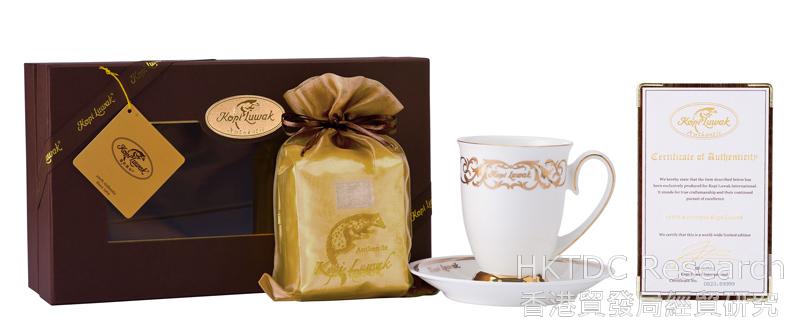 "Kopi Luwak", the Indonesian wild civet coffee brand.
3. Optimisation of modern sales channels
Growth of supermarkets and online shops
Urbanisation has changed mainland consumers' lifestyles and shopping habits. The outlets of supermarket and hypermarket chains have penetrated many new shopping malls and department stores, providing consumers with the convenience of one-stop shopping. In fact, supermarkets and hypermarkets are the prime sales channels for packaged food and beverages. Meanwhile, as more online shops emerge, consumers are also increasingly opting for this avenue to buy packaged food and beverages.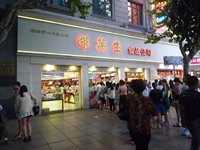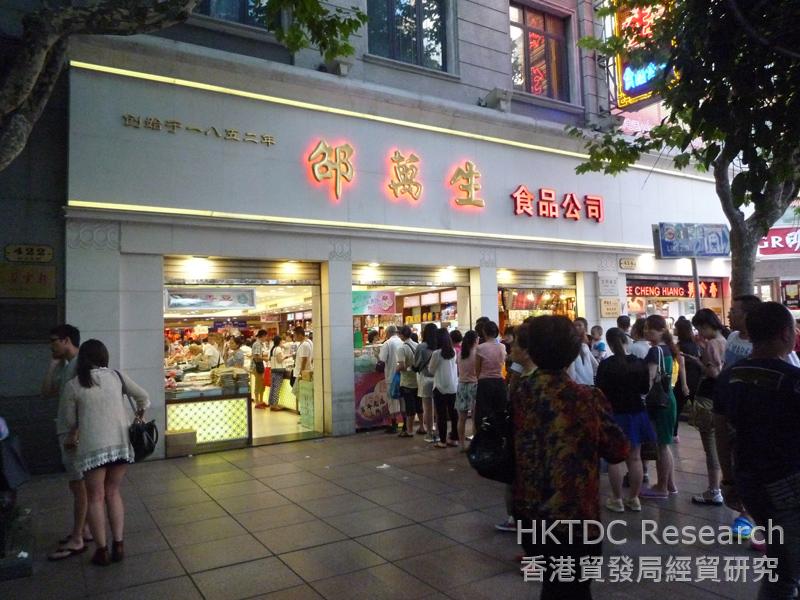 Leisure food chain store in Shanghai.
Statistics show that the number of modern supermarkets on the mainland increased at an average 11.9% each year from 119,000 in 2008 to 187,000 in 2012.3 Among them were supermarket and hypermarket chain stores/convenience stores, independent/smaller stores, shops at petrol stations and discount stores. It is projected that the number of modern retail supermarkets will continue to grow at an average 8% annually to reach 275,000 in 2017.
In addition to physical stores, online shops are another primary channel for the purchase of packaged food and beverages, since they offer lower prices and enable consumers to buy from home any time from a selection of international food and beverages. Their home delivery service also provides much convenience to the busy urban dwellers. While some supermarkets operate both physical stores and online shops, there are also supermarket websites like yhd.com and ejr.cc which only have an online presence.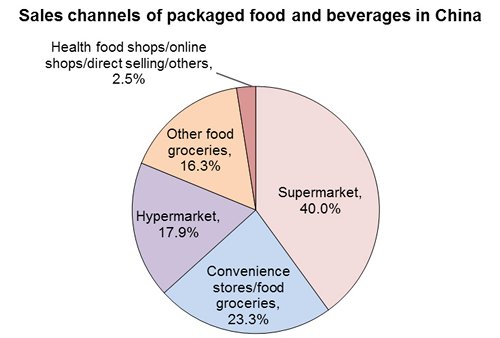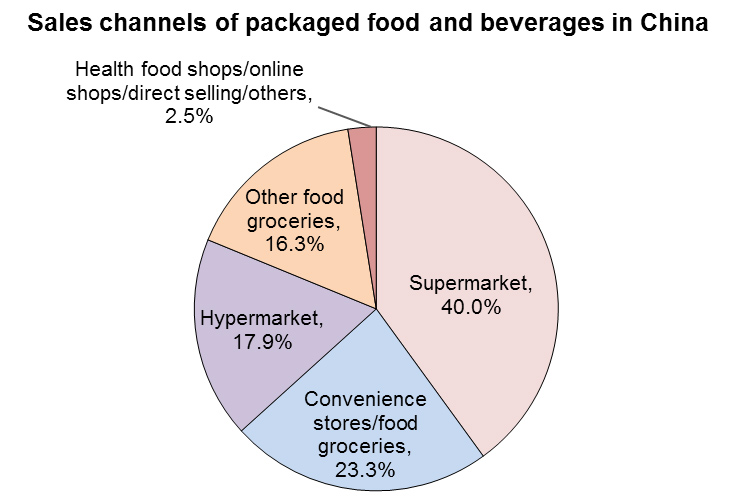 Major sales channels of packaged food and beverages in China, 2012
Source: Euromonitor International
House brands of foreign supermarkets
A number of renowned foreign-invested supermarket chains have ventured into China's supermarket retail sector, including Walmart of the US, Carrefour of France and SPAR of the Netherlands. Capitalising on their international sourcing strength, these foreign chains have imported many food items from overseas into the mainland market, enriching the range of imported packaged food and beverages available there. For example, at the Shanghai outlet of Hong Kong-based City'super, 30% of the products are imported. It is also the sole agent for the Royce brand of chocolate from Japan.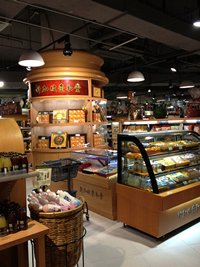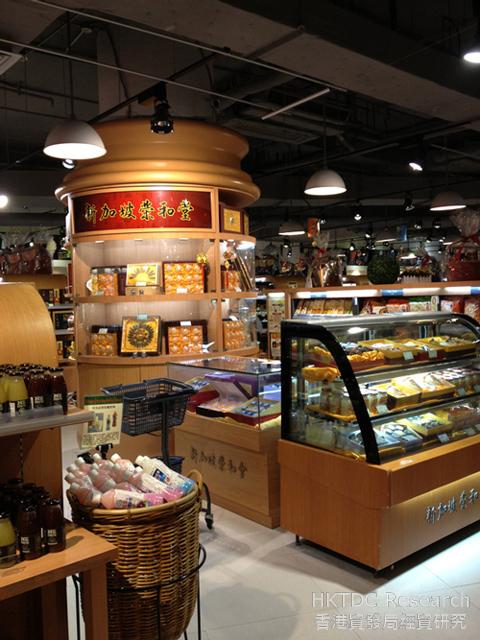 City'super in Shanghai IFC.
Some foreign-invested supermarkets also offer house brands of packaged food. According to a Japanese supermarket, the food and beverages under its house brand are in two categories: products in original packing imported from Japan, and products made by mainland food factories commissioned by the company. In recent years, the trend is towards commissioning mainland factories to do production as this can do away with the need for customs clearance and payment of import duties, allowing for quicker turnaround, higher margins and greater flexibility in replenishing supplies. Indeed, house brand products made in this way have gained popularity among mainland consumers, since consumers generally have confidence in foreign-invested companies' food safety standards and inspections and that these products are also competitively priced.
4. Conclusion
Thanks to mainland consumers' insatiable appetite for imported food and eagerness to sample food of different origins and tastes, ample opportunities are in store for Hong Kong companies wanting to expand into the mainland packaged food market. With their rich experience in sourcing overseas food products, Hong Kong companies are expected to introduce more imported food with novel characteristics into the mainland market.
---

1
Packaged food refers to food pre-made or pre-loaded in definite quantities in containers and is directly sold to consumers.
2
A total of six focus group discussions were held in August 2013, two each in Guangzhou, Shanghai and Changsha.
3
Euromonitor International data
Mainland China
Mainland China