https://hkmb.hktdc.com/en/1X09V1X0
RDC Hong Kong – perceptions and facts
Economic contributions of Hong Kong's logistics and RDC sectors
The logistics and transportation sector is one of Hong Kong's four key industries. According to the latest official figures,[i] the sector contributes about 4% of the city's GDP, whilst accounting for about 5% of local employment. While many logistics players consider themselves to be engaged in RDC activities, their view as to how an RDC actually performs may relate more to their impressions than to any genuine facts. To counter this, an attempt was made as part of this study to estimate the GDP and employment contributions of RDCs as a subsector within the broad transportation and logistics sector to the local economy. The in-depth questionnaire survey utilised sheds light on the types of RDC cargo, the various RDC locations within the Asia-Pacific region, the location decision-making process, the prospects of RDC relocation, and the strengths and weaknesses of Hong Kong as an RDC.
With regard to GDP and employment assessment, both core and non-core RDC activities were identified and estimated accordingly. Core RDC activities include RDC service providers, such as freight forwarders and warehousing service providers, whereas non-core RDC activities comprise other logistics activities by transportation service providers, notably water transport, road transport, air transport, and service activities incidental to transportation.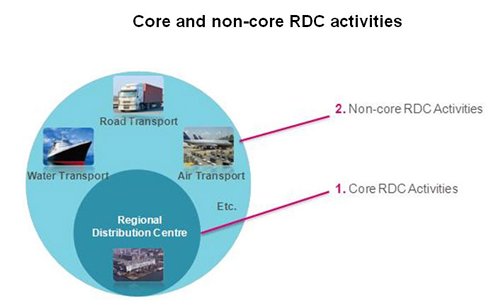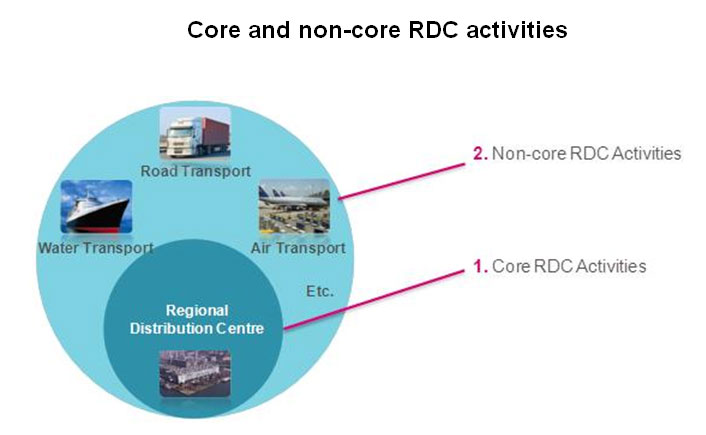 Core and non-core RDC activities
Source: HKTDC Research
As outlined in the table below, the RDC sector is estimated to account for, respectively, 1.3% and 1.1% of local GDP with the non-core contribution to employment higher than that of the core contribution (see the tables in the endnote).[ii]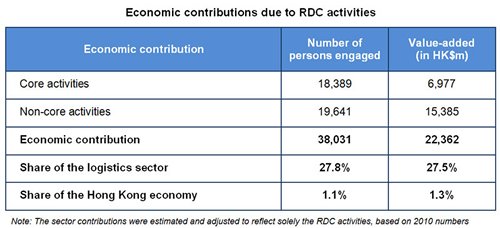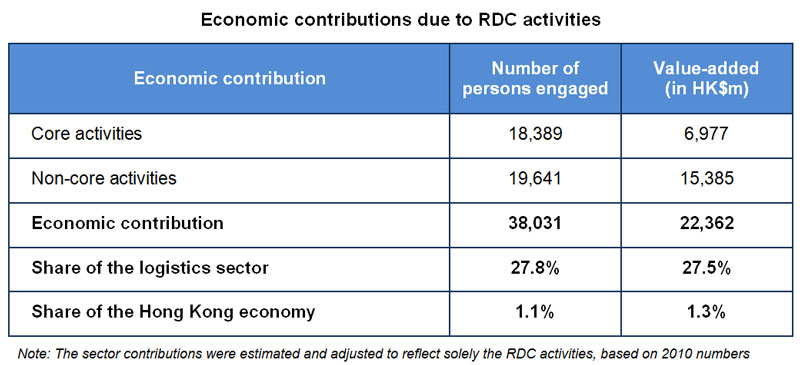 Economic contributions due to RDC activities
Source: HKTDC Research
It should be noted that RDC activities create a further contribution to the local economy through indirect and induced contribution (not covered in this article). Indirect contribution covers demands for downstream supply chain services by core and non-core RDC activities, such as oil and gas, electronics, machinery, food and beverage, automotive parts, pharmaceuticals, chemicals, construction and financing.
Further economic contribution is induced by household spending from the income of employees in RDC-related sectors (including direct and indirect activities). Depending on the specific purchased goods and services, the induced economic contributions span many industries. No attempt, however, was made to estimate the induced spending due to the RDC sector.
In-depth RDC questionnaire survey
Survey approach, methodology and sample
This in-depth RDC survey was completed in the first half of 2013. Prior to conducting the survey, a tight definition of just what constitutes an RDC was adopted. This specified that to be recognised as an RDC any given site must distribute cargo to more than one country or economy in Asia. In addition, value-added services need to be routinely provided at the RDC to prepare the goods for distribution to market. In other words, a distribution centre serving only one market, irrespective of its business significance for a logistics operator or user, would fall outside the scope of this particular RDC study.
While canvassing views of RDC operators and users (the latter comprising manufacturers, trading firms, wholesalers and retailers), this study sought views of respondents from within and outside Hong Kong. A clear distinction was made as to which respondents would qualify as a "Hong Kong" and thereby "local" respondents. For the purpose of the survey, Hong Kong respondents were defined as those who operate or use at least one RDC in Hong Kong at the time of the survey, or have first-hand experience in operating or using an RDC in Hong Kong, even if their main contacts are outside of Hong Kong or have other non-Hong Kong RDCs. Conversely, non-Hong Kong respondents were those who operate or use at least one RDC in Asia, but outside of Hong Kong.
Response distributions by locality, function and cargo handled
At the end of this survey, 425 valid responses were successfully obtained, out of a contact database of about 5,500, from which contacts were selected randomly. It transpired that responses were split evenly between logistics service providers and cargo owners. The split between Hong Kong and non-Hong Kong respondents, however, was roughly 80:20. The high ratio of Hong Kong respondents relative to their non-Hong Kong counterparts is due to the fact that many large international logistics service suppliers or cargo owners operate or use a Hong Kong-based RDC, and are thus classified as local respondents.
Of the 425 respondents, 53% were logistics service providers (LSPs), while the remainder were cargo owners (COs). Most of them were Hong Kong LSPs (45%) or Hong Kong COs (34%).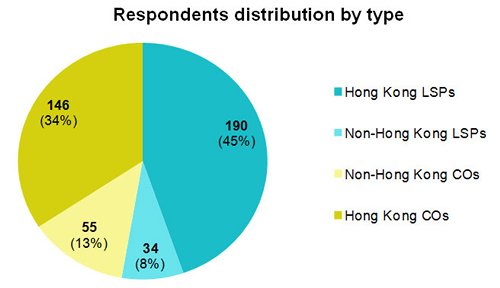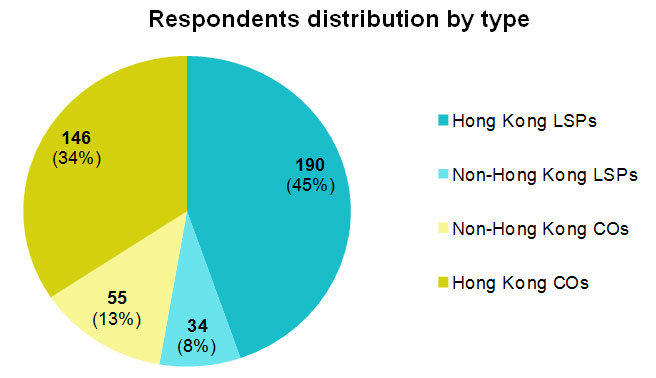 Distribution of survey respondents by type
Source: HKTDC Research (n = 425)
Among cargo owners, the largest groups are engaged in manufacturing (72%), followed by trading (17%), wholesale (5%) and retail (4%). A similar composition of business type was found among respondents with a Hong Kong regional distribution centre (HKRDC) and those with a non-Hong Kong regional distribution centre (NHKRDC).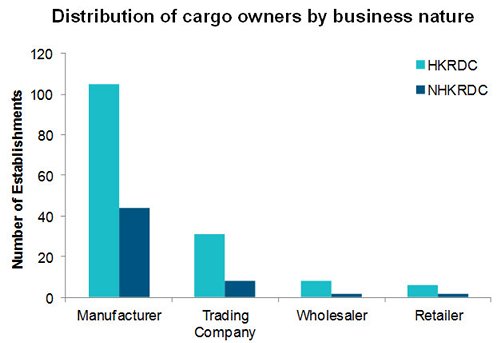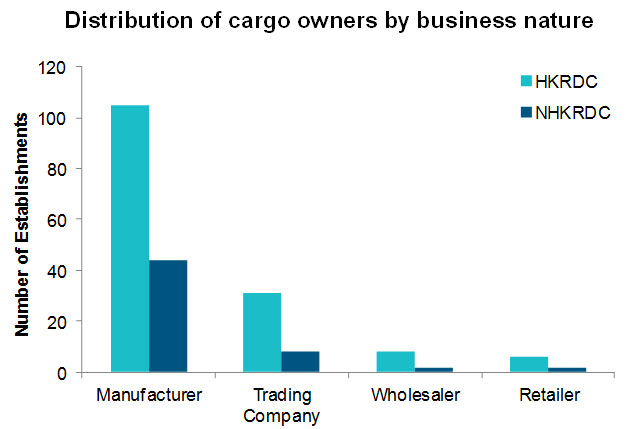 Cargo owners by business nature
Source: HKTDC Research (n = 201*)
* A few cargo owners with dual business
While LSPs tend to handle different types of cargo, COs tend to handle a single product type. Many of the COs interviewed handle or produce textiles and clothing products (20%) or electronics products (12%). Other COs are engaged in handling toys, electrical appliances, spare parts and pharmaceutical and healthcare products. Examples of products in the "others" group include cosmetics, furniture and kitchenware. Some COs distribute their primary products together with accessories that fall into the "others" group. For example, some apparel companies also distribute metallic accessories (i.e. "others") via their RDCs.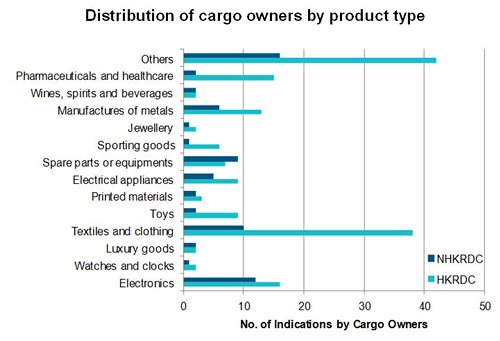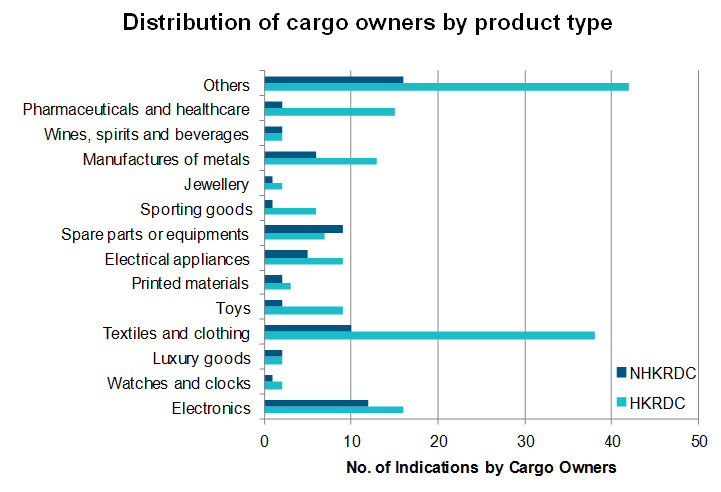 Cargo owners by product type
Source: HKTDC Research (n = 144)
While 36% of the respondents use only one RDC in Asia, the rest (64%) use multiple RDCs in Asia, of which most are using two RDCs in the region. LSPs tend to have more RDC locations than COs.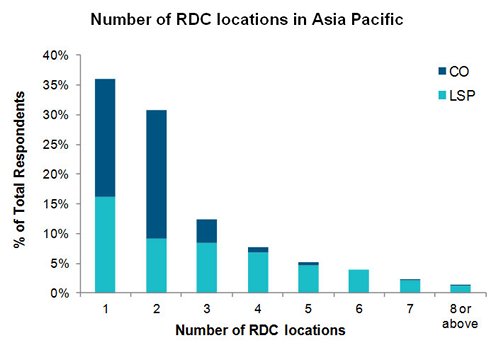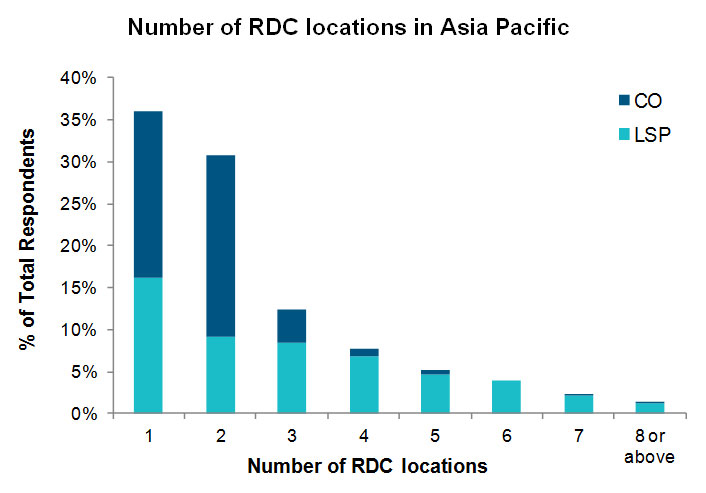 Number of RDC locations in Asia Pacific
Source: HKTDC Research (n = 425)
Not surprisingly, more than half of the respondents operate or use RDCs in Hong Kong, followed by Shenzhen (42%) and Shanghai (35%).


Geographic locations of RDC in Asia Pacific
Source: HKTDC Research (n = 425)
Outsourcing RDC operations
Among the interviewed LSPs, 73% operate and control their own RDCs, with 27% further subcontracting, in full or in part, their RDC operations. For COs, about half of them outsource RDC operations to a logistics company.


Outsourced RDC operations of survey respondents
Source: HKTDC Research
Decisions on RDC locations
With regard to RDC location selection decisions, most responding LSPs and COs indicated that decisions are made at their headquarters (65%), and a smaller number of them have decisions made at regional offices (12%). In some cases, the decisions are made jointly between the LSP and the CO (8%).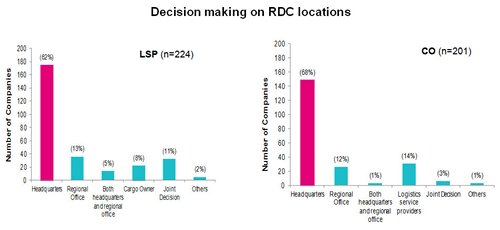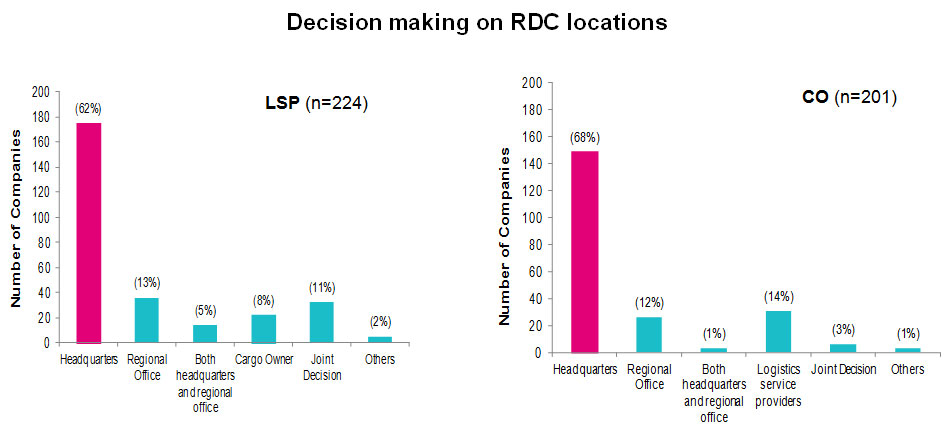 Parties involved in making decision on RDC locations
Source: HKTDC Research
While the headquarters of the majority of COs make the decision on where to establish RDCs, the survey results showed that LSPs do have some influence over COs in relation to the selection of RDC. The higher the percentage of RDC operations being outsourced by a cargo owner, the more likely it is that a logistics operator will be involved in the selection process of RDC locations.


Decision on RDC locations for CO, by mode
Source: HKTDC Research (n = 194)
Future RDC locations
When asked whether RDC operations at their current locations will be continued over the following year, the majority (or 96.4%) of Hong Kong respondents answered positively. Only 15 of them (4.5%) were considering relocating their RDCs away from Hong Kong. Interestingly, 4.5% of the respondents who have an overseas RDC would consider relocating their operations to Hong Kong. In short, the net effect will likely be minimal as to the anticipated operator movements of RDC establishments in Hong Kong.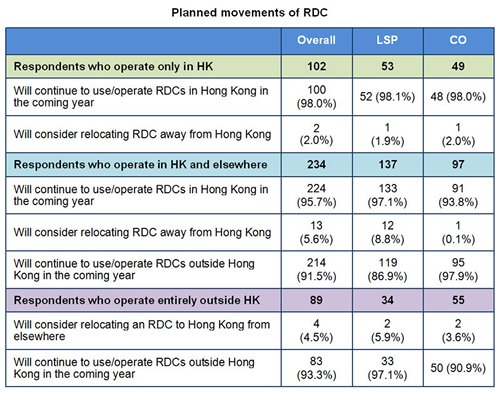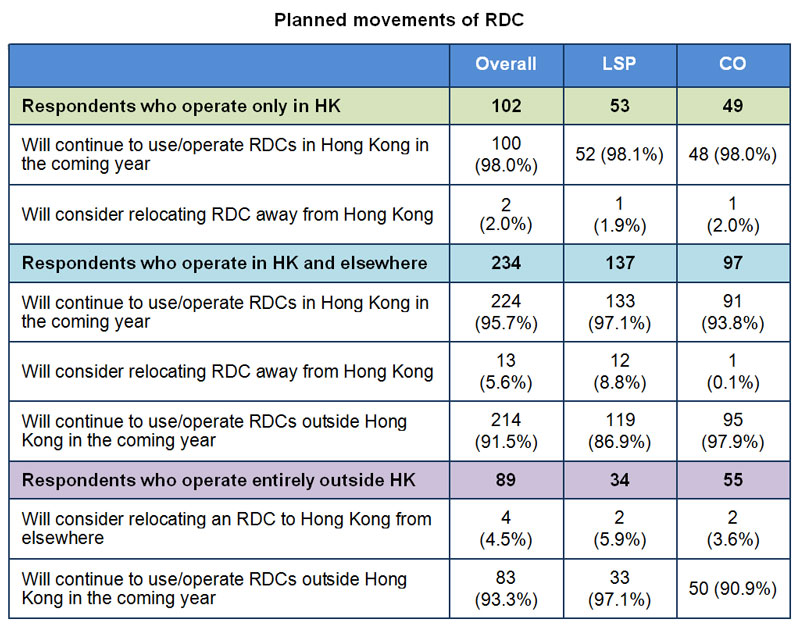 Planned movements of RDC locations
Source: HKTDC Research (n=425)
Reasons for having an RDC
The most important reasons for having an RDC were cited as inventory reduction (61%), lead-time reduction (59%), consolidation of deliveries (40%), and labour reduction (15%). There was no marked difference between LSPs and COs in terms of the relative importance of the reasons for operating RDCs.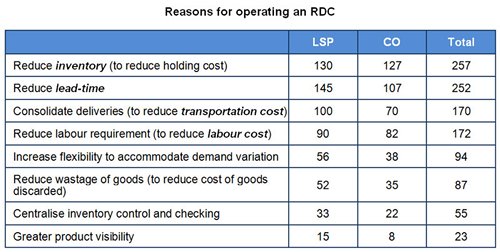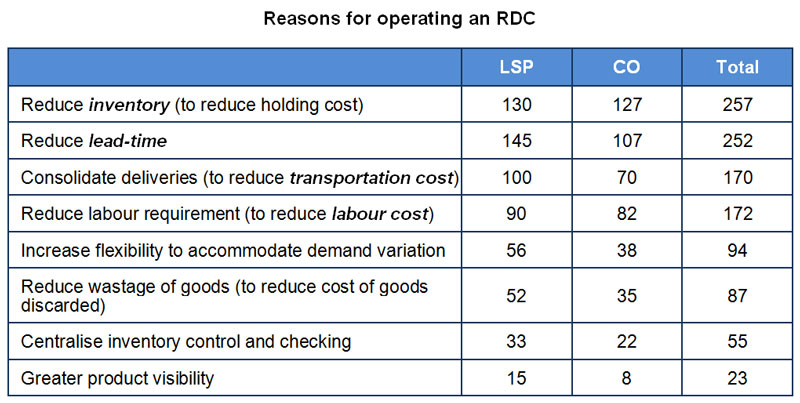 Reasons for operating an RDC
Source: HKTDC Research (n=425)
Strengths and Weaknesses of Hong Kong as an RDC
Among the strengths identified in support of Hong Kong as an RDC, geographical location (70%) stands out as the most important, followed closely by its legal system (68%), public infrastructure (68%) and connectivity/connection (67%). Respondents also gave high levels of approbation to a number of industry-specific strengths, such as operational flexibility (65%) and support services (61%).
One apparent anomaly was that customs clearance and tariff systems (50%) was rated low in the list of strengths, given the common perception of Hong Kong as a free port with streamlined customs operations. In fact, respondents noted that for efficient cross-border distribution, you have to take into account the point of origin and the eventual destination of the cargo that passes through a Hong Kong RDC, and this inevitably involves the customs arrangements of these locations. In the case of the Chinese mainland, where custom operations are performed, in part, to ensure that tariffs are properly levied on imported cargo and export rebates are duly given, delays are likely to ensue.
Not surprisingly, all of Hong Kong's identified shortcomings as an RDC relate to cost issues, with land and rental cost running high on the list (82%), followed closely by labour costs (79%) and operating costs (70%).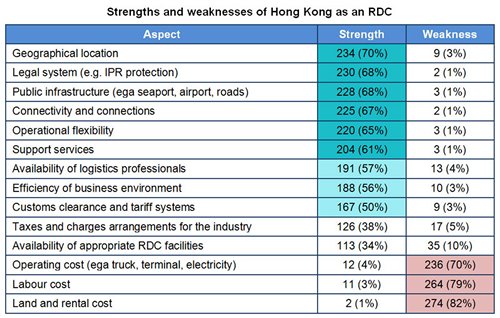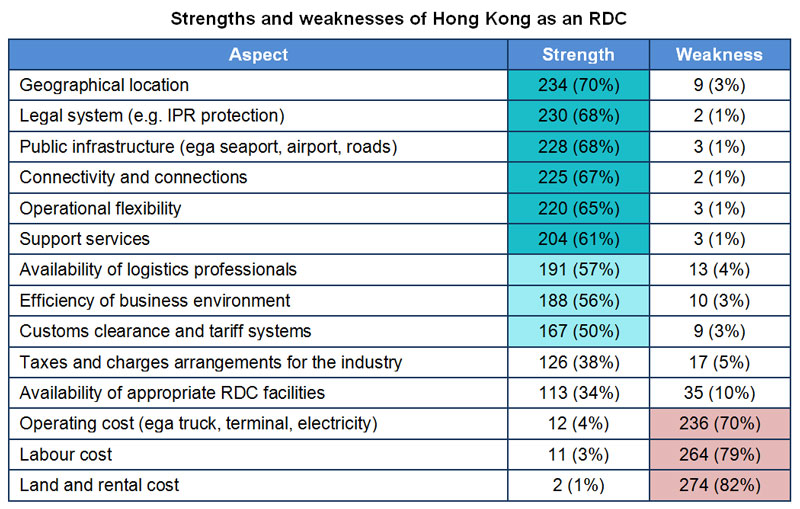 Strengths and weaknesses of Hong Kong as an RDC
Source: HKTDC Research (n=336)
Cargo flows
For most respondents, their cargo originated within Asia, though a number of them have a small proportion of cargo sourced from the US and EU. In the case of cargo originating within Asia, a significant proportion is from China (mainly South China). As shown below, apart from distributing to Asian countries, many of the respondents distribute to the US and EU at the same time, indicating the co-existence of regional distribution centres and global distribution centres.


Cargo origins for Hong Kong-based RDC
Source: HKTDC Research (n=307)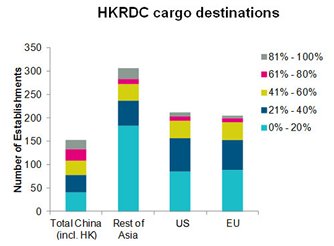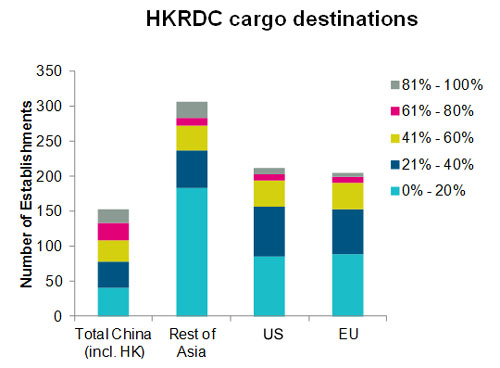 Cargo destinations for Hong Kong-based RDC
Source: HKTDC Research (n=307)
Value-added services (VAS) required at HKRDCs
Major types of VAS currently provided at RDCs in Hong Kong (HKRDCs) include: stocking and destocking (307 companies engaging or requiring; 96%); repacking (161; 50%), bar-coding and labelling (152; 48%), assembly (122; 38%), and order picking (109; 34%). These are also the common services that respondents believe demand will increase for over the next three to five years.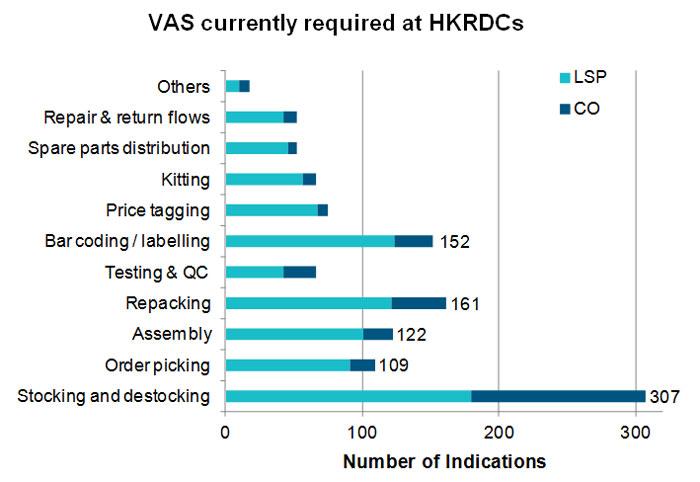 Value-added services currently rendered at Hong Kong-based RDC
Source: HKTDC Research (n=319)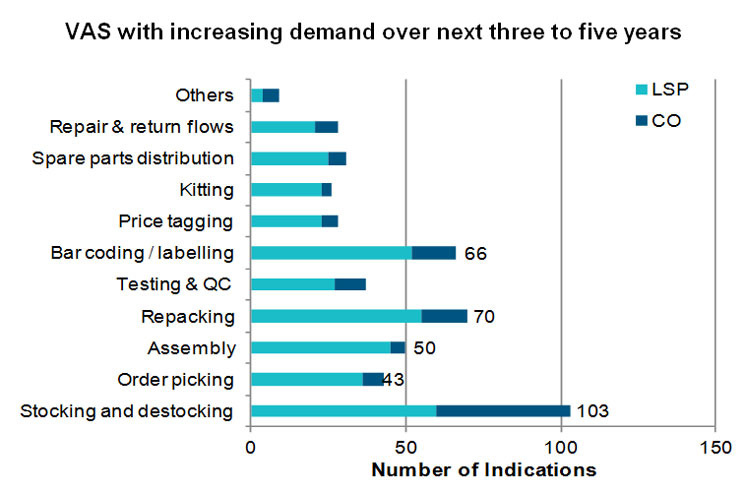 Value-added services expected to show rising demand in next 3-5 years
Source: HKTDC Research (n=147)
Growth of RDC business turnover
Compared to three years ago, 37% of respondents are experiencing growth in RDC business, while 34% remain unchanged, with the remainder reporting business shrinkage.


Business growth of Hong Kong-based RDC in past 3 years
Source: HKTDC Research (n=327)
Looking forward, 47% of respondents expect their RDC business turnover to remain more or less the same over the next three years, with 34% being positive about future RDC business and 19% foreseeing a drop in business turnover.


Expected business growth of Hong Kong-based RDC in next 3 years
Source: HKTDC Research (n=326)
RDC cargo types over next three to five years
Regarding the main types of RDC cargo they expect to be handled over the next three to five years, more respondents indicated electronics (54%) than any other category. Aside from electronics, textiles and clothing (42%), luxury goods (20%) and wine (17%) are key products with great potential for Hong Kong RDCs in the foreseeable future.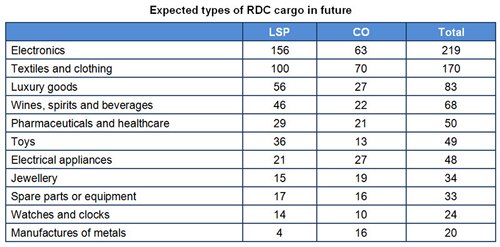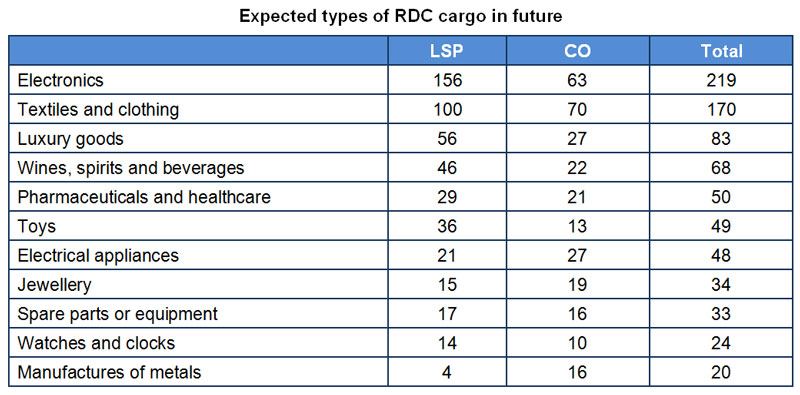 Expected types of RDC cargo over next 3-5 years
Source: HKTDC Research (n=409)
---
[i] Source: The four key industries and other selected industries in the Hong Kong economy, Census and Statistics Department, Hong Kong government. http://www.statistics.gov.hk/pub/B71304FC2013XXXXB0100.pdf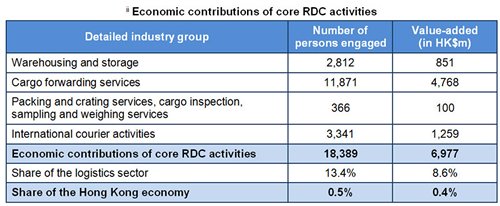 Economic contributions of core RDC activities
Source: HKTDC Research
Note: The sector contributions were estimated and adjusted to reflect solely RDC activities, based on 2010 numbers.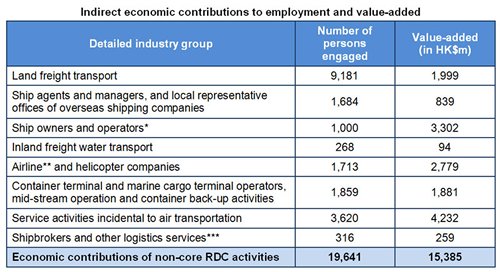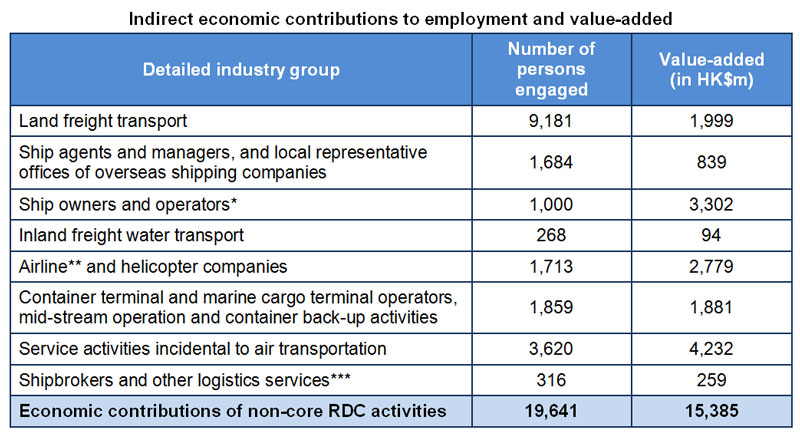 Indirect contributions to employment and value-added
Source: HKTDC Research
Note: The sector contributions were estimated and adjusted to reflect solely the RDC activities, based on 2010 numbers
* Sea-going freight vessels and freight vessels moving between Hong Kong and ports in the Pearl River Delta
** Hong Kong-based airline and helicopter companies, local representative offices of overseas airline companies (freight), and air transport services not elsewhere classified
*** Other logistics activities include loading and unloading of luggage or freight during land transport, service activities incidental to water transportation not elsewhere classified (mainly pilotage services), and, other miscellaneous transportation support activities not elsewhere classified
Logistics & Supply Chain
Logistics & Supply Chain