https://hkmb.hktdc.com/en/1X09UXWD
Guangxi: China's link to ASEAN free trade opportunities
Keen demand for logistics services
Guangxi's logistics activities are increasing. But some enterprises there told HKTDC that the available logistics services are still not able to meet the import-export demand. Specifically, ocean vessel and liner shipping services between Guangxi and ASEAN are now serving mostly the transport of bulk raw materials such as minerals, coal, energy products, grains, oils and timber, and there are relatively few scheduled freights catering to trading of light industrial products or mechanical and electrical products. On the other hand, regular regional routes calling at ports such as Hong Kong and Kaohsiung are quite infrequent. The services are mainly provided by small container ships while both the services as well as the routes are easily affected by tidal waves and weather. As for services to overseas markets in Europe and America, because of insufficient cargo volume, there is still a lack of scheduled ocean-going vessels providing direct seafreight services.
To deal with this problem, many companies are now using land transport to make up for inadequate sea transport services. For exports to ASEAN markets, for example, some companies would make use of border crossings in Guangxi to ship their goods over land first to border cities such as Dongxing or Pingxiang, and then use border trade channels to bring their goods directly to neighbouring Vietnam. For manufacturers whose production bases are in places like Beihai and Qinzhou, because of their relative proximity to the PRD, they would mostly ship their goods by trucks to Shenzhen for export to ASEAN, Europe and America via Yantian or Hong Kong.
| | |
| --- | --- |
| Exit channel of the market for border trade between border inhabitants in Dongxing, Guangxi | Border trade transports in Dongxing, Guangxi |

Guangxi: CAFTA opportunities and border trade with the ASEAN bloc
The ASEAN economy has been growing steadily in recent years, and their import demand for various kinds of consumer goods and industrial supplies has continued to rise. The establishment of the CAFTA has further boosted the exports of Chinese commodities to ASEAN. In the last few years Guangxi, which borders ASEAN, has seen significant growth in foreign trade. Fangchenggang city, situated at Beibu Gulf in Guangxi, is not only the largest seaport in western China, but has also developed into a major trading port in the western region connecting the ASEAN market.
Fengchenggang has a large trading cluster with many local enterprises well-versed in trading with Vietnam and other ASEAN markets. They have established sales channels for trading with ASEAN, flexibly making use of the port of Fangchenggang and the checkpoint at the border city of Dongxing to sell goods to the ASEAN market either in the form of "border trade" or "general trade". They can therefore effectively help manufacturers and exporters solve the problems in relation to logistics and customs clearance when exploring the ASEAN market. [more …]

The government of Guangxi is giving active support to enterprises to help them tackle the shortage of logistics services in the import-export of general goods by nurturing a new breed of outward-oriented logistics and transport service providers. In addition to administrative measures, financial support and customs facilitation measures to enable service providers to offer more transport services over land, the government has also opened up more outbound shipping routes to strengthen Guangxi's connection to ASEAN and international logistics and transport networks. For example, since March 2013, scheduled container liner routes between Beihai and Hong Kong have been launched to facilitate connections of local enterprises with ASEAN and other overseas markets via Hong Kong's transport network.
Scheduled liner shipping routes between Beihai and Hong Kong*
Schedule
Operator
Beihai to Hong Kong
Hong Kong to Beihai
Wednesdays, Thursdays
Sundays, Thursdays
Yongfeng Logistics Co Ltd, Shenzhen
Thursdays, Saturdays
Mondays, Wednesdays
Haochen International Logistics Co Ltd, Beihai
Thursdays, Saturdays
Mondays, Wednesdays
Zhenyang Logistics Co Ltd, Nanning
Saturdays
Wednesdays
Hercules International Logistics Co Ltd, Guangxi
Fridays
Tuesdays
COSCO International Freight Co Ltd, Guangxi
* From 1 March to 31 December 2013.
Source: Nanning Municipal Bureau of Commerce
New ASEAN-focused production bases
The government's quickened pace of improving logistics and transport systems within the autonomous region, coupled with CAFTA's efforts at stimulating trade between Guangxi and ASEAN, has led to rapid increase in production activities. Not only are Guangxi enterprises increasing their investments in manufacturing locally, other enterprises are also lured gradually by Guangxi's ASEAN opportunities and its relative low production costs (such as labour and land) into investing in new plants in Guangxi, thus turning the autonomous region into a new mainland coastal base for manufacturing and processing.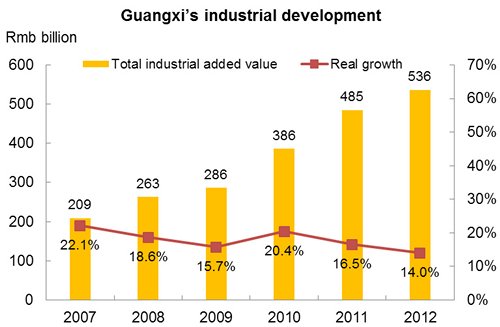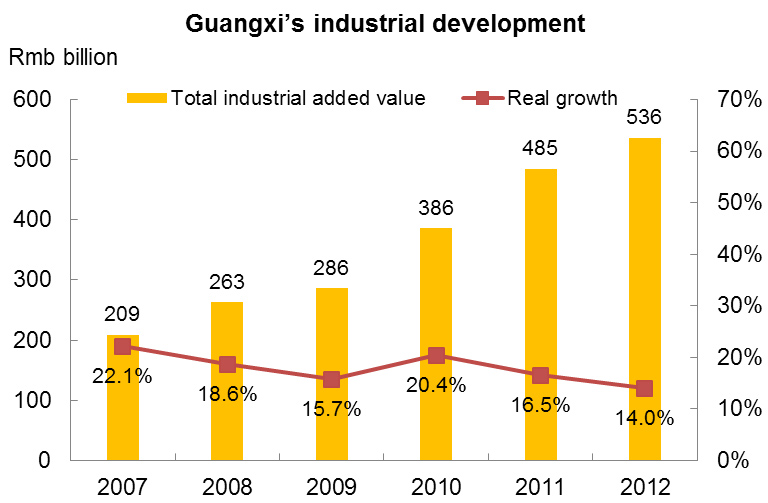 Rapid growth of industrial production activities in Guangxi in recent years
Source: Statistical Communiqué on Economic and Social Development in Guangxi Zhuang Autonomous Region 2012
Food & Beverages
Logistics & Supply Chain
Mainland China
Mainland China
ASEAN