https://hkmb.hktdc.com/en/1X09UXWD
Guangxi: China's link to ASEAN free trade opportunities
Infrastructure and logistics benefit from ASEAN
As trade between Guangxi and ASEAN grows, the handling and exporting of products from within Guangxi and other provinces as well as the shipping of ASEAN raw materials and minerals ores via Guangxi have boosted the logistics and freight businesses of Guangxi. On top of this, local industry is also growing in Guangxi. Thanks to the expansion of Guangxi enterprises into ASEAN and other overseas markets, and stronger trade ties with other mainland provinces, logistics and transport activities are thriving in Guangxi.
For example, cargo throughput at Guangxi ports has grown eight times from 2000 to 2011. In particular, import and export cargoes passing through Beibu Gulf ports such as Beihai, Fangchenggang and Qinzhou surged from 17.68 million tons to 153.31 million tons during the period. Also, the total volume of goods transported via Guangxi has recorded considerable growth during the period. About 80% of these goods are transported over land while other transportation modes such as rail, river and air account for relatively small shares.
Guangxi's cargo transport volume (million tons)
| | | | | | | | | |
| --- | --- | --- | --- | --- | --- | --- | --- | --- |
| | 1995 | 2000 | 2005 | 2007 | 2008 | 2009 | 2010 | 2011 |
| Port cargo throughput* | 17.17 | 28.79 | 68.77 | 113.21 | 127.65 | 148.12 | 185.75 | 233.35 |
| Of which: Beibu Gulf ports* | 7.19 | 17.68 | 36.69 | 48.32 | 80.89 | 94.08 | 119.23 | 153.31 |
| Total cargo transport volume | 286.22 | 312.70 | 410.25 | 501.52 | 849.50 | 950.76 | 1,134.45 | 1,361.43 |
| Of which: over land | 206.86 | 235.14 | 278.61 | 329.20 | 648.84 | 757.66 | 935.52 | 1,135.49 |
* Figures for ports above a designated size
Source: Guangxi Statistical Yearbooks


Rapid growth in foreign trade and trade with other provinces has led to increasing demand for logistics and transport services within Guangxi, posing mounting pressure on local logistics and transport systems. This has prompted government authorities and the ports concerned to step up the development of transport networks and allow new logistics companies to participate in the local market. Furthermore, as Guangxi's logistics and transport activities with ASEAN and other mainland provinces expand, logistics companies in the autonomous region are also actively seeking cooperation with external partners to better strengthen the logistics and distribution capabilities of each other. This will offer opportunities to Hong Kong logistics service providers that have access to comprehensive networks in mainland coastal provinces and in the international market.
| | |
| --- | --- |
| Qinzhou bonded port zone, Guangxi | Handling of coal and other energy products at a Guangxi port |
Currently, Guangxi's major sea ports include Qinzhou, Beihai and Fangchenggang. Berths at these ports can handle containers, bulk cargoes, vehicle roll-on roll-off (whole vehicle shipping), oil bulk ore ships and general cargoes. In the next few years, sustained efforts in building and planning new berths will be made to further increase their capabilities in handling containers and import-export cargoes. At present, Guangxi ports offer direct routes to ASEAN countries such as Thailand (Bangkok), Vietnam (Hai Phong) and Singapore as well as routes to Hong Kong, Kaohsiung and major mainland ports. As for land routes, these ports have all constructed trunk routes to Nanning, the provincial capital, including the Nanning-Qinzhou-Beihai highway and coastal highways connecting to Guangdong's Zhanjiang, Maoming and even to the PRD area.
Guangxi's capital Nanning is traditionally an important transport and logistics centre for China's south western markets, handling cargo distribution, transport and warehousing within the region. The port of Nanning is an inland river port along Yongjiang River and, through inland river transport, is connectable to Yunnan, Guizhou and Sichuan as well as to Guigang and Wuzhou in Guangxi and also to Guangzhou. Nanning is also the hub of Guangxi's road and railway networks while its airport offers dozens of domestic flight routes and several regional and international routes connecting to Hong Kong, Taiwan and ASEAN countries and cities including Singapore, Kuala Lumpur, Jakarta and Ho Chi Minh City.

Guangxi: Finding logistics partners within the CAFTA framework
Rapid development of trade between Guangxi and ASEAN countries in recent years has not only boosted logistics and transport activities in Guangxi, but also prompted local logistics companies to actively look for partners outside the region. Such companies are making an effort to enhance the connection with their partners' networks. They are aiming to improve their logistics and distribution capacity of serving the ASEAN, Beibu Gulf and mainland markets, with an attempt to capitalise on the increasing ASEAN opportunities within the CAFTA framework. [more ……]

Furthermore, Guangxi is committed to expediting investment in related infrastructure facilities and upgrade logistics and transport networks within the region in order to facilitate overall economic and trade development. The government has already pledged to spend major efforts in developing modern industries and nurturing several sectors with annual sales worth more than Rmb100 billion during the 12th Five-Year Plan period (2011-2015). It is aimed that by 2015, annual sales of the food industry in Guangxi are to exceed Rmb300 billion; car, petrochemicals, electricity, metallurgy, machinery and non-ferrous metal industries to exceed Rmb200 billion; building materials, paper-making and timber processing, electronic information and bio-industries to exceed Rmb100 billion. Other key industries include pharmaceuticals, textiles, garment, tannery, ship building and repair, as well as marine engineering equipment. To facilitate the development of these industries, Guangxi is now taking various measures to boost its logistics and transport networks in order to improve its business environment.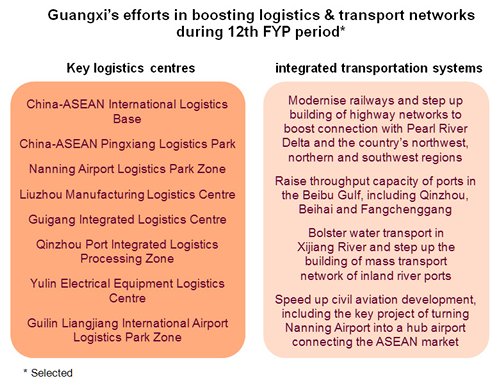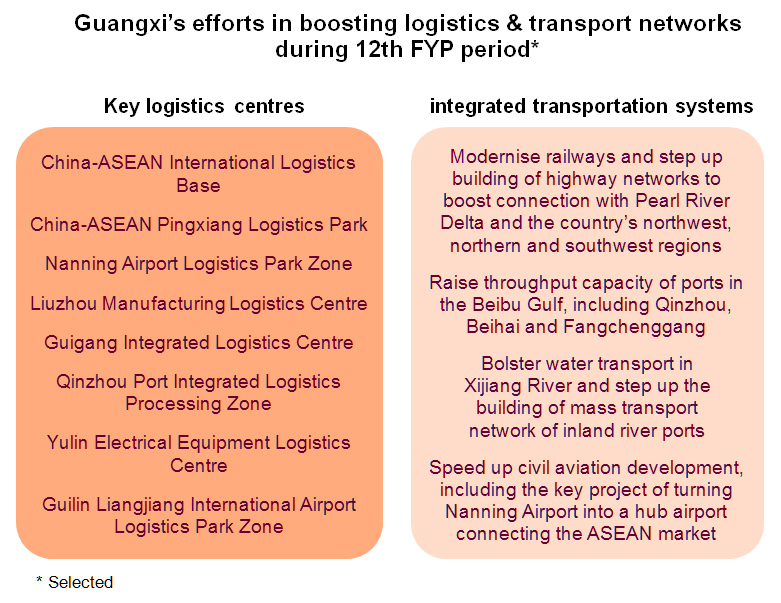 Selected key logistics centres and integrated transportation systems to be developed in Guangxi during 12th FYP period
Source: Outline of the 12th Five-Year Plan for Economic and Social Development of Guangxi Zhuang Autonomous Region
Food & Beverages
Logistics & Supply Chain
Mainland China
Mainland China
ASEAN