https://hkmb.hktdc.com/en/1X09UVKV
Guangxi: CAFTA opportunities and border trade with the ASEAN bloc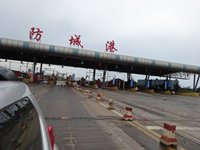 Fangchenggang, Guangxi
The ASEAN economy has been growing steadily in recent years, and their import demand for various kinds of consumer goods and industrial supplies has continued to rise. The establishment of the China-ASEAN Free Trade Area (CAFTA) has further boosted the exports of Chinese commodities to ASEAN. In the last few years Guangxi, which borders ASEAN, has seen significant growth in foreign trade, which increased over 10 folds from 2002 to 2012, with both exports and imports registering double-digit growth every year. Fangchenggang city, situated at Beibu Gulf in Guangxi, is not only the largest seaport in western China, but has also developed into a major trading port in the western region connecting the ASEAN market.
Fengchenggang has a large trading cluster with many local enterprises well-versed in trading with Vietnam and other ASEAN markets. They have established sales channels for trading with ASEAN, flexibly making use of the port of Fangchenggang and the checkpoint at the border city of Dongxing to sell goods to the ASEAN market either in the form of "border trade" or "general trade". They can therefore effectively help manufacturers and exporters solve the problems in relation to logistics and customs clearance when exploring the ASEAN market.
Hong Kong companies wishing to tap the ASEAN opportunities, especially Vietnam and its neighbouring regions, can either negotiate directly with ASEAN clients or consider taking advantage of the checkpoints in Guangxi and the customs clearance facilitation available there. Hong Kong companies can also cooperate with Guangxi enterprises, especially traders with sales channels in ASEAN, to tap business opportunities in ASEAN, as such Guangxi enterprises can act as their agents to handle all the matters about their import-export trade with Vietnam and other ASEAN markets.
Connections with ASEAN
Fangchenggang is a prefectural-level city in Guangxi and one of the deep water ports along the coast of China. Thanks to its geographical proximity to Vietnam, one of the member states of ASEAN, the city has developed into a trading and service platform connecting western China with the ASEAN market. Fangchenggang has a resident population of around 880,000, a size considerably smaller than that of its neighbouring cities like Qinzhou (3.11 million) and Beihai (1.55 million) in Beibu Gulf1. Local industries in Fangchenggang include marine products, mineral products, grains, oil and foodstuffs, phosphate processing, iron and steel smelting, and copper cathode processing. The overall scale of its industry is relatively small.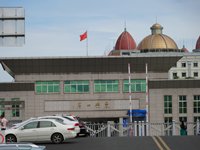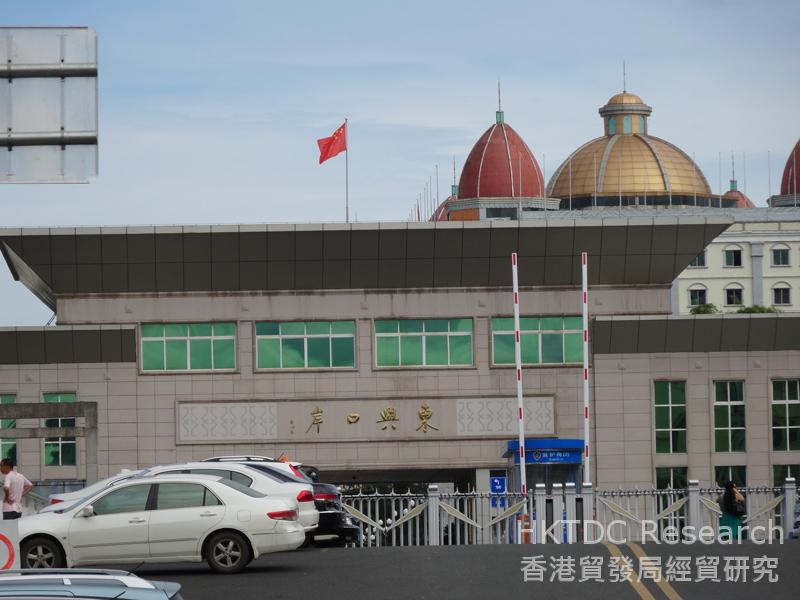 Entry-exit checkpoint in Dongxing crossing over to Vietnam
Nevertheless, the edge of Fangchenggang lies in port transportation and trade, which form an important pillar in the development of the local economy. In 2011, the volume of freight transport at the port of Fangchenggang reached 90.24 million tons, accounting for almost 60% of the total volume of freight transport at the coastal ports in Beibu Gulf, Guangxi2. Fangchenggang is not only an important transshipment port in China for major bulk commodities such as iron ore and coal, but its container terminal also provides such services as the handling, loading and unloading, warehousing, transshipment and intermodal transport of various types of general cargos, bulk cargos, containers and petrochemical products. Also in operation are liner shipping services for shipment of both containers and bulk cargos to ASEAN ports such as Hai Phong of Vietnam and Singapore, as well as Hong Kong, Busan, Tokyo and some other ports in Europe and America.
The trading cluster in Fangchenggang is one of the leading factors bolstering the vibrant development of its port business. According to figures released by the Fangchenggang commerce bureau, currently about 1,700 trading companies are registered and operating in the city. They mainly engage in import and export business with the ASEAN market. There are also many export trading companies in the city which have established their own sales channels in ASEAN countries including Vietnam, Indonesia, Myanmar and Thailand. Some of them have even set up offices directly in ASEAN to handle the sales and transportation of products exported from Guangxi to the ASEAN market.
Direct sales to Vietnam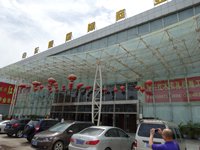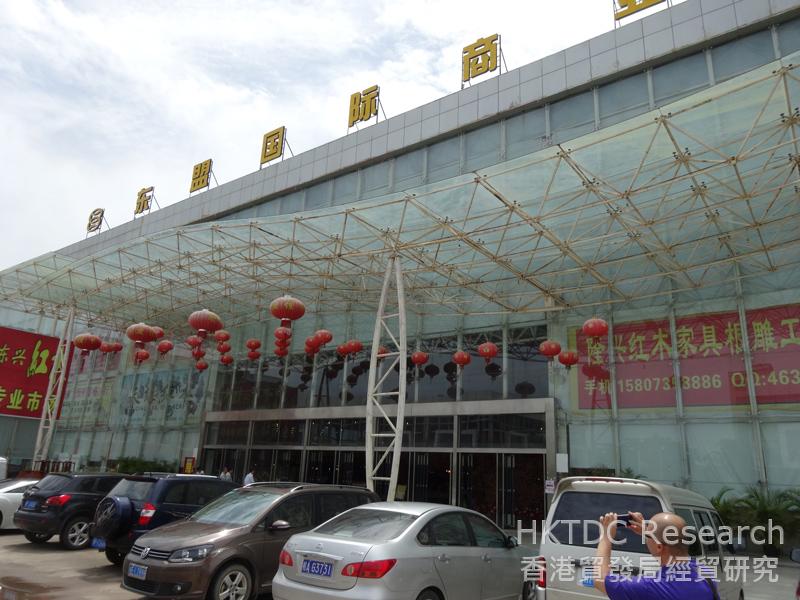 ASEAN International Business Centre in Dongxing
Dongxing, a border city under the jurisdiction of Fangchenggang, is located on the border with Vietnam. The city, where a great number of merchants engaging in border trade gather, is an important trading channel for Chinese goods destined for the Vietnam market. The Dongxing border checkpoint is connected to Vietnam's Mong Cai border checkpoint. Goods transported to Mong Cai from Dongxing can be delivered by road within the Vietnamese territory to the city of Ha Long about 190 km away before they are further transferred to Hai Phong and Hanoi or to Ho Chi Minh down south. Via such delivery, the goods can be moved around in the whole Vietnam market. Meanwhile, the transportation network of Dongxing border checkpoint connects the city, via first-class roads in Fangchenggang and highways, to Guangxi's capital city Nanning as well as production bases such as Qinzhou and Beihai in Beibu Gulf. Hence, Dongxing is an important border checkpoint serving as a transportation hub for merchandise trade between Guangxi and Vietnam.
With the establishment of CAFTA, China's trade with Vietnam via Dongxing border checkpoint has continued to grow. Today, the volume of goods imported and exported via Dongxing reaches 230,000 tons while the number of people crossing the border exceeds 3.7 million person-times a year3, ranking top among border checkpoints of the same kind in Guangxi. Goods exported via Dongxing mainly include electronic products/parts and components/chips, machinery and industrial supplies, food raw materials such as phosphate, various consumer goods for daily use such as garments, as well as tractor/motorbike/truck/automobile and their parts and components. Apart from selling directly to Vietnam, some of these goods are also re-sold to other ASEAN markets such as Thailand and Myanmar via Vietnam. As for imports, Dongxing handles food and raw materials, wood raw materials such as red wood, and other light industrial products coming from Vietnam and Myanmar etc.
Logistics companies operating in Dongxing do not only provide such logistics services as warehousing and transportation for their clients, but they also excel in handling customs clearance procedures for exports destined for ASEAN. In addition to taking advantage of the customs clearance facilitation of CAFTA to export goods to markets such as Vietnam and Thailand, they are also good at making use of the border trade customs arrangement reached as a result of negotiations between the Chinese and Vietnamese customs authorities to handle customs clearance and transportation for exports. This has greatly facilitated the export sales of foreign trade enterprises to Vietnam and other ASEAN markets.
Mainland China
Viet Nam
Mainland China
Southeast Asia
ASEAN