https://hkmb.hktdc.com/en/1X09UTAB
Changes and opportunities in the post-slump US retail sector
Despite ominous rumblings about the collapse of the world's most developed economies, the US remains the most important export market for Hong Kong consumer goods, accounting for 23% of the total in 2012. Although recent economic data indicates that the US economy is now showing signs of broad-based growth, the country's consumers remain largely conservative. Due to fierce competition and a sluggish mass market, the retail sector in the US has undergone a further period of both consolidation and polarisation, with cost-savings, proprietary brands and the adoption of e-commerce set to dominate development plans in the coming years.
Dramatic decline in middle-class purchasing power since 2008
As housing prices have bottomed out, access to credit has eased and Americans have recently begun to spend more. Unlike in the pre-crisis years, however, consumer leveraging has been largely constrained, especially in light of the central bank hinting at the end of extreme easing if the US job market shows signs of further improvement. In the medium term, it is expected that any growth in consumer spending will be in line with the growth of personal incomes.
Overall, the average paychecks received by Americans after the crisis grew only slightly. According to the Current Population Survey, the median weekly income (before tax, in current US dollars) for full-time workers in the US was US$776 for the second quarter of 2013, an increase of only 5.7% when compared to the second quarter of 2009. To put this into perspective, during that same four-year period, housing prices1 increased by 10%, while stock prices2 rose by almost 80%.
Median usual weekly earnings, employed full-time, wage and salary workers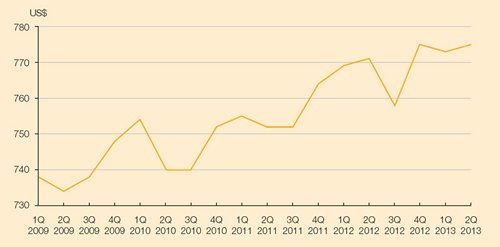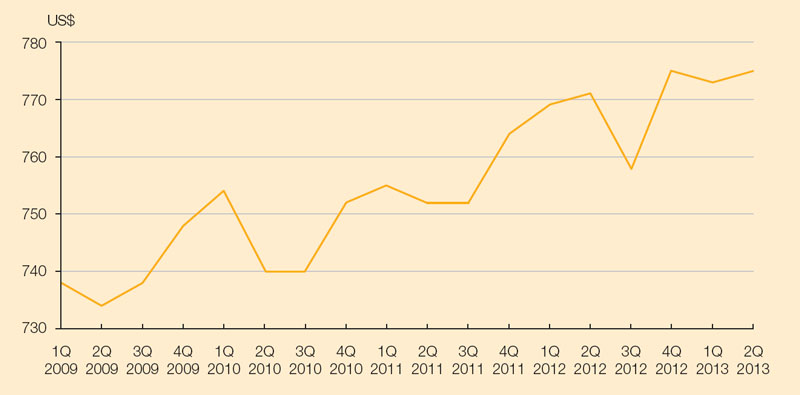 The median income for Americans grew only slightly after the crisis
Source: Current Population Survey, US Bureau of Labor Statistics

In the US, the middle class has been the main driver of consumption growth. Despite the gradual improvement in personal incomes, however, seeming structural changes in the job market have brought into question the resilience of the middle class. Since 2008, a substantial number of middle-class jobs in the US have vanished, largely replaced by lower-waged positions. According to the National Employment Law Project, 60% of the jobs lost during the recession were in middle-income occupations, while most of the jobs subsequently recovered were lower-wages employment opportunities.
Job losses and gains during the recession and recovery, 2008-2012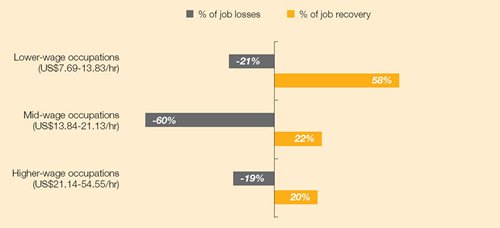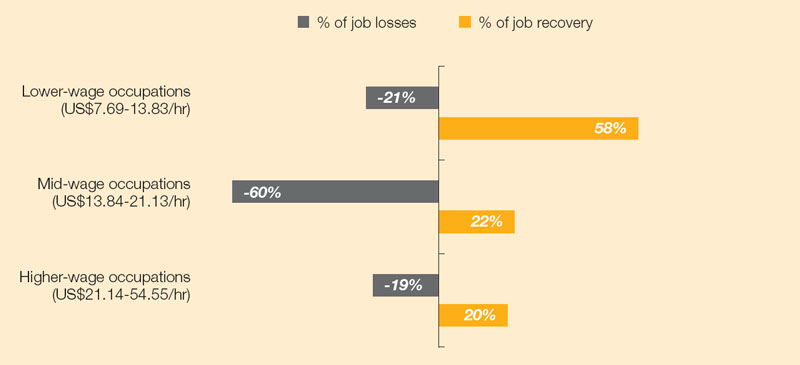 A lot of middle-class jobs in the US have been replaced by lower-waged positions
Source: National Employment Law Project

The US middle class has also experienced a sharp decline in its net worth as a result of the recent recession. According to the Federal Reserve Board's Survey of Consumer Finances, the median net worth of US households fell for all income groups (except for the top 10% who saw an increase of 2% in real terms). In every other demographic except for the most affluent, wealth dropped by 23-40% over the period of 2007-2010, with the most significant fall occurring for the middle-income group with incomes in the 60th-to-80th percentiles of the distribution.
Median family net worth (in 2010 thousands dollar)


The US middle class has experienced a sharp decline in its net worth
Source: "Changes in US Family Finances from 2007 to 2010: Evidence from the Survey of Consumer Finances", Federal Reserve Bulletin, Vol 98, No 2, June 2012
High-end market not affected
With the most affluent class of Americans not dramatically affected by the recent recession, the luxury market has experienced solid growth over the past few years. In its luxury goods worldwide market study, updated in spring this year, Bain & Company, a Boston-headquartered management consulting firm, forecast that the US luxury market would grow by a further 5-7% this year. This growth was ascribed to the high confidence of affluent consumers, new store openings in several cities and a greater number of cross-channel brand campaigns linking in-store shopping with e-commerce.
According to the 2013 Survey of Affluence and Wealth in America3, well-off US residents expect to increase their spend significantly this year in several key discretionary categories, including luxury hotels and resorts (+17%), home entertainment and electronics (+17%), watches (+10%), and automobiles (+18%).
Price sensitivity issues continue to govern the mass market overall
By contrast, mass market consumers remain conservative, although some may be undertaking "catch-up" purchases that have been postponed since the onset of the financial crisis. According to a recent Nielsen study, North American consumers are relatively price-sensitive, with 64% of all respondents somewhat or strongly agreeing that "price is the most important concern", while 61% said: "I am aware of promotions/discounts". For most product categories, price is one of the top three purchase criteria. Price comparison is also common (55% in most trips and 28% in some trips).
Impulse purchases, however, seem to be less frequent. Overall, 63% of respondents said they somewhat or strongly agree that "I shop around before purchase" and 51% said they "collect information before shopping". Consumers are also inclined to use a shopping list (63% for most trips and 28% for some trips). Only 20% said they make impulse purchases from end-aisle displays during most of their shopping trips.
US consumers are also seemingly quite brand-conscious, with 65% of respondents saying that they have preferred brands in mind prior to purchase. Interestingly, though, "brand" is not the main concern when making purchases of most products. In fact the choice of brand is only a top purchase criterion in the cosmetics and skin care, personal electronics, home appliances and cars sectors. Tellingly, private labels brands have inched up in popularity, particularly in those areas where consumers are most concerned about both price and quality issues.
Compared with consumers in the rest of the world, US consumers seem to be less receptive when it comes to making an ecological difference. Only 43% of respondents said they "reduce carbon footprint to save energy", with the global average being 58%. When it comes to environmentally-friendly behaviour, only 30% of respondents said they buy environmentally-friendly products regardless of price, with the global average being typically 46%.




Consumer behaviour for North America (% of those somewhat/strongly agree)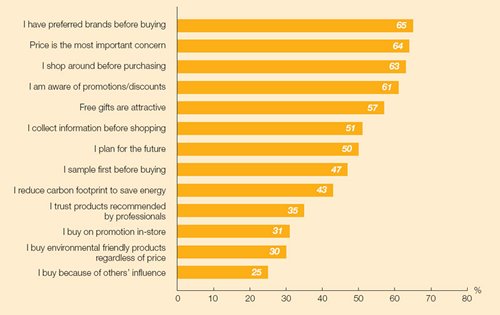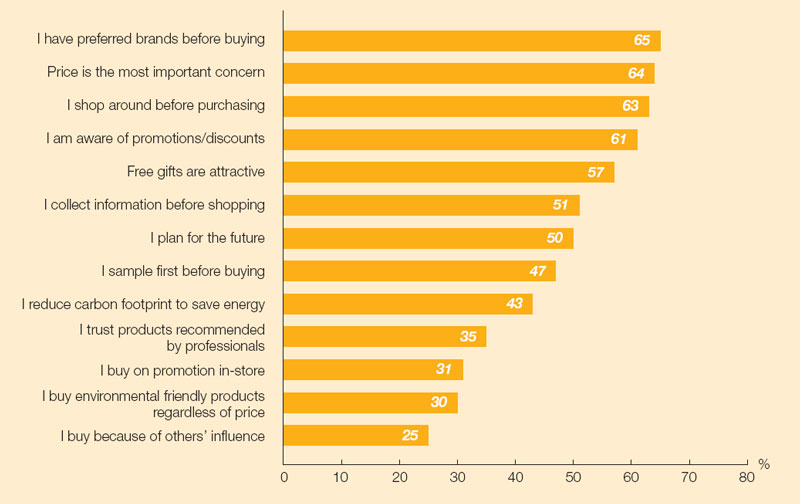 North American consumers in general are price-sensitive
Source: "New Wealth, New World – How and Why We Shop around the Globe", Nielsen, July 2013
In-store shopping habits of North Americans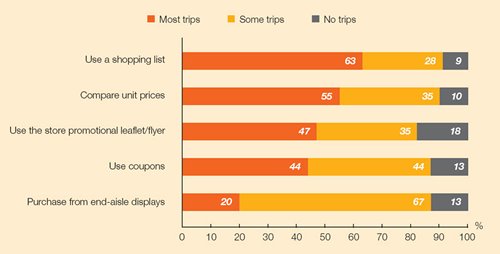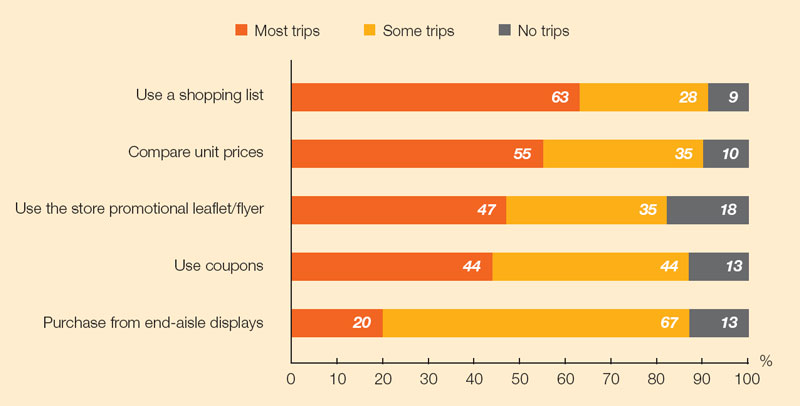 Impulse purchases become seem to be less frequent
Source: "New Wealth, New World – How and Why We Shop around the Globe", Nielsen, July 2013
Top purchase criteria and source for information by category for North America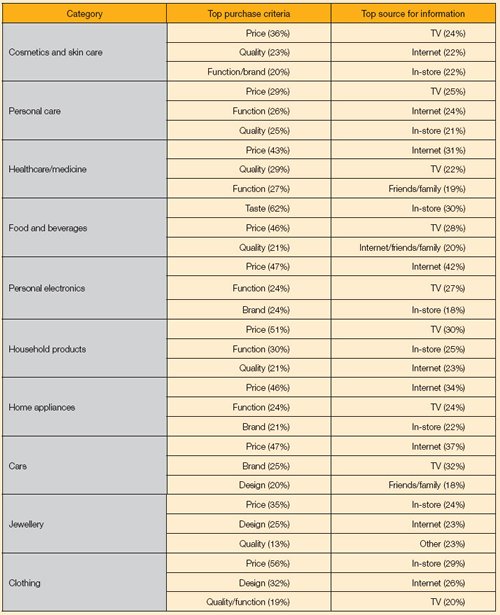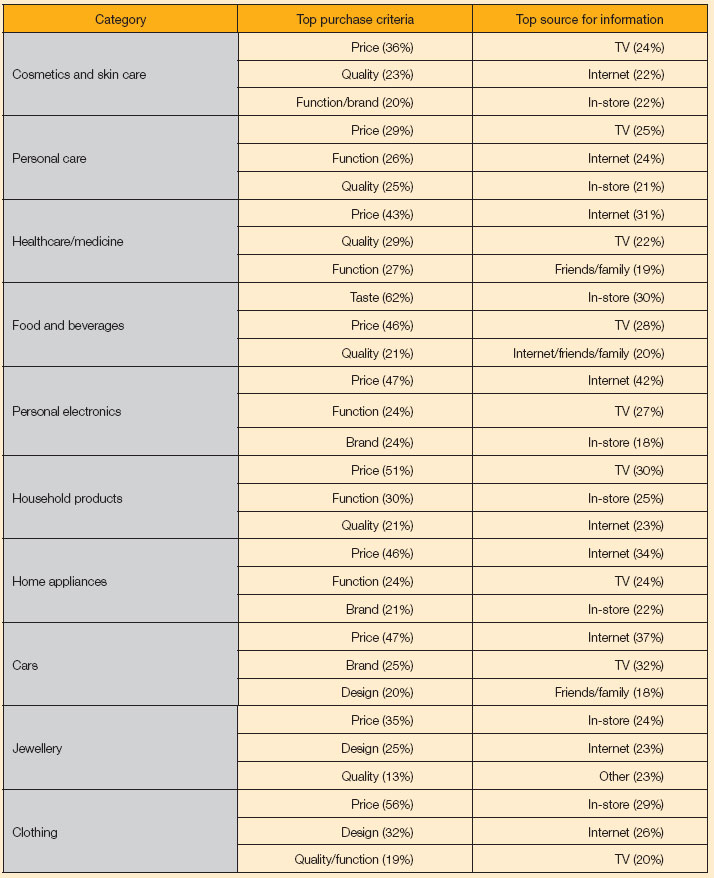 "Brand" is not the main concern when making purchases of most products
Source: "New Wealth, New World – How and Why We Shop around the Globe", Nielsen, July 2013

Consolidation and polarisation
Due to fierce competition and a sluggish mass market performance, there has been further consolidation in the US retail sector over recent years. This follows an earlier period of rapid consolidation in the 1990s. According to Euromonitor International, the market share of the top five retailers in the US increased to 23% in 2012, a rise of two percentage points from 2008.
In fact, the US retail sector has become increasingly polarised into value and premium categories. In terms of market share, it is dominated by the general merchandise stores, which accounted for almost 19% of total retail sales in 2012. Walmart, the largest grocery retailer in the US, offers "everyday low prices on a broad assortment, from grocery and entertainment to sporting goods and crafts" (the so-called EDLP strategy). Indeed, consumers seem to increasingly seek out the convenience of one-stop shopping facilities.
Specialty stores, in general, showed a decline in market share. Despite this, high-end specialty stores, such as J. Crew, Abercrombie & Fitch and Brooks Brothers, are now thriving at the expense of those mid-range brands and department stores, many of which have lost their brand identity and marketing position. Non-store retailers, such as online shops, are also gaining popularity and market share.
Share of retail sales, total (excluding vehicle and parts dealers) by kind of business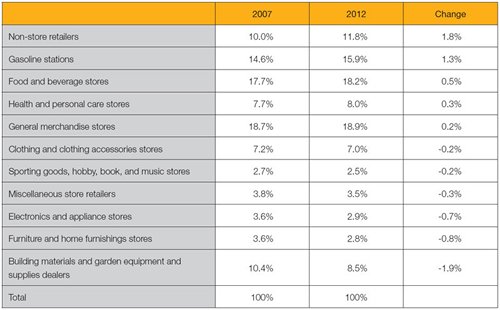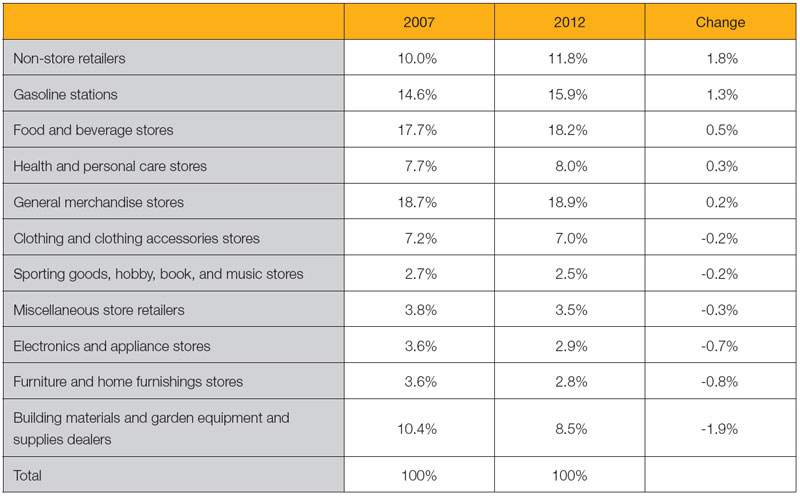 Specialty stores in general showed a decline in market share
Source: US Census Bureau

Rise of private label products
One of the major trends has seen general merchandise stores and supermarkets, such as Walmart, Kroger and Best Buy, among others, aggressively offering private label products across a number of different categories. Traditionally, store brands have been sold at lower prices, but retailers are now putting considerable effort into raising their quality and image. Increasingly, store brands are moving away from "copycat" design and packaging and adopting attractive visuals that redefine the products and differentiate them from national brand equivalents.
Many retailers are now planning to further develop their private label products in order to capitalise on the higher profit margins achievable by cutting out the middleman in the supply chain. The retailers also benefit from a better control over costs and pricings with regard to their proprietary products. General retailers, with their own distribution networks, are in a strong position when it comes to private label products. They know exactly when customers' needs are not being met by existing offerings and they can also get direct feedback from customers on how they can improve their own products.
E-commerce investment soars
Another major challenge for the US retail sector is the use of e-commerce. The number of online consumers has continued to grow, driven by the convenience of the channel and the value-for-money it offers. Both existing e-tailers and bricks-and-mortar retailers are now allocating significant resources and investment to increase their online presence. The latest advances in online retailing include a number of new refinements, including site personalisation and a range of sophisticated search functions.
Amazon, the world's largest online retailer, for instance, has taken cross-selling to a new level with its sophisticated predictive algorithms. These now prompt customers with recommendations for related products, services, bundled promotions, and even dynamic pricing offers. Its recommendation engine now reportedly drives 30% of its sales. Most retailers, however, are still in the early stages of implementing such technologies and have achieved best-in-class performance only in narrow functions, such as merchandising or promotions.
Mobile technology, too, has begun to make a significant impact. Walmart, for instance, has launched a new mobile app for in-store shopping use. The system allows shoppers to add items to their lists using voice commands or by scanning bar codes. When they enter the store, the app directs them to the aisles where their targetted items are located. It also keeps a running total of the items in their carts, offers digital coupons and receipts and lets people checkout for themselves and order items online if they are not available in the store. E-tailers, too, have wised up to the potential of mobile devices, with several apps now available that allow shoppers to check and compare in-store prices with thousands of online platforms and other local retailers.
Sifting through large amounts of customer data also allows retailers greater control of their supply chains, through maintaining tighter inventory control and returns management, better sourcing and streamlined transportation and logistics. Detailed information about consumer preferences, price sensitivity, and the availability of additional products and suppliers have all proved to be powerful tools in terms of driving cost optimisation. Returns data can also be used to generate insights on product improvements, while retailers can also minimise return numbers by working with suppliers to reduce the overall number of defective or high-variability products.
Delivering solutions
With the major disadvantage of online shopping being that customers cannot get their purchases immediately, e-tailers are putting increasing effort into improving their warehousing, logistics and delivery functions. Some are building new warehouses closer to customer hubs in order to facilitate faster delivery, while others have partnered with retailers to create a network of existing physical stores that will, in effect, operate as mini storage and distribution points for online purchases. As a result, same-day delivery is now almost considered a standard service for most online orders in the US.
Retailers with their own physical stores (or in a partnership with a conventional operator), can now provide shoppers with the option of ordering items online and collecting them from lockers in local stores. Customers can thus avoid shipping fees and pick up their items whenever it is convenient, with 24-hours-a-day facilities available at some stores. These lockers are also convenient for those consumers who are not at home during the day, while also cutting down on delivery costs and reducing logistical problems for retailers.
Opportunities for Hong Kong suppliers in the US market
Bearing in mind these changes in consumption patterns and retail developments, suppliers are best advised to rethink their strategies when it comes to targetting the US. Although recent economic data points to a definite recovery in the US market, many consumers remain price-sensitive, while retailers are facing ever-fiercer competition. The price pressure on suppliers, then, continues to be high. As a result, retailers are shifting costs to suppliers by requesting longer payment terms, imposing return/charge backs or imposing penalty charges on shipping or labelling errors. Some retailers have also started to source more American-made products, taking advantage of the positive public relations spin from such initiatives, as well as the cheaper energy costs and the clear logistics and transportation benefits latterly made available.
To remain competitive, Hong Kong suppliers need to look at cost-cutting opportunities, which may include redesigning the products, their packaging and their containers in order to maximise shipping efficiency. Suppliers of luxury products, for their part, are also advised to firmly target the high-end market segment, which is likely to expand further in line with the steady and continuing US economic recovery.
While US retailers are aggressively developing store brands, there are still good opportunities for those Hong Kong suppliers who have sound knowledge and experience in control quality and product safety regulations. Suppliers would also be well-advised to establish strong links with mass merchandisers, upscale retailers and e-tailers, who are all expected to emerge as the real winners over the next few years.
---
1 Measured by S&P Case-Shiller 20-City Home Price Index.
2 Measured by Dow Jones Industrial Average.
3 Conducted by American Express Publishing and the Harrison Group, the survey interviewed 1,416 Americans in the 10% income bracket about their spending habits and lifestyle decisions in the first quarter of 2013.