https://hkmb.hktdc.com/en/1X09US9F
Regional distribution centres in Asia: finding the right location
Factors bolstering Hong Kong as a sourcing and transportation hub
Geographical location and efficient infrastructure
Hong Kong is the world's ninth largest trading economy, thanks in part to its vibrancy as an internationally-renowned sourcing and transportation hub. Consulted industry experts believe that Hong Kong owes its success to a string of factors, and chief among these is its location, a geographical pre disposition that has made it an important gateway to the Chinese mainland and a springboard to regional markets. Apart from this, the forward-looking planning and timely addition of efficient infrastructure facilities has bolstered the continual growth of Hong Kong's transportation and logistics sector over the years.
Free port and efficient customs clearance
Free port status has been a key feature in Hong Kong's success as a trading hub and, latterly, as a transportation and logistics centre. As opposed to customs agencies on the Chinese mainland and in Taiwan, revenue-raising is never the main function of Hong Kong's Customs and Excise Department (C&ED), which instead focuses on protecting and facilitating legitimate trade, safeguarding intellectual property rights and the prevention of smuggling.
All cargo imported into or exported from Hong Kong via air, land or sea is subject to customs control, while physical cargo examination is conducted on a selective basis. Efficient customs procedures - normally completed within one day - allow cargo to move through Hong Kong easily. To expedite cargo clearance and minimise delays at customs control points, the following electronic cargo clearance systems have been implemented and allow shipment information to be submitted in advance and quickly processed.
First, there is the Air Cargo Clearance System (ACCS), which connects air cargo operators at Hong Kong International Airport (HKIA) with C&ED for the expedited clearance of air cargo. Second, there is the Electronic System for Cargo Manifests (EMAN), which allows cargo manifests to be submitted electronically prior to the arrival of shipments. Third, Hong Kong has adopted an e-Sea Customs Clearance Scheme (e-SCC Scheme), which allows forwarding agents and logistics companies to submit house-level electronic cargo information for sea cargo clearance. Fourth, there is the Road Cargo System (ROCARS), which enables registered shippers or their agents to electronically submit advanced land cargo information. Currently, truck shipments enjoy seamless customs clearance at all Land Boundary Control Points in Hong Kong.
Industry experts believe that the formation of a 'single window' system with a common, integrated interface, allowing real-time processing of stop or release notices through multiple platforms including mobile devices, will enhance Hong Kong's competitiveness as an RDC and further facilitate trade.
Rigorous legal system, simple tax regime and effective workforce
Hong Kong has a comprehensive and rigorous legal system that offers protection of intellectual property rights (IPR), such as patents, designs, trademarks and copyright. This is especially important if Hong Kong is to further develop and become Asia's leading RDC for the distribution of high-value and luxury goods.
While many regional economies are lowering their taxes in a number of ways, Hong Kong has the appeal of maintaining a simple and low tax system, with no sales tax, no withholding tax, no capital gains tax, no tax on dividends and no tax on an individual's estate. Only three direct taxes are imposed - on profits, salaries and properties. According to the Paying Taxes Study 2013, Hong Kong ranked as the fourth most tax-friendly of the 185 economies surveyed. As trading and sourcing companies benefit from Hong Kong's simple and low tax regime, an added benefit arises from the city's free port status, which expedites logistics movements as well as regional distribution. More recently, there has been increasing attention placed on Hong Kong's role as an RDC serving the region.
Logistics is one of the most technology-intensive commercial industries in the world today. Industry experts interviewed in Hong Kong and abroad shared a common perception that Hong Kong workers generally have higher productivity than those in other RDC locations, notably in comparison with those on the Chinese mainland. Hong Kong workers' willingness to work overtime is considered essential in RDC operations due to time differences with overseas shippers. RDC service providers believe that on the mainland, despite a lower cost per worker, hidden costs can be at least 30% more than the nominal cost, and more resources are needed for staff management.
Factors for RDC location selection
Based on an extensive engagement exercise involving more than 70 industry stakeholders in Hong Kong and other regional economies, the following factors were identified to be crucial in the selection of RDC locations in Asia.
Geographical location
Connectivity and connections
Land, rental and labour costs
Quality and availability of infrastructure and RDC facilities
Availability of logistics professionals
Government policies and measures
Some of the items, such as geographical location and infrastructure, identified as factors bolstering Hong Kong as a sourcing and transportation hub, have been discussed above. Customs arrangement and facilitation can also be broadly viewed under government policies and measures in this section.
Connectivity and connections
Location is always a key concern for RDC operations, given the time and cost of distributing goods and products between any manufacturing base and the intended market. Primarily, Hong Kong has Southern China as its immediate manufacturing hinterland, but its markets are actually more widespread, especially in light of the new and increased consumer spending on imported goods on the mainland. In this context, having good international connections is of obvious importance when it comes to receiving and distributing goods among different locations. Also important are the convenient procedures for cross-border transport that provide users with predictable delivery dates.
Land, rental and labour cost
RDCs require significant amounts of land. In cities like Hong Kong or Singapore where land scarcity is a problem, rental costs are correspondingly high, usually the single greatest cost of operating an RDC. As pointed out in a related RDC article, warehouses with cargo-lift access are rented out at an average rate of about HK$8.9 per sqft (US$12.3 per sqm), while those with ramp access at an even higher monthly rate of about HK$18 per sq ft (US$24.8 per sqm). Not surprisingly, Hong Kong ranked as the third most expensive city in terms of global prime warehouse rentals in late 2011, trailing only Tokyo and London Heathrow, whilst ahead of Singapore and Zurich.
Stakeholders in Hong Kong reported that rental costs often contributed to 40-50% of the total costs spent in operating an RDC. By contrast, labour cost is usually the second greatest cost of RDC operation, accounting for about 30% of the total costs. For some supply chains, distribution remains a labour intensive activity. Storage operations, performing value-added services (VAS) and trucking require labour. Many operators cannot justify automation of all their operations. Therefore, low-cost labour can greatly reduce RDC operating costs.
Quality and availability of infrastructure and RDC facilities
Roads, bridges, airports and seaports are among the prime infrastructure required for the transportation of goods to and from RDCs. Their quality and integration is also important. If there is only one route by which goods can be transported, temporary closure will create additional storage costs, not to mention damage to the reputation and reliability of the distributor.
While Hong Kong has an estimated 3.5 million sqm of gross private storage space, many warehouses or industrial buildings do not automatically make good RDC facilities. To function efficiently, a distribution centre must allow goods to move constantly in and out, and needs to be equipped with multiple truck docks for receiving and despatching shipments. Ideally, the RDC facility should be flat and the floor area should be maximised. Yet, many RDC service suppliers in Hong Kong operate in multi-storey buildings. Contrary to a widespread desire for landlords to provide long-term lease contracts to justify RDC investment by operators, tenure is fairly short in Hong Kong, making RDC operators reluctant to invest in facility modifications.
Government policies and measures
When it comes to fostering a conducive business environment (aside from providing the infrastructure and maintaining effective customs, tax and legal regimes), government policies can be instrumental in the development of the RDC industry. In our research and consultation in Hong Kong and abroad, stakeholders believed that governments should have a proactive role in providing incentives and preferential measures to promote the industry. Many governments were found to have implemented a number of conducive measures, such as tax rebates and simplified processes for setting up businesses in the Asia-Pacific.
Categorisation of selection factors and key performance indicators
The above factors for RDC selection, along with factors such as the operational flexibility and support services, are grouped under four broad categories, namely (i) costs, (ii) public services, (iii) infrastructure and location, and (iv) general environment, as outlined in the table below.
Also added are the corresponding key performance indicators (KPI) based on our research and stakeholder consultations. Such categorisation is useful in assessing the competitiveness of respective RDC locations from the viewpoint of respondents to the large-scale, multi-city questionnaire survey, covered in accompanying articles.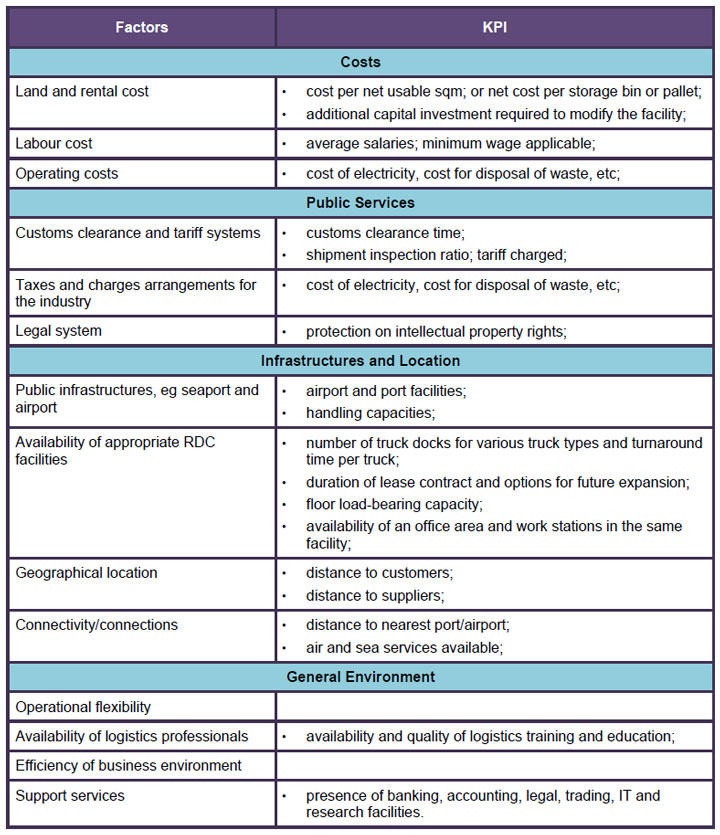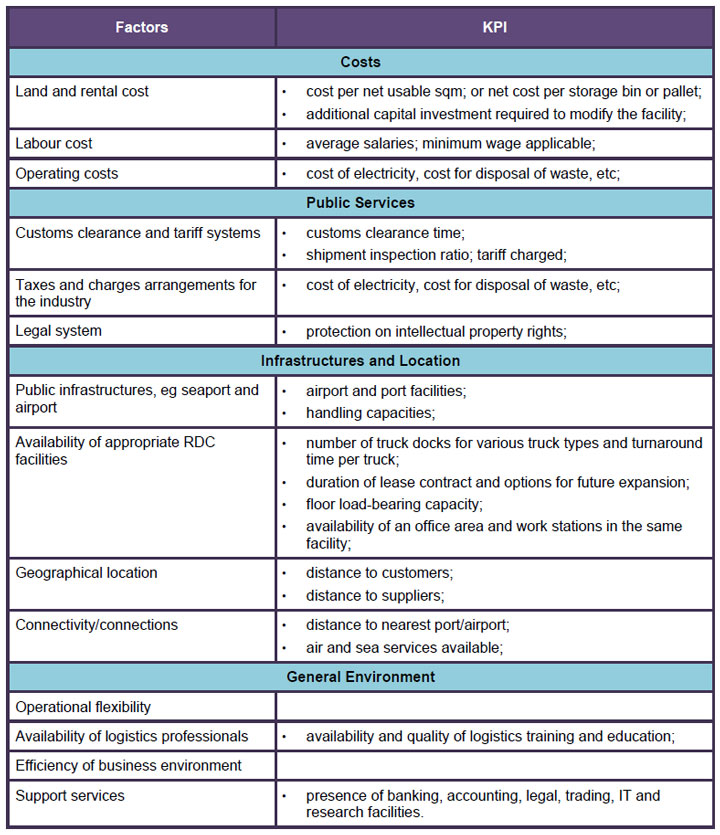 Factors and key performance indicators for RDC location selection
Source: HKTDC Research
Impact of regional development on Hong Kong as an RDC
Finally, there is the issue of how regional development may have a bearing on the demand for RDC functions in the Asia-Pacific region on the one hand, and the relative attractiveness of Hong Kong as an RDC location on the other. This section reviews the issues that we have identified that may have an impact. They include trade policies, infrastructure projects, and industry trends occurring in Hong Kong and elsewhere in the region.
Take the establishment of China-ASEAN Free Trade Area (CAFTA) for example. It is viewed as positive with regard to the regional demand for RDC services, aiding the growth of total trade and demand for products in Asia, while increased sourcing from multiple countries will inevitably create greater need for RDC functions. Yet, it may also have a degree of negative impact on Hong Kong as an RDC, especially for with regard to those items now attracting high import tariffs when imported into ASEAN or China. It should be borne in mind, however, that although Hong Kong is not a member of CAFTA, Hong Kong's re-exports to ASEAN countries and China include a considerable volume of electronic and electrical products, which are largely excluded from tariffs under the WTO's Information Technology Agreement (WTO-ITA).
By contrast, industrial re-structuring in the Pearl River Delta (PRD) is viewed as having an impact on both regional demand for RDC services and Hong Kong's attractiveness as an RDC hub in Asia. Meanwhile, the establishment of direct cross-strait links between Taiwan and the Chinese mainland could have clearly negative impact on Hong Kong's attractiveness as an RDC location. Under the new arrangement, Taiwan could become a far more viable RDC location for shippers receiving or distributing goods from the mainland than at present. Many other factors, including the Economic Cooperation Framework Agreement (ECFA) signed between Taiwan and the mainland, and the industrial developments in Western PRD, may ultimately have a neutral or negligible impact on the appeal of Hong Kong as an RDC location.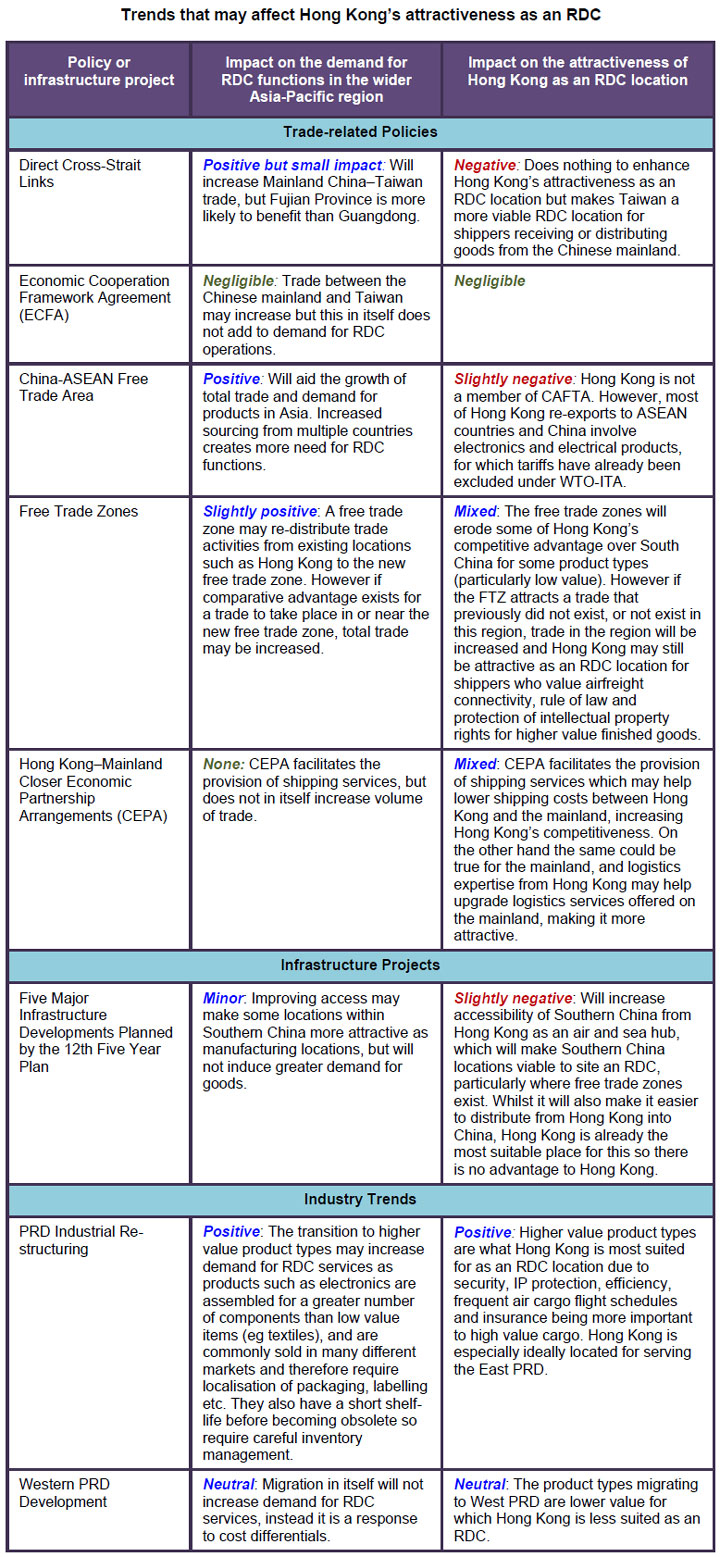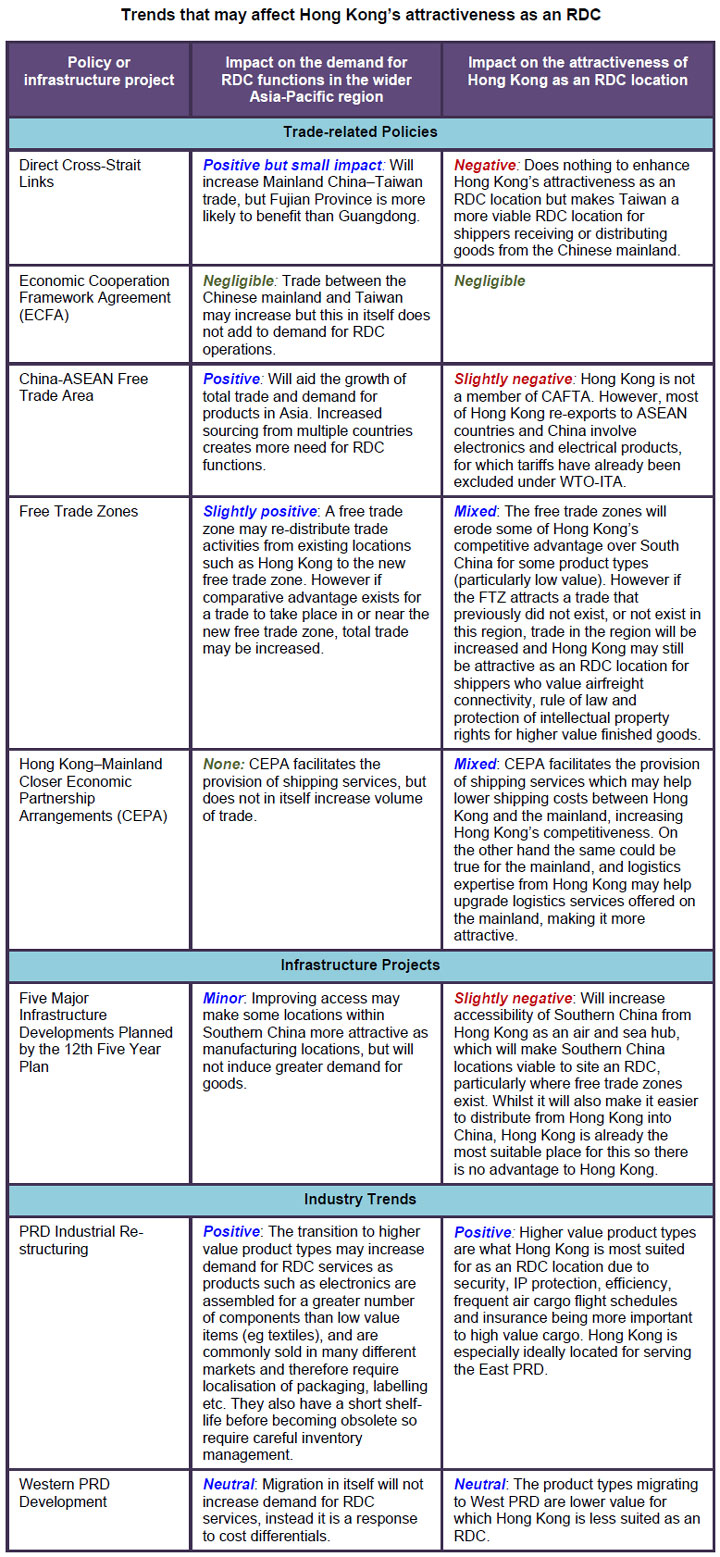 Trends that may affect Hong Kong's attractiveness as an RDC
Source: HKTDC Research
---
[i] The top three-ranking countries were, respectively, the UAE, Qatar and Saudi Arabia. The full report can be found at http://www.pwc.com/gx/en/paying-taxes/assets/pwc-paying-taxes-2013-full-...
[ii] Hong Kong Industrial Market Q1 2013, by Colliers International
Logistics & Supply Chain
Logistics & Supply Chain