https://hkmb.hktdc.com/en/1X09URK7
Eastern promise: the other European market
In terms of exports, Central and East Europe (CEE) is, seemingly, a less than enticing prospect for Hong Kong companies. For the period January 2012 – June 2013, CEE accounted for less than 2% of Hong Kong's total exports, a level well below that of the more affluent Middle East and further distant Latin America. These downbeat statistics, however, conceal the fact that, in the January – June 2013 period, CEE was the fastest growing regional market for Hong Kong exports. The region clearly holds considerable promise for Hong Kong traders looking for new markets in the light of reduced demand from the mature markets.
Hong Kong's export performance (by region)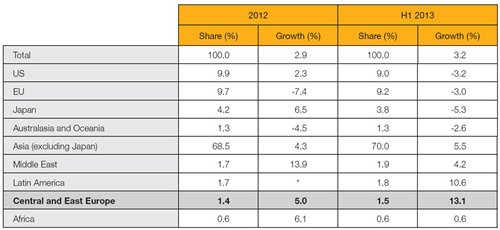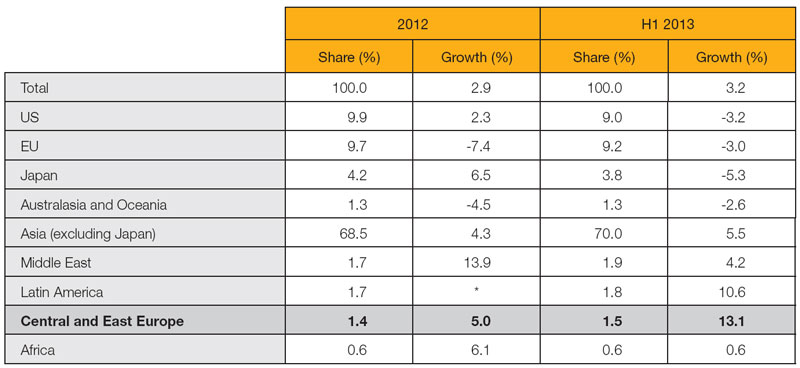 * Insignificant
Source: Census and Statistics Department, HKSAR Government

In line with the belief that its belt-tightening and fiscal rebalancing efforts will begin to bear fruit, concerns have begun to abate with regard to the ongoing woes of Europe's debt-laden economies. Any recovery, however, will be slow and uneven, with the weak eurozone fundamentals continuing to cast a shadow over economic growth across the region. The previously reliable consumption levels in Western Europe will not be restored until the debt crisis is truly over and the current record high unemployment figures fall back to a more acceptable point. The signs of increased spending in Eastern Europe, however, provide some solace for traders, particularly those in the stylish and chic consumer goods sectors.
CEE: Europe without the downturn
When considering exports to CEE, many traders naturally assume that Russia, with its 140 million-strong population, is necessarily Hong Kong's number one export priority in the region. It is not an unfair assumption, but it was only in 2010 that Russia overtook less-populated Hungary to become Hong Kong's largest export market in CEE. Accounting for nearly a quarter of Hong Kong's total exports to the region, the Czech Republic and Poland are also hugely valuable markets. Altogether, the top four destinations in CEE account for almost 80% of Hong Kong's total shipments to the region.
Major East European markets: size and Hong Kong export performance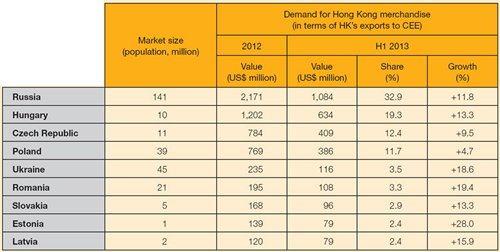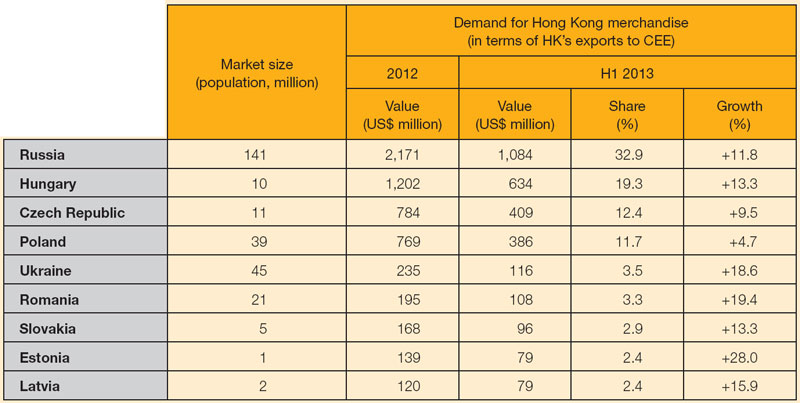 Sources: IMF, Census and Statistics Department, HKSAR Government

Continued market liberalisation initiatives, including entry into the WTO, the formation of a Customs Union with Belarus and Kazakhstan and a mutual visa-free access agreement with Hong Kong, are proving hugely beneficial in terms of Russia's economic diversification. These have not only made the Russian market far more accessible, but have also established it as a more reliable platform from which to access a number of other former Soviet Union countries, notably the Ukraine and Kazakhstan.
Russia is well-known for its extractive industries, particularly those related to oil, gas and metals, but few realise that its lower-profile sectors, including its consumer-related industries, have been responsible for more than 80% of its economic growth since 2004. As the world's largest country by land area and Europe's most populous country, Russia not only enjoys the highest per capita spending power of all of the BRIC economies, but also has the largest proportion of middle class citizens.
Positioned to overtake Germany and become Europe's largest consumer market in less than a decade, Russia is already the region's largest mobile phone buyer and is on track to become its largest automobile market. Thanks to its large pool of debt-free consumers, many of whom enjoy far larger discretionary income as a percentage of their pay than their counterparts in the West, the country's annual retail turnover is forecast to reach US$2 trillion by 2020.
Proportion of middle-class households among the BRIC economies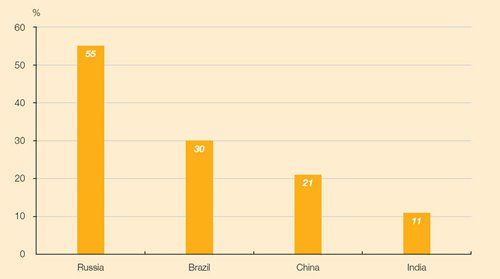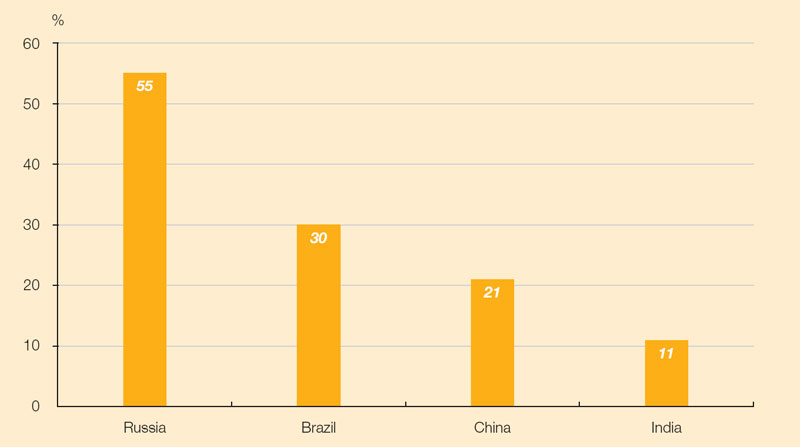 Source: Sberbank

By contrast, Hungary has a population of just 10 million, but it still accounts for nearly one-fifth of Hong Kong's exports to the region. This is partly because it has proved a highly effective springboard for Hong Kong traders and allowed them access to adjoining CEE markets across its borders. Thanks to its accommodating business environment, including its tax regime (e.g. 10% up to a corporate tax base of some US$2 million) and highly developed transport infrastructure, particularly its excellent railway connections with Asia, Hungary is widely considered a great place to do business. This has seen it play a leading role in regional financial and trade developments across the region. With a number of carmakers, including Audi, Mercedes Benz and Opel, and DHL, the world's largest logistics company, expanding their operations there, growth in the Hungarian economy is widely expected to outperform the EU average in the years to come.
Hungary's rail connections with Asia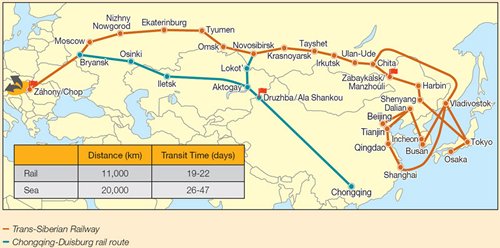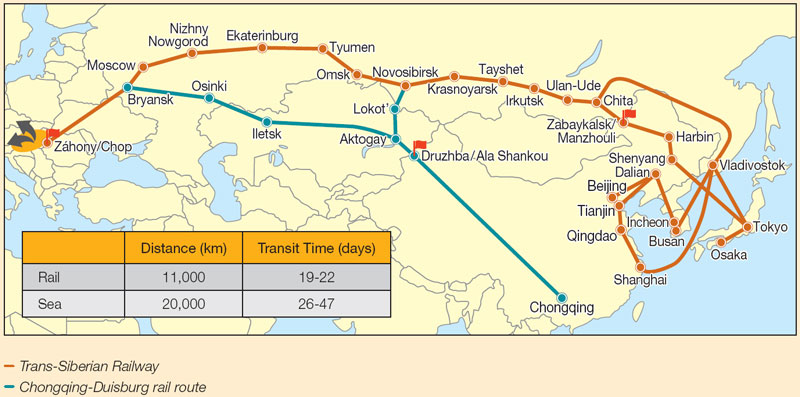 Source: Hungarian Investment and Trade Agency

When it comes to the Czech Republic, it is pre-eminent in terms of its per capita purchasing power and its quality of life in CEE, making it one of Hong Kong's leading export markets in the region, despite its comparatively small population. Czech consumers have a particular appetite for new fashions and novelties, with their growing incomes adding to their taste for the finer things in life and their chance to enjoy them.
Major East European markets: purchasing power and quality of life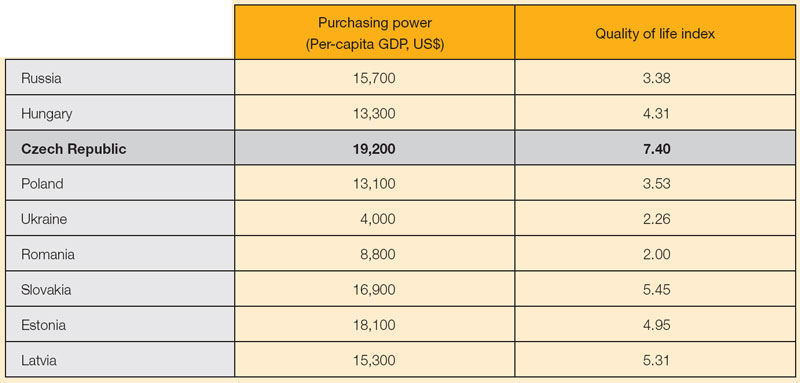 Sources: IMF, IMD World Competitiveness Yearbook 2013

Poland, boasting the largest consumer market of those CEE countries with EU membership, is the only country in Europe to have maintained uninterrupted economic growth throughout the debt crisis. While many European governments are still struggling to secure the finances needed to stimulate growth and employment, Poland, as officially the largest recipient of EU funding until 2020, received Euros67 billion from the community's coffers in the period 2007-2013. The funding went to bolster investment in a number of areas, including scientific research and commercialisation, transportation, digitisation and the long-mooted modernisation of its rural less-developed and Eastern regions.
Economic growth of Poland, EU and Eurozone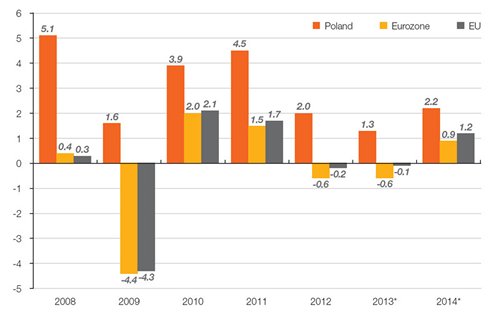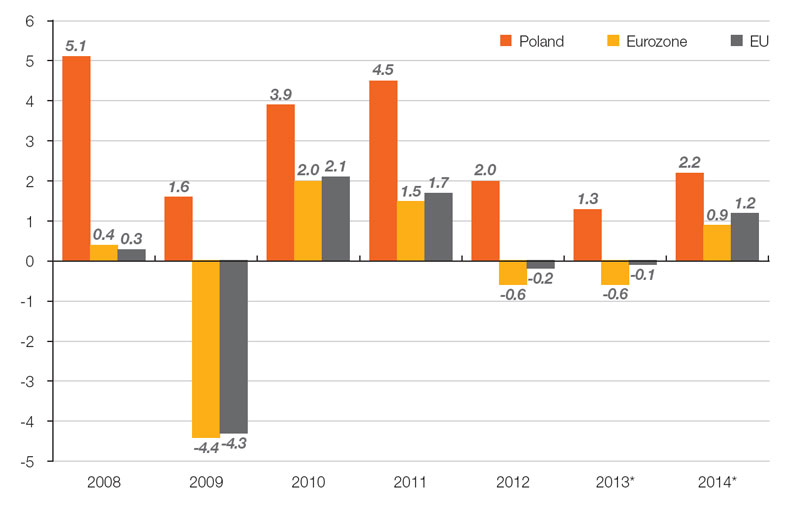 * Forecasts
Sources: IMF, Eurostat

Potential ODM and OBM opportunities for Hong Kong companies
Despite its broadly positive outlook, CEE has not been entirely immune to the slowdown in the European economy. As a result of anaemic growth and stalling investment in Western Europe, a number of CEE migrants, traditionally employed in France, the UK and Ireland, among others, are now sending less money home or are entirely out of work. This risks not only cutting the financial lifeline of many CEE households, but could also negatively impact on the future levels of discretionary spending.
As in many other markets, concessions on price would have most appeal for CEE consumers, especially in light of continuing employment concerns. With CEE residents typically reluctant to compromise on quality in exchange for a cheap deal, such price reductions would not necessarily result in cut-throat competition. Striking the proper balance between price and product features is of utmost importance here when it comes to competing effectively in this discerning market.
Instead of relying on their traditional strengths and fulfilling OEM requirements, Hong Kong companies should bear in mind the success enjoyed by foreign brands in CEE markets. Similarly, many CEE companies do not have their own design capability, making them reliant on products supplied by overseas designers and brands. In light of this, there is considerable scope for Hong Kong designers and brand owners to act in an ODM or OBM capacity. This will allow them to capitalise on a distinct penchant by CEE buyers and retail operators to purchase suitably-positioned collections and brands.
The CEE region should be viewed, though, as a supplier as well as a potential market. With consumer purchasing power in Western Europe currently somewhat restricted, CEE companies (including small- to medium-sized businesses) are keen to target the still-buoyant Asian markets and, especially, the Chinese mainland. Given their limited market knowledge of this part of the world, though, they will inevitably find it convenient and effective to engage with those Hong Kong businesses that are more experienced in the intricacies of Asian trade.
Hong Kong companies should, therefore, explore the opportunities to partner with those East European companies interested in promoting their products, brands and services in the Asian region. This would include – but not be limited to – the licensing or franchising of CEE brands in the region. In particular, CEE private label owners or designers would benefit from the advice and help of Hong Kong companies in fine-tuning their products in line with the preferences and buying habits of Asian consumers. The extensive distribution network Hong Kong companies have in Asia, especially on the Chinese mainland, would also be extremely attractive to these new-to-the-market CEE brands.
Eastern Europe
Hong Kong