https://hkmb.hktdc.com/en/1X09UKIU
Knowledge Process Outsourcing (KPO) on the Chinese mainland: a new opportunity for Hong Kong services
Knowledge Process Outsourcing (KPO) was pioneered by service providers in India and, over the past decade, it has attained global significance. With higher value-added services and profit margins than either Business-Process Outsourcing (BPO) or Information Technology Outsourcing (ITO), the KPO sector is now commanding considerable interest in both the private and public sectors on the Chinese mainland.
In the face of a sluggish global economic environment, ITO and BPO service providers are fighting for their very survival. Many in the industry are now attempting to win new business in higher value-added and more sophisticated sectors. In the process of moving up of the value chain, they are also driving the continual growth of KPO business.
Positioned at the cutting edge of the evolving outsourcing service industries sector, the KPO service is quite distinct from that offered by the more traditional BPO and ITO disciplines. While focuses on routines-based tasks, KPO is aimed more at analytical and research activities, those which require more specialised knowledge and experience.
KPO, BPO and ITO services – examples
Industry
KPO
BPO
ITO
Banking and Finance
Actuarial product pricing
Customer support services
Application development and maintenance
Delinquency analysis
Pharmaceutical and medical services
Patent design and portfolio analysis
Call centre
Off-site data centre management
Retail
Market and strategic research
Data entry and processing
System testing and support
Customer data analysis
Source: HKTDC Research
KPO: a new force in China's outsourcing sector
China is the world's second largest outsourcing services provider. In 2012, China's realised value of outsourcing contracts reached US$46.6 billion, an increase of 44%. As part of this, the value of offshore outsourcing contracts reached US$33.6 billion, increasing more than seven-fold from just US$4.7 billion in 2008. With the service outsourcing industry continuing to develop, many BPO and ITO companies on the Chinese mainland have now moved into the higher end segment of the value chain. This is clearly shown in the surge in the KPO share of China's outsourcing service market, doubling to 28% in 2012 from 14% in 2010.
The growing KPO services market has aroused considerable interest in both the private and public sectors. In 2010, the Chinese government introduced new rules and protocols regarding the development of the country's outsourcing sector. These measures included the standardisation of the classification of KPO activities, as well as the release of re-classified statistics in China. Evidently, KPO demand within the public sector is also on the rise.
Share of realised value of outsourcing contracts (%)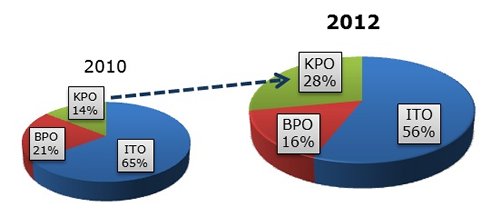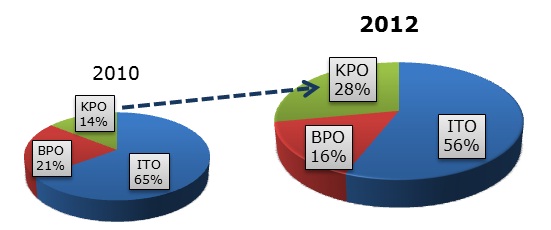 Rising Share of KPO in China's outsourcing service market
Source: China Ministry of Commerce
In China, there are three broad categories of KPO services: business solutions, project planning, and research and development (R&D).
KPO categories in China
1. Business Solutions
2. Project planning and design
3. R&D

Intellectual property (IP) research and management
Market research and data analysis
Legal process outsourcing

Industrial design
Engineering assessment and consultancy
Construction project planning
and design

Pharmaceuticals
Animation and games
Financial products
Source: China Ministry of Commerce
Government support for China's KPO industry
Nurturing the growth of China's outsourcing services industry is one of the focal points of the country's 12th Five-year Programme. The sector has a number of positive attributes that are seen as being valuable drivers for the modernisation of the Chinese economy. These include being environmentally-friendly, being less capital-intensive and having higher added-value. Overall, the sector is seen as key means of rebalancing the country's industrial structure towards a more knowledge-intensive model.
To encourage the development of the outsourcing industry, especially offshore outsourcing, the Chinese government has introduced a number of incentives, including favourable tax terms and subsidies. In early 2013, the State Council announced another measure aimed at promoting the outsourcing industry when it lowered the minimum revenue contribution requirement for offshore outsourcing from 50% to 35% of a company's overall outsourcing revenue.
In addition to Central government support, there are also preferential policies for outsourcing enterprises that have been adopted by 21 "service outsourcing demonstration cities", including Shanghai, Beijing, Guangzhou and Shenzhen.
Distribution of China's Service Outsourcing Demonstration Cities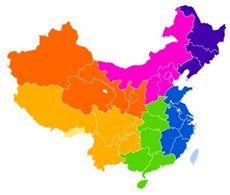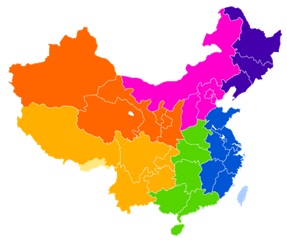 The 21 Service Outsourcing Demonstration Cities in China
Source: HKTDC Research compilation
| | |
| --- | --- |
| Region | Cities |
| North | Beijing, Tianjin |
| Northeast | Harbin, Daqing, Dalian |
| Northwest | Xi'an |
| Central & South | Wuhan, Changsha, Guangzhou, Shenzhen |
| East | Jinan, Shanghai, Xiamen, Nanchang, Nanjing, Suzhou, Wuxi, Hangzhou, Hefei |
| Southwest | Chongqing, Chengdu |
As part of its support for the development of the country's outsourcing industry, the Chinese government has gradually opened up various business services sectors. Foreign companies, for instance, are now allowed to set up wholly-owned management consulting companies. Many commercial services sectors are also included in the "Catalogue of Encouraged Foreign Investment Industries", including international business consulting and IP management services. Foreign-invested service providers established on the mainland are also eligible for the benefits provided under the national and provincial policies.
China's policies in fostering the outsourcing sector
Tax incentives
Deduction on corporate income tax
Exemption of sales taxes for accredited advanced-technology outsourcing enterprises
Deduction of corporate income tax for staff training and education expenses
Subsidies
Outsourcing companies granted training subsidies for employees with degree qualifications
Subsidies for training institutions which provide training courses for employed graduates
Subsides up to Rmb 500,000 for obtaining each certification or verification related to quality and management, such as ISO standards
Source: China Ministry of Commerce
Recent developments in the KPO sector
As a newly emerging sector, the key KPO players in China are typically the larger corporations, many of which were originally Indian-owned companies set up in China as subsidiaries of their Indian parents. Other players include local BPO and ITO service providers, which now provide KPO services as an integrated solution for their clients. The majority of clients for KPO services are multinational corporations (MNCs) and those Fortune 500 firms with a presence in China. These companies span a number of sectors, including banking, retail, telecommunications and healthcare.
In-demand KPO services on the Chinese mainland
1. Professional corporate services:
In recent years, an increasing number of large corporations have outsourced specific business processes requiring industry expertise and experience, in a bid to localise their services to better suit Chinese end-users.
To minimise operation costs, MNCs have sought to optimise resource allocation through outsourcing a number of their knowledge-based processes. This has all occurred against the background of a constructive policy and business environment in China. It has seen KPO service providers enjoying policy incentives, while also benefitting from the use of lower-cost labour in order to offer a wide range of high value-added business services.
Despite the prominence of Indian KPO service providers in the professional corporate KPO services in China, primarily serving the MNC segment, the market remains fragmented and characterised with small and mid-sized enterprises (SMEs). The common KPO services offered in China are very industry-specific and highly customised. Typically they include market intelligence, customer data analytics, intellectual property searches and analytics. PCCW Solutions, for instance, a Hong Kong-originated company, is offering management consultancy services to its mainland-based corporate clients.
Typical examples of KPO corporate services in China
IP management services
IP administration: Patent search services, documentation for fling of patent and trademark application, infringement research
Licensing services: IP assets portfolio analysis, formulating strategies for the pricing and distribution.
Commercialisation services: Assessment of the market condition, identifying the client's unique technologies and potential patent buyers.
Research and analysis
Data analytics: Identify key market trends and provide customer insights through data mining and statistical modelling.
Consultancy services: Provide support for business development and corporate decision-making, through external data collection and analysis of internal information.
Industrial design services
Designs for product appearances: Use of materials, colour and shape
Structural designs: Product functions and structure
Product presentation: Design of platforms for showcasing the products to end-users
R&D for medical industry
Patent application: For new drugs and medical devices
Clinical trials: Conducting laboratory experiments through animal testing or patients pilot studies, including data processing and analysis
Drug registration: Consultation services for regulatory issues and related laws
Sources: HKTDC Research compilation
2. Financial services:
On the Chinese mainland, the larger KPO companies are focusing on serving global financial institutions, including investment banks, commercial banks, insurance and asset management firms. Following the expansion of their clients' network in Asia, KPO providers have established delivery centres on the mainland, capitalising on the abundant supply of local graduates while enjoying timely government incentives. With delivery centres purposely established near the local subsidiaries of their global clients, KPO providers can render better onsite support and are in an advantageous position when it comes to seeking prospective clients.
Currently there are several substantial players in the US and India-dominated market. In terms of financial services-related KPO, demand is led by the research and project management requirements in corporate finance, quantitative research, due-diligence and risk management. A number of KPO firms are also offering editorial and publishing services.
KPO industry trends and prospects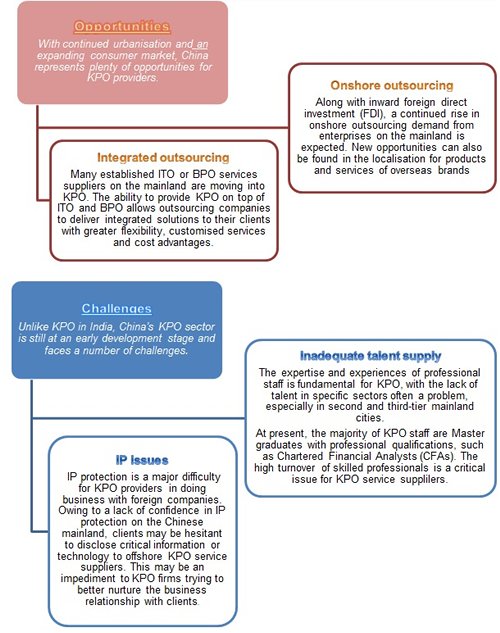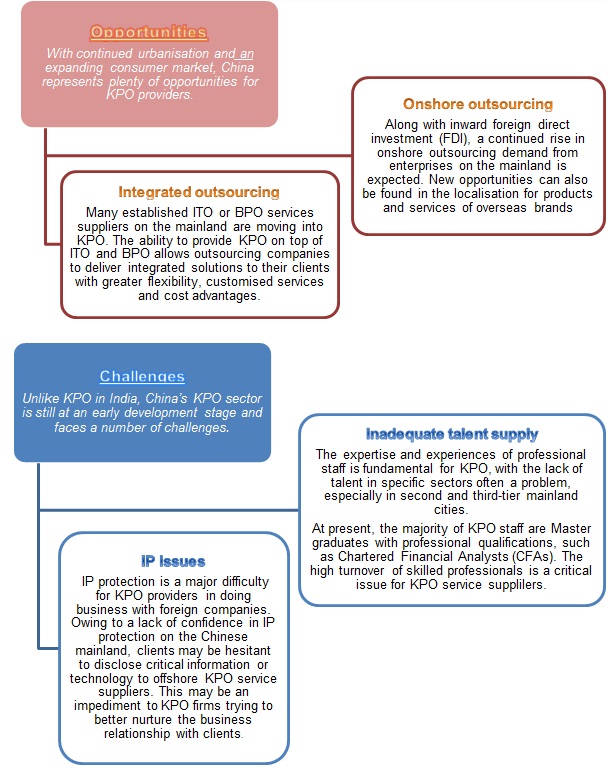 There are both challenges and opportunities in China's KPO sector
Source: HKTDC Research
Business opportunities for Hong Kong companies
In the areas of professional expertise, market information exchanges and IP protection, there appears to be plenty of room for cooperation between Hong Kong and mainland outsourcing enterprises. Based on discussion with KPO users and service providers on the mainland, Hong Kong's strengths when it comes to best global business practices and management skills are much sought after by mainland-based services companies, many of which are relatively weak in terms of the "know-how" of international business.
Easier market access under CEPA
With the liberalisation measures resulting from CEPA and its related supplementary agreements implemented over the past decade, Hong Kong service suppliers (HKSS) can now gain much easier market access to the various business services sectors on the Chinese mainland that are directly or indirectly related to KPO. This inevitably provides a favourable environment within which HKSS and KPO companies can forge greater synergy with their counterparts on the mainland and access its fast expanding KPO market.
Bridging the gap in the supply of expertise
Many mainland companies see Hong Kong entrepreneurs as benefitting from considerable international exposure and it is this experience they hope to benefit from, according to the Shanghai Services Federation, an industry association with more than 300 corporate members.
In view of the mismatch of talent supply and demand facing the outsourcing services companies on the Chinese mainland, Hong Kong companies can play an important role when it comes to offering professional training. Hong Kong's strengths in various areas, notably finance, marketing and management, are increasingly sought by services providers on the mainland.
Support for market development
Based on interviews with industry associations, major KPO players and related government institutions on the mainland, it is a generally believed that Hong Kong is in a favourable position when it comes to pursuing business opportunities in the following areas:
1. Financing:
Human resources are, of course, the primary capital of most KPO companies. While seeking the best available talents and looking for business cooperation, KPO companies often find it difficult to obtain bank financing, as they have limited fixed capital and few other collateral items relevant for bank lending. In order to enhance their service capacity, additional financing channels are required by many outsourcing enterprises, in particular by those smaller start-up firms specialising in knowledge-intensive outsourcing services.
2. Branding and related professional services:
Though some of the KPO firms on the mainland are able to deliver standard levels of services, their branding power and international publicity is rather limited. In this regard, Hong Kong's sophisticated marketing and its other professional services may play a useful role in supporting these outsourcing companies looking to upgrade their services and explore the overseas market.
In order to inspire greater confidence among overseas clients, KPO firms are best advised to obtain international certification and verifications, many of which qualify for government subsidies. In this regard, Hong Kong's accreditation and professional services companies may offer practical assistance to mainland KPO firms when it comes to enhancing their management systems in order to comply with the relevant ISO standards.
Selected CEPA liberalisation measures related to KPO
Services sector
Liberalisation measures for HKSS
Construction engineering cost consulting services

Allowed to set up wholly-owned construction engineering cost consulting enterprises on the Chinese mainland

Management consulting

Allowed to provide management consulting services (in wholly owned operations), including financial management (except business tax), marketing consultation, human resource management, production management, public relations services on the mainland

Market research services

Allowed to set up joint-venture enterprises on the mainland to provide market research services

Patent commercialisation

Allow Hong Kong permanent residents with Chinese citizenship to take the National Qualification Examination for Patent Agents, for obtaining the Qualification Certificate on the Mainland.
Hong Kong permanent residents with Chinese citizenship who have obtained the above Patent Agent Qualification Certificates may practise in patent agencies established on the mainland, and may become partners or shareholders of patent agencies on the mainland.

Project management

Allowed to provide project management services in the form of cross-border supply (other than for construction).
Allowed to set up wholly-owned enterprises on the mainland to provide project management services (other than for construction) in services related to management consulting.

Qualification examinations
Hong Kong professionals are allowed to take a number of qualification examinations that are related to KPO, including:
- Investment consulting engineer
- Environmental impact assessment engineer
- International business personnel
- Legal consultant
Source: HKTDC Research compilation
Banking Services
Business Management & Consultancy
Education & Training
Engineering
Information Technology
Medical & Healthcare Services
Technology
Telecommunications
Mainland China
Mainland China