https://hkmb.hktdc.com/en/1X09UJXI
Leather goods shoppers in major Chinese cities (Executive Summary)
As the developed economies remain depressed, many emerging markets are hard hit with exports bearing the brunt of the downturn. In countries with a huge domestic market such as China, India and Indonesia, however, consumer confidence has continued to surge. The governments of these countries are encouraging businesses to capitalise on the current adjustments in global trade to switch from an export-oriented development model to a more domestically-driven one. It is expected that the economic development policies of these countries will lend continued support to domestic consumption.
Among the emerging markets, the mainland remains pre-eminent, with its economy continuing to expand at a relatively brisk pace. While mainland incomes continue to grow, the enormous spending power of mainland citizens has yet to be unleashed. As their living conditions improve, consumers are having higher and more diversified requirements on the quality, style and brand image of non-necessity items (such as fashion wear and accessories). In affluent societies, fashionably designed leather goods are often considered "must-have" accessories when it comes to showcasing one's personal prosperity and a sense of style. At a time when the developed and emerging markets are experiencing widely divergent fortunes, leather goods sales on the mainland are poised for still greater expansion, largely thanks to rising incomes and increased consumer preference. In the minds of many mainland consumers, Hong Kong brands are both symbols of fashion and quality. Hong Kong companies should capitalise on this favourable perception as well as their own advantages in design, quality and brand names to tap the mainland leather goods market.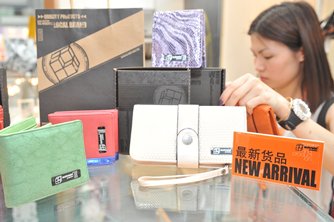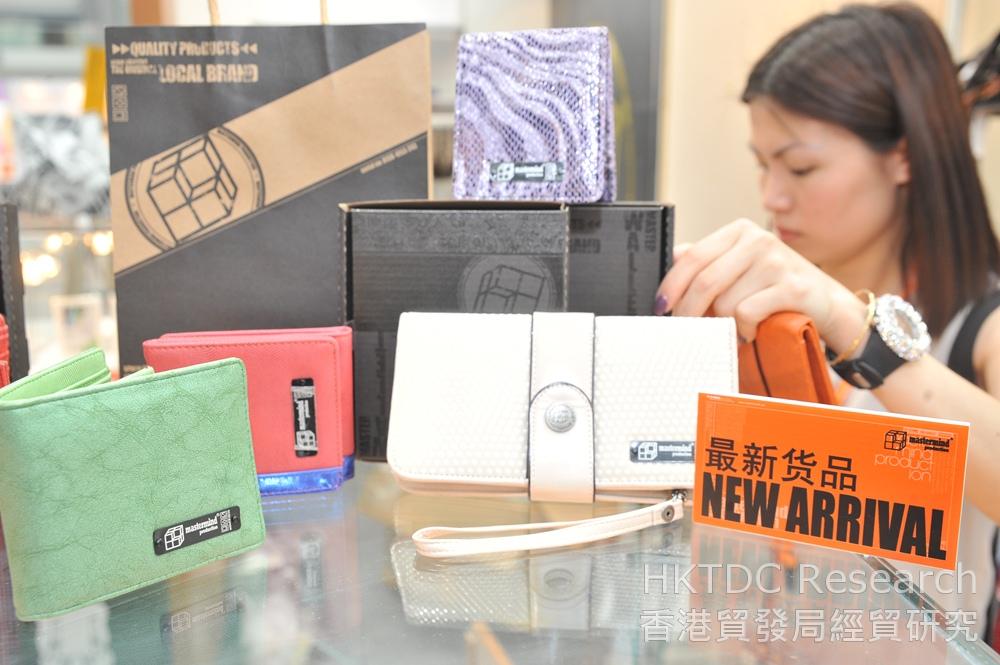 Hong Kong leather goods are well received at a mainland trade fair.
Following on from its 2002, 2003 and 2009 surveys of the mainland leather goods market, the Hong Kong Trade Development Council (HKTDC) this year updated its research by examining the latest trends in 13 mainland cities. The objectives are to find out the latest leather goods consumption trends and ascertain the advantages of "Hong Kong brands" in the mainland so as to provide useful information and recommendations to Hong Kong leather goods companies interested in entering the mainland market.
The 13 cities covered in the survey conducted in the second quarter of 2013 are Nanjing, Shanghai, Hangzhou, Ningbo, Harbin, Shenyang, Beijing, Tianjin, Dalian, Wuhan, Chengdu, Chongqing and Guangzhou. A total of 3,250 consumers including workers, housewives and students who have lived in the surveyed cities for at least two years and have purchased leather goods in the 12 months prior to the survey were interviewed. The findings are summarised as follows:
The main reasons given by the respondents for buying leather goods are to keep up with fashion trends, and the wear and tear or loss of existing products. The main considerations for buying leather goods are brand image, style and customer/after-sale service. Respondents in some cities place most emphasis on materials used, and comfort in wearing/using.

Generally speaking, mainland respondents are most influenced by leather goods trends in Hong Kong, followed by those from Western Europe and the US. By comparison, respondents in Shanghai and Guangzhou tend to be more influenced by trends in other places.

In the past 12 months, the average spending on leather goods was Rmb3,837 and the spending amounts in different cities were in general proportionate to the income levels of the locals. The planned spending on leather goods in the next 12 months is Rmb4,306. Cities with higher budget increases include Guangzhou, Beijing and Shanghai.

Mainland consumers have the habit of visiting leather goods stores regularly and almost 80% of the respondents make such visits at least once a month. The visits are mostly made during weekends and public holidays, and department stores are the most popular shopping destinations. Most respondents cite good customer service and good word-of-mouth/ reputation/reliability as the major reasons attracting them to shop at a leather goods store. In addition, customers are highly satisfied with leather goods sales channels and the customer service of leather goods stores.

The most effective promotional/marketing activities are promotional stands at shopping malls, discounts, newspaper/magazine ads and TV/radio commercials.

The mainland respondents reckon Hong Kong leather brands stand for trendiness, good materials/quality and creativity. Compared to a mainland brand of a comparable quality, most respondents are willing to pay a higher price for a Hong Kong brand, with the average premium being as high as 70%.
In sum, it is recommended that:
Most respondents are receptive to new brands and are ready to pay a premium for Hong Kong leather brands. In order to capitalise on this advantage and elevate their brand profile, Hong Kong companies should clearly define both their market positioning and their target customers.

Product-wise, Hong Kong leather goods brands should target the mid-range market and foster an image likely to appeal to fashion-conscious consumers. Put simply, they need to offer Hong Kong styles, Hong Kong brands, Hong Kong designs and Hong Kong management that best suit mainland consumer preferences.

As for sales channels, department stores remain the most popular outlet among customers. Hong Kong companies should consider joining forces with other leather goods brands to establish dedicated sales points in department stores in order to attract more customers. The ultimate objective is to build a loyal following while attracting a broader customer base.

In terms of marketing, Hong Kong companies can draw attention to their brands through in-store promotional stands in shopping malls and discount offers. Meanwhile, they can intensify promotion and elevate their brand profile and penetration through TV/radio commercials and newspaper/magazine ads.

As consumers are paying more attention to quality and service, Hong Kong companies should, in addition to ensuring the good quality of their products, make sales channels more accessible to customers, introduce more brands, and increase the number of chain stores. They should also improve customer service in areas such as goods return, free repair and free packing.
Consumer habits vary from city to city and across different demographics. Hong Kong companies need to address these variations and offer those products best suited to local market needs and preferences.
Footwear
Handbags & Travel Goods
Mainland China
Mainland China