https://hkmb.hktdc.com/en/1X09TSEA
Hong Kong: an offshore success story
As part of Hong Kong's total business activity, the share of off-shore trade has risen from 18.6 per cent in 1988 to 65 per cent in 2012, according to figures from the HKTDC Offshore Trade Survey 20121. This survey is unique in defining "offshore trade" as including the increasing sale of China-origin products to China by Hong Kong companies, thus giving far more insight into Hong Kong's true trading performance over recent years.
With Hong Kong's export mix currently in the midst of a period of dramatic change, the figures vary significantly from industry to industry, providing a telling indicator of the city's strengths. These developments have seen Hong Kong evolve into a highly significant trading and logistics hub, while remaining the preferred setting for the headquarters and core business functions of many of the region's trading companies.
Export figures fail to accurately reflect the true picture
Hong Kong companies are heavily involved in offshore trade activities. Many of the city's trading companies have factories on the Chinese mainland, producing and supplying products to the overseas markets via direct shipments, without goods necessarily passing through Hong Kong. These transactions are sales attributable to Hong Kong companies, but they are not recorded in customs statistics as the goods do not physically pass through Hong Kong. For this reason, the monthly figures released by the customs department do not accurately reflect the true performance of Hong Kong's export sector.
Overall, there are two factors that are currently redefining Hong Kong's offshore trade activities. Firstly, the overall size of its offshore trade has expanded faster than that of its onshore counterpart. Secondly, some sectors have seen a far faster rate of growth in offshore trade than others, largely as a result of significant changes to Hong Kong's export structure over recent years.
The first factor is hard to overlook. According to the Hong Kong Census and Statistics Department, the annual value of offshore trade goods has outperformed the value of re-exports since 2006. In 2011, the value of offshore trade goods was estimated at HK$4.5 trillion, equivalent to 1.4 times that of Hong Kong's re-exports of goods for the same year. Indeed, the value of those goods involved in offshore trade expanded by more than 200 per cent in the period 2002-2011. This was far faster than the growth of 130 per cent seen in Hong Kong's re-exports of goods during that time.
As a result, it is fair to say the export business of Hong Kong companies is in fact bigger and growing at a far faster rate than indicated by customs data. In terms of profitability, the gross margin (or the commission rate related to offshore trade activities) was estimated to be around six per cent in 2011. This is significantly lower than the 16.3 per cent re-export margin recorded by the Hong Kong Census and Statistics Department in the same year. These lower margins, however, may be of comparatively little concern as, from a micro perspective, companies frequently have to contend with lower margins when their sales volumes increase. Overall, it is safe to say that both the sales and profits of Hong Kong trading companies are expanding.
The changing export mix
The second trend – different rates of growth in different sectors – merits further exploration. Hong Kong's export structure, as can be observed from customs data, has undergone significant changes over the past decade. The share of electronics exports, including finished products and parts, increased from about 40 per cent in 2003 to nearly 60 per cent in 2012. During this period, Hong Kong's total exports have doubled, while electronics exports have expanded by something in the region of 180 per cent.
In addition to electronics, precious jewellery exports also saw tremendous growth during this period (about 200 per cent), boosting its overall export share from one per cent to 1.6 per cent. Processed food and beverages exports also enjoyed faster-than-average growth, with their share increasing from 0.9 per cent in 2003 to 1.2 per cent in 2012. By contrast, exports of other traditional Hong Kong products, including clothing, textiles, household electrical appliances, houseware and lighting, declined throughout this period, with their combined share falling from 19.4 per cent to 8.5 per cent.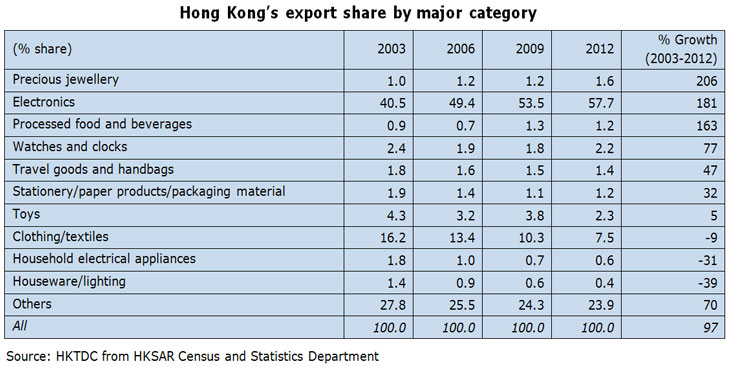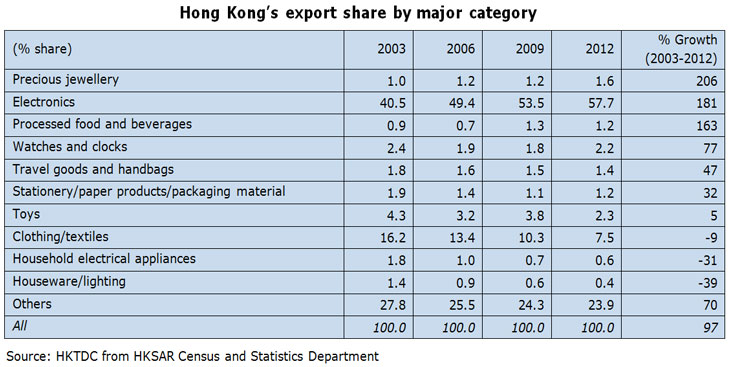 These figures may give the impression that those Hong Kong companies trading in clothing, textiles, household electrical appliances, houseware and lighting are underperforming. In fact, the offshore trade activities in these sectors have boomed in recent years. While official offshore trade statistics began in 2002, they were not broken down by sector. HKTDC's triennial trade survey of Hong Kong's offshore trade activities, carried out since 1988, may, therefore, give a clearer picture of developments within the sector. According to the survey, the share of offshore trade as part of the total business of Hong Kong companies (including sales of China-origin products to China by Hong Kong companies) has actually increased from 18.6 per cent in 1988 to a truly remarkable 65 per cent in 2012.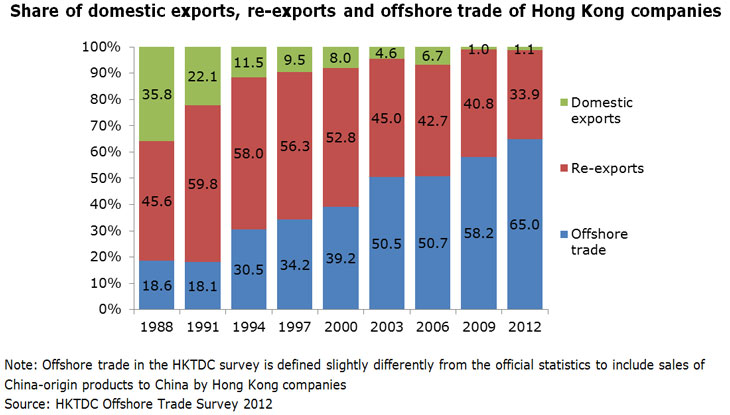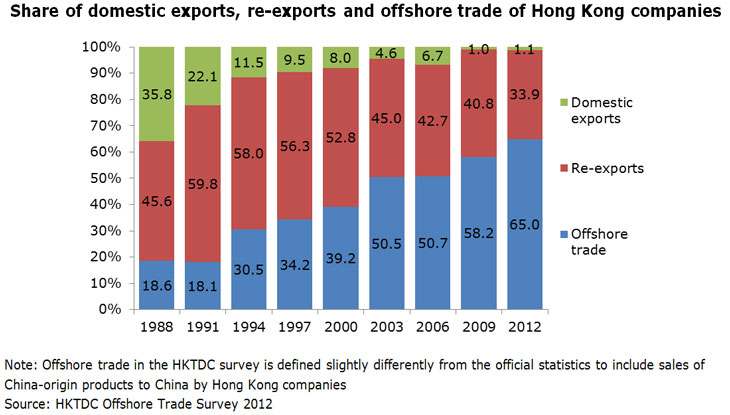 According to the HKTDC Offshore Trade Survey 2012, which estimates the share of domestic exports, re-exports and the offshore trade of Hong Kong companies by sector, the stationery/paper products/packaging material industries have the highest share of offshore trade. In 2012, more than 90 per cent of the export business of Hong Kong's stationery, paper products and packaging sector was shipped directly to its destination market from its point of manufacture, without actually ever physically entering Hong Kong.
In fact, only 8.6 per cent of sales in this sector was re-exported via Hong Kong and, thus, recorded by Hong Kong's customs. While domestic exports account for a small fraction overall, the higher the share of the actual offshore trade, the more the export business of that sector is underestimated in terms of customs data. Indeed, in 2012 the houseware/lighting, toys, giftware/décor/imitation jewellery, clothing/textiles sectors all had offshore trade shares of between 70-79 per cent. This represents a significant increase from the 42-69 per cent offshore trade share seen in 2003. By contrast, processed food and beverages, precious jewellery and electronics are sectors with lower shares of offshore trade and higher shares of re-exports than average. This, in part, explains why the share of Hong Kong's overall export total has varied considerably across these particular industries over recent years. 
Factors influencing the ongoing move from onshore to offshore
There is a number of factors causing the shift from onshore to offshore trade. Firstly, it obviously depends on just where individual products are manufactured. In general, the more distant the manufacturing base from Hong Kong, the less likely it is that products will be re-exported to overseas markets via Hong Kong.
A decade ago, the production for most light industries was concentrated in the Pearl River Delta (PRD) area, but this has gradually extended to other parts of China. This is largely due to rising production costs in Southern China and a whole raft of government policies designed to upgrade the industrial structure of the PRD. The overall impact, though, has varied across different industry sectors.
The HKTDC Offshore Trade Survey 2012 shows that those industries which are more labour-intensive and have shorter supply chains tend to have a more scattered production base. While the PRD, for instance, remains the major production base for the majority of industries, certain sectors (notably household electrical appliances, travel goods, handbags, stationery, paper products and packaging material) now also use facilities in the Yangtze River Delta (YRD).
The more distant the production base from Hong Kong then, inevitably, the time demands and the cost of re-exporting through Hong Kong are greater. Unless there are good reasons, re-exporting through Hong Kong is unnecessary and exporters opt to ship products from their production site directly to their target markets.
The second factor relates to the actual size, value and nature of the products concerned. Those products which are expensive, lightweight, compact, time-sensitive, fashionable or perishable are far more likely to be re-exported by air through Hong Kong. The higher transportation costs are justifiable given the greater efficiency and reliability of Hong Kong International Airport. Electronics, including finished products and parts, precious jewellery, processed food and beverages, and fashion garments are also covered by these requirements, explaining why their share of offshore trade tends to be considerably lower than the average figure.
There are other reasons, however, that make re-exporting through Hong Kong necessary or attractive. According to the HKTDC survey, more respondents in the electronics, precious jewellery, and processed food and beverages industries said they imported their China-made products to Hong Kong, then exported back to the Chinese mainland. In the electronics sector, 46 per cent of respondents did so in order to meet the processing trade export requirements. More than half of the respondents in the precious jewellery industry said they did so in order to take advantage of the other production processes available in Hong Kong. According to respondents in the processed food and beverages sector, the need to consolidate goods with other shippers' cargoes in Hong Kong was their major reason for re-exporting China-made products back to the Chinese mainland via Hong Kong.


In addition to the factors outlined above, it is worth considering that the emergence of complex electronic product supply chains for electronic products has split production processes across different Asian countries and has had a considerable impact on Hong Kong's re-exports. Taking smartphones as an example, there are more than 100 parts and components (including the application processors, memory, radio frequency, power management, connectivity, interface and sensors, display/camera, battery and other components), all of which are supplied by companies in different countries, such as Germany, the US and a number of Asian locations. While the final assembly of smartphones takes place in the southern part of China, intermediate goods are often imported to Hong Kong by air, then re-exported to China for assembly. Finished products are then, for reasons of convenience, shipped to overseas markets via Hong Kong.
The increasing popularity of sophisticated electronic products has seen Hong Kong emerge as an important logistics and distribution hub for these components, largely thanks to its air connectivity and proximity to southern China. The heavy traffic engendered by this kind of intra-regional trade also explains why electronics have now come to play quite such a dominant role in Hong Kong's export mix.
The role of Hong Kong
Amid the booming offshore trade, Hong Kong has successfully evolved into a leading trading and logistics hub for the region. The trading sector, as a whole, is expanding, handling an ever-larger volume of goods. While the city's trading companies have increased the scale and scope of their production, sourcing and logistics arrangements on the Chinese mainland, Hong Kong remains the primary location for administering their hard-core business functions. The tables below compare the local and Mainland operations of Hong Kong companies in 2012 and 2003. In both years, Hong Kong companies had their overall management, sales and marketing, trade financing and documentation concentrated in Hong Kong. The disparity between Hong Kong and the Chinese mainland in terms of the siting of these core operational functions has remained significant throughout that period.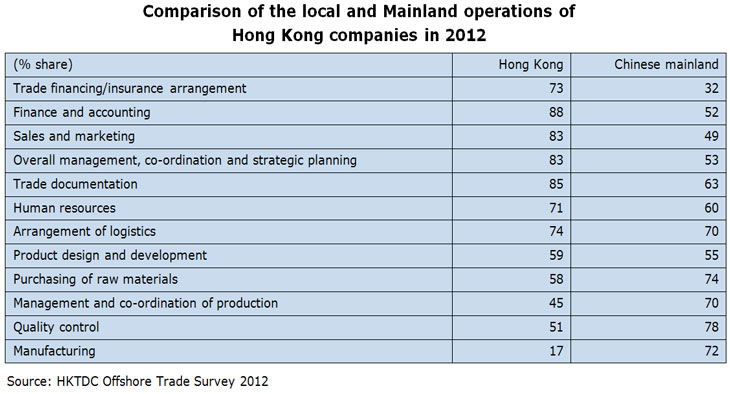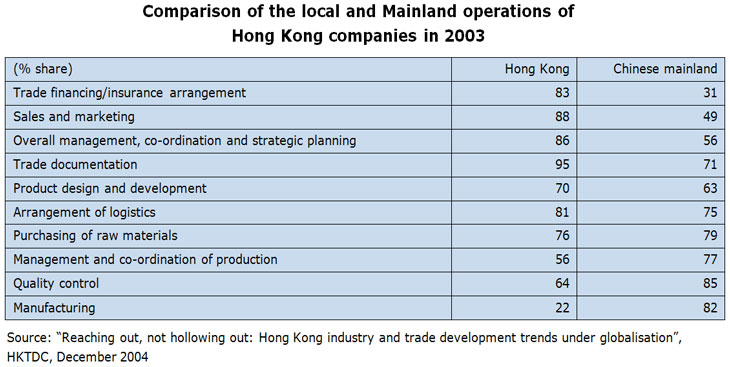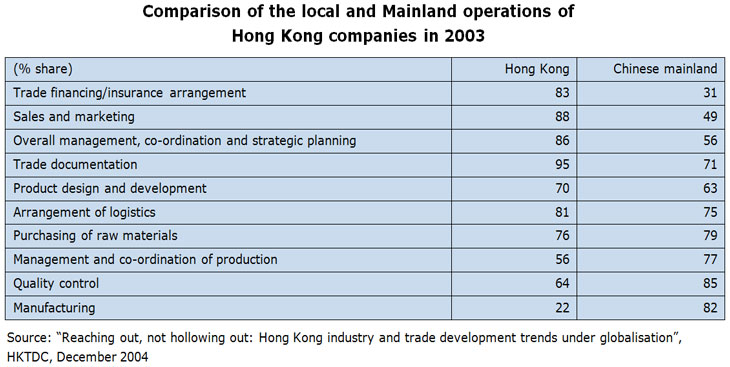 Asked about their plans for the next three years, most surveyed companies indicated that they would increase the functions of their Hong Kong offices in all aspects, with a particular focus on sales and marketing, product design and development and quality control.
Maintaining Hong Kong's edge
China's rapid economic development over the past decade has reshaped Hong Kong's trading profile. Today, Hong Kong companies are facing a more challenging production environment in the PRD and fiercer competition from their counterparts, especially those on the Chinese mainland. The rising trend for offshore trade is a natural consequence of the competition that occurs when companies choose the most cost-effective solutions in terms of production and shipping arrangements. Thanks to its free port status, good air connectivity, high efficiency and the integrity of its customs and the logistics industry, Hong Kong has cornered the market in re-exporting or transhipping many products which are considered to be of a higher value.
The challenge for Hong Kong is to maintain its advantages and promote the long-term development of its trading industry. In order to safeguard its future role, it needs to look at upgrading its infrastructure, controlling its costs and investing in human capital within the trading and logistics sector.
---
1 The HKTDC Offshore Trade Survey 2012 was conducted in the first quarter of 2013, with a total of 2,686 valid responses.
Computer & Peripherals
Electronics & Electrical Appliances
Food & Beverages
Footwear
Furniture & Furnishings
Garments, Textiles & Accessories
Gifts & Premiums
Handbags & Travel Goods
Household Products
Jewellery
Lighting Products
Packaging
Stationery & Office Equipment
Telecommunications
Toys & Games
Watches & Clocks
Mainland China
Mainland China
Hong Kong