https://hkmb.hktdc.com/en/1X09TQZV
Marketing your pet products to buyers
With the pet care market growing bigger year after year in nearly all regions and competition intensifying, Hong Kong companies have to find their suitable niches in order to secure a bigger slice of the growing pie. As a rule of thumb, finding the right clientele can ensure a good start, while living up to the ever-changing requirements and standards guarantees continued success.
Finding the right channels
Given their more mature pet culture and extensive knowledge of different products and brands of pet care products available, pet owners in advanced economies are generally looking for choices rather than professional advice on nurturing their pets when shopping for pet care products.
Except for therapeutic items that require a veterinarian prescription, supermarkets/hypermarkets and pet shops and pet superstores are therefore by far the most important channels from which pet owners shop for pet supplies in North America, Western Europe and Japan.
In stark contrast with the mature pet culture in the developed world, less experienced pet owners in developing markets tend to rely more on the expert advice that they can receive from veterinary clinics in making their purchase decisions. For instance, veterinary clinics remained the second most important channel for sales of pet care in India last year, accounting for 40% of the total sales of the country.
Distribution of pet sales by retail format across regions in 2010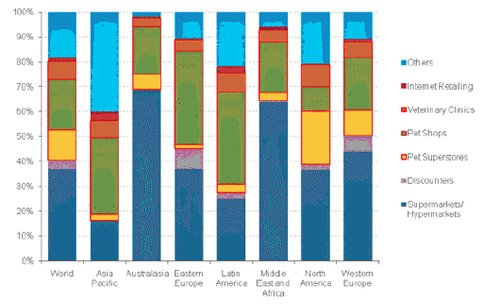 Source: Euromonitor
In light of the rising trend of pet humanisation and the increasing willingness to splurge on pets, as well as the subsequent call for more premium pet products, specialist retailers such as pet shops and pet superstores are fast gaining popularity and importance in the distribution of pet care products.
This comes hand in hand with the technological progress and design enhancement which make the development and change of pet care products so fast that expert advice and professional recommendations become almost a must for pet owners to make safe and healthy picks for their loved pets.
The trend is also becoming more prominent as the population ages, while more complex items such as grooming tools and training toys today require hands-on demonstration, training and instruction before buyers can correctly and effectively use them on their pets.
Exhibition a must
Given an increasingly large pool of buyers looking for new, innovative pet care products, leading pet trade fairs or exhibitions which can attract showcases of pet products from all over the world are seeing growing demand.
For many pet care manufacturers and traders, Interzoo[1], the world's largest, bi-annual pet fair in Nuremberg, Germany, and China International Pet Show (CIPS)[2], Asia's largest pet and aquarium trade show that alternates between Beijing and Guangzhou each year are two must-go events.
These trade fairs not only help manufacturers/exhibitors showcase and demonstrate their new products to buyers from all over the world, but provide a good networking occasion for industry players to collect market information and understand market trends.
According to the show report of Interzoo 2010, the top-3 reasons for visiting are sourcing information about new products, maintaining business contacts and setting up new business contacts.
Pet product retailers including key mass market retailers such as supermarket chains and pet shops and professional buyers such as veterinary practitioners are major visitors to these trade shows, giving exhibitors a convenient platform to acquire new business contacts and cultivate customer relations.
In 2010, Interzoo received more than 38,000 buyers flocking from different parts of the world, like Belgium, China, France, Italy, the Netherlands, Poland, Spain, the UK and US, while CIPS enticed more than 33,000 buyers from more than 60 countries and territories in the world such as Germany, Japan, Russia, South Korea and Taiwan.
To help Hong Kong pet supplies manufacturers grasp the opportunities stemming from the rising pet trend, the Hong Kong Trade Development Council (HKTDC), since 2009, has embedded in its annual Houseware Fair a specific zone, World of Pet Supplies (WoPS)[3], for pet products. Last April, the World of Pet Supplies attracted more than 100 exhibitors from eight countries and regions including the Chinese mainland, Hong Kong, India, Italy, Japan, the Netherlands, Taiwan and South Korea to showcase their trendiest products and a visitor flow of nearly 9,000.
In addition to exhibition participation, promotion on online portals for the pet supplies industry such as www.petsinfo.net and www.ipetchannel.com and printed international pet supplies trade publications such as PETS International and Pet's Business Information are vital to the success of the pet care business.
Penetrating with reliable products
Although few safety rules are specific to pet care products, except for pet food and health supplements, safety is always an important consideration for importers and final consumers of pet care products, not to mention the relevant monitoring authority.
As a rule of thumb, pet products should never contain any contaminants that are not allowed for use in products for human use. Despite the more lenient standards, most pet products still have to comply with certain basic safety requirements.
For instance, electronic/electrical equipment such as the lighting, filtration systems, air pumps and heaters embedded in an all-in-one aquarium would have to satisfy the requirements put forth by safety standards set forth by related Directives such as WEEE, RoHS, REACH and ErP (energy-related products) and the CE mark requirements before entering the EU.
To enhance safety and boost consumer confidence, manufacturers are increasingly inclined to send their products to testing laboratories such as SGS, Bureau Veritas and TÜV to ensure compliance, while demonstrating to their clients the quality and safety of their products. In the meantime, safety labels have become more widely used as a selling point to attract customers.
Leveraging on our own strengths
Hong Kong companies, given their extensive experience in light consumer goods manufacturing on OEM, ODM and OBM bases, have an edge in pet care products. However, to stand out from the ever-increasing competition, especially on price, Hong Kong companies must leverage on their strengths to win business by adding the appropriate element of creativity and uniqueness.
For example, Hong Kong companies have a largely unrivalled advantage over other non-Chinese suppliers in pet food supplements or medicines made from traditional Chinese medicine (TCM). This market segment is increasingly promising, following the better understanding of the effectiveness of TCM in the prevention and treatment of diseases.
As a case in point, a Hong Kong company, PetzUp Laboratories Ltd, has succeeded in producing a wide range of natural Chinese herbal supplements for dogs incorporating ingredients such as Lingzhi and Yunzhi to promote metabolism and help regulate bodily functions of dogs. PetzUp products are specially formulated to suit the digestive system of dogs, which have short digestive tracts and no digestive enzymes in the mouth, by enhancing the absorption of the active ingredients of Chinese herbs.
To expand its business, PetzUp has taken part in the World of Pet Supplies zone at the HKTDC Hong Kong Houseware Fair in a bid to promote the company's pet health supplements to overseas buyers. To ensure safety and efficacy, PetzUp has obtained safety certificates of microbiology, heavy metals, pesticides and toxicity for all the ingredients it uses in the products.
From OEM to ODM/OBM to trading
With pet spending up 3.7 per cent year-on-year in the US, one of the hardest-hit markets in the recent global economic downturn, the pet industry has demonstrated encouraging resilience in the recent global economic downturn as consumers stay at home more and therefore spend more on pet care items.
The market outlook for Asia and other emerging markets such as Latin America and the Middle East, on the other hand, is even more promising. Largely spared by the downturn, Asia, especially the Chinese mainland, is proving to be a hot market for the pet business. With a growing number of new, rich pet owners buying properties in major cities such as Shanghai, the Chinese mainland is considered a new frontier for the pet industry, while the burgeoning economy in Latin America has also spurred pet ownership and spending in countries like Brazil.
Apart from traditional strengths in filling OEM orders, Hong Kong companies and traders should not overlook the opportunities stemming from ODM or even OBM demand from overseas and mainland buyers as the pet market worldwide continues to thrive. On the other hand, Hong Kong companies should take heed of the possibility of developing trading business with overseas pet product manufacturers or distributors.
As a good example, Petagon Ltd, has recently secured distribution rights for a prestigious US pet supplies company OurPet's, which is keen to tap into the pet markets in Hong Kong and the Chinese mainland. This serves to give Hong Kong companies, in one way or another, an idea of how the pet care business can be profitable outside the scope of manufacturing.
---
[1] http://www.interzoo.com/en/
[2] http://www.cipscom.com/en/index.asp
[3] http://www.hktdc.com/fair/hkhousewarefair-en/s/1615-General_Information/HKTDC-Hong-Kong-Houseware-Fair/World-of-Pet-Supplies.html