https://hkmb.hktdc.com/en/1X09TN9U
The Russian Far East Market – Not Big but Strategic
It would be misleading to evaluate the attractiveness of the Russian Far East region solely based on its size of population. Although the region has only 6.3 million inhabitants, its demand for imported goods and services will boom as the region's tourist industry is set to develop fast after the 2012 APEC meeting in Vladivostok, the biggest city in the region. With its strategic location and good connectivity, the region can also serve as a gateway to European Russia and even former Soviet states for Asian suppliers of light consumer goods. Besides, according to the World Bank's estimation, the economic benefits from Russia's imminent World Trade Organization (WTO) accession will likely be higher for the region.
Small but Beautiful
The Far Eastern Federal District consists of nine federal subjects with a total of 6.3 million inhabitants. Over half of the population in the Far Eastern Federal District resides in the two federal subjects in the southern part of the region, namely Primorsky Krai and Khabarovsk Krai. The former is where Vladivostok, the host city for the 2012 APEC summit, is located. The latter is a major industrial centre for machine building, metal working, timber processing, helicopter manufacturing. Khabarovsk is the capital city of Khabarovsk Krai and the administrative centre for the Far Eastern Federal District.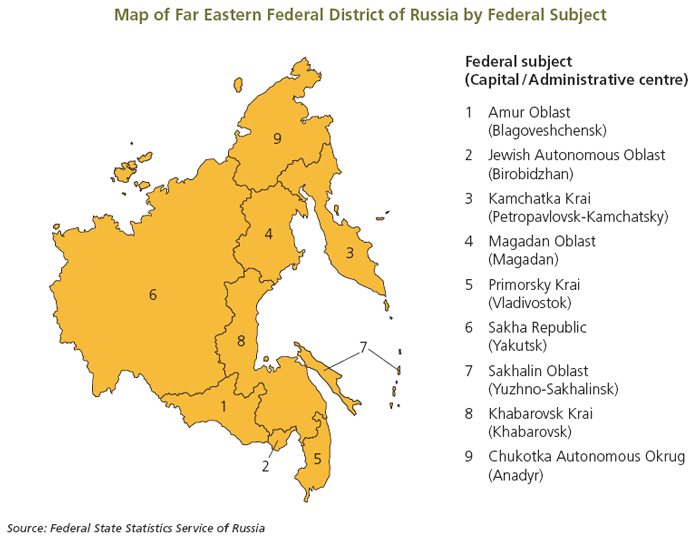 One may easily overlook the market opportunities of the Russian Far East if he or she relies solely on the statistics. All numbers seem to point to one single conclusion, which is that the Russian Far East is a small, unattractive market. First, the region's area is big – 5,630 times that of Hong Kong, yet with a smaller and even shrinking population (a drop of 6% between 2002-2010 to 6.2 million). Second, even though the per-capita income of the Russian Far East is some 10% higher than the national average due to its abundant natural resources, its per-capita spending is 4% lower than the national average. The value of retail sales was about US$23,000 a year, just half of that of Hong Kong, growing at some 3%.
But these numbers tell only part of the story. It is true that the population of the Russian Far East has been declining since the dissolution of the Soviet Union in 1991. Yet, in recent years, the Federal Government has put a lot of effort in developing the Russian Far East. It is expected that the population will cease to drop further and the living standards of the region will gradually improve. Having said that, it is unrealistic to expect that these changes would happen overnight. After all, it will take decades to see significant changes in demography and consumption behaviour.
If so, what market opportunities do the current statistics fail to reflect?
Garments, Textiles & Accessories
Gifts & Premiums
Toys & Games
Tourism & Hospitality
Russia
Hong Kong
Eastern Europe