https://hkmb.hktdc.com/en/1X09TLPK
Distributing in and via Kenya
All agree that there is huge potential in Africa, but success usually comes only to those who toil for it. A good beginning is to choose which market out of the continent's 54 countries to start with. As a gateway to East and Central Africa, Kenya stands out from the crowd with strong connectivity and a relatively modern retail sector. To turn potential into reality, a closer look at the country's distribution channels and import regulations will increase the odds of winning.
Starting with the Port of Mombasa – "East Africa's most important asset"
Trade with Kenya and the greater East and Central African region typically starts from Mombasa – "the city of merchants". Located midway between South Africa and the Gulf of Aden, Mombasa is not only the second largest city in Kenya, but home to the Port of Mombasa which is the largest seaport in the region serving the hinterland of East and Central Africa.
Located midway between South Africa and the Gulf of Aden, the Port of Mombasa is described by the World Bank as "East Africa's most important asset". As a vital gateway for imports of energy (petroleum, oil and lubricants), food (wheat) and raw materials (iron and steel) to Kenya and its neighbouring countries, the port is not only critical to the Kenyan economy, but the economic well-being of the region.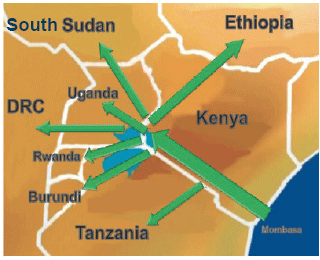 Source: Kenya Port Authority (KPA)
As an economic barometer of the country and the region, the Port of Mombasa has continued to enjoy steady growth in cargo throughput, despite global economic uncertainty. Between 2007 and 2011, the port registered a 23% growth in cargo throughput, bringing the figure to top 19.6 million tonnes.
To further strengthen its regional connectivity and tackle the problems brought by capacity constraints such as delays and long dwell time at Mombasa, the Kenyan government, after years of consideration, on 2 March 2012 marked the beginning of the US$16 billion Lamu Port–South Sudan–Ethiopia Transport (LAPSSET) project, which includes a 32-berth port at Lamu.
Source: The Kenya Vision 2030 Delivery Secretariat (VDS)
The project's GDP contribution of between 2% and 3% aside, the better connection with South Sudan and Ethiopia following the completion of the major projects of the LAPSSET by 2015 is going to provide Kenya with new opportunities to open up the remote and dry northern region, with the Lamu port complementing the Port of Mombasa to handle growing traffic to and from South Sudan and Ethiopia.