https://hkmb.hktdc.com/en/1X09TLMN
Potential opportunities for Hong Kong in Kenya
While Hong Kong companies cannot be everything to all Kenyans, Kenya holds the greatest promise for suppliers of electronics/electricals and textiles and garments. To stand out from the crowd of price-competitive Chinese mainland and Indian competitors, Hong Kong companies will have to demonstrate their value added by providing tailor-made products and solutions with reliable quality and after-sales services.
Kenya is Hong Kong's largest export market in East Africa
Trailing South Africa to the south, Egypt to the north and Nigeria to the west, Kenya is Hong Kong's largest export market on the east coast of Africa. Despite a setback in 2011, Hong Kong's exports to Kenya gained 274% (from US$39 million in 2002 to US$146 million in 2011) in the past decade, while total bilateral trade grew by more than 190% to top US$206 million in 2011.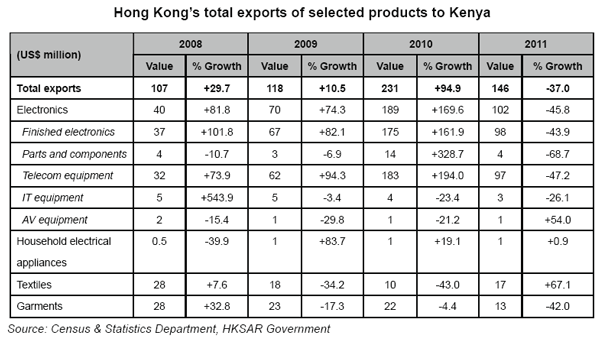 As for products, limited by purchasing power and the level of economic and business development, Kenya is not yet a market for every item. For instance, in 2011, electronics, textiles and clothing accounted for more than 90% of Hong Kong's exports to the country. Also, encouraging growth was recorded in the sectors of gifts and premiums, watches and clocks, and toys and games, thanks largely to surging demand for consumer products, with continued prosperity.
Harnessing the benefits of Kenya's mushrooming ICT evolution
The stunning growth of mobile subscriptions of 172% in Kenya over the past five years has heralded an exponentially-expanding demand for virtually all kinds of ICT-related products such as telecom equipment, computers and computer peripherals.
Thanks to the growing incomes of Kenyan consumers and the falling voice tariffs from an average of KES 10.00-23.75 (US$0.15-0.35) to KES 2.06-3.50 (US$0.02-0.04) per minute between 2007 and 2011, mobile penetration surged from 25.8% in 2006/07 to 63.6% in 2010/11, a level way higher than the African average of 41% estimated by International Telecommunication Union.
As a leading manufacturer and trader of electronics, Hong Kong has benefited from Kenya's mushrooming ICT evolution. In the period 2006-2011, Hong Kong's exports of telephone sets to Kenya soared by a remarkable rate of 1,881% from US$2.6 million to US$51.5 million.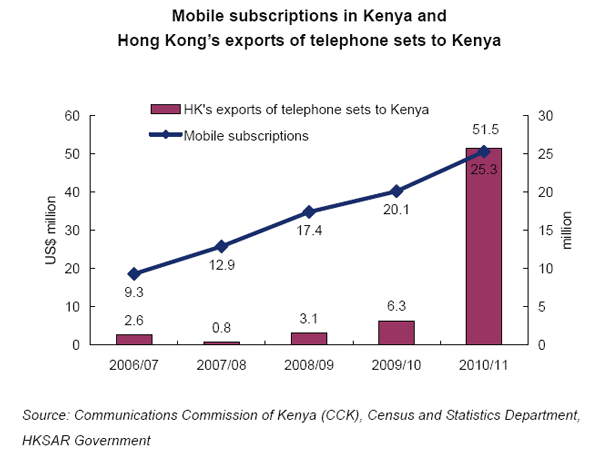 While the 3G market segment is still at a nascent stage, the use of mobile technology in Kenya is far more wide-ranging than just phone calls and text messaging. The mobile money transfer service first launched by the country's mobile-phone operator in March 2007, for instance, was boasting more than 17 million subscribers in 2011.
By allowing subscribers to send cash to other phone users by SMS[1], this service has not only become the most popular and convenient money transfer service in Kenya due to its low charges and availability among the rural population, it makes mobile phones a must for Kenyans, especially when most of them are still unbanked.
Kenya's burgeoning telecom market has drawn increasingly more attention from international mobile phone goliaths. Aside from the high-end segment dominated by Apple's iPhone, Samsung's Galaxy, LG's Optimus and Research in Motion's Blackberry, other forerunners such as Huawei, Nokia and Sony Ericsson are racing for control of the low- and mid-market segments, for example by launching entry level smartphones to increase their activities in the smartphone market.