https://hkmb.hktdc.com/en/1X09TKFX
Ghana's growing trade with Hong Kong presages further opportunities
Increasing economic ties with China
China has been increasing investment to Ghana in recent years, particularly in the sectors of resources, construction and trading. In late 2011, China extended credit lines of US$3 billion to Ghana with the priority on the projects with participation of Chinese enterprises. According to the Ghanaian government, the nation is expected to need an estimated US$1.6 billion annually to meet infrastructure needs over the next 10 years.
Apart from the anticipated increase in infrastructure projects, there will also be a boom in the commercial property market, especially hotels and shopping malls, driven by the growing demand from foreign investors and businessmen, as well as the expanding middle-income population in the country. Some Chinese investors are now developing hotels in the capital Accra to ride on the economic boom.
Around 500 Chinese companies have set up their offices in Ghana, with most of them involved in trading activities. Although Chinese companies have forayed into the country for several decades, the big increase only arose in the past decade. Most of them are SMEs, mainly importing machinery, building materials and vehicles from China to Ghana.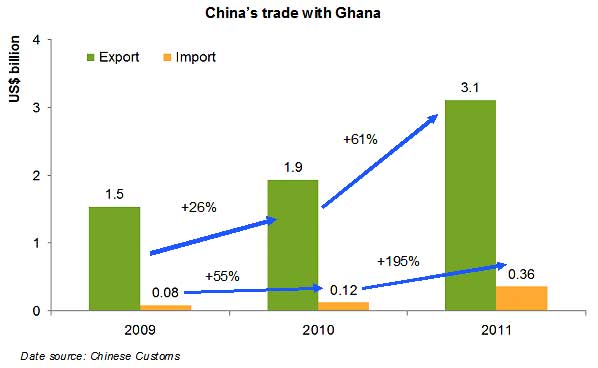 Bilateral trade between China and Ghana has been growing at a rapid pace, posting 69% growth in 2011. Although China recorded a surplus in trade with Ghana, imports from Ghana grew at a faster rate than exports. In 2011, China's exports to Ghana reached US$3.1 billion, double the amount in 2009. Apart from capital goods, which include machinery and equipment and account for the lion's share of China's exports to Ghana, Chinese consumer goods have found a good following in Ghana's mass market because of their low prices.
Over the same period, China's imports from Ghana surged more than fourfold to US$363 million. It is expected China's trade surplus will narrow, as China is increasing its imports of resources and agricultural products from Ghana, such as iron ore, crude oil and cocoa.
As the expanding middle-income class in China is seeking a quality lifestyle, they develop a sweet tooth for quality chocolate. Hailed as the best quality cocoa producer in the world, Ghana is able to capture this rising demand. Hong Kong, hosting influential trade fairs of food and agricultural products every year, should serve as an ideal platform for marketing Ghanaian quality agricultural products to the Chinese mainland.
Top Chinese import items from Ghana
Value (US$ mln)

% Share

2009

2010

2011

2009

2010

2011

Total imports

80

123

363

100

100

100

Ore, slag and ash

42

25

144

52.4

20.5

39.7

Mineral fuel, oil etc

0

13

108

0.0

10.2

29.7

Cocoa and cocoa preparations

29

42

68

36.1

34.3

18.8

Wood and articles of wood, and wood charcoal

3

15

23

4.3

12.2

6.4

Oil seeds (misc. grain, seed, fruit, plant etc)

2

14

8

3.0

11.1

2.1

Copper and articles thereof

1

11

8

1.9

9.2

2.1

Lead and articles thereof

0

2

3

0.0

1.2

0.8

Others

2

2

1

2.3

1.3

0.4
Data source: China Customs