https://hkmb.hktdc.com/en/1X09TIRR
Nigeria – a stellar market holding promise for Hong Kong companies
Strategically positioning Hong Kong's products
Nigeria is the third largest African market for Hong Kong's exports, accounting for 11.5% of the city's exports to the continent in 2011, trailing South Africa and Egypt. Despite the global economic crisis in 2009, Hong Kong's exports to Nigeria have been expanding at an average annual growth rate of some 19% during 2005-2011.
Given its sizable population and rapid economic growth, Nigeria will offer a consumer market with potential comparable to South Africa. With a relatively low penetration of overseas brands, the Nigerian retail landscape is favourable to quality goods at competitive pricing. A better understanding of the market and consumer characteristics of Nigeria is helpful in devising the optimal product mix and strategies in tapping the market.
| | |
| --- | --- |
| | |
| Mango boutique in a shopping mall | |
| | |
Similar to most BRIC countries, Nigeria possesses a large, young and rapidly urbanising population. With a median age of 18.5, the nation has a large group of young consumers who are receptive towards a new lifestyle, new brands and products. With globalisation and the growing use of the Internet, it is not surprising to see young Nigerians dress up fashionably in urban districts.

In particular, young Nigerian professionals, who are well educated and deeply influenced by western cultures, favour well-designed, fashionable and quality apparel. Nonetheless, many of them are not willing to pay for international luxury brands. Some high-street fashion brands like Zara and Mango, tapping the mid-to high-end market, are well received by Nigerian consumers.
Building brands at this infant stage of rising consumerism should attain the best effect. But it will take strong efforts and years of promotion for a brand to gain entrenched reception. For example, a South African retailer, Woolworths, has successfully penetrated the mid-end market, now selling business suits at a premium price after several years' efforts of brand building.
| | |
| --- | --- |
| | |
| | Da Viva's wax printing fabrics |
| | |
Nonetheless, many Nigerians are accustomed to dressmaking either by themselves or by tailors in their neighbourhood. They buy fabrics from shops and make their own traditional clothing. Although it is becoming less common among young consumers or those middle-income earners pursuing a western lifestyle, there is a potential market for textile products, especially the African-favoured "wax printing" products.

Da Viva, a premium brand of wax printing textile produced by a Nigerian-based Hong Kong textile company, has successfully captured the mid-to-high end market. With its own retail outlet in the most famous shopping mall in Nigeria, Da Viva's products are well received by middle-income Nigerian consumers. Meanwhile, Nigeria prohibits importation of certain textile fabrics, including wax printing items.
Trendy, innovative gadgets rule
Consumer electronics section in
a shopping mall

Fashionable clothing aside, young Nigerians are keen to spend on trendy electronics gadgets, smartphones in particular. Nigeria has the largest mobile phone market in Sub-Saharan Africa, with about 90 million subscribers, followed by South Africa at some 50 million.

On the other hand, consumer electronics and home electrical appliances, ranging from LCD panels, hi-fis, DVD players, to fridges, air conditioners, and washing machines, are well received by the Nigerian middle-income class.
With their increasing discretionary spending power, the middle-income consumers tend to pursue a better lifestyle, fuelling the demand of trendy, innovative electronic products and home appliance.
| | |
| --- | --- |
| | |
| | Hong Kong's exports to Nigeria in 2011 |
Accounting for 70% of Hong Kong's export sales to Nigeria, electronics products grew at an average annual growth rate of 39% during 2006-2011. Telecom products, which dominate electronics exports to the country, edged up at an even faster pace of 45% average annual growth rate.

The proportion of finished goods among Hong Kong's electronics exports to Nigeria rose from 45% in 2006 to 91% in 2011, well above the ratios with many other countries. This indicates that Nigeria is by far an end-user of Hong Kong's electronics products, as it has yet to build up a manufacturing base for quality electronics products at reasonable prices.
Hong Kong's exports to Nigeria, 2006-2011

| | | | |
| --- | --- | --- | --- |
| (US$ '000) | 2006 | 2011 | Average annual growth (%) |
| Total Exports | 123,833 | 289,786 | +18.5 |
| Clothing & accessories | 654 | 6,835 | +59.9 |
| Gems & jewellery | 3,013 | 6,131 | +15.3 |
| Toys, dolls & games | 935 | 723 | -5.0 |
| Travel goods & handbags | 92 | 184 | +14.9 |
| Watches & clocks | 11,098 | 8,124 | -6.0 |
| Electronic products | 38,751 | 204,050 | +39.4 |
| Telecommunications equipment | 27,567 | 173,666 | +44.5 |
| Audio-visual equipment | 7,534 | 12,710 | +11.0 |
| Information technology | 2,018 | 9,225 | +35.5 |
Source: Census and Statistics Department, Hong Kong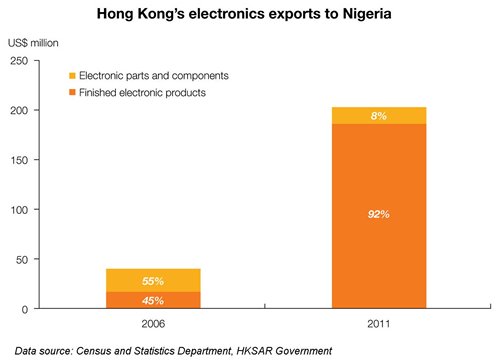 Nigeria has its fair share of challenges for foreign companies
Chauffeur with guards provided by
a security services company
There is little surprise that people may reflexively think of safety issues when it comes to Nigeria. That is understandable given reports of armed robbery and terrorist attacks in Nigeria. Remote areas of the country, in particular the northern part, should be avoided, as Islamic extremist sect Boko Haram is active there. Yet, rest assured that terrorist attacks are rare in Lagos, Nigeria's commercial capital. To avoid robbery, it is highly recommended to arrange security measures before travelling to Nigeria. There are international security companies which have extensive experience to provide one-stop security services to foreign travellers.

Similar to many emerging markets, there is noticeable red tape and corruption in Nigeria. According to the Corruption Perception Index 2011, Nigeria ranked 143rd in the world compared to Indonesia (100th) and Russia (143rd). In contrast, Nigeria compares well with Kenya (154th) in East Africa, but trails Ghana (69th), its neighbour in West Africa, by a wide margin.
Undoubtedly, security issues, business frauds and red tape add extra costs to businesses operating in Nigeria. Therefore, identifying a reliable business partner and participating into local business associations can help ease business operations and minimise the overall costs. There is a growing Chinese community in Nigeria, along with some well established Chinese business associations.
Regarding Nigeria's retail market, it is quite fragmented and unorganised. Meanwhile, there are one or two modern shopping malls in Nigeria, with a few more shopping centres to be expected over the next few years. To tap the Nigerian market, partnering with a reliable distributor or wholesaler with a strong business network can increase the odds of successful business.
Seeking reliable distributors may not be an easy task, as many Nigerian importers operate on a small scale. To get the ball rolling, it is also worth leveraging Dubai as a trade platform to kick-start business. In Dubai, there is the largest trading centre for Chinese products outside China, Dragon Mart. This 150,000 sqm trade centre offer some 4,000 shops handling a variety of Chinese products. It is one of the most-visited sourcing platforms of African traders, including Nigerian importers.
With the rosy outlook over the next decades, Hong Kong should take a look at this promising market, turning Nigeria's potential into actual business.