https://hkmb.hktdc.com/en/1X09TIJZ
Development of online shopping platforms and group buying websites in China
Business-to-consumer (B2C) online shopping platforms are growing in number and selling an increasingly rich selection of products on the Chinese mainland. Meanwhile, online group buying has quickly become a bright spot in the mainland e-tailing market. It nurtures a group of online shoppers and speed up the development of online market on the Chinese mainland.
1. Development of online shopping platforms
Business-to-consumer (B2C) online shopping platforms are growing in number and selling an increasingly rich selection of products on the Chinese mainland. B2C shopping websites can generally be classified into three categories. (1) General shopping websites: their operating mode is similar to that of real-life shopping malls or shopping centres, pooling all types of products, services and brands in one website. Examples of this category include third-party platforms of Taobao's Tmall, 360buy and Amazon China. (2) Vertical online stores: they target at specific consumer groups or those with specific needs and offer a comprehensive range of related products and professional services. Examples include Redbaby that mainly sells mother and baby products with a special "parent-child community" that allows the sharing of parenting experiences so as to attract parents visiting the website regularly. (3) Independent websites: they generally carry the products of their own brands that mostly involve one single product category. For example, Vancl mainly sells clothing although it also carries household products; and Suning sells digital home appliances of its own brand as well as electronic products of other brands. Comparing these three categories of online shopping platforms, general shopping websites are most popular among consumers. This is probably because consumers can purchase all the products they want within one website as in a shopping mall. In 2011, the top three platforms with the highest B2C online retail transaction values are all general shopping websites.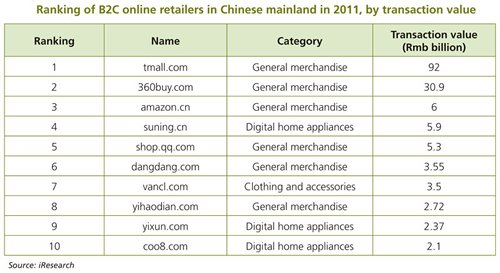 1.1 High user traffic of general shopping websites
General shopping websites carry all kinds of products, attracting many consumers to look for different types of products and facilitating one-stop consumption. Some consumers like to browse through the websites from time to time to keep track of the current trends, just like window-shopping at department stores. As mainland consumers mainly shop for clothing and footwear online, clothing and accessories websites enjoy heavier user traffic than other websites. Among B2C websites, general shopping websites have the highest monthly traffic on average, followed by clothing and accessories websites. Should Hong Kong companies have the interest to open up the mainland market through online sales, it would be easier to attract and build up customer traffic within a short time through general shopping websites than their own independent websites.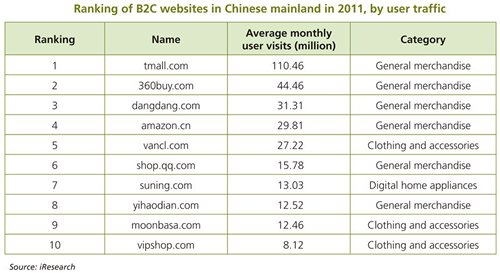 1.2 Synergy effect: independent, vertical and third-party websites
Some independent websites and vertical online stores on the mainland continue to operate stores at third-party shopping platforms although they have already set up their own sales platforms with stable clienteles and click rates. For example, Vancl and Belle which have their own independent websites as well as Mamabkoo and Coo8 which have their own vertical online stores have all set up official flagship stores at Taobao's Tmall. Although the enterprises are thus required to pay commission to Taobao and share with it their customer data, they can rapidly expand their market size by tapping into the massive clientele of Taobao for marketing purposes.
Setting up their own independent websites will allow the enterprises to have greater autonomy and flexibility in page design, operation and cash flow. Yet it requires a higher input of financial and human resources. Although vertical online stores cover a variety of brands, they mainly focus on one single product category with a relatively tight-knit clientele. Third-party shopping platforms, on the other hand, allow consumers to purchase products of different categories and brands by visiting one website. As this is the case, enterprises can get in touch with other consumer groups and expand their customer source by opening their stores at third-party shopping platforms. In short, independent websites, vertical online stores and third-party shopping platforms all have their respective advantages and can co-exist to bring in a synergy effect that facilitates multifarious sales and marketing operations.
For example, Riva Jewellery of Hong Kong has run its independent website ( www.riva-jewellery.com ) since 2002 for selling its brand products to the markets of Europe and the US. At the same time, it has set up online stores at third-party platforms such as eBay and Amazon. In view of the rising purchasing power of mainland consumers, Riva Jewellery has set up additional online stores at some mainland third-party shopping platforms including 360buy, Taobao and HKTDC's Hong Kong Design Gallery at Tmall so as to open up the mainland market. According to Riva Jewellery, an additional online store is similar to a new branch in reaching out to different consumer groups. Besides, as third-party platforms have high click rates, it can increase the exposure of their products and brands. Although the long-term development of the company focuses on its independent website that offers greater autonomy and flexibility, its cooperation with third-party shopping platforms will continue. In fact, the business card attached to the company's packaging for shoppers carries the address of its independent website in a bid to promote its own website and build up its clientele.
2. Mushrooming of group buying websites
Online sales and marketing has evolved rapidly in recent years. Aside from independent websites and vertical online stores, group buying websites have also become immensely popular among mainland consumers. Since it first began in the US in 2008, online group buying spread to China in 2010 and quickly became a bright spot in the mainland e-tailing market. Chinese group buying website users grew from 18.75 million in 2010 to 64.65 million[1] in 2011 at a growth rate of 245%. The percentage of group buying website users grew from 4.1% to 12.6%.
2.1 How group buying operates
As third-party shopping platforms, group buying websites act as the middlemen between merchants (sellers) and consumers (buyers). Group buying websites in China are city-based operations, targeting consumers of a city/region as one consumer group. As such, products and services sold are specific to the target area. Within a set time frame, the merchants solicit a number of buyers through the group buying website. If the target number of buyers is reached, consumers may then purchase said product or receive said service at a discounted price. The website processes payment with the consumer and send out the coupon, with which the consumer redeems the product or service directly at the merchant. If, however, the target number of buyers is not reached within the time frame, the discount offer is thereby cancelled. E-commerce using the group buying model creates a win-win situation for all participants. Merchants sell more products at smaller profit margins, yet they are able to advertise their products and brands. Consumers save money while enjoying products or services at discounted prices. The website earns commissions from merchants.
Aside from the third-party platform offered by group buying websites, certain large retailers also offer group buying on their own websites. In comparison, these sites offer much fewer product choices, and the discounts perhaps less steep (around 50% to 30% off). Yet because consumers can deal with the merchants directly, it helps build consumer trust. On the other hand, merchants can use group buying as a targeted marketing tool to reinforce their brand among existing customers.
2.2 Determining factors for group buying participation
Although group deals may be cancelled due to insufficient participation, consumer interest for group buying remains high. 85.4% of the users attribute that to the price discounts offered. Since most products and services on these websites are discounted at 50% or more, such attractive offers can easily stimulate impulse buying. However, 57.9% of the users reckon they would consider whether they actually need the item. Other factors that determine group buying participation include: location of product or service redemption (52.5%), brand of the group buying website (45.9%); expiry date of discount offer (39.2%), etc. Because group buying websites operate on limited-time offers, consumers may impulsively purchase unnecessary products or services under the influence of flock mentality or in reaction to taglines like "Buy Now" or "Bid Now".
However, consumers are also sensitive to varying levels of discount in relation to different products and services. For example, 30.9% of the users would be willing to purchase dining deals only if discounts are over 50%; 26.7% of them would purchase other products only if discounts are over 50%[2].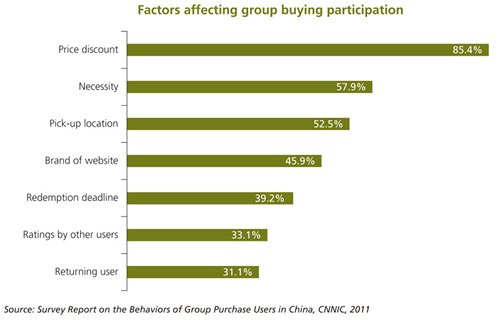 2.3 Characteristics of group buying website users in China
While shopping website users are predominantly male, group buying websites show a slightly higher female clientele (53.9%). Perhaps because female consumers are more sensitive to prices, they are more motivated to participate in group buying. The majority of group buying website users are aged 20-29 (45.2% of all group buying website users). They are a group of young adults who have just joined the work force, who have comparatively weak spending power but strong desire to spend. They are more open to try group buying as a new way of spending that is more trendy, and that would help them save money.
The monthly income of group buying website users is relatively lower than that of users of other shopping websites. 19.7% of the group buying website users earn a monthly income of under Rmb1,000, while the same is true for only 6.5% of the users of other shopping websites. Therefore, "discount" is the main factor for online group buying. Most of these users are spending rationally: 75% are buying products and services for regular consumption, and 48.9% are buying discounted products and services to be used at a later date[3].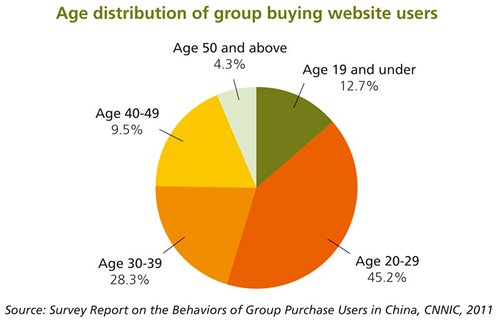 2.4 Prospects of online group buying
Group buying websites have only developed since two years ago, but thanks to the easy start-up process, they have rapidly increased in number to a point where it is now a competition for the survival of the fittest. Reports show that the number of group buying websites rose from about 2,000 at the end of 2010 to over 5,000 at one time, then dropped to about 3,900 by the end of 2011. Causes for consumer dissatisfaction are primarily poor product or service quality, as well as insufficient after-sale support. For example, 62.2% of the group buying website users were dissatisfied because products or services they received differed from the online description. And since products and services must be redeemed within a limited time, the large influx of consumers during that time period may cause businesses to experience temporary product shortage or a drop in service quality (47.2%). Yet, 82.1% consumers still elected to participate in group buying in the future.
Certain Hong Kong companies who have used group buying websites in the mainland have experienced the benefit of generating a large amount of purchase orders, yet they have also realised the importance of being prepared in terms of product stock and manpower to handle such a demand. Since a group deal may generate several thousand transactions within one day, Hong Kong companies must be able to complete these transactions within the set time frame, or else they may lose customers. The advantage of group buying is that it allows businesses to test the market for their products while increasing brand recognition within a short time period. However, the main draw for consumers is still the price discount. Hong Kong companies should consider whether group buying website users are their desired target clientele, and consider the effectiveness of using group buying websites to draw online shoppers to their own online store or even their physical storefront to purchase other products. Hong Kong companies should carefully select the right group buying website to use, as each site's user group varies in terms of characteristics and level of purchase power. For example, ju.taobao.com and tuan.360buy.com are mainly targeted to younger users; while vipshop.com sells brand products (e.g. MISS SIXTY, Converse, NIKE) to middle-income earners who have comparatively high spending power.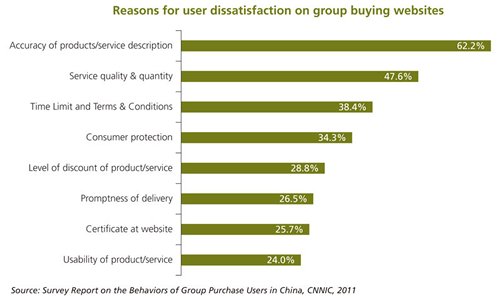 ---
[1] 29th Statistical Report on Internet Development in China, CNNIC
[2] Survey Report on the Behaviors of Group Purchase Users in China, CNNIC, 2011
[3] Survey Report on the Behaviors of Group Purchase Users in China, CNNIC, 2011
Electronics & Electrical Appliances
Footwear
Furniture & Furnishings
Garments, Textiles & Accessories
Gifts & Premiums
Handbags & Travel Goods
Sports Goods
Toys & Games
Watches & Clocks
Mainland China
Mainland China