https://hkmb.hktdc.com/en/1X09TC00
AV booms while mobile still rules: HKTDC Electronics Fair 2013 (Spring Edition)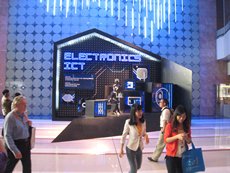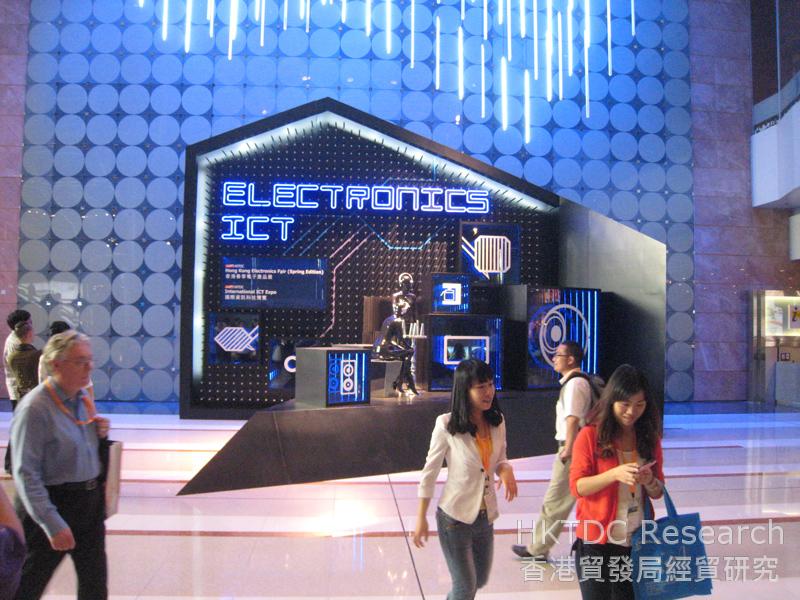 Hong Kong Electronics Fair 2013 (Spring Edition)
The electronics sector is set for steady expansion in 2013, with many of the industry's key players largely optimistic about developments across the majority of the world's markets. This upbeat outlook is partly due to the robust sales of smartphones and tablets, with a fall in the retail prices of both expected to boost demand. The star performer, though, is likely to be audio-visual equipment, largely seen as set to enjoy the highest sales growth this year.
These positive expectations were drawn from the views of attendees at the Hong Kong Electronics Fair 2013 (Spring Edition). Held in April, the event is now one of the largest gatherings of electronics professionals in the world. HKTDC Research conducted interviews with 558 buyers and 271 exhibitors at the fair, focussing on their views regarding market prospects and product trends.
Increased optimism
Compared to the previous Electronics Fair, held in October last year, buyers and exhibitors at the Spring Edition were generally more buoyant and upbeat. As a total of all respondents canvassed, 56 per cent of the buyers and 51 per cent of the exhibitors predicted a rise in sales in the region of 15 per cent. The overall percentages expressing optimism are notably higher than those recorded when the same question was asked at the October event.
Across the board improvement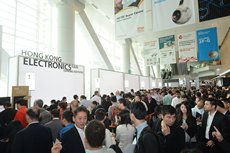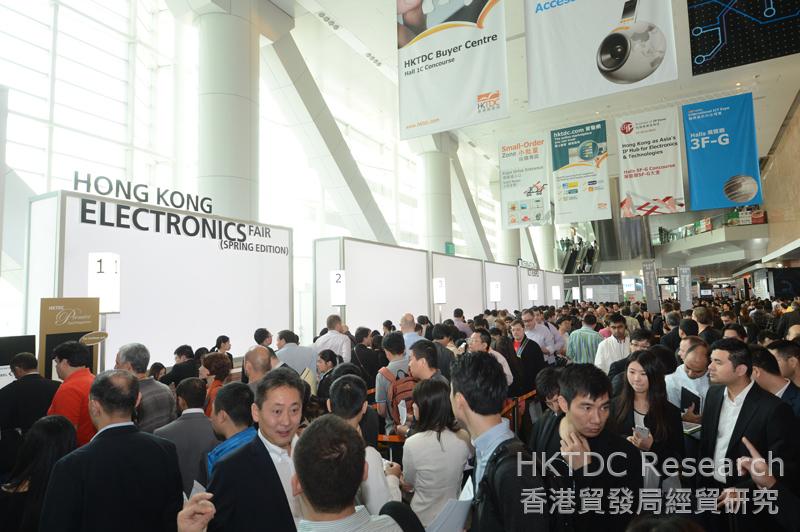 Hong Kong Electronics Fair 2013 (Spring Edition)
Looking at the global growth prospects, the scores given by buyers for most overseas markets were higher than those obtained at last year's October Fair. This shows a clear improvement in buyers' expectations of the global market. Despite this more optimistic belief, none of the markets scored more than four (out of a possible five) in terms of buyers' belief in likely growth.
The greatest optimism for growth over the next two year was expressed with regard to the emerging markets in China, ASEAN, India and Central/South America.
The more mature markets, notably Australia/Pacific, North America and Western Europe, also scored above three marks, an indication of the largely neutral prospects accorded to these regions by buyers.
With a score of below three, the Japanese market was given the lowest rating in the survey, with many buyers still unconvinced as to a likely upturn in the country's economy.
AV equipment set to star
While many consumers are still drawn to the latest mobile devices, many industry players believe that it is another sector entirely – audio-visual (AV) products – that will prove 2013's stand-out performer.
During one-on-one interviews conducted by HKTDC economists attending the show, a number of exhibitors identified AV products as those most likely to benefit from a shift away from the mobile-centric furore of recent years. Even here, though, mobile connectivity was at a premium, with those smartphone- and tablet-compatible AV products seen as the most likely to attract consumers. There was also a degree of confidence among some respondents that personal electronics and GPS navigation devices will sell well this year.
A more in-depth look at the results of the survey shows that 16 per cent of the buyers canvassed believed that AV equipment will enjoy the highest sales growth in 2013. This is followed by mobile devices and accessories (15 per cent), electronic accessories (12 per cent), personal electronics (10 per cent) and digital imaging items (eight per cent).
"Must-have" mobile devices
Despite the widely-held belief of a surge in sales for AV products, the electronics market continues to be dominated by "must-have" mobile devices. About two-thirds of the respondents – 66 per cent and 65 per cent – respectively, believe that sales of smartphones and tablets (in value terms) will continue to increase at the present or at a faster rate over the next one to two years. Only some 11 per cent believe there will be no growth or a decline in growth in the smartphone sector, with 14 per cent sharing that belief with regard to tablets.
There is also a consensus that higher sales volumes in these sectors will come in line with falling prices. Respondents expect that, on average, the benchmark price for a high-end smartphone will drop from the current US$548 (or above) to US$501 within 12 months. It also thought that tablet prices will decline more drastically, falling from US$727 (or above) for a high-end model to just US$494 within the same period.
Overall, it is expected that these lower prices will lead consumers to buy more mobile devices. In fact, more than half of the respondents expect the number of smartphones and tablets purchased to increase over the next one to two years. This belief is even more pronounced with regard to the more expensive models.
Cost pressures and higher labour costs
Among the respondents, 51 per cent of buyers expect that the sourcing prices of their products will increase in 2013. This is a lower percentage share than those holding the same view at last October's fair. Currency price fluctuations – notably changes in Rmb and Japanese yen exchange rates – and the sourcing of better quality products are considered to be the major factors here. In light of these increases, 29 per cent of respondents also expect the retail prices of their products to increase.
As to exhibitors, 32 per cent think their FOB prices will increase this year, with well over twice that number (71 per cent) also believing that their production/sourcing costs will increase in 2013. High labour costs are seen as the major reasons behind these cost increases, followed by high material costs and currency fluctuations.
Costs of going green
Another change evident at the event was that many buyers now require their suppliers to comply with environmental protection measures. As a consequence, suppliers are obliged to incur additional costs in order to ensure they fulfil these green requirements. This entails investment across a number of different areas, with 42 per cent of respondents now obliged to fund a green manufacturing capability that complies with the EU's RoHS/REACH and with similar requirements on the Chinese mainland. Additionally, 28 per cent of manufacturers cited a need to obtain eco-certifications, with 25 per cent now required to undertake R&D activities aimed at improving the environmentally-friendly nature of their products/services.
Profile of respondents
In total, 558 buyers were canvassed as part of the HKTDC survey. Of this number, 28 per cent were from Hong Kong, 24 per cent from China, five per cent from Taiwan, four per cent from the US, three per cent from Australia, with the remaining 36 per cent from other international markets.
Of the 271 surveyed exhibitors, 46 per cent were based in China, 41 per cent in Hong Kong, with the remaining 13 per cent from other international markets.
Electronics & Electrical Appliances